By Adrienne Dyer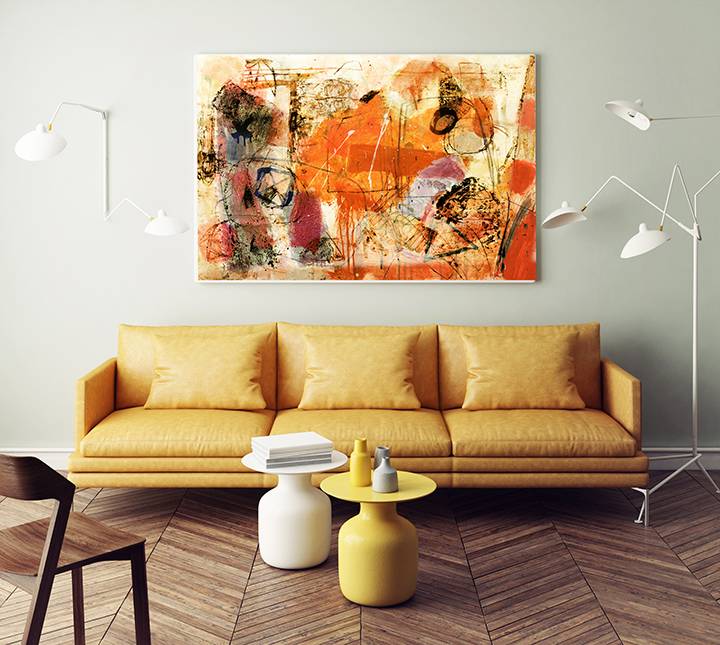 When it comes to the rationale for buying art, perhaps no one said it better than designer, socialite, author and art collector Gloria Vanderbilt: "Art brings a message into a room. It should make us perceive in a new way — either through color, form or narrative content — something we had not perceived before … and perhaps reveal something to you about yourself."
The shorthand here is that whether or not you know your Dadaists from your surrealists, nothing in art collecting is as important as getting to know what pleases your eye and your soul.
Sounds simple, doesn't it? But how do you discover what you like, train your eye to discern quality and choose pieces that you will love in 10 years' time, that will not only work in the spaces you have but will also fit your budget?
Training Your Eye
"The perfect piece of art doesn't have to be expensive. But it has to be interesting," says Iván Meade, principal designer of the Meade Design Group. He points out that you don't have to be a designer or art expert to spot things that intrigue you. Over time, as you explore everything that captures your eye, you'll learn to identify pieces that have value, if not monetarily, then at least personally.
By all means, indulge in courses in art appreciation (there are so many venues for this in Victoria through Camosun, UVic and private art schools and collectives), but the best way to start learning about art is to feast your eyes on as much of it as you can and ask questions. "Don't be afraid to look at things you wouldn't normally consider," says Heather Wheeler, who presents contemporary Canadian artists such as Blu Smith at the Avenue Gallery in Oak Bay. "You will gain confidence by looking and buying."
Elizabeth Levinson of Winchester Galleries, which represents both contemporary and historical Canadian and international art, says an art education begins at local museums and galleries, where you can tap into the knowledge and experience of curators and gallerists.
"Start by educating yourself about the artist, genre or time period that interests you," she advises. "The more you see and examine, the more confident you will become about your own taste and ability to discern what is a great work of art. With education, you are effectively training your eye."
Where to Search
Meade spends a great deal of time searching for artwork in galleries, second-hand shops and private collections, here and internationally. He says a trained eye can find gems in the humblest of places, but patience is key — it may take months or even years to find the right piece.
Besides galleries, other places to look for art include:
• Auction houses: Victoria features some excellent auction venues, such as Lund's, Kilshaw's and Maynard's Fine Art and Antiques, which has both auctions and private sales. Do attend a few auctions first to get a feel for how the bidding works and what to expect. Take advantage of viewing times to get an up-close look at any pieces you may want to bid on. Check auction-house schedules for fine-art auctions.
• Art schools: As Meade notes, many art programs have annual student shows where you might spot a few gems. Vancouver Island College of Art, Vancouver Island School of Art (VISA) and UVic's Fine Arts program hold shows featuring student work.
• Fine-art shows: The annual Sooke Fine Arts Show and Sidney Fine Arts Show are juried shows featuring works by both newcomers and established artists.
• Art festivals and art walks: Each summer, up to 180 artists show their works at the Moss Street Paint-In, which stretches along Moss Street from Fort Street to Dallas Road, and features new and established artists such as Robert Amos, Carollyne Yardley and Miles Lowry. Also popular is the Integrate Arts Festival, featuring exhibitions and events at participating galleries, studios and sites throughout the city. Using the Integrate map (mobile and paper), you can explore some of the city's most artistic venues. And don't miss neighbourhood studio tours such as the James Bay Art Walk and Fairfield Artist Studio Tour.
• Artist studios: Many artists are not represented by galleries, so do ask around, look online, and take advantage of studio open houses.
• Online: The Internet will open you to a world of art, but do be cautious. "Online shopping has become popular and it is certainly convenient," says Levinson, "but if you don't know and trust the seller and haven't had a chance to examine the work for condition and authenticity, it can be risky." She offers the following advice: "The most important considerations are authenticity, condition and provenance. Can the seller authenticate the work? Is the piece in pristine condition or has it been restored, and where is the documentation to support the conservation work? Where was the work produced and who previously owned it? Has it been in any important museum or gallery shows?" The more you know about your painting, the better you can determine its value.
Narrow the Choices
You've probably heard that you should never buy a painting to match your couch. That's good advice. "A good painting should stand up to any décor," says Levinson, "so always start with what you like, with art that truly engages and moves you — and then hopefully the size will work for your space and the price will work for your budget."
That said, a sense of practicality helps narrow down the vast choices. "When I begin to search for the right piece for a client, I first determine where the painting will go and the size and scale needed to fill that space," says Meade.
Admittedly, it's impossible to know how a piece will look in your home until it's on the wall. So when possible, try before you buy. Wheeler does home consultations twice a week to give clients guidelines for their search, and her Avenue Gallery allows clients to take pieces home for a few days on approval. It's a common practice amongst reputable galleries.
"This allows clients to live through the change of light without any pressure to buy," she says. "Sometimes we may have to try five or six paintings to find the right piece."
Another advantage to working with galleries is that in the rare instance you truly regret your purchase, many galleries will help sell the piece so you can select something else.
Purchasing Art
Art should not be purchased strictly as an investment; however, new art collectors might want to talk to gallery owners about promising artists at the beginning of their careers for affordable pieces that have a good chance of holding or increasing their value.
"Buying what you love is paramount to long-term enjoyment," says Levinson. "If the work also has an investment value, great, but there is no upside to forcing yourself to live with something you don't love just because you think it will appreciate."
Purchasing original art can be a very satisfying investment. And a great deal of art, particularly by promising up-and-coming artists, can be surprisingly affordable. If you hope for an original Emily Carr, not so much.
A little-known fact is that some galleries, including the Avenue, have interest-free layaway programs that enable clients to spread the cost over several months. Many galleries, including the Art Gallery of Greater Victoria, have rent-to-own programs so that you can live with a piece as long as you like before you fully commit to the purchase, or even rotate pieces on a whim.
When buying art, do make sure you receive all of the proper documentation provided to you and keep it in a safe place. And don't forget to insure your collection.
Bringing Art Home
So how do you display art to its best advantage in your home? The most important things to consider are the artwork's size, shape, scale and the height at which it will be showcased. Here are some tips from the experts:
• Don't be too tame: Victorians, Meade says, tend to be wary of colour, but he encourages people to go bold! Do not fear large artworks, either. Remember, you want impact.
• Consider the shape of the wall: Generally speaking, horizontal paintings look best on horizontally shaped walls, while vertical pieces look best in a vertical space. Square paintings tend to work in either space.
• Scale matters: Wherever you decide to place the art, it needs to fit into the relative scale of the rest of the room or area so it doesn't distract or get hidden by other items. For example, when hanging artwork over a couch or other piece of furniture, a good rule is to find a painting or piece of art that is roughly the same size as the piece below it or next to it, creating a sense of balance and harmony.
• Go big: "One large piece provides a focus and is more effective than several smaller pieces," says Wheeler. "The exception is small spaces, where several tiny paintings can collectively tell a story."
• Groupings: This is a great way to display two or three works by a single artist. Hanging artwork in groupings, such as a row gallery, can immediately make a room feel very stylish. If you are intimidated by arranging works in groupings, work around an anchor, such as a colour palette or shared theme. Arrange the display on the floor first before hanging. You can also go for a looser salon-inspired arrangement by starting at the centre and moving outward.
• Don't hang work too high: Beware of this common mistake. "The rule of thumb is to hang the painting so that the midpoint is five [feet] to five and a half feet from the floor," says Wheeler.
• When to consider the sofa: Position the piece seven to 13 inches above the sofa's back so the painting still feels connected to the furniture. "Hang it too high and it will seem disjointed," says Iván Meade.
• Protect your investment: Avoid placing art on walls that receive direct sunlight or exposing works to high-watt incandescent lights, which will damage the work. Also avoid rooms that are prone to humidity or cooking fumes.
• Light it right: Lighting art properly can be a bit of an art in itself. Some pieces won't require specialty lighting, but others require specialty lighting to remove glare or shadows or bring out the detail. Consult with a lighting expert at a local lighting-supply store for the best solutions for your art. Wheeler recommends LED to obtain a truer light.
Enjoy the Adventure
Searching out and buying art for your home can be a journey of great satisfaction that will bring story and meaning into your home. So enjoy learning and exploring.
As designer Iván Meade says, "Don't be afraid to live with an empty wall while you search. Never buy something mass-produced to temporarily fill a wall, because it will often wind up there forever!"