YAM magazine's Best Restaurant Awards 2023 celebrates Greater Victoria, B.C.'s exciting food scene and are judged by an independent panel of chefs and food experts.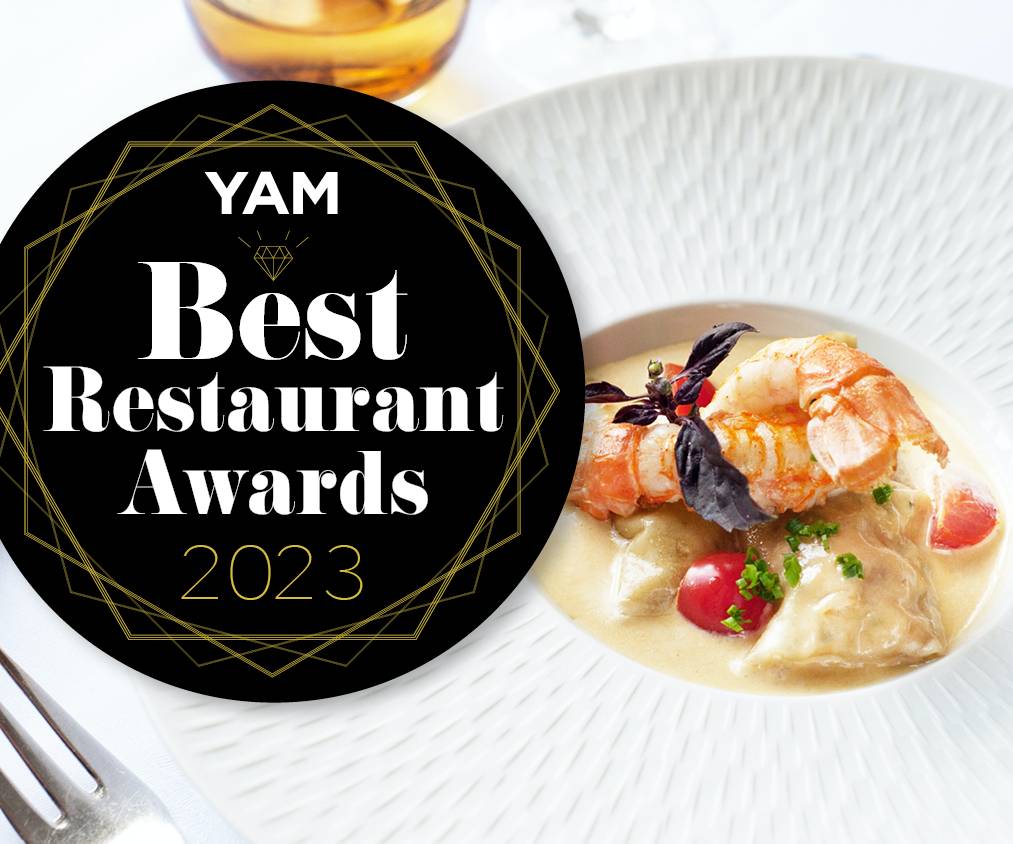 BY CINDA CHAVICH | PHOTOS BY JEFFREY BOSDET
It was a year to reset, refresh and rethink. But now that the post-pandemic dust has (mostly) settled, an exciting new culinary scene is emerging in Victoria, and things have never been more delicious. In the following pages, discover the people and places that are making this city such a dynamic place to dine.
With summer upon us and patios again buzzing with diners, it's time once again to celebrate the city's top chefs and restaurateurs.
If you can say anything for sure about the restaurant business this past year, it's that it was in flux, both expanding and contracting to embrace the changing times.
It was a year to re-evaluate and reset, whether personally for chefs and owners or collectively, as the ways of working and dining shifted for us all. There were some casualties, but The Great Pause also gave many creative cooks time to hone their plans, and as a result delicious new concepts burst onto the local scene this year.
Sadly, some fine restaurants closed, while others cut back opening hours and retooled their menus to reflect ongoing issues with food costs and labour shortages. The pool of culinary talent shifted, too, with some of our local chefs moving to other kitchens or setting out on their own. In fact, much of the excitement in the city restaurant scene comes from that shuffling of the culinary deck chairs — with several favourite chefs taking on new roles.
Chef Sam Harris is now in charge of the kitchen at Café Brio, while chef Gabe Fayerman Hansen leads the restaurant team at AURA Waterfront Restaurant + Patio. Rock Bay Market has expanded its offerings with evening pop-up dinners thanks to chef Cam Picyk in the house. Chef Carmen Ingham has returned to the city after four years as executive chef at the Wickaninnish Inn, while chef Kristian Eligh is finally set to open the long-promised restaurant and raw bar from Vancouver's Toptable Group in downtown Victoria.
And young chefs are designing their own dreams with ambitious new projects — whether it's Corbin Mathany at Ugly Duckling; power couple Ross Bowles and Tracie Zahavich, co-owners of the award-winning Fox & Monocle Café; or Matt Jackson, who has given Sidney diners an elegant new French bistro experience at Atelier. Funky end dive arrived, a seafood-forward kitchen and bar led by chef Mat Clarke, the long-time chef at Be Love. And Jess Taylor of the Wandering Mollusk is wandering no more, with a permanent home for his oyster bar at Shuck Taylor's.
Haley Landa and Curtis Helm are another powerful force, pastry chefs arriving from Vancouver to open the GoodSide Pastry House, with customers lining up for their addictive almond double-bake croissants and exquisite desserts.
On the fast food side, there's Yukatsu & Uburger, the new Korean burger joint (in the former Pink Bicycle space) that serves bulgogi and katsu burgers. Good Ovening is offering roasted Korean chicken, for a healthier take on this popular nosh. And at Syriana in Esquimalt, a Syrian refugee family is bringing its authentic cuisine to the community, cooking up everything from savoury hand pies, kibbeh and kebabs to sweet baklava.
It's been a year of change for the local restaurant business, but as they say, a change is as good as a rest.
So let's embrace what's new and celebrate Victoria's hardworking hospitality industry.
Dine on!
---
---
About the Judging
Every restaurant awards process is slightly different; here is how the YAM Best Restaurant Awards are decided.
First and foremost, the awards are proudly independent. The YAM Best Restaurant Awards are open to establishments in Greater Victoria, from Sooke to Swartz Bay. Restaurateurs do not pay for the awards, nor do they apply to enter, nor are they informed that they are under consideration for an award. In addition, the judges may not vote for any restaurant with which they have a personal or professional affiliation. Any conflicts of interest are promptly disqualified.
The judges come from different areas of the food community. Some are food writers and bloggers; others work as chefs or sommeliers or in other aspects of the hospitality industry.
In each of the 20 categories, they are asked to nominate their top three candidates.
We crunch the numbers in house, with input from our head judge, YAM's food writer Cinda Chavich. Sometimes there is a clear winner. Sometimes every judge has a completely different opinion. In that case, we go back for a second round of voting.
Or a third, or fourth, if we need to.
We know that winning a YAM Best Restaurant Award can make a world of difference to a small, independent business, so we take the process very seriously. And we are very grateful to our judges for their time and their thoughtful contributions. Thank you.
The Judges
Awards facilitator – Joanne Sasvari
Joanne Sasvari is the editor of YAM magazine and a longtime food, drink and travel writer. Her work appears in Food & Wine, Shondaland, HelloBC.com and the Vancouver Sun, and she is the editor of the drinks publications Vitis and The Alchemist. She is also the author of several cookbooks, including the IACP finalist Wickaninnish Cookbook, bestselling Island Eats and forthcoming Okanagan Eats (Figure 1 Publishing).
Head Judge – Cinda Chavich
YAM's food writer Cinda Chavich is an award-winning freelance journalist and author whose work has appeared in Cooking Light, Wine Spectator, the Globe and Mail, Canadian Living and Maclean's. She produces the TasteReport website and is the author of six cookbooks including the 2016 International Association of Culinary Professionals finalist The Waste Not, Want Not Cookbook (TouchWood Editions).
Castro Boateng
Castro Boateng is the chef and owner of House of Boateng Café, Catering & HOB Fine Foods. YAM's Chef of the Year in 2019 and 2022, he also made enRoute's top 35 best new restaurants 2019 and was named one of the best pop-ups of 2022. His café was featured
on Food Network's My Big Bucket List in 2021.
Janine Boom
Janine Boom is a local foodie, business owner and the creator of the Instagram account @besteatsvictoria. She has lived in Victoria most of her life, and she loves exploring the local food scene in search of the best eats in town.
Daniela Cubelic
Hailed as "Canada's Queen of Tea" (Globe and Mail), Daniela Cubelic is an accomplished Tea Master and owner of Silk Road Tea. A member of Les Dames d'Escoffier, she is known for her refined palate and superb tea blends, and has collaborated with many local chefs and mixologists over the years.
Don Genova
Don Genova is an award-winning freelance writer and broadcaster specializing in food and travel. He has written for the Globe and Mail, National Post, enRoute and many other publications. He is also a cooking instructor and the author of Food Artisans of Vancouver Island and the Gulf Islands, and is working on a second edition.
Dallas Harwood
Dallas Harwood is a co-founder and the current operator of @VicFoodGuys on Instagram. He has been helping shine a light on people doing awesome things with food for the last seven years in and around Victoria.
Madone Pelan
Madone Pelan is the general manager of the Oak Bay Beach Hotel and part owner of the Whole Beast Artisan Salumeria. She also serves on the BC Hotel Association board of directors, Destination Greater Victoria board of directors and is the chair of the Oak Bay Tourism Committee.
Bonnie Todd
Since she launched it in 2012, Bonnie Todd has been the owner of Off The Eaten Track Tours, a foodie walking tour company that showcases her passion for the culinary culture of Victoria and Vancouver Island. She also writes for various local publications including Edible Vancouver Island and the MicCHEK podcast.
THANK YOU TO OUR SPONSORS