By Cinda Chavich
Photos by Jeffrey Bosdet and styling by Janice Hildybrant
---
Victoria is blessed with a wealth of small, independent restaurants, creative chefs, beautiful bakers, bold butchers and cheesemakers — in short, a food scene that's vibrant and growing organically every day, literally from the ground up. We live in a virtual kitchen garden, where local farms, orchards and vineyards supply these creators with the best raw materials and inspiration. There are so many choices, but every so often there's a bite that pulls you in, and brings you back for more.
So each year I like to look back at some of the tastiest things I've discovered, and celebrate the abundance of delicious dishes, noshes and treats in our midst. These are a few of my favourite things for 2016, in no particular order.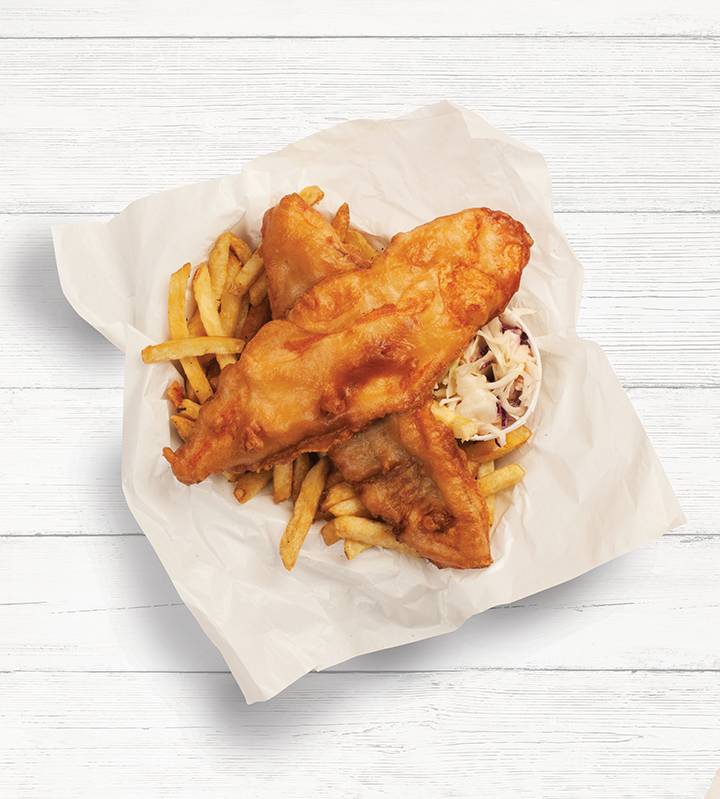 1. Seaside Chippy
At Red Fish Blue Fish, the Ocean Wise fish (Pacific cod, wild salmon, B.C. halibut, even oysters) is fried in crispy tempura batter and served with Kennebec chips on the side. Enjoyed from a sunny stool on the pier, it's a local fish-and-chips lunch that's about as green as it gets.
Located at 1006 Wharf Street, Victoria, BC.
2. Wherefore Art Thou?
Whether she's happy or blue, Juliette is my cheese of choice from Salt Spring Island Cheese. Just belly up to the cheese bar in the Victoria Public Market for a taste of the offerings from this great local artisan cheesemaker. But don't miss the creamy Juliette or the blue-veined Blue Juliette — a cheese by any other name!
Located at 1701 Douglas Street, Victoria, BC, in the Hudson's Victoria Public Market.
3. Shared Experience
Order a family-style meal at Café Brio and let chef Laurie Munn choose six dishes from his great menu — from crispy duck confit, warm lentils and celery root purée to pan-seared salmon with faro and spinach risotto. It's the kind of food that keeps bringing me back to this comfortable café, where the feeling of hospitality is always warm and genuine.
Located at 944 Fort Street, Victoria, BC.
4. Cake Queen
Susannah Ruth Bryan of Ruth & Dean Baked Goods makes incredibly beautiful cakes and pretty pies. Stop in at their little luncheonette and see what creative cake is available for tasting — think Earl Grey and lavender, vanilla with macerated blackberries, or chocolate vanilla drizzled in caramel. Almost too pretty to eat!
Located at 1310 Douglas Street, Victoria, BC.
5. Only On Sunday
Local baker Byron Fry takes a break on Sundays but never gives the wood-fired oven at Fry's Red Wheat Bread a rest. Instead he puts it to work baking pizza for the weekly takeout pizza party. Come early (from noon until the dough runs out) for a seasonal menu of hearty pies featuring local products, from a meaty pizza with Whole Beast chorizo, salami, preserved lemon and olives to The Flambe, a very Alsatian combo of leeks, herbed crème fraîche and bacon.
Located at 416 Craigflower Road, Victoria, BC.
6. Sweet Sandwich
Cold Comfort is Victoria's premier ice cream company — organic and local ingredients whipped into creative seasonal flavours that run the gamut, from bay laurel and birch to salted caramel or Dark Matter beer. But put the Valrhona chocolate ice cream between chocolate butter cookies and you've got the Big Chocolate O(MG), a sweet sandwich you'll dream about. Watch for regular DIY sandwich days — a chance to create your own combo on an awesome Empire Donut.
Located at #2 – 1115 North Park Street, Victoria, BC.
7. Egg Head
My favourite pub nosh is the Scotch egg, and they make a tasty rendition at the Six Mile Pub. This is B.C.'s oldest pub (est. 1856), but its current claim to fame is the food — locally sourced meats and Ocean Wise fish, with house-made specialties like these little quail eggs enrobed in Two Rivers sausage meat and fried to perfection, with Branston pickle. The pub even keeps its own bees!
Located at 494 Old Island Highway, Victoria, BC.
8. Savour Saveur
The big Hangover breakfast at Saveur would cure what ails two average eaters, so come for brunch, but don't miss the evening Chef's Pairing Menu for a selection of West Coast wonders, from parsnip soup with pickled pear to gnocchi with squash and wild-mushroom soil, or braised Cowichan beef cheek with cedar potato crust and fir jus.
Located at 658 Herald Street, Victoria, BC.
---
9. Duck Delights
When you go to Choux Choux Charcuterie it's hard to decide which of the housemade pâtés, rillettes, sausages and other meaty artisan products to choose. Add some of their imported cheeses, and it's the perfect place to fill your picnic basket. But don't leave without the duck — from confit to crépinette (a sort of sausage encased in caul fat) — to sear at home and serve with a salad. Magnifique!
Located at 830 Fort Street, Victoria, BC.
10. Cinni-Ful Buns
I don't make cinnamon buns, but my mom did, and for pure nostalgia I can't find a better bun than the big soft spirals at Bubby Rose's Bakery & Café on Cook Street. My kind of cinnamon roll is simple — no need for embellishments like raisins or gooey icing — and their unadorned buns are perfection. Butter, eggs, time and care.
Located at 1022 Cook Street, Victoria, BC.
11. Sirene Siren
Taylor Kennedy's Sirene handcrafted chocolate bars will call your name like some mystical maiden after the first bite passes your lips. Think 73 per cent chocolate, made with Camino Verde cacao from Ecuador, heightened with a touch of local Island fleur de sel. Bean-to-bar creations, made from beans that are sorted, roasted, winnowed, ground, aged and moulded by hand, right here in Victoria.
Find multiple locations here.
12. Vegan Vibe
Though I'm not a vegan, I crave the fermented cashew nut "cheese" slathered on crunchy, seedy, gluten-free crack bread at Nourish Kitchen & Cafe. Wash it down with a mug of broth from their Bone Broth Bar or a fizzy probiotic kefir water — all healthy, all the time.
Located at 225 Quebec Street, Victoria, BC.
13. Fol Epi-c
They not only make the best baguette in town, Fol Epi Bakery now has a new restaurant, Agrius, where you can enjoy all of their baked goods and more. The Yarrow Meadows duck breast with preserved apricot, acorn squash and duck-liver sauce was a standout entrée, but you can also try their crispy pork belly báhn-mì or a hearty beef brisket and sauerkraut sandwich on their epic bread.
Located at 732 Yates Street, Victoria, BC.
---
14. Classic Bagels
Montreal is the home of classic Canadian bagels, and Victoria's Mount Royal Bagel Factory channels that tradition. When the owners arrived from Quebec more than 20 years ago and found no decent bagels, they got an authentic Jewish recipe and set out to create their own. This hidden gem in Fernwood supplies bagels to cafés and retailers, or you can buy them fresh by the baker's dozen. A schmear of cream cheese on a toasted onion bagel will cure almost any bagel craving.
Located at #6 – 1115 North Park Street, Victoria, BC.
15. Chicken and Waffles, Oh My!
At North 48, this southern specialty always tastes more-ish — a crispy fried chicken breast perched on a savoury corn, cheddar and green onion waffle, with a drizzle of sweet, chili-infused maple syrup.
Located at 1005 Langley Street, Victoria, BC.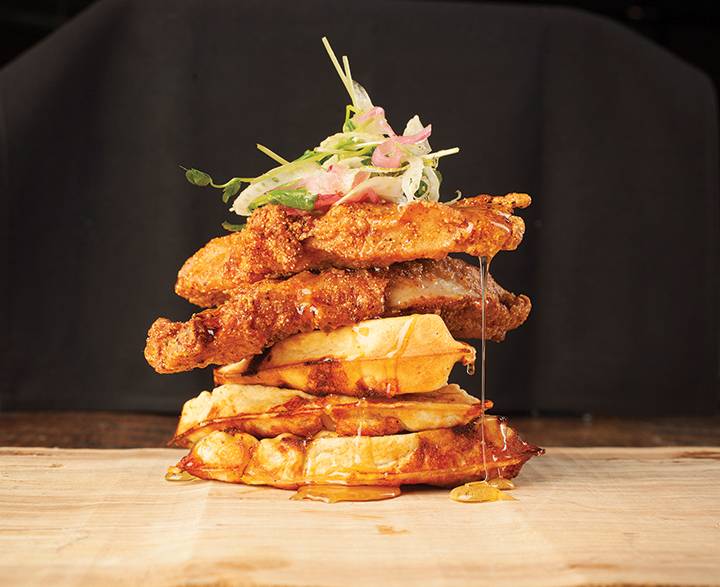 16. Marzipan Moments
If you love marzipan — and pastry — there may be no match better than the tender almond croissants from Patisserie Daniel. Encrusted with slivers of toasted almonds, dusted with a flurry of icing sugar, and filled with housemade marzipan, this is true almond joy.
Located at 1729 Cook Street, Victoria, BC.
17. Taste of Spain
Chorizo & Co. has some seriously Spanish sandwiches, whether you have the breakfast bocato of chorizo, manchego and runny fried egg on a tender brioche bun, or the "Completo" with the works — olivada, serrano ham, chorizo, manchego and peppery greens on a chewy baguette. Or go straight to the impressive selection of fresh potato-and-egg tortillas displayed along the bar. Muy bueno!
Located at 807 Fort Street, Victoria, BC.
18. Taco 'Bout This
La Taqueria recently opened a Victoria version of their authentic north-of-the-border Mexican taco stand. Line up at the concrete-and-ceramic-tile bar for their housemade corn tortillas topped with braised beef cheek, al pastor pork and pineapple, free-range chicken with mole sauce, or refried beans with queso.
Located at 766 Fort Street, Victoria, BC.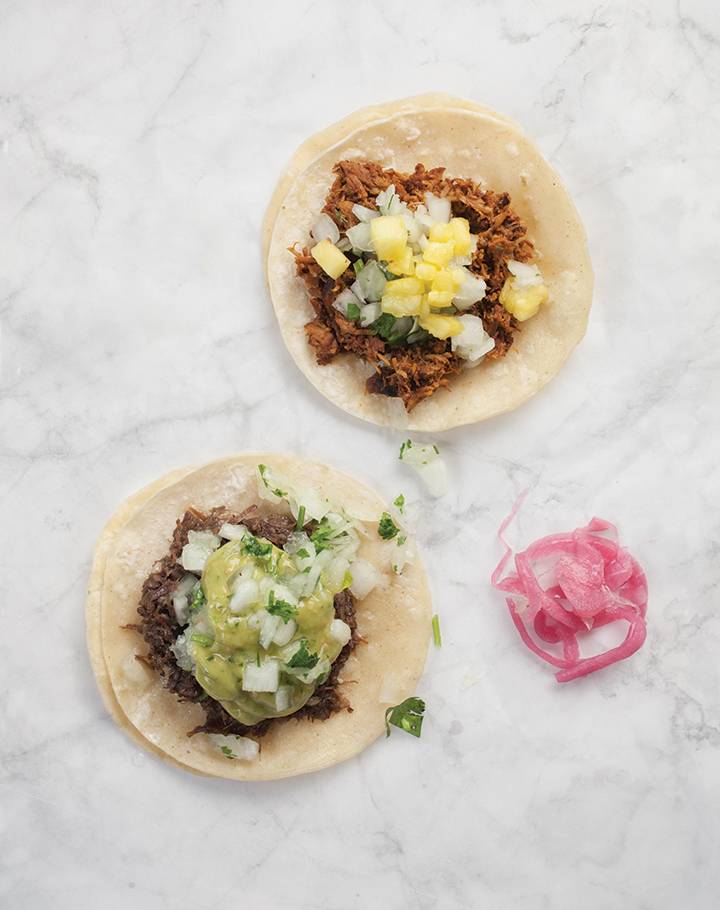 19. Go East
Whether it's olives, artisan pasta, Turkish delight or feta cheese, Fig Deli has a great selection of quality Mediterranean imports. But look for what's made in the store, too. Take home their feta and red pepper or walnut mouhamara spreads, cumin-scented Egyptian Koshari (a lentil, macaroni and caramelized onion combo) or the manoushi, a kind of Middle Eastern thin flatbread/pizza topped with spicy ground meat or halloumi cheese, hot out of the oven.
Located at 216-1551 Cedar Hill Cross Road, Victoria, BC.
20. Babe's Buzz
Babe's Honey produces lovely local honey and now they're brewing a bubbly probiotic beverage called Jun. This honey-based version of the popular kombucha tea is fermented with green tea and Babe's own Island honey, and infused with flavours ranging from ginger and jasmine to hibiscus. Try the refreshing, lemony version made with citra hops, in 355 ml bottles or refillable growlers, from their farm store.
Located at 4150 Blenkinsop Road, Victoria, BC.
21. Next Beautiful Bento
The Next Japanese restaurant in Cook Street Village creates some of the most beautiful food in the city. From the miso soup with slender enoki mushrooms to the grilled salmon on soba noodles, there are so many great dishes to try. But the lunchtime bento box is the real deal — an amazing selection of soup, salad, sashimi, tempura, noodles and sushi, all for less than 20 bucks!
Located at #104-240 Cook Street, Victoria, BC.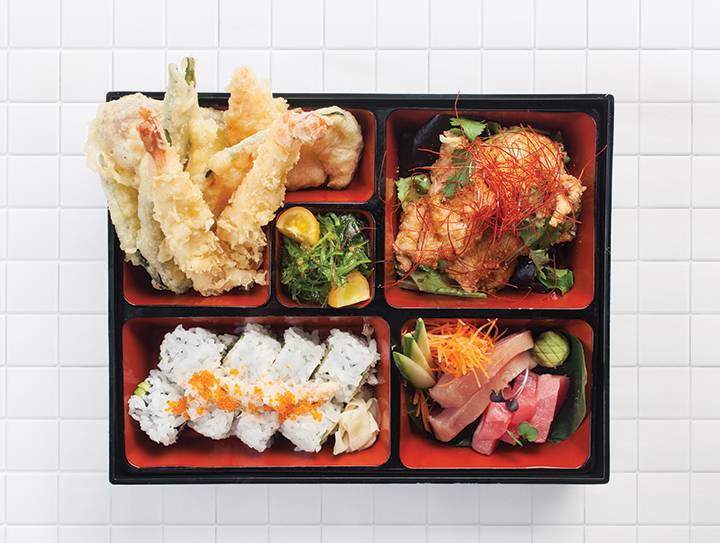 22. Simply Soup To Go
I'm smitten with the tasty soups made daily at the little Mason Jar Eatery in Cordova Bay. Pick up their soups, literally by the Mason jar, and return the jars to refill another day. A recent rich yam and coconut potage made a simple supper with a cheesy scone on the side. Take home a sliver of their "Elvis Cake" for dessert — the king of banana breads, with the addition of peanut butter, and chocolate, too!
Located at 5142 Cordova Bay Road, Victoria, BC.
23. Rotating Revelations
Part & Parcel rotates its creative local menu with the seasons so you never know what delicious daily special will turn up on the chalkboard. I love the Ma Po Tofu dish, topped with a perfect poached egg, but you might luck out with tender handmade cavatelli pasta, octopus and oyster rice croquettes, or black lime pork belly with charred broccoli. Or just try the fried chicken sandwich. Always inspired!
Located at 2656 Quadra Street, Victoria, BC.
24. Fool For Foo
Foo Street Food is a go-to spot for takeout and I never leave without a cardboard carton of their pulled pork and pineapple rice. Double fried, sweet and salty, it's a guilty pleasure. Or go for a big bowl of noodle soup from their latest endeavour, Foo Ramen. From the locally made noodles to crispy pork belly, seared Albacore tuna and their own pork broth, it's where the Far East meets the West Coast.
Foo Street Food is located at 769 Yates Street, Victoria, BC.
Foo Ramen is located at 762 Broughton Street, Victoria, BC.
25. Pie To Die For
The Victoria Pie Co. is a favourite spot to find a perfect sweet or savoury pie. Toss a salad and heat up one of their chicken pot pies, a steak-and-mushroom pie with caramelized onions, or a vegetarian mushroom, potato and Gruyère quiche, and dinner is served. There's even a Pie of the Month club so you can get their specialty pies delivered to your door.
Located at 1701 Douglas Street, Victoria, BC, in the Hudson's Victoria Public Market.