Every city has its signature foods, and every year creative chefs, cooks, butchers and bakers add more tasty treasures to the list. I've enjoyed some delicious diversions in Victoria, dishes and noshes both old and new. Herewith, in no particular order, are 25 of the best things I tasted this year. (Please note this article was written in 2017).
By Cinda Chavich
Photos by Jeffrey Bosdet with styling by Janice Hildybrant
---
---
1. Yummy Yalla
Yalla's Middle Eastern street-food menu was inspired by their killer falafel recipe, but there's more to explore — hand-cut Kennebec fries, dusted with Hawaij spice mix and served with a minty yogurt sauce, with a citrusy hit of preserved lemon, or the hearty halloumi kale salad, topped with cubes of crisply-fried cheese, cherry tomatoes, fresh mint and parsley, with some nice chewy bulgur to bulk it up. 1011 Blanshard Street / letsgoyalla.ca
---
---
2. Artisan Ice
Victoria is blessed with several great ice cream artisans, and the latest is Parachute Ice Cream, creating cool confections with both fresh water buffalo milk and cow's milk sourced from local farms. The blueberry ice cream is a veritable taste of summer, perfect paired with vanilla bean. And do check back often — flavours change all the time. If you're lucky, Apple Pie-scream might be on the menu. (Co-owner Robyn Larocque also owns Victoria Pie Co. along with this Rock Bay scoop shop.) 105-2626 Bridge Street / parachuteicecream.com
---
---
3. Pig Out
Magic happens when you take a lean pork roast, roll it in herbs and a rich layer of pork belly, and cook it to crispy perfection on a rotisserie. And it happens every day at Roast Meat & Sandwich Shop in the Victoria Public Market at the Hudson, where you can buy this perfect pork by the pound to serve at home or piled onto their porchetta sandwich, complete with loads of crispy crackling. 6-1701 Douglas Street / roastsandwichshop.ca
---
---
4. Fry's Faves
Yes, there are always big rustic loaves at Fry's Bakery. But this artisan bread baker fires up his wood oven and turns his hand to some seriously savoury stuff too — pork or lamb sausage rolls, meaty hand pies (tourtière, Korean BBQ, or smoky brisket and potato) or breakfast-in-bed pastries filled with squash, tomatoes and a just-baked egg. Instant, portable gratification. 416 Craigflower Road / frysbakery.com
---
---
5. Fresh from Fudo
Fudo is a new Japanese spot with a serious focus on the most exquisite fresh fish for its sushi and sashimi. Think bluefin tuna sashimi or local amaebi spot prawn sashimi, sea urchin, geoduck and sockeye. You will appreciate chef Shingo Sano's skill and the fresh seafood when you try his creative sashimi with ponzu and frizzled leeks. 425-777 Royal Oak Drive, Broadmead Village / fudovictoria.com
---
---
6. Bao Wow
Bao has a great selection of steamy filled bao (the Chinese equivalent of the taco) but the menu also includes some yummy bowl food, from ramen to the classic Korean rice bowl bibimbap. I like the version with spiced Korean chicken, kimchi and fried egg — warm, rich and satisfying comfort food anytime. 626 Fisgard Street / baovictoria.webs.com
---
---
7. Jewel of a Breakfast
When I think of The Ruby, the café on TV's Corner Gas comes to mind — and though our favourite rotisserie chicken joint goes beyond that kind of diner fare, it's still a great spot for a mug of coffee and a killer breakfast. The whole menu revolves around their tender poultry, but a must-have breakfast dish is the Rotisserie Chicken Hash, a big crispy hash-brown potato patty topped with pulled molé chicken, black bean and corn salsa, and a couple of perfectly poached eggs. Ole! 3110 Douglas Street and 642 Johnson Street / therubyvictoria.com
---
---
8. Mexican Moments
If you're looking for the city's finest selection of tequila — and a killer margarita shaken with fresh lime juice — look no further than the reimagined Cafe Mexico. Pair either with a sizzling fajita board, the tender skirt steak arriving with hot corn tortillas and guacamole, refried beans and Spanish rice. It's a recipe for fun. 1425 Store Street / cafemexico.com
---
---
9. A Tasty Parcel
Try the fried chicken sandwich, crusted with kamut and topped with house-made bacon, bread-and-butter pickles and coleslaw at Part & Parcel — it's the "fast food" choice from this scratch kitchen which also makes healthy vegetarian offerings, like the beluga lentil and broccoli falafels with sunflower tahini or the beautiful roasted beet and quinoa salad with goat feta and poppy seeds. Nom, nom, nom. 2656 Quadra Street / partandparcel.ca
---
---
10. Best Baguette
Start with flour milled on site, develop the dough with slow, natural fermentation, form your breads by hand, and bake them in a wood-fired oven — it's a long process, but it's the recipe for a perfect baguette. And that's how artisan baker Cliff Leir does it at Fol Epi bakery. Crazy, wild, slow, tasty bread. 101-398 Harbour Road / folepi.ca
---
---
11. Korean Kool
Dak is a popular breakfast and lunch spot with the Fort Street tech crowd. Their spicy Korean rotisserie chicken is flavoured with sweet and spicy gochujang (red pepper paste) and turns up in rice bowls and bahn mi-style baguette sandwiches with sliced cucumber, avocado and crunchy fresh greens. It's a start-up savvy idea, the perfect hand-held lunch to fuel your creative career. 838 Fort Street https://www.facebook.com/dakrotisserie/.
---
---
12. Roll With It
Before there was a fast-food chain slathering super-sized cinnamon buns with gooey icing, there were perfect, home-baked coils dusted with cinnamon and other spices, and baked to caramelized perfection. You can go back to that simpler time at Roost Vineyard Bistro & Farm Bakery, a busy bakery/café in rural North Saanich where cinnamon buns, topped with crunchy glazed walnuts, are about as close to Mom's as you'll get. 9100 East Saanich Road / roostfarmcentre.com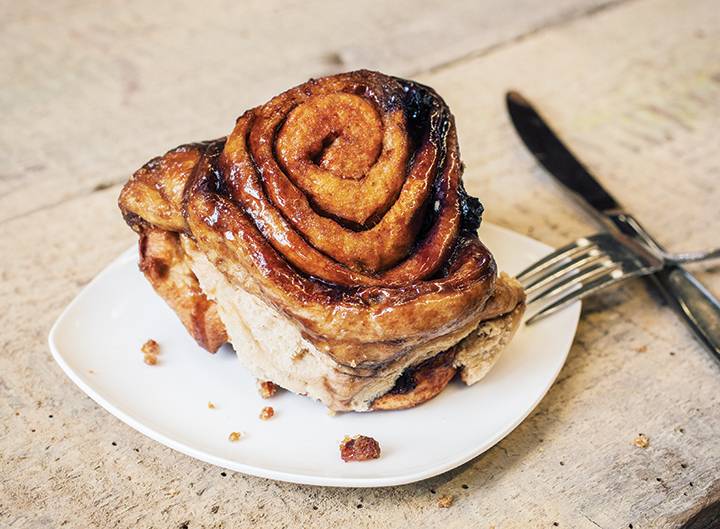 ---
---
13. Beets & Burgers
One of my favourite food trucks takes beets into gourmet fast-food territory. At Deadbeetz, chef Karrie Hill tops her signature Beatrice free-range beef burger with slabs of house-pickled beets, a shockingly simple but effective combination. Find her parked behind the Royal BC Museum with other tasty truckers. 675 Belleville Street (Royal BC Museum) / deadbeetz.com
---
---
14. Memories of Lima
The silky salmon ceviche served at The Livet, with its citrusy "tiger's milk" marinade, slivers of sweet red onion, fresh chilies and garnish of crispy salmon skin, takes me right back to southern climes. It's an appetizer that's true to its Peruvian roots with a West Coast twist, and the perfect plate to share on Livet's sunny patio. 201-804 Broughton Street / thelivet.ca
---
---
15. Better Bacon
I'm a bit of a bacon snob and always searching for the ultimate, double-smoked, salt-cured, Polish-style bacon. The product that most mimics the bacon of my dreams is the rosemary bacon from Four Quarters Meats. It's smoky, subtly sweetened with brown sugar, lean and not overly salty — what great bacon should be. 2031 Malaview Avenue West, Sidney / fourquartersmeats.com
---
---
16. Killer Calamari
The giant Pacific Humboldt squid is the latest darling on Ocean Wise menus. At Fishhook, chef Kunal Ghose does some tasty things with this monster squid, from his crispy squid pekora with coconut chutney to my current favourite thing, the tender tandoori-spiced squid, sautéed until perfectly caramelized and piled over rice. 805 Fort Street / fishhookvic.com
---
---
17. Apple a Day
When you're slammed for time, or just want some homestyle stuff in the freezer for emergencies, turn to the cooks at The Apple Box. Using fresh Island ingredients, they are cooking from scratch when you can't — from homey pot pies to soups and curries. Try the Thai meatballs, made with lean local turkey and pork, swimming in an addictive coconut-peanut sauce to dump over rice or a big bowl of Chinese noodles. Stop in or order online for pickup (and delivery). 1725 Cook Street / theapplebox.ca
---
---
18. Speakeasy Specials
Little Jumbo is a hip, off-street speakeasy that's known for its creative cocktails, but there are some tasty specials on the simple menu here too. Have them shake up The Bear Necessities — with bourbon, nutty Frangelica, honey and citrus — and order the duck! 506 Fort Street / littlejumbo.ca
---
---
19. Charcuterie, Chinese-Style
The tender, sweet, exotically spiced barbecue pork (char siu) that comes off the smoker every Friday at The Whole Beast Artisan Salumeria is addictive. Wrap it up with shredded carrot and cucumber in rice paper, add it to your bowl of Bun, or just rip into it while it's still warm in the car on the way home. A rare and coveted commodity, it sells out fast. So go early or simply stock up on chef Cory Pelan's other cured creations. 2032 Oak Bay Avenue / thewholebeast.ca
---
---
20. Nostalgic Noshing
At Table 21, the sharable menu includes some of chef Jason Clifford's favourite comfort foods, from braised shortribs with cheddar grits to a house-made Ho Ho dessert. But a personal favourite of mine is Clifford's take on his mom's "antipasto" appetizer — a deconstructed version of this vintage party food, with seared albacore tuna and a chunky relish of tomatoes, artichokes and olives, artfully plated to share. 777 Douglas Street / table21.ca
---
---
21. Crunchy Croissant
There are many good croissants to try from city bakers, but the buttery version from The French Oven Bakery is a toothsome, Lyon-style pastry that I love. Try the plain croissants, chocolate- or almond- filled croissants, and bacon-and-cheddar breakfast croissants. Or pick up the frozen products to bake at home. Don't miss their monkey bread, a tasty tangle of croissant pastry laced with cinnamon and sugar. 1701 Douglas Street / frenchovenbakery.ca
---
---
22. Bold Bar-B-Que
Channeling Texas Q on the west coast is Jones Bar-B-Que, with juicy pulled pork, ribs and smoky beef brisket from the wood-fired pit. I love it all — the coleslaw and especially the baked beans, cooked perfectly from scratch with the trimmings and burnt ends of the Q for extra flavour. But don't miss the brisket, a true Texas treat. Yee-ha! 1725 Cook Street / jonesgotmeat.com
---
---
23. Something Fishy
Whatever your pleasure, from spot prawns to sockeye and halibut, Oak Bay Seafood has the fresh, local catch. But this fishmonger (formerly Cowichan Bay Seafood) also has a talented chef who's cooking up all kinds of goodies, from crispy, gluten-free fish and chips to richly flavoured cioppino broth (just add shellfish for instant dinner parties). Some of their house-smoked treats are among my favourites — fat oysters and smoked salmon fins, a waste-free way to snack. 2024 Oak Bay Avenue / oakbayseafood.com
---
---
24. Breakfast of Champions
Go to the Fernwood Coffee Company for their beans, but stay for the breakfast (and lunch) at the Parsonage Café, the real roots of this neighbourhood haunt. I'm particularly partial to the breakfast bagel, filled with free-range eggs, Slater's bacon, creamed spinach or tomato — pure, portable morning fuel. 1115 North Park Street / fernwoodcoffee.com/pages/parsonage-cafe
---
---
25. Doing Dessert
AURA waterfront restaurant + patio is a stunning culinary destination at The Inn at Laurel Point, with a menu that fuses French and Asian cuisine. Everything is top-notch, but save room for pastry chef Kimberley Vy's beautiful desserts. She's the ice-cream queen, and there's nothing more addictive than the molasses-and-bourbon ice cream served alongside her dense, chewy chocolate brownie, with tasty textural additions like candied cocoa nibs, bruléed bananas and creamy malted milk! 680 Montreal Street / aurarestaurant.ca
/