A sampling of the Victoria's best nibbles, eateries and takeout dishes.
By Cinda Chavich
There's no doubt we all have our favourite local foods, whether that's a fresh-from-the-farm strawberry, the best chewy baguette or the most amazing fish taco.
These are the foods we crave and return to again and again — dishes and noshes we'd take to that proverbial desert island.
With its creative chefs, artisan entrepreneurs and other culinary passion projects, the City of Victoria, B.C., offers delicious diversions of all kinds. And it's these local delicacies that we're celebrating with our curated list of some of Victoria's finest flavours.
Yes, it's subjective, and, yes, we had to pare down a much longer list to arrive at these 27 terrific bites. It wasn't an easy task, but we hope it will inspire you to get out and enjoy noshing your own way around town.
Herewith, in no particular order, are some of the things we love to eat in Victoria right now.
Nixtamal Tacos / MAIIZ
Chef Israel Alvarez Molina is the real deal when it comes to authentic Mexican tortillas. His MAiiZ Nixtamal tortillas and masa, made by fermenting and grinding whole organic B.C. corn, revive the ancient method of creating this traditionalMexican staple. You'll find his tortillas in his little shop in Chinatown, at local grocers and on some of the city's best restaurant menus. Or order a meal kit online — vegan tacos, barbacoa, pozole — delivered with local Haltwhistle cheesecurds, Haus chorizo or taco-spiced chicken from Farm + Field Butchers.
Fish & Chips / Finest at Sea Food Truck
There's fine fish and chips served around town, but then there's the finest — fresh from the fish mongers at Finest At Sea. When you come to the shop for your local halibut and cold-smoked tuna, plan to stay for lunch from their food truck outside, featuring B.C. fish and seafood in fish and chips, fish tacos, fish burgers and chowders. Wild and wonderful.
Tea for Two / AURA Restaurant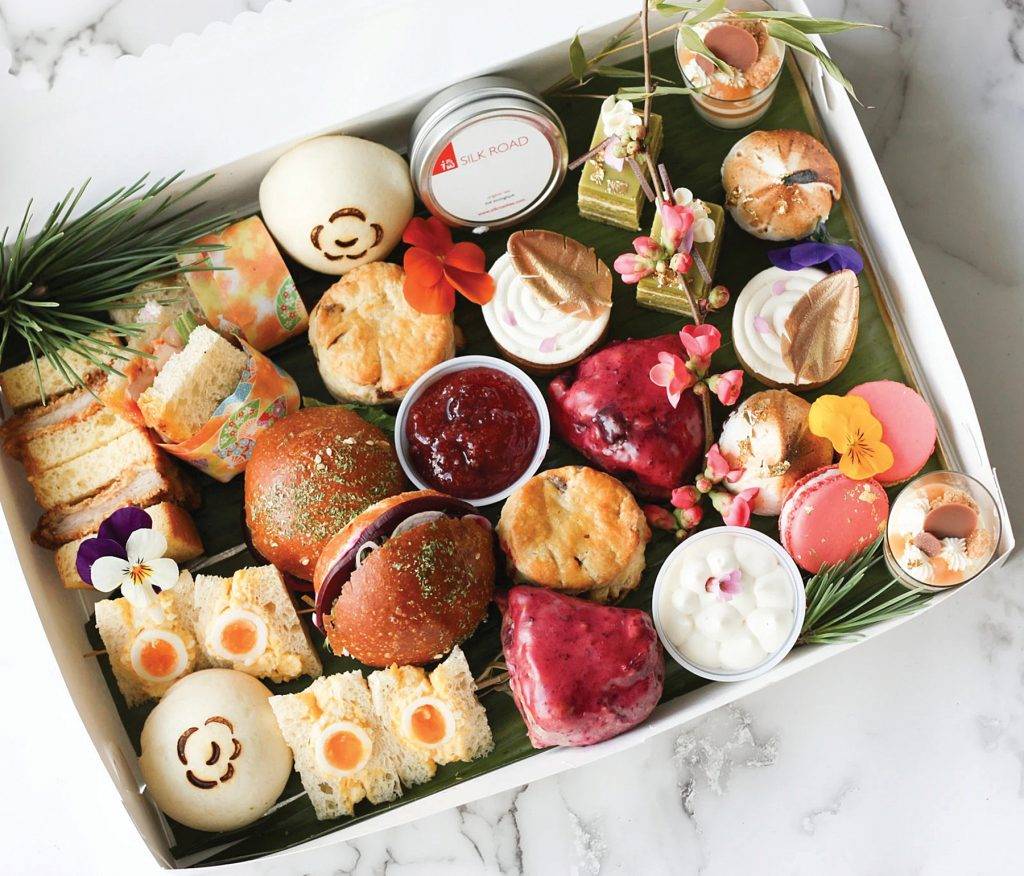 Afternoon tea is a thing in Victoria, and takeout afternoon tea boxes, complete with savouries and sweets, is the latest thing. The Asian-inspired tea box for two from the chefs at the Inn at Laurel Point offers a unique selection — panko-crusted chicken katsu sandwiches on housemade brioche, Japanese braised beef steamed buns and Tamago Sando eggwiches, garnished with tiny quail eggs. Blueberry black currant and sour cherry white chocolate scones with clottedcream, and yuzu meringue profiteroles take tea for two to new heights.
Chicken Shawarma / Bold Butchery & Grill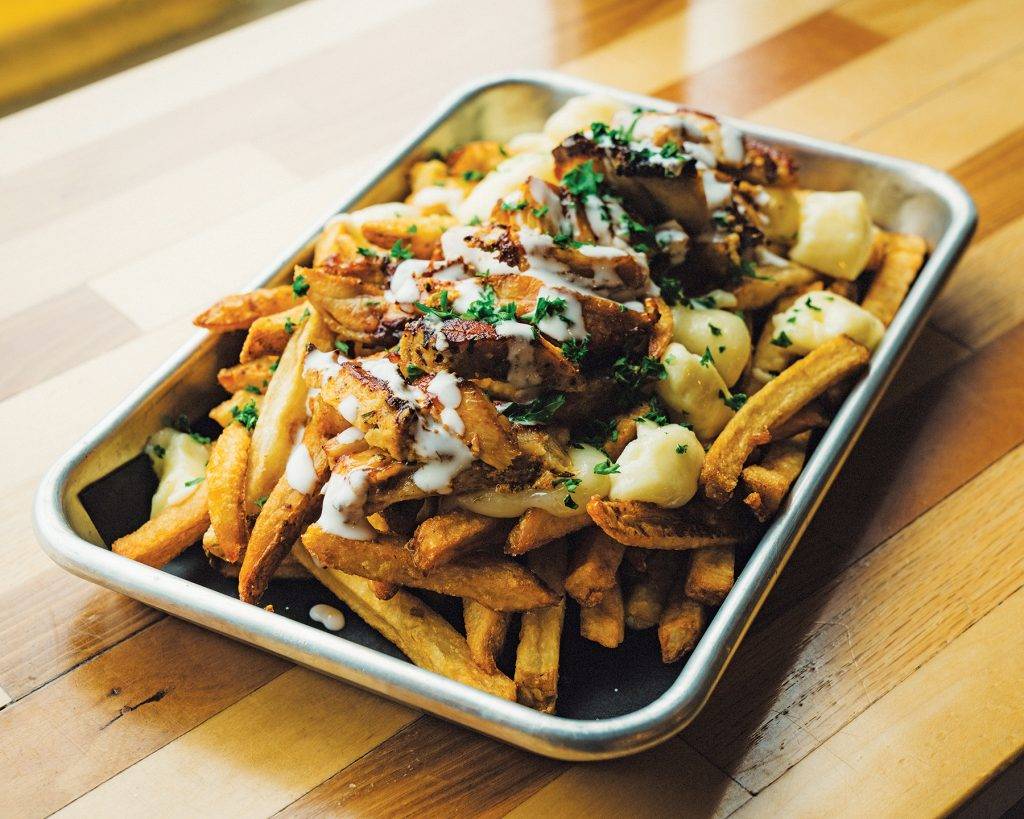 Bold Butchery is the place to go for shawarma — served in a wrap, over rice or greens and even topping their gooey shawarma poutine. This butcher shop and grill specializes in humanely raised halal meat and poultry, so you can stock your freezer with grass-fed beef or just come by for a burger or that shawarma, made with 15 secret spices, and sliced from their spinning rotisserie to order.
Gamberi Pizza / FARO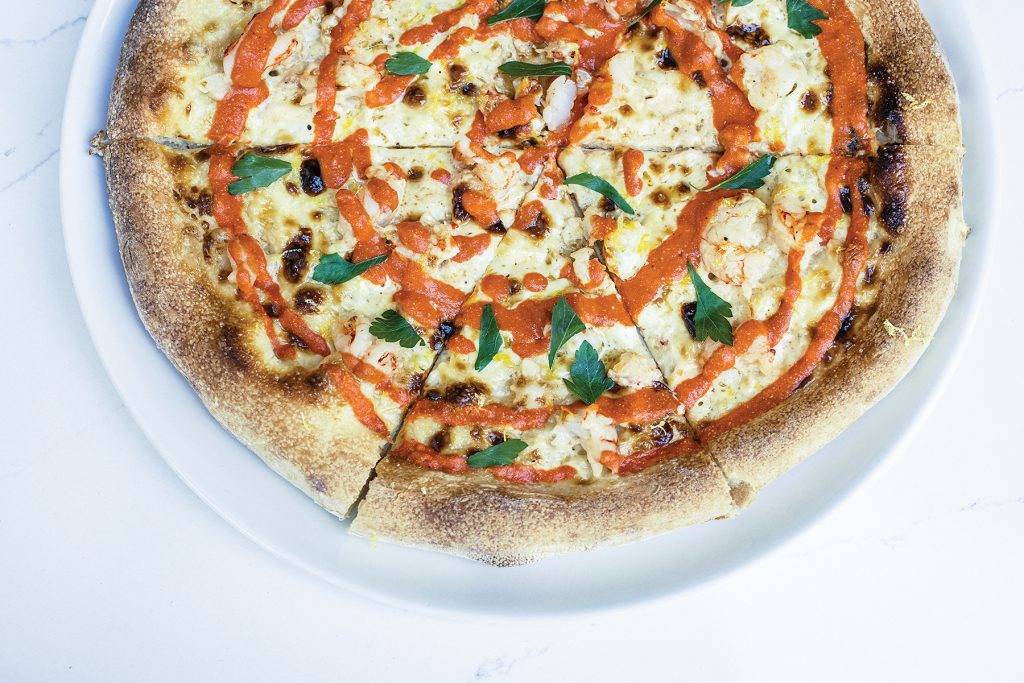 Faro offers the perfect combination of great artisan pizza and comfortable patio dining at the Oak Bay Beach Hotel. The chewy, thin crust arrives bubbling and charred from chef Kreg Graham's fiery pizza oven and makes the perfect base for a variety of toppings, from Whole Beast charcuterie to local buffalo milk mozzarella. But a fan fave is their unique Gamberi pizza — drizzled with lemon and cashew romesco and garlic cream and topped with chunks of sweet, wild prawns.
Tagliatelle with Meat Sauce / Zambris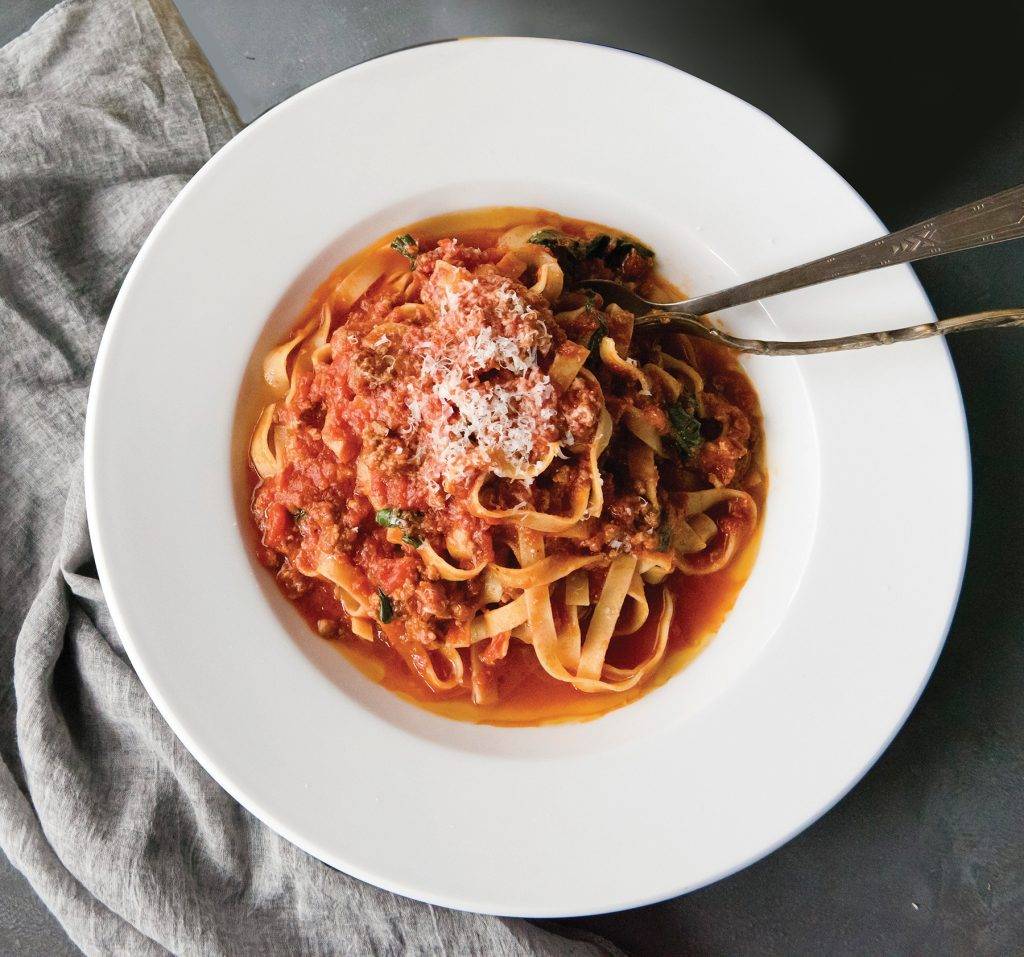 Zambri's is known for seasonal Italian food and elegant dishes inspired by chef Peter Zambri's Italian heritage and the wild local ingredients of the West Coast. But he's also a master of simplicity, whether it's hearty minestrone soup with house made foccacia, a meatball sandwich or a plate of pasta. The Tagliatelle with Meat Sauce is a longtime favourite.
Cheesecake / Bunny's Kitchen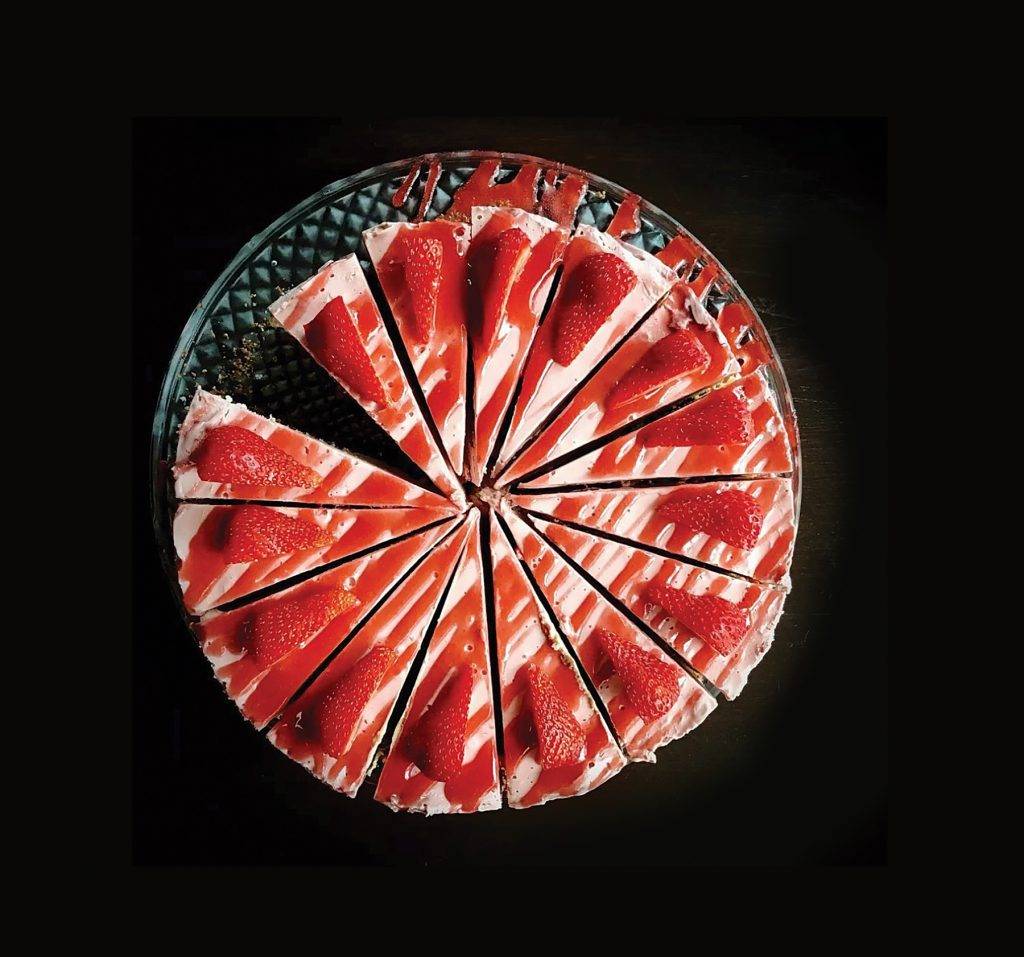 Whether you're a vegan or not, you'll find a wide range of healthy, homestyle goodies at Bunny's Kitchen in Esquimalt. Beyond Jenny Smart's popular vegan or eggy breakfast sandwiches, turkey burgers and vegan mac and cashew cheese are her more-ish vegan desserts.Try the daily vegan cheesecake — offerings include creamy Coconut Lime or a Salted Caramel Almond Butter Cheesecake, made with local Fatso almond butter. Dairy be damned!
Seared Scallops / Alpina Restaurant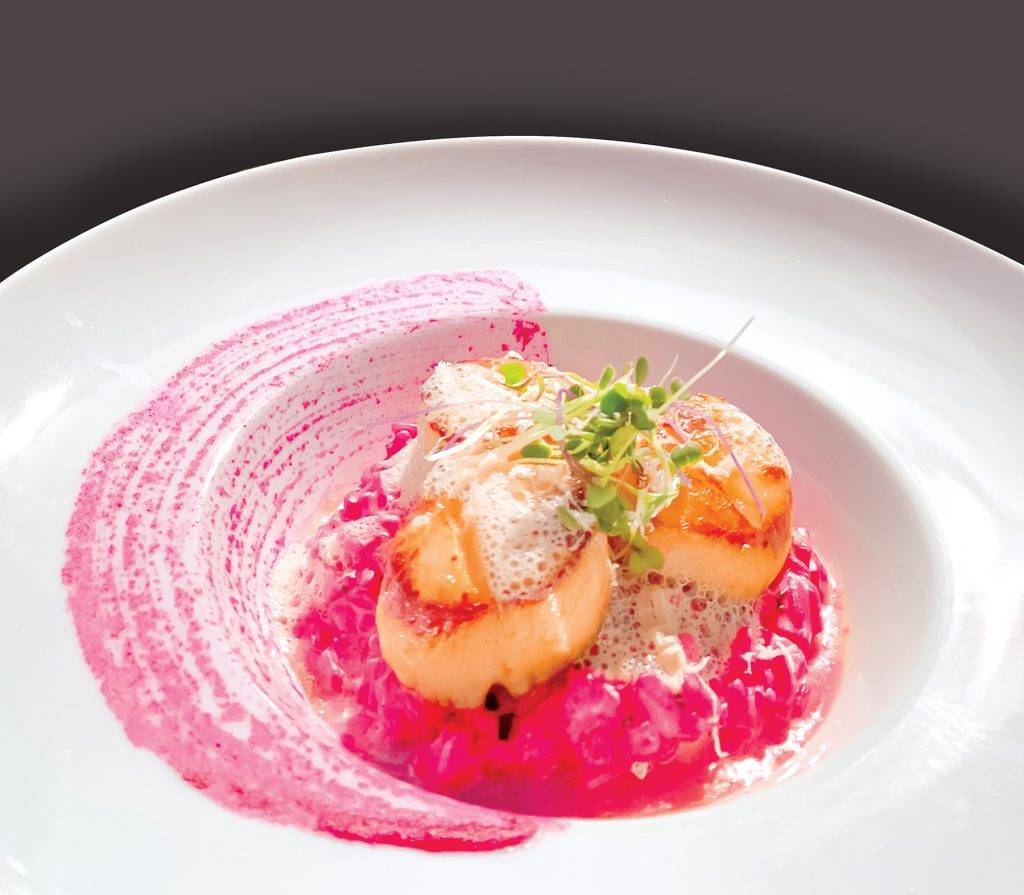 A trip to Alpina, the restaurant at the top of the Malahat at Villa Eyrie Resort, rewards you with some of the best views on the Island and fine dining from a team of chefs at the top of their game, including Executive Chef Mario Gross, who brings years of Michelin-star experience. Try the Seared Scallops (served with beet risotto, horseradish sauce, watercress) or Chinook Salmon Vintner's Style — dishes that take local ingredients to new heights.
Hippie Benny / House of Boateng Cafe
Chef Castro Boateng puts his elegant African spin on many dishes at the House of Boateng Café. It's hard to pick af avourite from his brunch menu — the verdant Hippie Benny with chickpea cake, kale and wild mushrooms, and nettle hollandaise sauce is a dish that's not to be missed. There's African and Caribbean spice in the pantry and take-and-bake offerings too. Try vegetarian bangers and mash to bake at home, African Jamaican Beef Patty with house hot sauce and little Bofrot doughnuts rolled in cinnamon sugar. Akwaaba!
Les Moules / Vis à Vis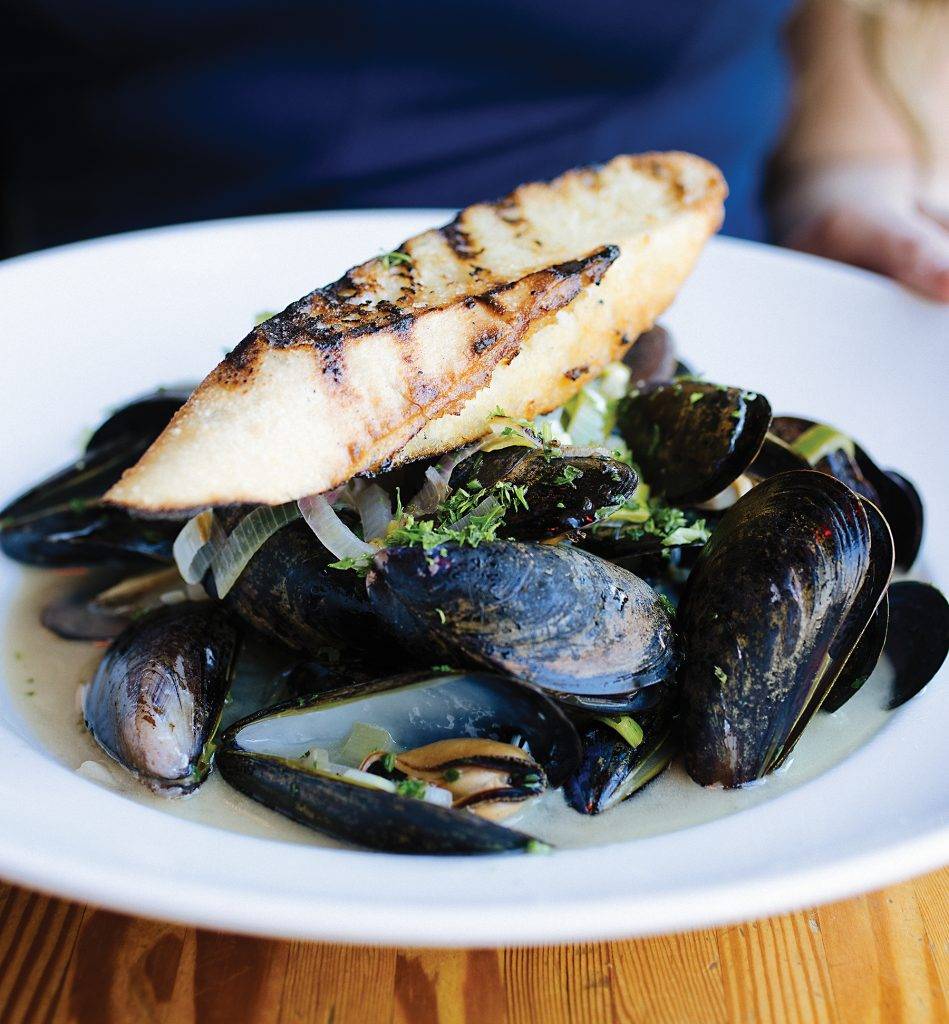 Vis-à-Vis specializes in French brasserie-inspired meals — think burgers with Dijonaisse sauce and Parmesan truffle fries, and classic steak au poivre. Les Moules is one pound of Salt Spring Island mussels simmered with white wine, butter, lemon, shallots and leeks, served with grilled French baguette — the perfect nosh to share with a glass of wine from their extensivelist.
Cinnamon Raisin & Nut Rye / Fry's Bakery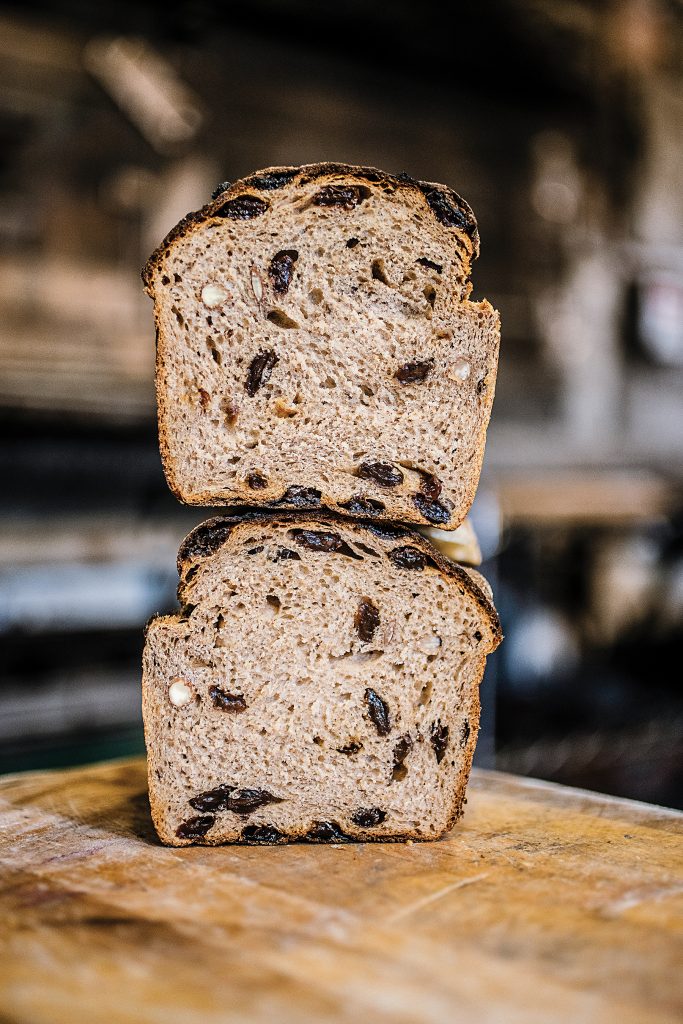 You may not be able to enter tiny Fry's Bakery these days, but you can certainly be tempted by the array of artisan sourdough breads, all made with their own stone-milled flours, and artfully displayed in the street-side window. The squat loaves of Cinnamon Raisin & Nut Rye — an ugly duckling of a bread that gets an extra dark crust in their wood-fired oven—is loaded with fruit and nuts and is delicious to toast for breakfast. But the chewy baguette is a favourite too, and the whole wheat country loaf or pain rustique are often in my breadbox. Check out their daily bread menu and arrive early!
Granola / Bear & Joey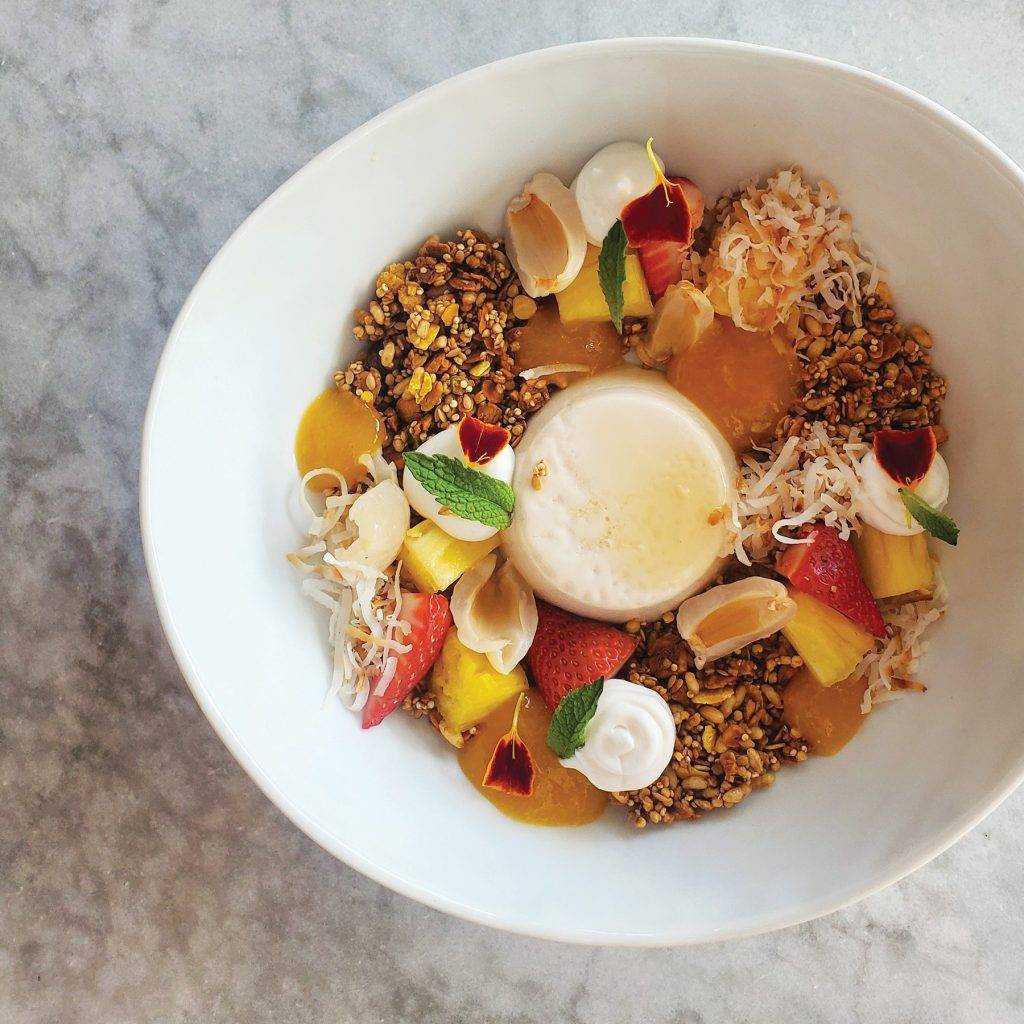 The owners of the Bear & Joey café hail from Canada and Australia; hence the playful reference to local fauna in their name.Inspired by Sydney's café culture, Bear & Joey is a sleek little spot for a good cup of coffee, a cocktail or casual brunch. Think spinach, bacon, tomato-onion jam and fried egg sandwich or a healthy granola bowl with coconut panna cotta, mango coulis,coconut yogurt and seasonal fruit.
Seamist Sorbetto / Mosi Gelato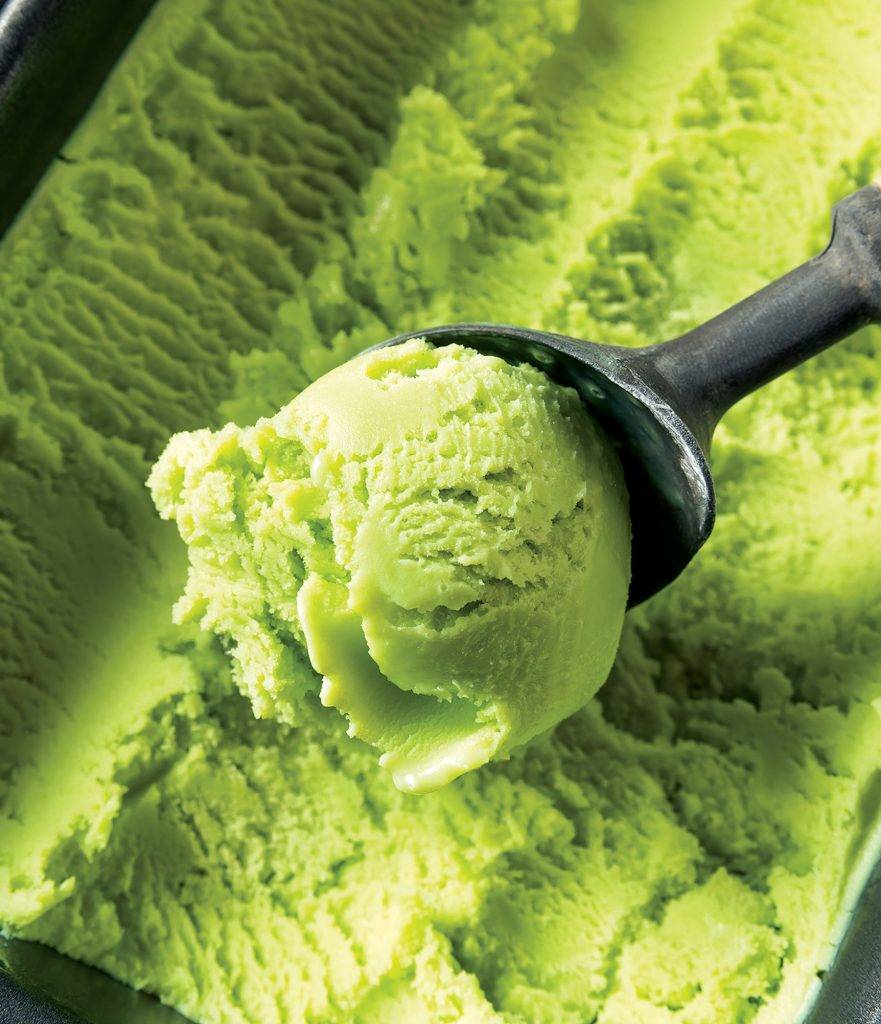 Gelato and sorbetto are ice cream's sleek, slim Italian cousins — frozen treats with less fat and sugar, but tons of fresh flavour. Stefano Mosi is a third generation master gelato maker. Try his award-winning Seamist Sorbetto, a refreshing combination of seamist green tea with hints of seaweed, mint and fresh lime juice.
Cheese Pretzel / Working Culture Bread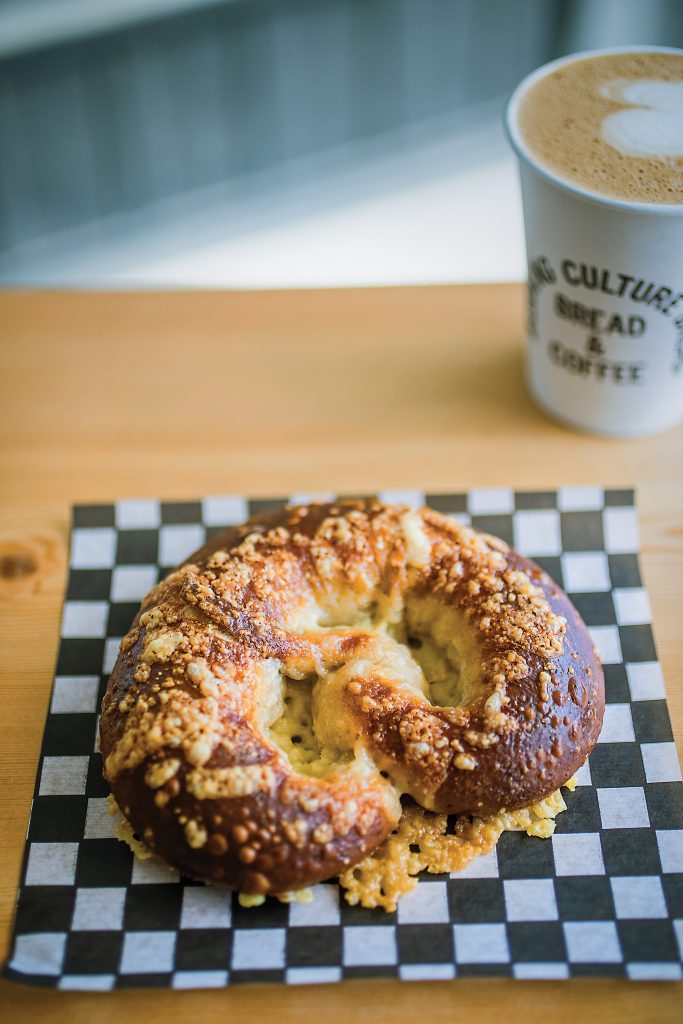 A freshly-baked cheese pretzel from Working Culture —made with their own sourdough cultures, formed by hand and topped with Boerenkaas cheese from Natural Pastures — is a new twist on the old world classic and a serious snack from one of the city's newest artisan bakeries.
Chicken Tikka, Eggplant Bhartha and Palak Paneer / Spice Valley Indian Cuisine
Indian food travels well, so try an authentic take-out or delivery dinner from Spice Valley Indian Cuisine. The tender tandoori Chicken Tikka, smoky Eggplant Bhartha and vegetarian spinach Palak Paneer makes a hearty meal for two, or order their saffron-scented biryani rice with raita, a one-dish wonder. Don't forget the beautiful naan bread from the tandoor oven — the best!
Party Box /Wild Mountain Food & Drink
This curated box from the chefs at Wild Mountain in Sooke is a takeaway treat filled with local goodness. From a selection of their own cured meats such as bresaola with quince mostarda to artisan cheeses like ripe SSI Blue Juliette, castelvetrano olives and housemade ferments, it makes a perfect picnic or nosh with cocktails.
Artisan Cheese / Haltwhistle Cheese Company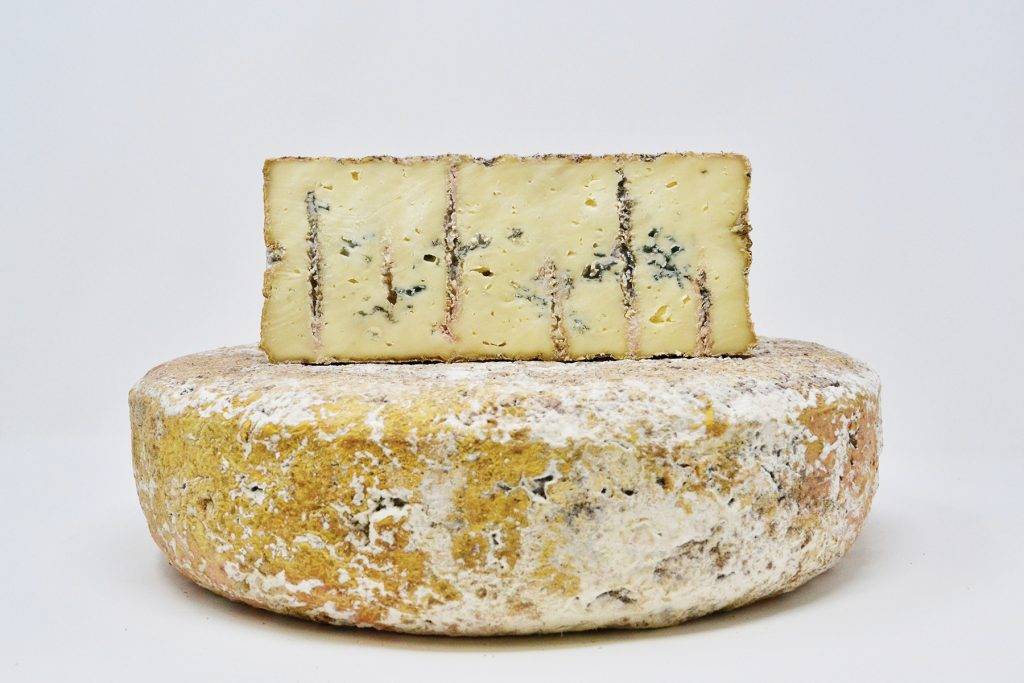 The cheesemakers at Haltwhistle Cheese start with the best local milk — much of it from their own herd of happy goats —to make their exceptional farmstead cheeses in the Cowichan Valley. Inspired by their cheesemaking mentors in Franceand the U.K., Cory Spencer and Kirsten Thorarinson create wheels of creamy blue Abergavenny and nutty Tomme deVallée, semi-firm Clevedon and earthy Thombury — cheeses as fine as any import. Find them at farmers' markets, local grocers and cheesemongers.
Rosemary's Baby Ice Cream / Cold Comfort
When you need a little comfort, ice cream fits the bill, and there's always innovative flavours at Cold Comfort Ice Cream. Rosemary's Baby — rosemary-infused ice cream studded with sour cherries — is one of founder Autumn Maxwell's original ideas and is still in the creative rotation. When you really want to splash out, get a beautiful Baked Alaska, with killer combos like chocolate ice cream, coconut sponge and passionfruit caramel under a crown of fluffy meringue.
Pita / Superbaba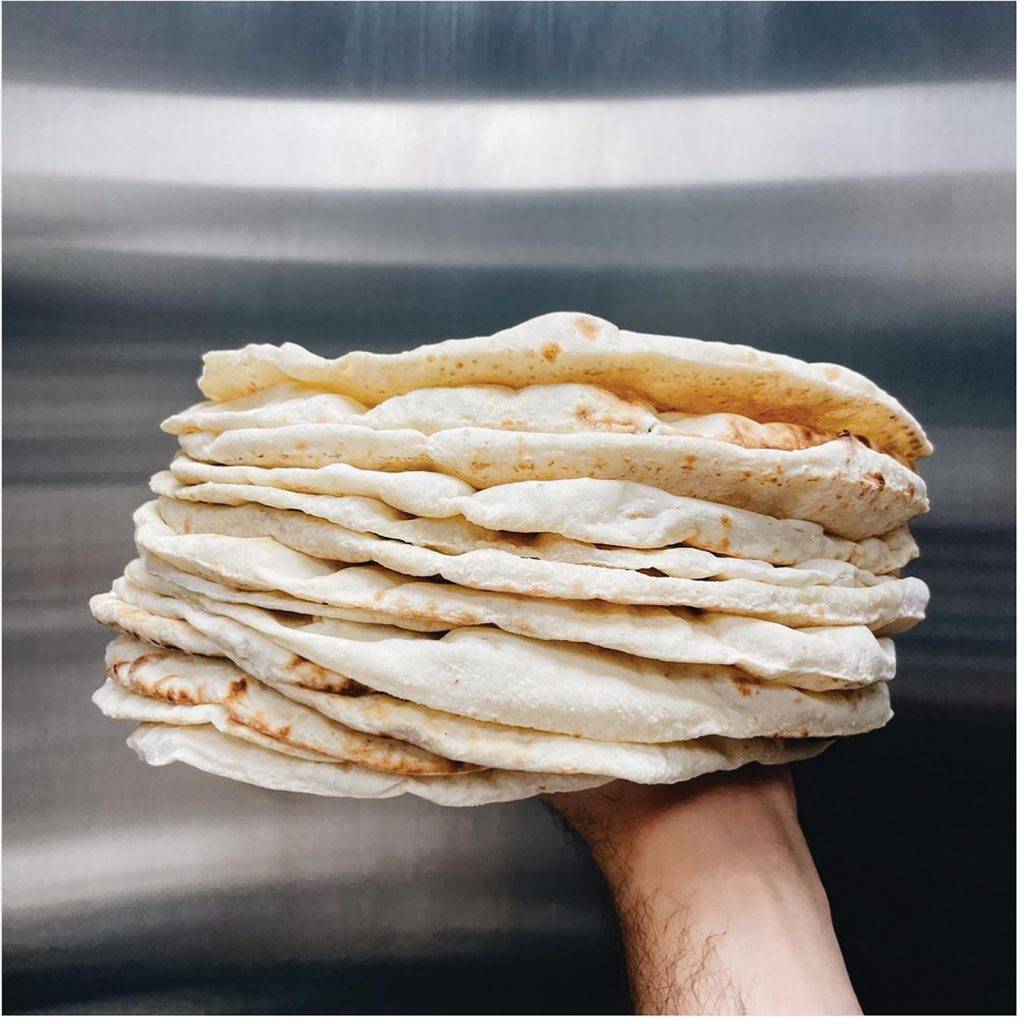 Superbaba makes Middle Eastern fast food with chef-worthy chops — the warm falafel, shawarma, eggplant and grilled beef kebab sandwiches come wrapped in fluffy pita bread, baked fresh on site. Like the fried cauliflower, pickled turnips and hummus, it's a housemade touch that takes these simple sandwiches to the next level.
Fried Chicken / Chicken 649
If you like fried chicken, you'll love the KFC (Korean Fried Chicken) from Chicken 649. This inconspicuous little takeout joint fries its crispy chicken to order — try the original, with signature spices, and Yangnyeom, tossed in an addictively sweet and spicy sauce, in their "half-and-half" 16-piece box to go.
Chocolate Birthday Cake / Ruth & Dean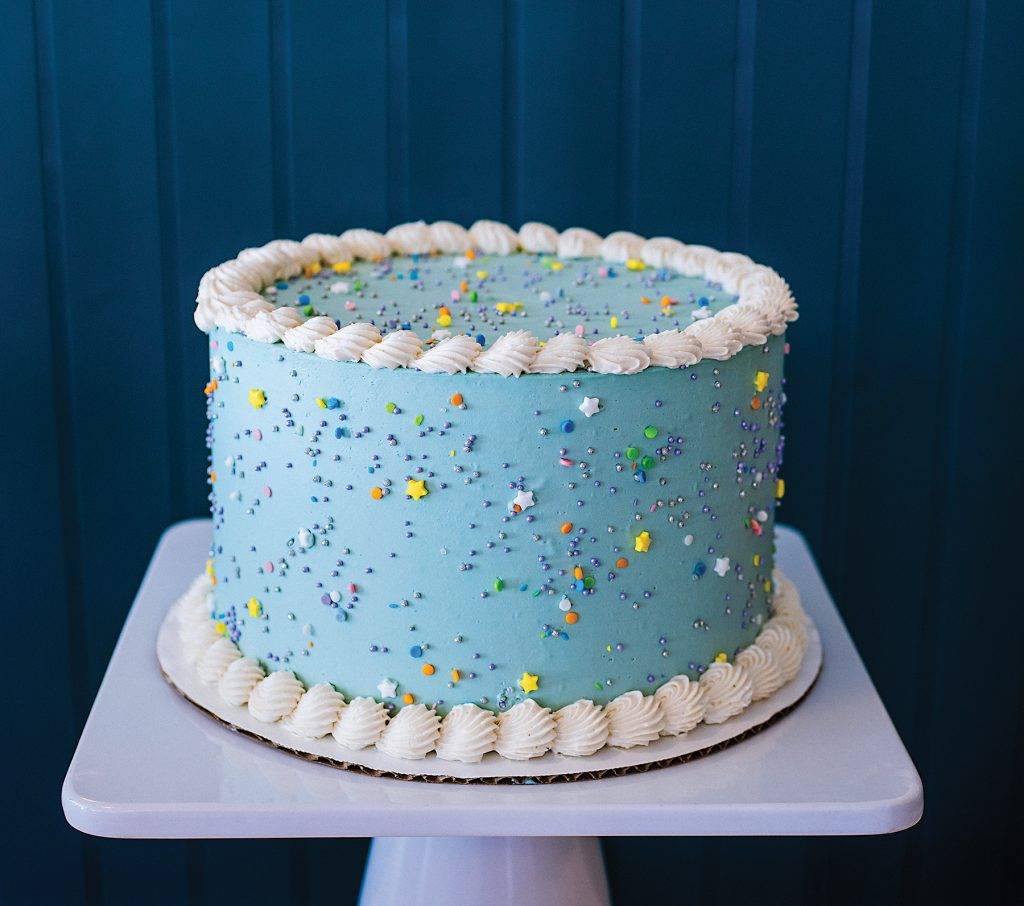 For so many special occasions, only a beautiful cake will do, and there may be none as delicious as a cake from Ruth & Dean, owned by Susannah Ruth Bryan and Daniela Lucchitti. Known for creating towering cakes with tasty fillings and beautiful Swiss meringue butter cream, Bryan makes a classic birthday cake, with layers of chocolate cake and fudge. There's no better way to celebrate — or just treat yourself with a slice of the daily cake at this cozy café.
Lebanese Pizza / Fig MEDITERRANEAN Deli
Is it a pizza or a flatbread? A cheese or spiced meat manoushi, hot out of the oven at Fig Deli, makes a popular lunch, just one of the tasty treats you can order at this little food store, brimming with imported ingredients, house-made rings of olive-stuffed bread, spinach pies and baklava, a wide selection of feta cheese, olives, Italian pasta, olive oil, canned fish and Middle Eastern foods. A neighbourhood gem.
Double Smoked Rosemary Bacon / Four Quarters Meats
There's always a healthy debate when it comes to which butcher makes the best bacon, but there's no question that the double smoked Rosemary Bacon from Four Quarters Meats in Sidney is a serious contender. Butcher Geoff Pinch specializes in wholesale charcuterie of all kinds, and you'll find his chorizo, dried salami and land jäger sausages at restaurants and local grocers. But his bacon — lean, rolled in rosemary and double smoked over hickory wood — makes a next level BLT.
Beef Tenderloin/ Saveur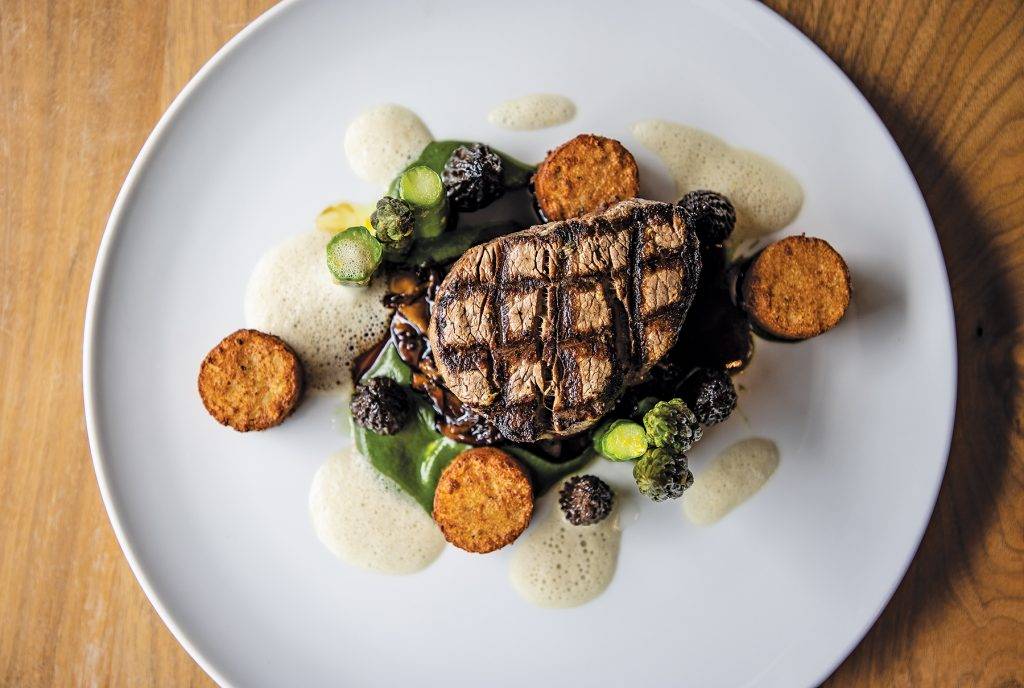 From the first spring nettles to fall's forest fungus, Chef Robert Cassels always has a creative new way to showcase wild,local ingredients at Saveur. His seasonal tasting menus are legendary for their surprising flavour and texture combinations— think Haida Gwaii halibut served with crispy polenta, rapini, nettle velouté, fiddleheads and pickled tomato. His take on beef tenderloin features potato rosti, spinach purée, demi mushrooms and foie gras emulsion.
Sleeping Beauty Pancakes / Nourish Kitchen & Cafe
Like many local restaurants, Nourish Kitchen is operating on reduced hours, but you can still come in for their popular Sleeping Beauty Pancakes or order them as a meal kit (or pancake mix) to enjoy at home. A stack of spiced oatmeal pancakes, topped with seasonal fruit and pretty gorse-flower whipped cream, starts your day in healthy, homey style.
Halloumi Kale Salad / Yalla Middle Eastern Street Eats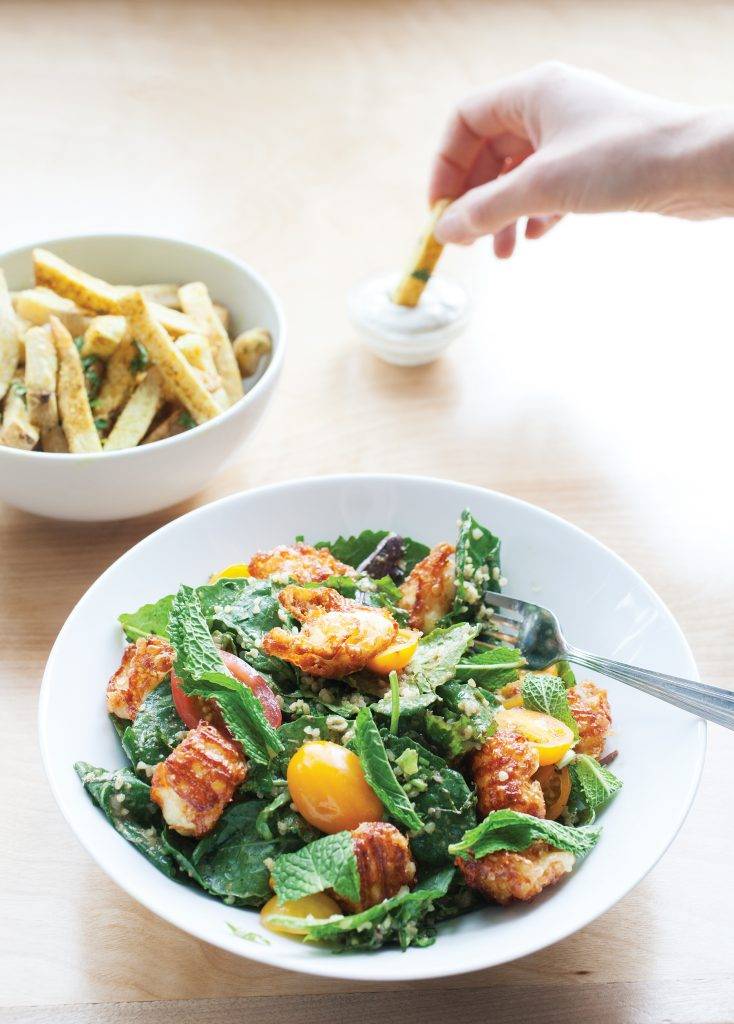 There's something about this salad that ticks all the boxes — healthy kale with chewy bulgur wheat, lots of cucumber, mint and cherry tomatoes, and those chunks of salty, fried halloumi cheese — and makes an addictive umami bomb in a bowl. Add hawaii spiced fries with preserved lemon yogurt dip or a hummus plate with fried Brussels sprouts, and share a taste of Tel Aviv in the sunshine at Fort Common.
Steak Frites / Brasserie L'Ecole
They've always been serious about the steak they serve at Brasserie L'Ecole and the French favourite is their Steak Frites with red wine shallot sauce and roquefort butter. Be prepared to wait for the privilege to indulge in the Gallic vibe at this iconic local landmark, and start with the classic Soupe à l'Oignon Gratinée or Endive Salad with bacon lardons, and finish your meaty feast with vintage Armagnac. Parfait!
Even more great bites
Seafood Tower / Boom + Batten
Pulled Pork + Pineapple Fried Rice / FOO Asian Street Food
Green Sauce / The Root Cellar
Fried Kamut Chicken Sandwich with Umami Fries / Part and Parcel
Baguette/Fol Epi
Porchetta Sandwich with Crackling Roast / Roast
The Coconut Curry Biryani/ Fishhook
Chicken Liver Parfait / The Whole Beast
Brown Butter Brownie Ice Cream / Parachute Ice Cream
Beetrice Burger / DeadBeetz Burgers
Sophia Fettucine/ Pagliacci's
Reuben Sandwich / MARTA
Crossing the Bridge Rice Noodle Soup/ Little Yunnan
Albacore Tuna Tacone / Red Fish Blue Fish
Rickshaw Pho / Village X Chinatown
The Rucola Crudo Pizza / Pizzeria Prima Strada