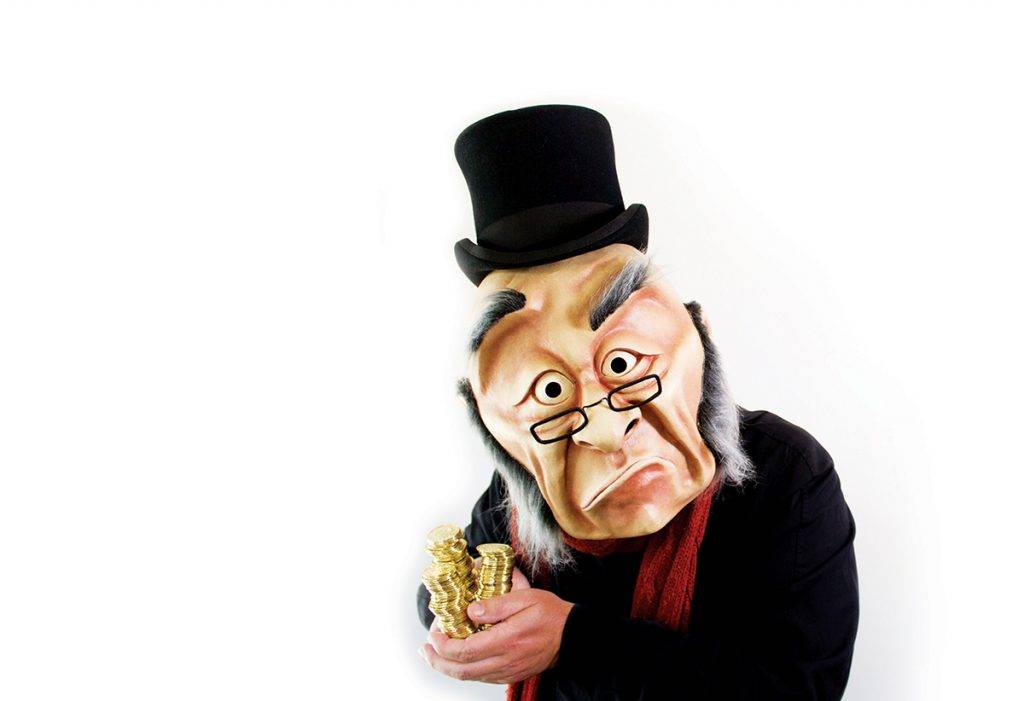 A Weirdly Wondrous Christmas Carol
In a performance described as Pixar meets Jim Henson, theatrical imagineers the WONDERHEADS reinvent the story of Scrooge and his magical journey with giant masks, whimsical puppets and wondrous, wordless theatrical invention. Praised by the Globe and Mail as "powerful, surprising and moving," the WONDERHEADS have been touring the world since 2011 with their visually stunning shows. Join Scrooge on his
haunted Christmas Eve adventure and be prepared to laugh, cry and be utterly enchanted, with some spooky moments, theatrical fog/haze and flashing lights. Recommended for ages 5 and up.
McPherson Playhouse December 17 & 18 rmts.bc.ca
The Saddest Music
Portuguese-Canadian playwright Elaine Ávila's play Fado: The Saddest Music in the World is a tale of love and ghosts set in the back alleys and brothels of old Lisbon. Part concert, part theatre, the story — presented by Puente Theatre — is about a woman confronting her country's Fascist past and her own identity. And it's all interwoven with the heartbreaking national music of Portugal known as fado, which means "fate." The hit of the Victoria Fringe 2018, Fado features Brazilian guitarist Pedro M. Siquiera playing a transgender Fadista and Sara Marreiros playing the ghost of Amália Rodrigues, the queen of Fado.
Metro Studio Theatre November 14 to 16 intrepidtheatre.com
Where We Left Off
In an unforgettable mix of live dance and piano virtuosity featuring world-renowned pianist Joyce Yang performing live on stage, the Aspen Santa Fe Ballet tackles the quirky Half/Cut/Split by noted Finnish choreographer Jorma Elo, who collaborated with Yang to bring Robert Schumann's Carnaval to life. Also on the program are Fernando Melo's Dream Play set to the music of Erik Satie and Frédéric Chopin, and Nicolo Fonte's touching Where We Left Off with music by Philip Glass.
Royal Theatre November 15 & 16 dancevictoria.com
When a Tree Falls
The Bateman Foundation and Live Edge Design are partnering again to bring you oneTree 2019, which celebrates the life and value of a 200-year-old maple by inviting participating artists to create as much beauty from its wood as possible. This year is set to be the biggest portfolio yet, with more than 80 individual and original works. Each one will be unique in its interpretation and style, with works of art varying dramatically in scale and design — from furniture to musical instruments and wooden creatures to performance-based art and poetry — with a unifying theme of honouring the tree's remarkable heritage.
Bateman Foundation Gallery of Nature November 16 to February 29  batemancentre.org
---