The holiday season is a magical time, cheery and bright — full of sparkly decorations and twinkly lights. This time of year offers an opportunity to unleash your creativity and transform your home into a cozy, welcoming retreat. Inspiration is everywhere, from the current focus on sustainability, which brings in elegant natural elements, to the embrace of fun colours and patterns. Here are five décor trends to inspire your holiday home.
1 MODERN MINIMALIST
The Scandinavian minimalism trend is still going strong, with its clean lines, simple esthetic and embrace of everything natural; but this year brings even more of a focus on sustainability.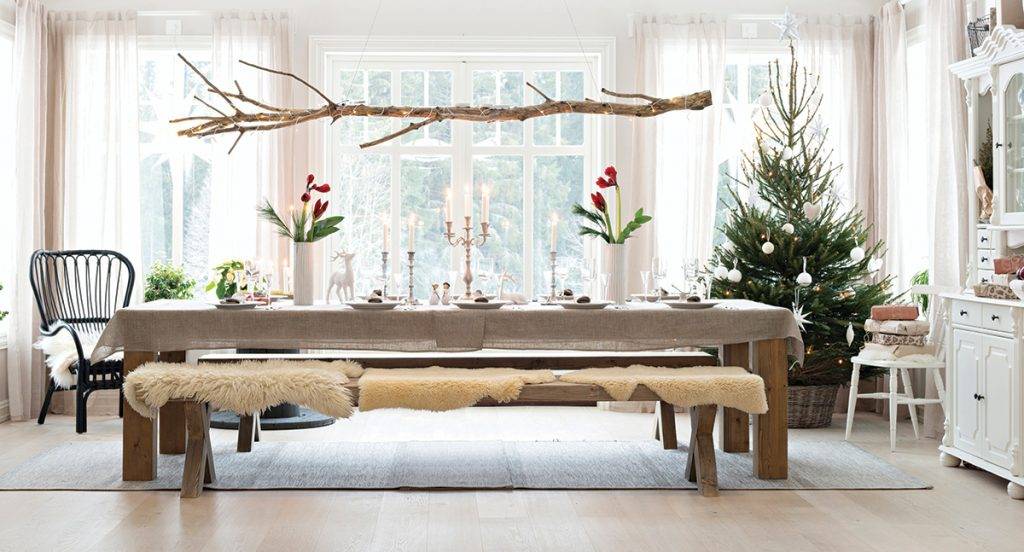 "That's part of our world right now — the idea that less is more and that we should reduce and reuse," says local interior designer and event planner Marika Beise of Rock Paper Square. "My design esthetic is pretty minimalist in a modern kind of sense. So, I don't have tons of holiday décor, but I do have key pieces."   
The key to this trend is finding the balance between minimal and cozy. A simple holiday wreath is an easy way to add cheer to your walls and bring greenery into your home. Layer it with a festive garland, a platter of pine cones or a winter-white candle vignette to create a relaxing haven.
For a simple modern look, skip the tree and decorate a birch branch with a few vintage decorations. Foraged boughs also make for a creative tablescape.
"We live in a part of the world that's great for foraging," Beise says. "There's just so much, whether it's ferns or cedar boughs, for adding touches of nature and greenery."
Josée Lalonde, principal interior designer at Josée Lalonde Design and owner of The HOUSSE, agrees that adding touches of greenery is a lovely way to give that seasonal feel in an elegant way. 
"To change it up a bit, the magnolia leaf has a striking gold back," she says. "It's rich and beautiful and makes a nice contrast to the green. I am going to be using a lot of it this year. "
Natural textures are another foundation to this esthetic. Think knitted throws and plush pillows on the sofa, or sheepskins laid across your dining room chairs. Opt for shades of white, cream or grey to complement the cozy, rustic and minimalist feel of this calming style.
---
2 WINTER BLUES
The time-honoured Christmas hues of deep red and green will always be in demand when it comes to holiday décor, but blue tones are a stylish and modern way to create a winter wonderland.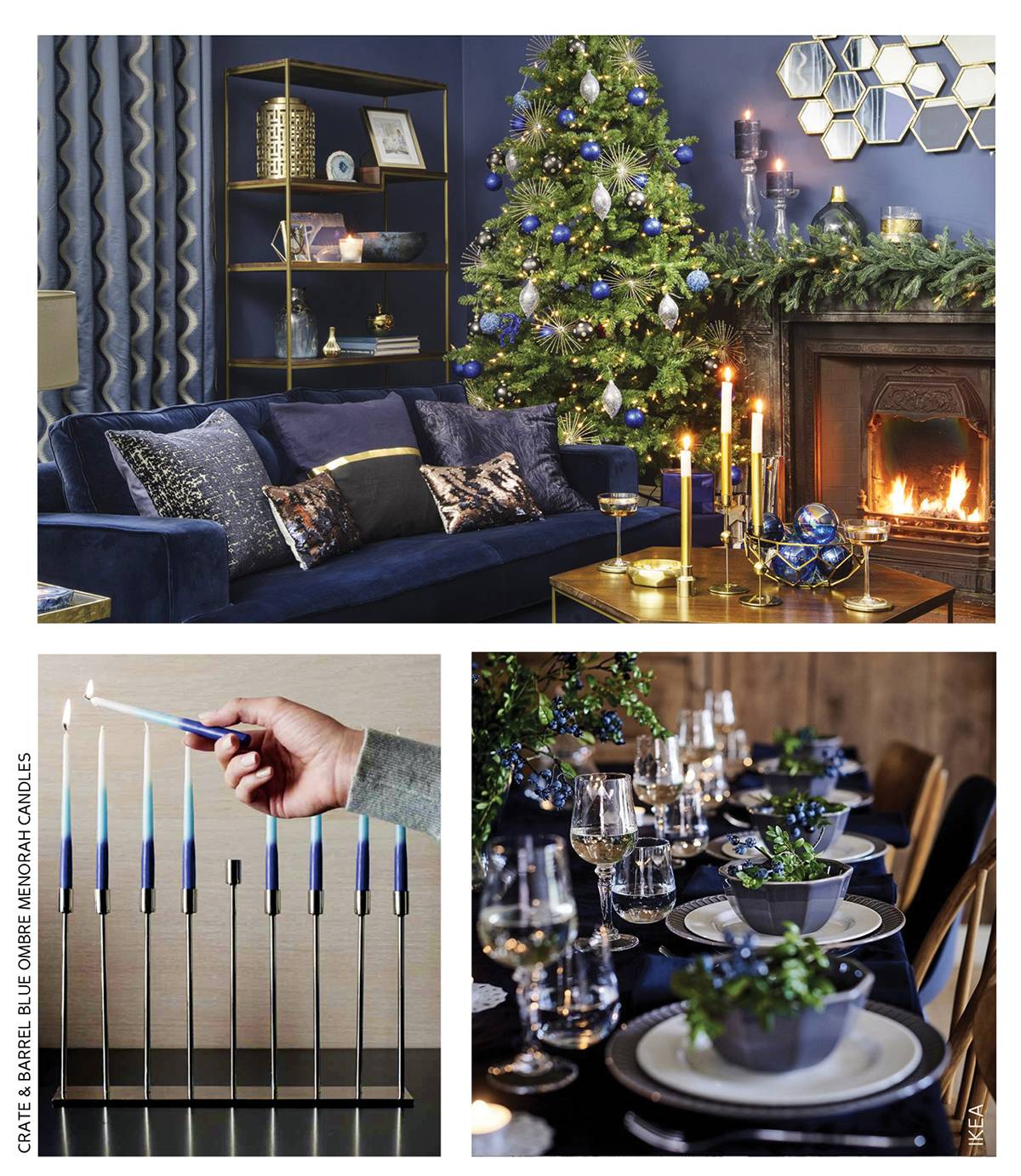 Blue is also the traditional colour used in Hanukkah decorations, from candles for the menorah and strings of blue lights to blue and white dreidels.
This year, blues reminiscent of sky and sea are having a moment. From deep navy and aquamarine to a cool relaxed grey-blue, they can all be used to create a soothing seasonal atmosphere.
Along with seasonal items such as the blue ornaments on the tree or in the greenery of your table runner, consider investing in longer-term accessories, such as blue table linens, navy dinnerware, cobalt throw pillows or a blue-grey rug. Blue is a year-round trend that can take your holiday look up a notch.
"My home is what inspires my holiday décor, and I am definitely a blue person," Lalonde says. "I work with the navy elements I already have and then bring in gold to accent."
When working with blues as your starting point for your holiday décor, you can bring in another colour to make it pop (Lalonde also loves orange for the contrasting effect) or you can embrace the monochromatic look, another major holiday trend.
"I personally love monochromatic tones," Beise says. "Taking colours from one palette, whatever that may be, and making that the basis for your holiday décor. A lot of retailers display ornaments by colour and that may be for the ease of the shoppers, but it's really striking and works well as a design concept."
---
3 NEON CHRISTMAS
Many holiday décor enthusiasts eagerly await U.K. department store John Lewis to proclaim its key trends. (Along with its iconic Christmas ad campaigns, the retailer is known for its of-the-moment holiday designs from the sophisticated and traditional to the over-the-top.) This year's top look is a flamboyant 80s and 90s nightclub-inspired "Party" theme.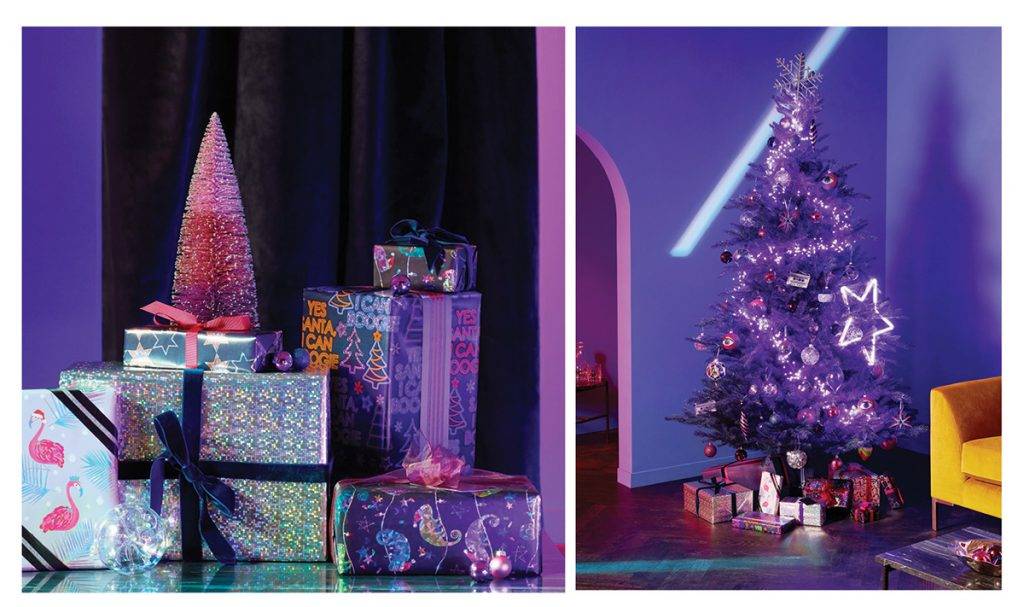 This look features decorations inspired by the disco scene, and according to the store, is "designed with nostalgic night clubs in mind, the technicolor haven of rainbow hues, bright lights and sequins will take your home from Christmas dinner through to New Year's countdown." With bursts of bright lights juxtaposed with holographic textures, it creates an exuberant environment to celebrate the holiday season.
This vibrant theme is all about using uncoordinated mix-and-match decorations with interesting shapes, textures and bright colours, to create a strong, eclectic and very personalized look.
It's probably safe to blame this nostalgic and highly visual trend on Instagram.
---
4 SHIMMER & GLOW
Metallic colours, particularly traditional gold and silver, are timeless at this time of year, and can add a touch of glamour to any room. This year, bringing industrial metals into the home is a significant interior design trend, and that preference is reflected in holiday décor, where bright sparkly decorations are being replaced with more rustic metallics — patina, rust and oxygenic iron can give a vibrant and warm textural feel to ornaments and accessories.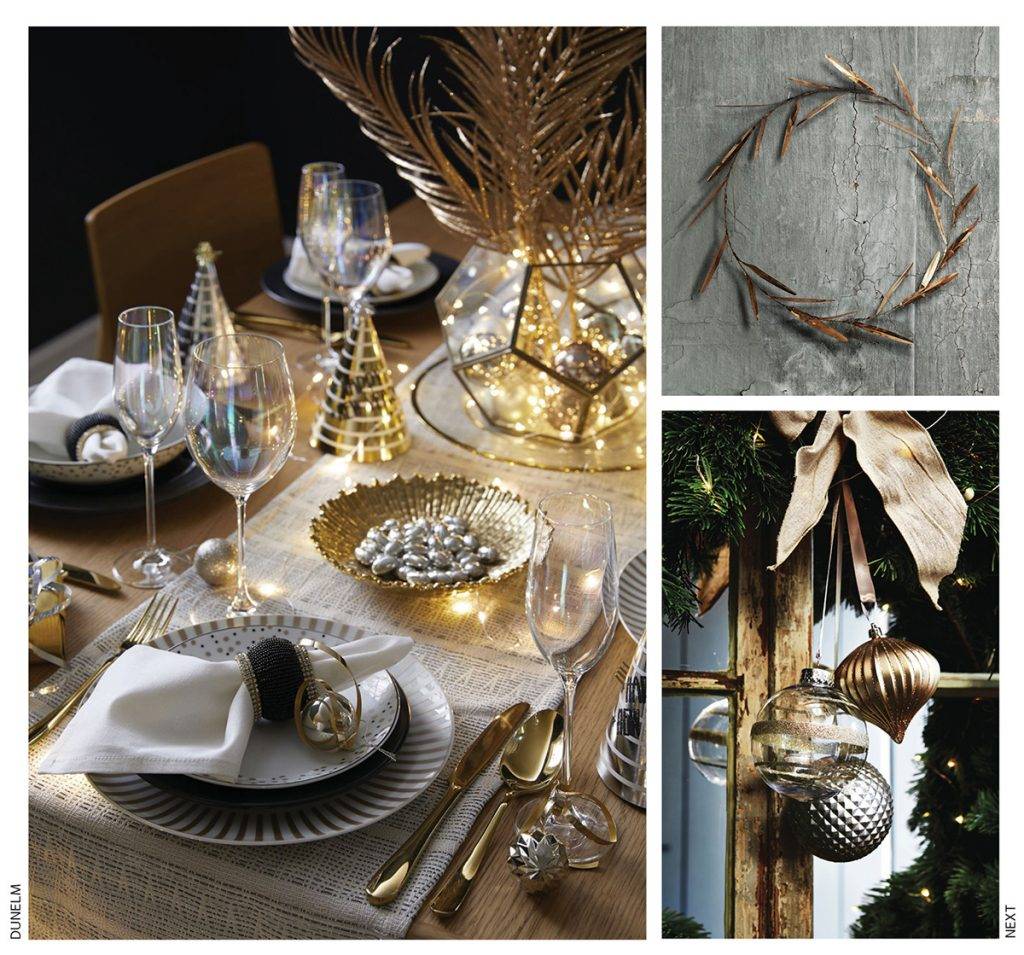 "This is definitely a case where you can use different metals together," Lalonde says. "So, go ahead and mix it up!"
Using cool and warm tones together can create a unique vibe. Vintage and vintage-inspired ornaments — another trend — definitely play into this look. Family heirloom pieces, German kugels (heavy glass Christmas ornaments made in Germany in the 1800s) and glittery snowflakes will bring a soft radiance to your home. Gather clusters of antiqued glass trees and candle holders to create an area with a soft glow.
You may choose to stick to one type of metal for a more unified esthetic. Whether you opt for gold, copper, pewter or silver, there's lots of options for working it into your décor. Use a metallic tray to display baubles of assorted sizes in your metal of choice for a seasonal vignette that invites a closer look.
---
5 PLAYFUL PATTERNS
You may have noticed colourful graphic patterns everywhere lately — polka dots and herringbone are especially popular — and this is another interior design trend that has cheerfully spilled over into holiday décor.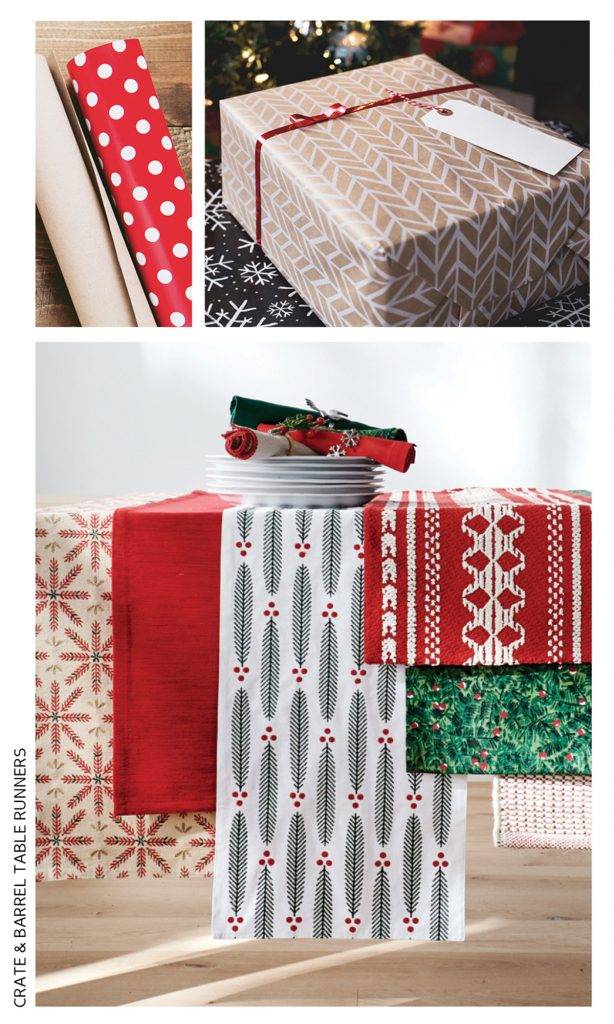 Repeat patterns of snowflakes or other seasonal items and polka dots of any size add a playful vibe to a room, while herringbone or more elaborate designs are a more subtle touch. Any pattern you like can be introduced through accessories such as table linens, dinnerware, cozy throws and pillows or with whimsical ornaments. Holiday stockings are another fun way to bring a pattern into the mix. For maximum impact, incorporate several elements.
"There really is no reason not to use non-traditional colours and patterns," Beise says. "It can still feel seasonal but in a different sort of way."
If you're looking to dabble in a trend, picking a pattern for your holiday cards and wrapping paper are some ways to spread the joy. This could be a satisfying holiday DIY project — who could resist a smile when presented with a gift wrapped with polka dots, snowflakes or an elegant herringbone?
From the coziness created by the Scandinavian minimalist trend and the flamboyant fun of the party look to somewhere in-between, there's no shortage of styles and inspiration for your holiday décor. What are you waiting for? It's time to decorate for the holidays.