With hundreds — or even thousands — of reasons to love Victoria, it was no easy task for the YAM team to narrow it down to our top 50. We went beyond the obvious favourites (yes, we still love Craigdarroch Castle!) to focus on the unsung, unusual and underrated.
By Kerry Slavens and the YAM Team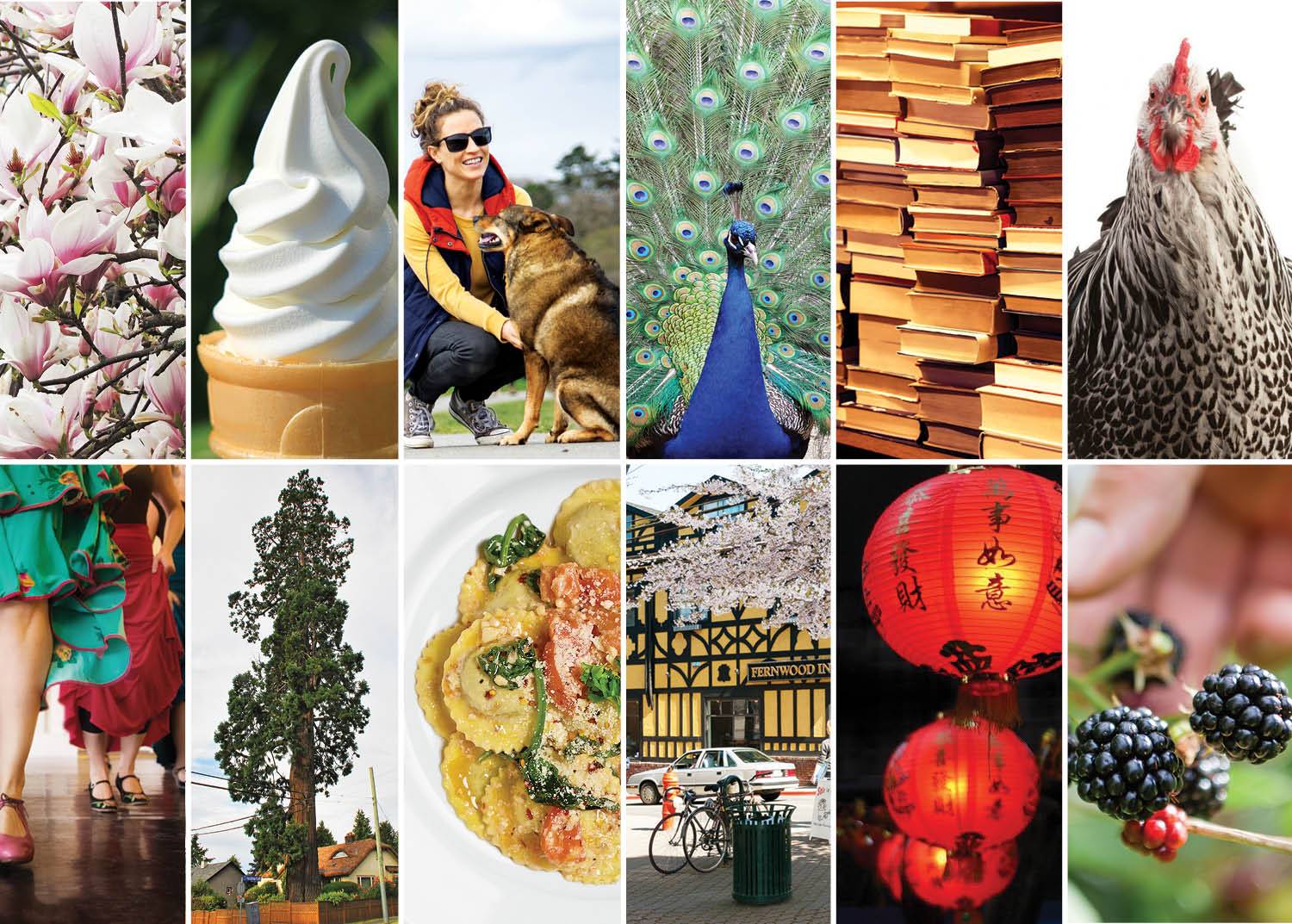 Victoria is a big fan of pocket libraries, those adorable homemade book exchange boxes in front of homes, schools and businesses throughout the region. In fact, here are 160 of them. Find a map at victoriaplacemaking.ca — and remember, take a book, leave a book!
PHOTO: JO-ANN LORO
---
Ferry captains are the designated drivers on these pickle boat pub crawls from Victoria Harbour Ferry. Revel in four "hops" at participating pubs where you can sip and nibble — each stop includes a free appetizer — to your heart's content before hitting the water for a new destination.
The Peacocks
PHOTO: JO-ANN LORO
---
There have been peacocks in Beacon Hill Park since 1891 and they still wander freely, their mating-season cries as much a Victoria tradition as the distant sound of foghorns (albeit more piercing). Find them near the fabulous Children's Farm — or sashaying throughout the park, waiting to be admired.

PHOTO: JAY-P/FLICKR
---
A burger and shake joint in mid-century mod style, Beacon Drive-In has been a comfort-food stop since 1968, with fries, shakes, floats and arguably the city's best soft ice cream. On weekends, it's a prime people- and dog-watching spot.
PHOTO: JO-ANN LORO
---
With its joyful party of a parade, its Big Gay Dog Walk and its Annual Memorial Dragball Game, Victoria Pride (July 1-8) does this city proud with its powerful message of inclusion underlined by some serious fun and style.
Thanking Bus Drivers
In a time when rudeness is on the rise, Victorians regularly buck the trend by calling out thanks to city transit bus drivers. It's the sign of a kinder, gentler city — and it's so ubiquitous here, we call it a Victoria tradition.
PHOTO: JO-ANN LORO
---
She's called the Pooley Angel, but most of us know her as Ross Bay Cemetery's sweet-faced Stone Angel. Over the years, nasty vandals lopped off her hand and spray-painted her blue, but her beauty remains. Find her at the grave of MLA Charles Edward Pooley in Block T, Plot 75 E 45.
Trounce Alley
From Fan Tan to Dragon Alley, Victoria is full of hip historic alleys. One of these charmers is Euro-vibey Trounce Alley with its tapas, boutiques and galleries. Stroll under strands of lights and the glow of authentic antique gaslights. This is a rebel's alley: naughty architect Thomas Trounce carved out Trounce in 1859 when the government refused to extend View Street to the waterfront.

PHOTO: LUKE CONNOR
---
This four-day, full-on cool annual music festival is like a heartbeat of the city, attracting some big acts in the past, like Flaming Lips and A Tribe Called Red. This year, expect music, more music and dancing at over 15 venues, from September 14 to 17. Stay tuned to find out this year's list of performers.
This city loves food trucks and wild, sustainably caught seafood. Find both at Finest at Sea's Food Truck on Erie Street near Fisherman's Wharf. From the salmon burgers to wild-smoked tuna tacos and B.C. ling cod fritters, it's a reminder that we're a maritime city with access to wild, delicious bounty.
Billed as a stylish ride for the smart set, this annual genteel event invites cyclists to dandy up for the day and wheel around town in their stylish biking best. This year's Tweed Ride is set for May 26.
Shenanigans abound at this pub quiz night with quiz master Benji Duke. It's a smartly nerdy night of strange trivia and hilarity in one of the city's best drink/nosh/nightlife venues. Wednesdays at 8:30 p.m. Get there early-early — or reserve.
Interactive Art
Who says we're a shy city? From Monkey C Interactive's gigantic, glowing Think Cubes at Dockside Green to their Musical Staircase at the Yates Street Parkade, to Limbic Media's Innovation Tree that responds to sound by lighting up, this city clearly loves a great light and sound show.
Purple Sidewalk Prisms
PHOTO: JO-ANN LORO
---
You know those purple glass squares on downtown sidewalks? Victoria has over 11,000 of them, and they're more than decorative. Back when merchants needed space under the street for storage, these blocks of reinforced glass redirected light from above to spaces below. Find them all over downtown, but especially around the Yarrow Building on Fort, Broad and Broughton.
Community Gardens
Victoria is a city of gardens, but not everyone knows about the wonderful community gardens. From James Bay to Royal Oak, these gardens transform public or once-abandoned lands into volunteer-run gardens where locals can raise fruits, vegetables and flowers and grow relationships to nature and to each other.
The Sidewalk Tattoo
PHOTO: JO-ANN LORO
---
The white-inked sidewalk tattoo at the intersection of Fort and Blanshard seems to be as loved as the Douglas/Yates jigsaw crosswalk was loathed. Designed by tattoo artist Gerry Kramer of Tattoo Zoo, the crosswalk's sunflower design brings some well-placed whimsy to Fort, the city's oldest commercial street.
The Dandies
There are some dapper men in this town — and then there's a subculture of men who take their dressing to new highs with their refined and often vintage attire. Think waistcoats, pocket watches, bow ties and fedoras. And did we mention the kilt craze? We know the Scots own it, but, hey, we wear it well in this city.
By all accounts, we're one of Canada's most haunted cities, from the ghosts of those hanged in Bastion Square to the spectre of Doris Gravlin, said to be strangled at Victoria Golf Course by her husband in 1936. But don't take our word for it. Take a hair-raising tour with the historians and raconteurs at discoverthepast.com.
PHOTO: JO-ANN LORO
---
Flanked by the Belfry Theatre in an old gabled church, the faux Tudor Fernwood Pub and other buildings of historic vintage, this square is one of the city's funkiest. Find artisan shops, indie eateries, a cherry tree (recently hung with paper wishes), bubble blowers, musicians, artists (don't miss Fernwood's painted telephone poles) and the occasional cat sneaking through. See the Square at its liveliest at Fernfest, June 22 and 23.

PHOTO: HÉLÈNE CYR
---
From floor barre fusion to flamenco, Raino Dance is the gem of Victoria's vibrant dance culture. Launched by Lynda Raino in 1982 and now owned by dancer/choreographer Monique Salez, Raino Dance is more than a studio — it's a culture of the creative. Its annual show, this year at the Royal Theatre on June 16, is a must-see of dance, from ballet to e-funk.
Gone to the Dogs!
PHOTO: DEAN AZIM
---
When City Hall talked about fencing the dog area on Dallas Road, the public bark was epic. "Leave those dogs alone," people said. Victoria loves its canines. We put bowls of water on sidewalks for thirsty mutts and even challenged bylaws so that Cody, the shop dog at Charmaine's Past & Present, could continue to lounge outside the shop door on Fort. (A sweet soul; may Cody rest in peace.)
Strung above Fisgard Street, these lanterns in lucky gold and red, symbolizing vitality and good fortune, were installed as part of the city's Heavenly Lights Project in 2010. At night, they glow like crimson and yellow moons against Chinatown's neon. They're the crowning touch of Canada's oldest Chinatown, a National Historic Site.
Close part of Douglas Street for the day, let 40,000-plus people take over the road — and what you get is Victoria's biggest street fair and party, with bands, booths, eats and the enjoyment that comes from conversation without cars. This year's Car Free YYJ is on June 17.
So far it's Victoria's only licensed movie theatre, so you've got to love that. But it's also tops for indie and festival fave films, don't-break-the-bank popcorn and even those old-style theatre seats that may numb your bum but will give you a reasonably retro thrill.
Blackberries!
Whether they're of the Himalayan or trailing variety, there's no doubt blackberries are one of Victoria's best tastes. Picking wild ones when they come ripe in the summer is one of the city's tastiest free things to do. Most people have their favourite patches, but if you're still searching, know that blackberries love the sun and can be found along roadsides, paths, meadows and woods region wide. Perfect with local artisan ice cream.
PHOTO: JORDAN INSLEY
---
Salman Rushdie spoke here, Daniel Lanois played here, and musician Emmylou Harris called it a jewel box of a building. In a city of great halls, Alix Goolden Hall is much-loved for its acoustics and its beauty — from the stained-glass windows to the filigree iron railings and carved wooden pews.
Few cities in the world have left so much of their prime waterfronts undeveloped, but Victoria's Dallas Road is for the people (and the dogs, with its oceanside dog play area). Meandering paths, fields of orchard and velvet grasses, wind-sculpted trees, epic cliffs and pebbled beaches — this beauty of a public space is a scenic magnet for everyone from kite surfers and kite afficionados to sunbathers and runners.
The Bookstores
We're apparently Canada's writer capital, so it's only natural we're also a city of readers. True to form, you're never far from a bookstore here, from Munro's (ranked third- best bookstore in the world by National Geographic) to Chronicles of Crime (a world-class mystery bookshop). There are dozens more, each with their own ethos and eccentricities. Read on!
Victoria's Tallest
(or Almost-Tallest)
Tree
PHOTO: LOTUS JOHNSON
---
At the corner of Moss and Richardson streets stands a giant sequoia tree, which, at more than 48 metres tall, is amongst the city's tallest trees. Brought here as a seedling in 1854 as a gift from the state of California, it has, ironically, outlived the city's tallest natural species, which have been cut down or fallen to disease. Do take time to salute this hardy immigrant when you pass by.

PHOTO: SHON TAYLOR.
---
When a restaurant has lineups at the door for 40 years, you know it's exceptional. At Pagliacci's (or Pag's, as locals say), Italian home kitchen meets kitsch. The pastas have personality (the bread baskets alone are worth a trip), and the live music, from jazz to klezmer, is a constant draw in an eatery that claims, "No restaurant in Canada has had live free music this long."
The façade of the Mosaic Building (circa 1963) is a defining feature of Upper Fort Street, an area fittingly known as Mosaic Village. On a building designed by architect John Di Castri, the massive mosaic stands out with its historic scenes and depictions of B.C. industry. It is the work of Mexican artist Andres Salgo, a contemporary of muralist Diego Rivera.
With nearly 60 kilometres of walking and biking trails running over trestles, along old rail lines and through urban areas, forests and fields, the Galloping Goose Trail is loved by locals and visitors alike. A highlight is the restored Selkirk Trestle across the scenic Gorge.
Let's be honest — Victoria just wouldn't be Victoria without its heritage homes, from the Gothic and Tudor revivals to the Arts and Crafts bungalows to the Queen Anne beauties and Italianate icons. Visit victoriaheritagefoundation.ca for maps and self-guided walking tours. You can also buy books from the This Old House: Victoria's Heritage Neighbourhoods series to learn more about the houses on your tour.
Urban Farm Markets
From Moss Street and James Bay and Oaklands to Oak Bay, Victoria's farm markets bring the fields to the streets, creating community hubs centred around fresh displays of heirloom tomatoes, earthy root vegetables and spring greens. These markets are where neighbourhoods really show what they're made of — meet your neighbours, sip some kombucha, listen to local musicians and admire the painted faces of the kids. Heck,
get your own face painted.
Magnolia Blossoms
PHOTO: JO-ANN LORO
---
Yes, we like to brag about our cherry blossoms to friends back east, but what about the underrated but lush magnolias lining our streets and yards? Every spring they explode into bloom, some with petals like teacups and some like stars. Find them anywhere in Victoria, but especially throughout Fairfield and Rockland.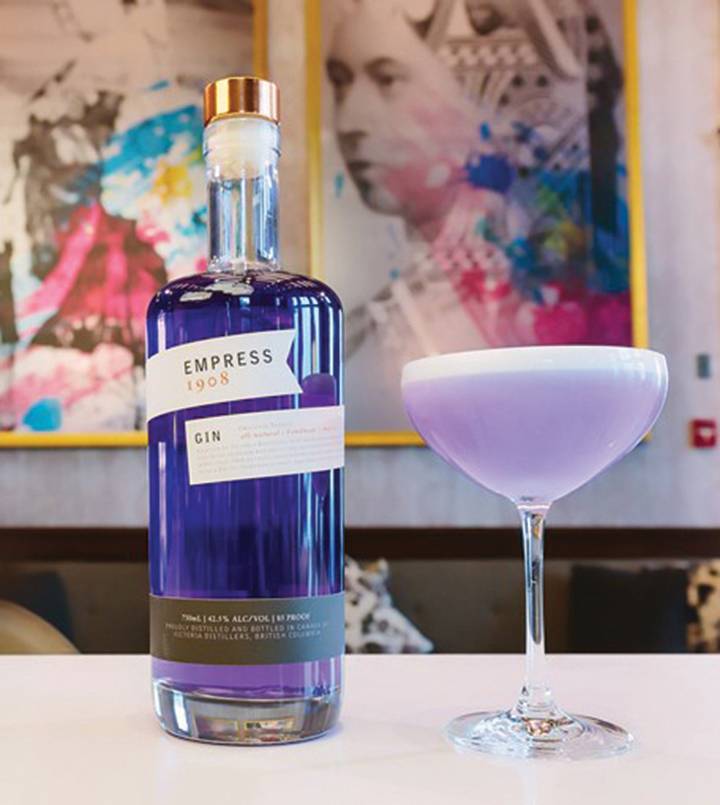 This concoction from Victoria Distillery is like the mood ring of gins. Its infusion of the vibrantly tinted butterfly pea blossom gives this gin its moody indigo blue shade. Add a little tonic or citrus and, abracadabra, it transforms into a rose pink. Plus it tastes like heaven, especially when sipped under artsy prints of Queen Victoria at the Q Bar at The Empress, overlooking the lights of the harbour.
Backyard Chickens
Cluck, cluck … there's something so endearing about a city that (mostly) values backyard chickens. It speaks to our citizens' mindfulness about food. Plus, chickens are adorable … and so are the occasional neighbourhood chicken searches for our escaping feathered friends.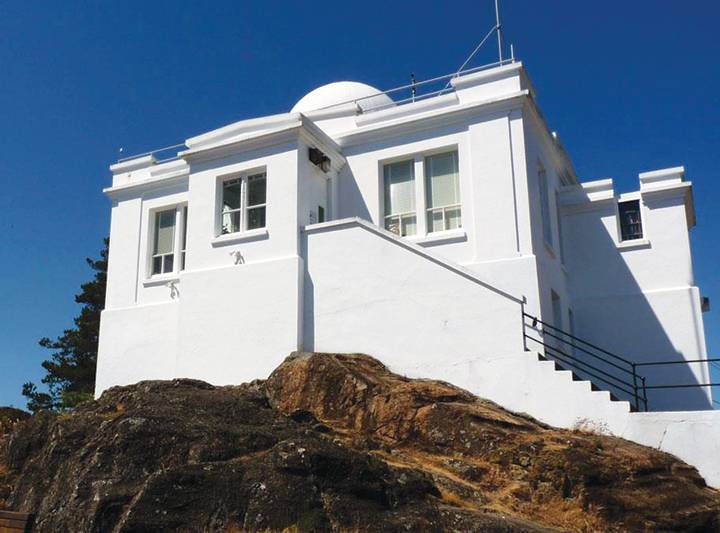 Built in 1914, this Art Deco beauty was Victoria's weather station for 75 years. Now it's the crown jewel of Gonzales Hill Regional park, a perfect picnic and sunset spot with amazing views of the city, the Strait and the Olympics. Discover rare wildflowers, quail and surreal stands of Garry oaks.
Who doesn't love the Breakwater (especially now, with its murals of Indigenous art)? Many locals don't realize the waters around the breakwater are a designated marine sanctuary and one of the world's best dive destinations where you'll find painted anemones, decorated warbonnets, wolf-eels, giant sculpins and more. Dive courses abound, so jump on in.
There are about 3,300 lights tracing the elegant lines of B.C.'s most famous building (designed by architect Francis Rattenbury, who also designed The Empress and was later murdered by his wife's lover). These lights make the capital feel that much more special. Need something to do? Bring a blanket, recline on the Leg lawn and start counting them.
PHOTO: JO-ANN LORO
---
The website WalkScore.com called downtown Victoria a walker's paradise and scores it an impressive 99 out of 100. Indeed, the entire region is threaded with walkable streets, urban forest hikes and mountain climbs. Do a day walk from Oak Bay to Gonzales to Ogden Point (complete with a beachside picnic). Feeling more adventurous? Visit victoriatrails.com for the region's best hikes, complete with distances and difficulty ratings.

PHOTO: DAN ROWSELL.
---
The trip from downtown to Esquimalt would not be the same without passing by the red-brick beauty of a building that was once home to the E&N Railway's Roundhouse. The E&N is sadly gone, but the Roundhouse remains as one of the most intact examples of B.C.'s industrial heritage railway architecture — and will one day (fingers crossed) become a market and community hub for Vic West, as developer Bayview envisions.
PHOTO: JO-ANN LORO
---
She's the grande dame of Victoria's harbour, she's a National Historic Site and she's a rare surviving example of a 19th-century Second Empire-style federal building. With her distinct pink paint, mansard roof and hooded dormers, she is decidedly a show-off — and rightly so.
Quieter than the city-side parks, Saxe Point is seven and a half acres of beach, gardens, green space and well-tended trails amongst mature Douglas and Grand fir trees. Perfect for picnics, meditative strolls and outdoor yoga.
The revitalized brick carriage courtyard has become downtown's inner sanctum. Grab a coffee at Discovery or some great eats from one of the eateries in Victoria's Food Eco-district, including bordering Be Love, Yalla or Chorizo and Co., and revel in the off-street vibe in one of the city's most creative courtyards.
One of this city's delights is the sound of the cathedral bells. At Christ Church, there are 10 of them tuned in the diatonic scale of D flat. On Sunday mornings and on Tuesdays at 7 p.m., climb the 71-step tower to see the "change ringers" practicing their ancient art.
Secrets Codes on Broad Street
PHOTO: JO-ANN LORO
---
Next time you're on Broad, seek out Morse code messages carved in the sidewalk street-name markers. You'll find words like "bemused" and "an opera" from Michael Kenyon's poem Broad Street Blues, written for the street's 1998 to 2000 revitalization. The full poem, however, with talk of the sex trade and drugs, was deemed too colourful (some would say honest). Thus, the Morse code.
PHOTO: KATHLEEN MATTHEWS
---
Perfect for super-moon sightings, Oak Bay's Cattle Point (where cattle once swam to shore from ships) is a Royal Astronomical Society of Canada Urban Star Park, part of a global network of Dark Sky Preserves designed to save the night sky for astronomical observation. Adjacent Uplands Park is 76 stunning acres of woodland trails, rocky outcroppings and Garry oak meadows.
Lawn Bowling
It was once forbidden by monarchs like Richard II (who feared its impact on archery), but lawn bowling is alive and thriving in Victoria, where you can play it at least nine clubs, including Beacon Hill Park's Victoria Lawn Bowling Club, now in its 109th year. Not just for seniors, it's now attracting the martini and millennial set too.
It's rare to find farming so close to a city. That's just one reason Blenkinsop Valley is considered the region's emerald. Not only is it home to one of the most peacefully scenic parts of The Goose, it's a symbol of the need to protect Island farmlands. An autumn must is the six-acre corn maze on Galey's Farm, a working family farm.
This article is from the May/June 2018 issue of YAM.