Victoria is consistently ranked as a top city for lifestyle. Here's how to live your happiest and most engaged life in the capital region.
By Kerry Slavens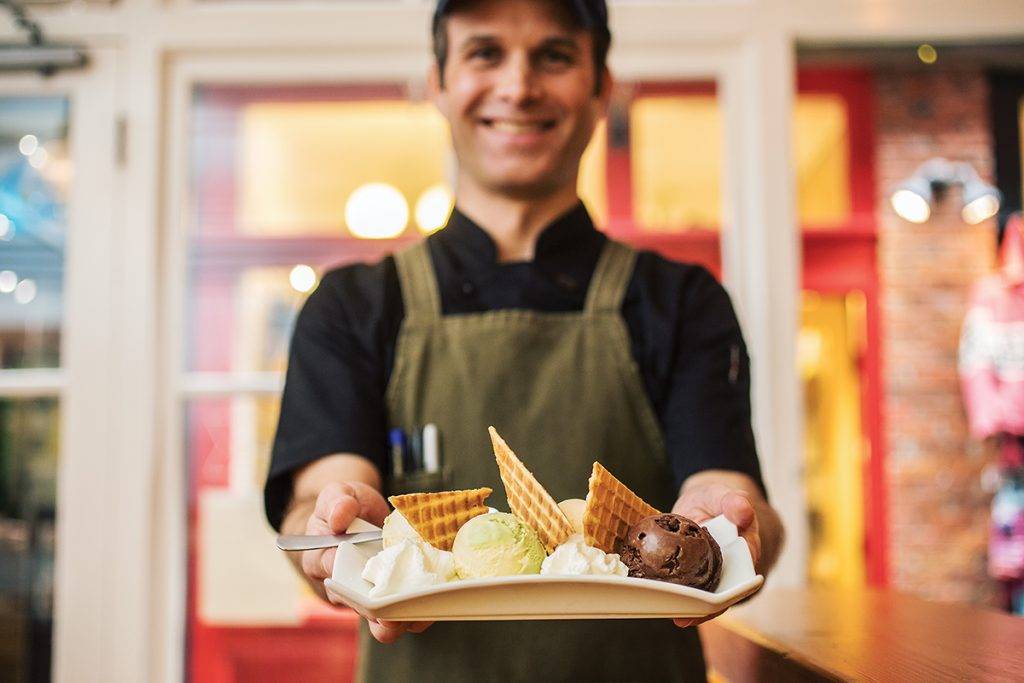 CHILL WITH ICE CREAM
Hop, skip or jump to Kid Sister in Fan Tan Alley for ice cream with organic, locally sourced and sustainable ingredients. In fact, why not go all in on the perfect city combo — Kid Sister's tasting flight featuring a house-made waffle, Double Chocolate, Elevenspeed Coffee, Mango Matcha Froyo and Banana Caramel!
STROLL THE PAINTED POLES
If you haven't seen the painted telephone poles of Fernwood, you're missing the quintessential Victoria experience. Bold, colourful and hand-painted, these poles discourage graffiti and add an artsy, friendly vibe to the neighbourhood.
FIND YOUR FLOAT
Visit the Float House to experience the deep relaxation of floating, a practice where you enter into a float tank (also called an isolation tank), an enclosed tub filled with 10 inches of body temperature water that has 800 pounds of dissolved Epsom salts in it. In a light- and sound-proof tank, let the water effortlessly hold and soothe you.
WALK A LABYRINTH
A labyrinth is an ancient concept that symbolizes wholeness, combining a circle and spiral into a path that is perfect for walking meditation or looking inward for answers. Victoria has a number of labyrinths to explore, including ones at Christ Church Cathedral on Quadra, Irving Park in James Bay, St. Phillip Church and George Jay Elementary School. Celebrate World Labyrinth Day on May 4 at 1 p.m. by choosing any labyrinth and walking in unison with thousands of people around the world.
RIDE THOSE BIKE LANES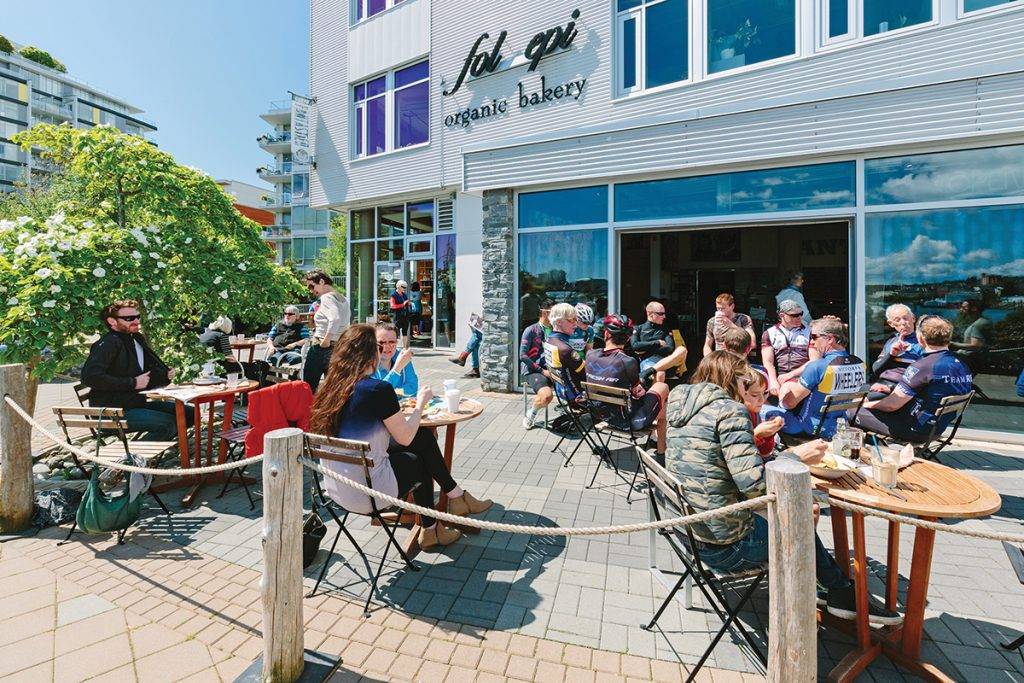 Pedal down the Fort or Pandora bike lanes across the new blue bridge to the Galloping Goose trail. Just after the bridge, take Harbour Road and enjoy a patio stop for delicious coffee from Cafe Fantastico and pastries from Foli Epi.
VISIT A HIDDEN GARDEN
Peggy Abkhazi compared her Abkhazi Garden to a Chinese scroll which, as it unrolls, reveals a sequence of views, moods and characters. Wander these stunning Land Conservancy gardens in Fairfield, through an artful landscape that is home to Japanese maples, a rhododendron woodland, fawn lilies, wood anemones, a giant Himalayan lily and more. Finish with a high tea, elevenses, lunch or dessert at the Abkhazi Teahouse.
HEAL TOGETHER
Acupuncture is used in ancient Chinese integrative medicine to treat physical and mental and conditions. Community acupuncture, which offers professional healing treatments in a relaxing, integrated setting, is hugely popular in Victoria. Try Hemma, Stillpoint or Victoria Community Acupuncture + Spa.
PLAN A PICNIC
Summer evenings are perfect for picnics at the Horticulture Centre of the Pacific (HCP). Bring a picnic and blankets or chairs, and dine al fresco to the sounds of local musicians. Browse works by artists, visit with HCP's master gardener and peruse the plant sale. Wednesday evenings to August 28.
DO YOGA WITH THE GOATS
Goat yoga is back at Lavender Farm on Saturdays through the summer! And new for 2019, Lavender Farm is introducing goat cuddles with baby goats and lambs. Stretch your body and spirit with some cute, furry companions.
LAUGH OUT LOUD
Laughter lowers stress hormones and boosts the immune system. Get your laughs at Phillips Comedy Night at The Mint (every Wednesday, doors open at 7 p.m.). Connect your funny bone with some of best stand up comics in the city for a fun night of laughs.
GET YOUR HANDS DIRTY
Working with clay is artistic, meditative and grounding. Hands On Pottery has weekly classes, workshops and even date nights to help you get acquainted with the art of pottery. Make your own bowls, mugs, plates and more.
BUILD A SANDCASTLE
Building sandcastles at the seashore is the quintessential summer relaxation activity (and the sand and salt are great for your skin!). Bring your shovels and buckets to Willows Beach for some of the best sand and ocean views in Greater Victoria.
SHOW UP FOR FITNESS
Join the November Project, a global tribe of communities empowering people of all fitness levels through fierce, free, weekly workouts. The Victoria club meets in front of Beacon Hill Children's Farm every Wednesday morning at 6:29 a.m. All fitness levels welcome.
PLAY DISC GOLF
If golf isn't your thing, a fun way to get fit is the fast-growing sport of disc golf, in which players throw a disc (similar to a frisbee) at a target using rules similar to golf. For beginners, the short course at Layritz Park is ideal. Metchosin Golf & Country Club has an 18-hole course, and Millstream Discgolf features quintessential West Coast terrain, with elevation changes and water in play on three holes.
CHECK OUT THE CONCRETE CANVAS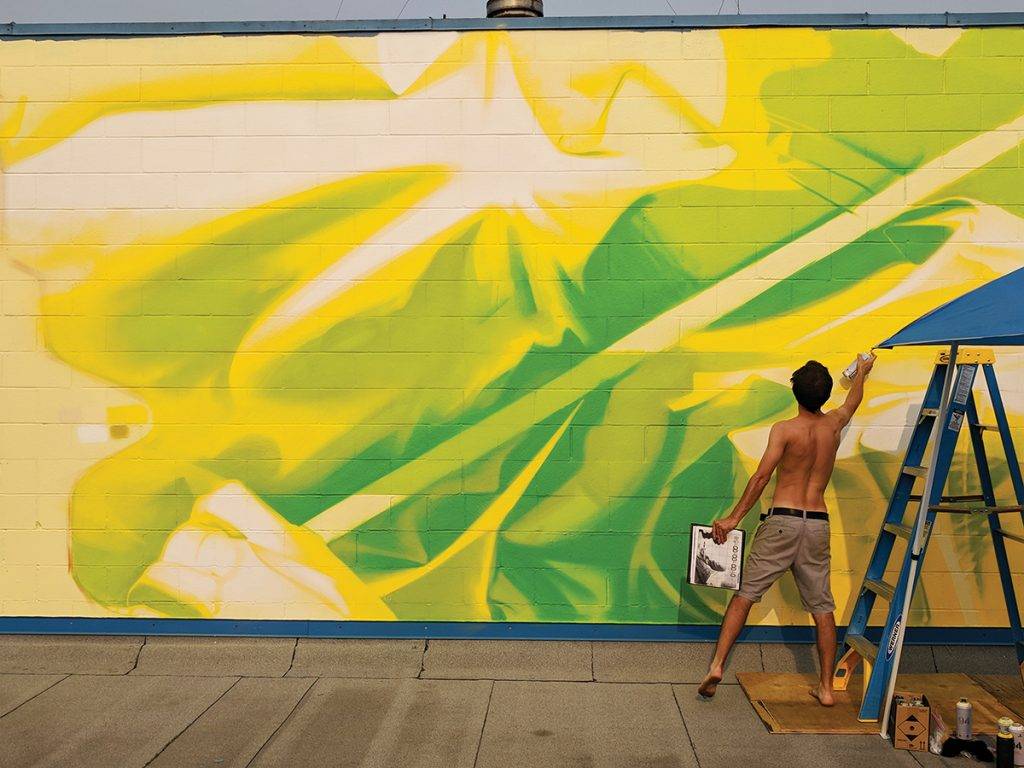 In the Rock Bay neighbourhood, you'll find the Concrete Canvas, an outdoor art gallery for street art and creative expression with works by local, national and international artists. The murals reflect the character, culture and history of the neighbourhood.
FOLLOW SECRET PATHS
Build new neural pathways in your brain as you discover Oak Bay's "secret" paths that link neighbourhoods together for relaxing strolls. Try the path at Rattenbury Place that leads to Mount Tolmie Park, or the Woodburn Path linking Lansdowne to Woodburn (beside Uplands Golf Course). There's also a path on Beach Drive across from Willows Park to Lincoln Road, then through to Estevan Village.
MAKE A MALA
An ancient way of achieving mindfulness is through the mala, a necklace of hand-picked stones, made with intention, and given a mantra to provide strength in challenging times or to celebrate life changes. Learn about the mala and create your own at a Shanti Collective's Mindful Mala workshop. Choose the location, time and up to 20 people to share the experience.
GET SPORTY
Remember recess as a kid? That's what Victoria Sport & Social Club does for adults by creating a community for adults to live, play, work and connect, through organized co-ed sports leagues, tournaments, social events and classes for people of all ability levels. Play actively together, with the support of a full-time staff. Summer offerings include turf soccer, beach volleyball, flag football and more.
FIND JOY
There's nothing like music to lift the spirit. No one knows that better than local fiddler Daniel Lapp whose Joy of Life Festival, presented with the with the Victoria Conservatory of Music, will get you out of your seat and dancing. Now in its sixth year, the festival features the Joy of Life Choir, Folkestra and the B.C. Fiddle Orchestra. May 3 and 4, Alix Goolden Hall.
DISCOVER WHAT'S SUP
Stand up paddleboarding (SUP) is one of Victoria's most popular pastimes, perfect for both fitness and relaxation. If you're a beginner, do take a beginner's class with Ocean River Sports or another SUP expert to practice technique and learn about the sometimes-confusing Transport Canada regulations for paddleboards.
"BREAK" YOUR ROUTINE
Spend your summer Friday evenings listening to live bands and sampling new sips and bites at the Breakwater Barge at Ogden Point from May 25 through September (5 to 9 p.m.). Dancing and socializing in the fresh ocean air is good for the body, mind and spirit.
LIFT YOUR SPIRITS
Experience the joie de vivre of kite flying. Head to one of Victoria best kite-flying locales (Clover Point, Cattle Point or Saxe Point), and unfurl your kite for pure, uplifting fun. Make your own or order from kiteland.ca or from artisan kitemakers like New Brunswick's littlecloudkites.com.
BATHE IN NATURE
Forest bathing comes from the Japanese concept of forest therapy. To experience its rejuvenating and restorative benefits, head for a wild, natural area and spend time under the forest canopy. (Mount Doug and Goldstream parks are both ideal.) But if you prefer a guided nature walk, Mystical Rainforest Tours with John Fraser, a nature connection mentor and registered clinical counsellor, offers guided walks, with mindfulness-based activities. Learn holistic wellness tools that you'll be able to apply in your everyday life.
PARK IT AT THE PARKETTE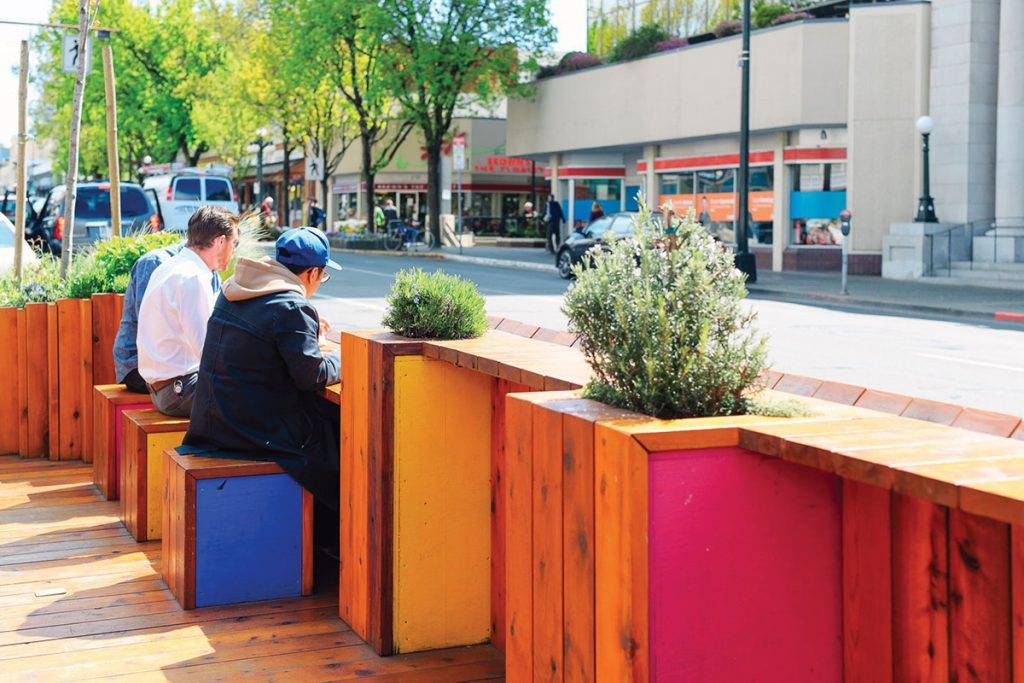 Early on a weekend morning, grab a java and a heavenly croissant (a happiness booster!) at Crust Bakery, then relax at the parkette on the 700-block of Fort Street and watch the world go by. It's a relaxing way to experience the city gradually waking up, as you wake up.
ACT ARTFUL
Plan a day around visiting local galleries to broaden your scope of fine art. There are so many in this city, from the AGGV to Avenue Gallery in Oak Bay to Fortune Gallery in Chinatown.
STRETCH IN THE VINEYARD
Wine is good for you and yoga is good for you. Put them together and you get Yoga in the Vineyard at Church & State Wines with Oxygen Yoga & Fitness. From May 30 to November 7, experience weekly rejuvenating yoga classes overlooking rows of lush vines. After class, enjoy a glass of wine paired with small plates of locally sourced charcuterie and fruit from the on-site bistro.
ACT LIKE A TOURIST
You live in one of the most amazing tourist destinations in the world, so pretend you're on vacation for a day. Lounge on the steps of Bastion Square and people watch. Visit buskers in the Inner Harbour. Stop for a drink on the Empress veranda and then take a pickle boat across the harbour to appreciate your grand city.
CYCLE TOGETHER
Love cycling but want company on the ride? Victoria Cycling Adventures (VCA) has been hosting bike rides for fitness, nature appreciation and just plain fun since 2013 in and around Victoria, offering three to five rides a week, year round. Rides may include a picnic lunch at a park, a hike, a swim, or even a wine or beer tasting. VCA avoids busy highways and main city arteries, preferring quieter roads. Members ride road bikes, hybrids and mountain bikes. New to cycling? Sign up for a test ride to find out which level works best for you.
HANG OUT IN A NEW 'HOOD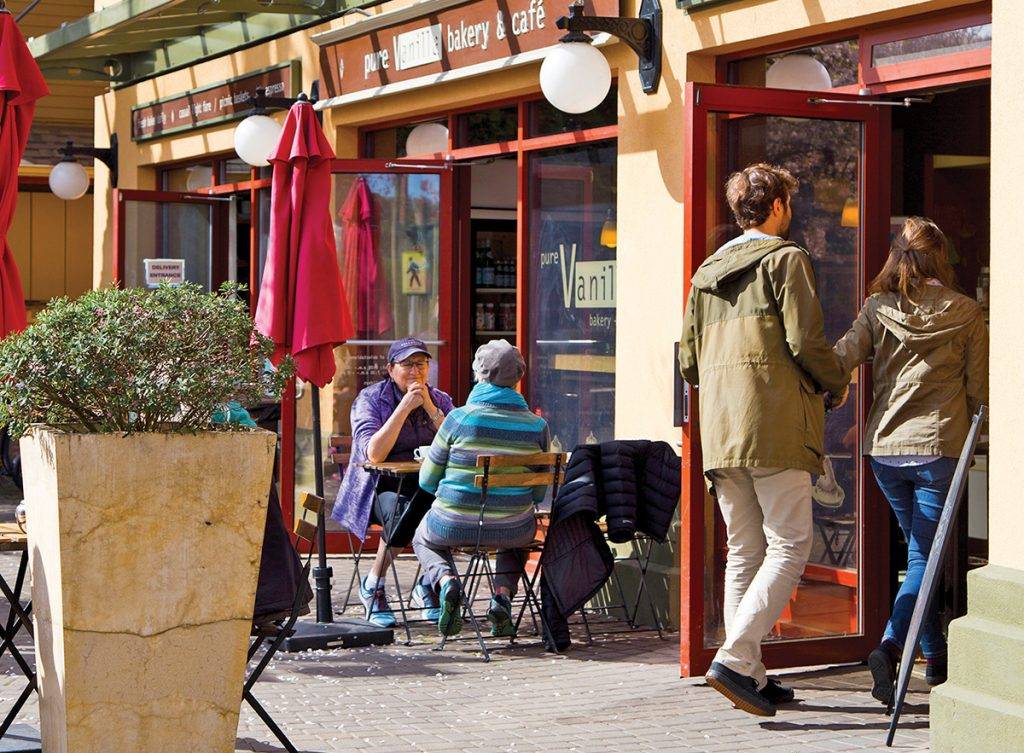 Expand your love of the city by trying out a new neighbourhood for a day. What about brunch and boutique shopping on Estevan Avenue? Or how about exploring the seaside village of Cadboro Bay? Visit the unique stores then grab a java and head down the lane for an oceanside stroll on one of cities prettiest beaches.
COOK WITH CANNABIS
Chef Cody Lindsay is a Victoria-based war veteran who is taking cannabis cuisine to new heights on his website, thewellnesssoldier.com. You don't have to be in the military or a veteran to benefit from Chef Cody's Cooking With Cannabis 101 video series, which teaches you cannabis-cooking basics so you can create your own edibles (including the mathematics behind THC conversion).
SEEK THE SECRETS OF SEAWEED
Did you know that seaweed is a super food? It has 10 to 20 times higher concentrations of vitamins than any land plant. Given that you're lucky enough to live near pure sources of this ocean bounty, it's time to learn how to incorporate it into your diet. Join marine biologist Amanda Swinimer of Dakini Tidal Wilds as she leads you into the dynamic intertidal zone to learn about our local seaweeds.
DRAW FROM NATURE
The Nature Sketch program through the Bateman Centre is ideal for anyone who wants to reconnect with nature and develop their artistic skills. Guided by a sketch artist and a naturalist, this outdoor program for adults focuses on sketching and observing wildlife habitats in unique ecosystems. Kids programs are also available.
TOUR AN URBAN FARM
Gather a group of friends together and book a tour of Mason Street Farm, an authentic city farm, to learn about Victoria's thriving food system, ecological-growing practices, aquaponics and more.
SAY GOODBYE TO PLASTIC
Visit the Maritime Museum of BC this summer to learn more about marine debris and plastic in our oceans. You'll also discover the efforts of people around the world who are working to better the situation, and how you can make small changes in your daily life that can contribute to big changes for our oceans.
HANG OUT WITH THE BIRDS
Bring your binoculars to Swan Lake Christmas Hill Nature Sanctuary for relaxing and fascinating guided bird walks around the lake area. Meet every Sunday at 9 a.m. (by donation). For those who want a more intensive course, Swan Lake features a three-day bird course from May 17 to 19, led by bird experts, Drs. David Bird and Rodger Tilman.
TRY FLORAL THERAPY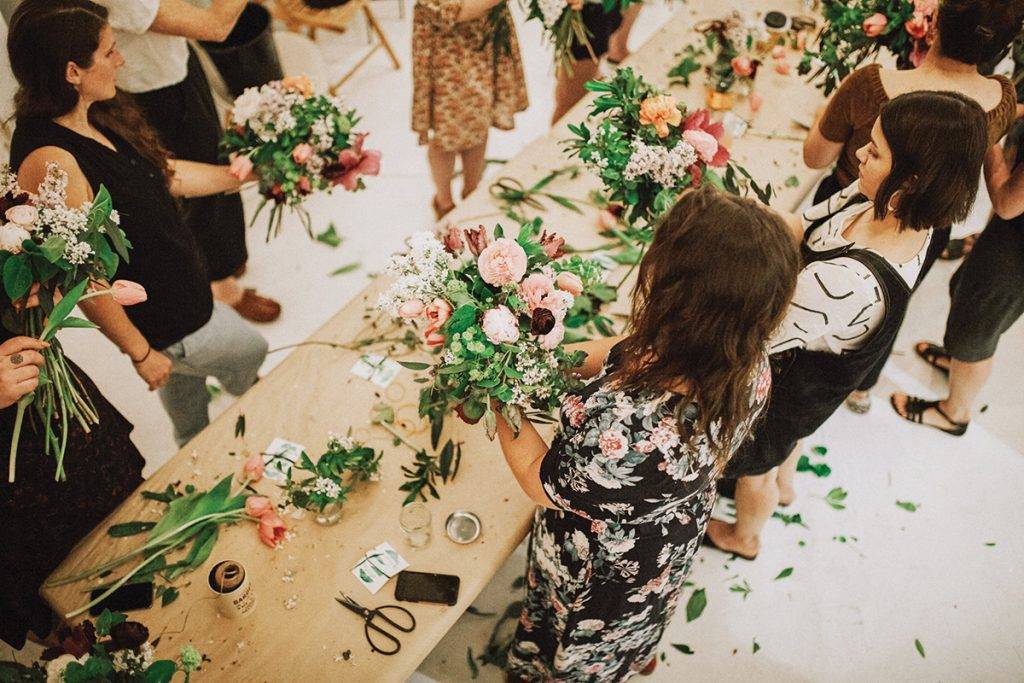 The Floral Therapy workshops by Powell Floral are centred around sharing a mindful approach to floral design by educating students about using local in-season botanicals and encouraging attendees to design with a playful, judgment-free mindset. Workshop topics include supporting local farmers, ethical foraging, design techniques and natural dyeing. Learn how to create a lush spring bouquet at the next class on May 5.
CONNECT WITH KOMBUCHA
At the kombucha-making class at Cultured Kombucha in Vic West, you'll learn how to brew this probiotic- and antioxidant-rich drink. You'll get everything to brew your own kombucha, including a healthy heirloom SCOBY (the culture from which kombucha is made) from an award-winning micro-brewery. The class takes place on June 2.
DO IT LIKE A DRAGON
Lend your power to a team through the sport of dragon boating, which began in China's Pearl Delta region more than 2,000 years ago. A great way to learn is at the Fairway Gorge Paddling Club, which has programs for novices to experienced paddlers, including competitive dragon boat programs. Don't miss the exciting, colourful Dragon Boat Festival, August 9 to 11 in the Inner Harbour.
GET IN A GOOD (MYSTICAL) MOOD
Spending time in nature is a mood booster, and it's even better if the site is as hidden, beautiful and sacred as Mystic Vale. This forested ravine on the southeastern corner of the University of Victoria lands is home to more than 75 native plant and wildlife species, including oceanspray, snowberry and Indian plum, along with trees up to 500 years old. In 1904, local writer D.W. Higgins published the legend of Mystic Spring, noting that it was once home to an old maple tree beside a spring of pure water; the maple tree was a guardian spirit of the spring. True or not, Mystic Vale is the perfect nature retreat close to the city.
STARE AT THE STARS
A University of California-Irvine study found that looking up at the stars makes us nicer, possibly because observing the twinkling night sky makes us understand how small we are and how much we need each other to survive. One of the best places to do this in Victoria is at Cattle Point, one of Canada's Urban Star Parks where light pollution is controlled. Bring your blankets and lawn chairs and cuddle up under the night sky to ponder the meaning of life.
SPEAK UP
Step back in time to a prohibition-era speakeasy, where the gin is cold, jazz is hot and the dance floor is filled with people of all ages enjoying incredible swing music. Speakeasy Tuesdays happen every Tuesday at the Victoria Event Centre. Doors open at 8 p.m. and the band plays into the night.
PAUSE FOR A BREW
Explore the edges of downtown with a stop at Capital Iron, a walk around the historic warehouse district (Store, Discovery and Chatham streets) and a refreshing finish at Phillips Brewing & Malt Co.'s newish tasting room. Besides the hometown brew, a big draw is the fresh giant pretzels with Blue Buck infused mustard.
HANG OUT SOMEWHERE HISTORIC
Broaden your knowledge of Victoria's architectural heritage with a visit to Wentworth Villa at 1156 Fort Street. Built in 1863, this beautiful villa is remarkably well-preserved in gothic carpenter style. Over the years, it served as a family home and as an antique store before becoming a museum. Check wentworthvilla.com
GET HAPPY WITH HERBS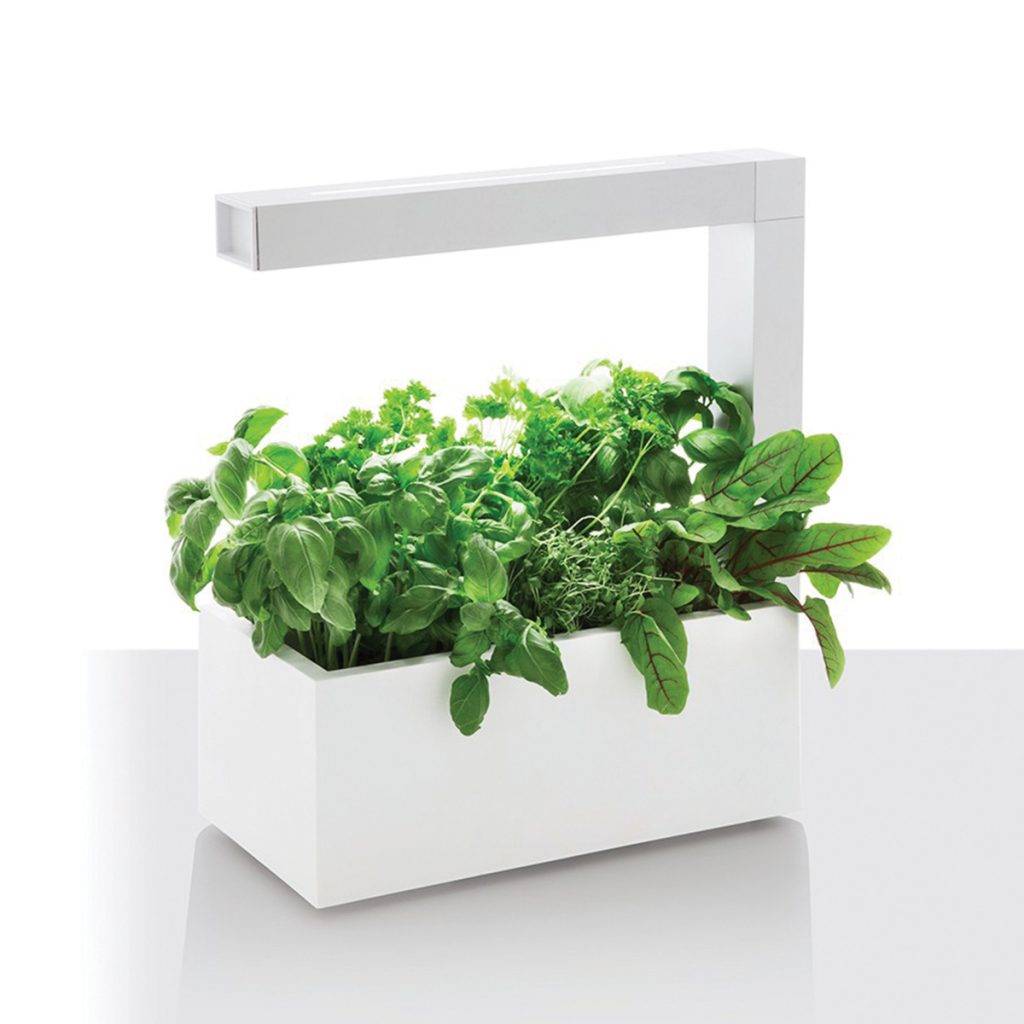 Shop for a mix of herbs, from cilantro to sage, at local nurseries and farmers' markets, then create your own indoor or outdoor planter box. It will instantly bring your space to life — and you can cook with the herbs.
STAND UP FOR KARAOKE
Don't keep your love for karaoke a secret! Head to the Copper Owl, a vintage venue above the historic Paul's Motor Inn in downtown Victoria. Every Sunday night from 8 p.m. to midnight, sing your heart out to rock, pop, indie, oldies, b-sides and more.
TAKE A CUE
One of Victoria's gems is Peacock Billiards, with more than 30 high-end pool and billiard tables (with foosball and table tennis too). Head down the stairs at View and Douglas, pick up a cue and try a game. Then finish your night at adjoining James Joyce Bistro, which owes its unique décor to owner David Peacock's fascination with Irish writer James Joyce. Peacock commissioned local artist and Joyce aficionado Robert Amos to help with the décor. The result is 15 tabletops, five murals, two long bars and many paintings, all created in ode to Joyce.
WALK WEST
One of Victoria's best seaside strolls connects downtown via the new blue bridge to Esquimalt. The five-kilometre West Bay Walkway — part walking path, part boardwalk — skirts Songhees Point (do stop at Spinnakers for a cold one!) then winds its way to picturesque Westbay Marina Village. It's the perfect shoreline stroll (no bikes) with endless views of the harbour.
EXPLORE MAHJONG
Mahjong is a 3,000-year-old classic Chinese puzzle game using tiles instead of cards. It's a great way to sharpen your thinking skills, meet new friends and socialize at the VicWest Community Centre.
GO GEOCACHING
Geocaching is a real world, outdoor adventure where participants use a geocaching app and/or a GPS device to find cleverly hidden containers called geocaches. There are millions around the world since the sport began in 2000, including 3,618 in Victoria.
DESTRESS WITH DRUMMING
African drumming has proven health benefits, and it's easy for anyone to learn at any age. At Drum Victoria, beginners are welcome and drums are provided. Each new student receives a handbook and instructional DVD for playing along at home. New students can sign up at any time.
---
This article is from the May/June 2019 issue of YAM