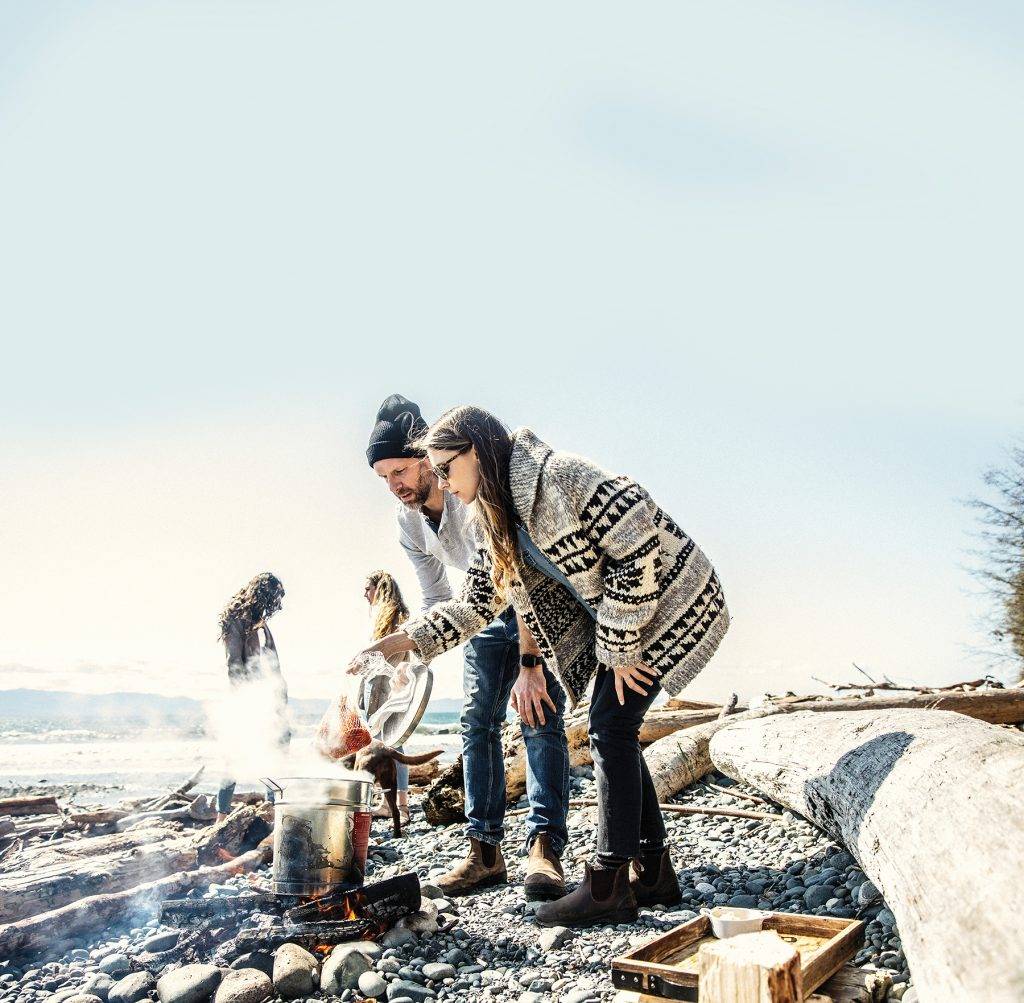 YAM shares the activities and experiences that support our (unbiased) belief that the West Coast is the best coast.
by Athena McKenzie
As a transplant to Vancouver Island — from the coast of Newfoundland by way of Toronto — I am continually discovering new ways to immerse myself in West Coast life.
Victoria, located as it is on the doorstep of oceans and rainforests, makes it easy to explore the nurturing environment of the outdoors. The city also offers a plethora of engaging urban activities and distractions, all imbued with the unique personality of its coastal setting. I am especially lucky
that my job allows me to experience the wide-ranging activities and adventures available on the Island.
Over the years I've tried surfing in Tofino, walked into the chilly waters off Willows Beach in February, took a thrilling helicopter ride along the Cowichan River to Port Renfrew, learned to create floral arrangements with locally grown botanicals, and enjoyed wine tastings, beer tours and crab dinners.
From simple things, such as watching the sun set into the ocean, collecting
driftwood on the beach or exploring the nearby hiking trails, to more involved pursuits, such as the suggestions that follow, there's no end to the ways one can nurture their connection to this incredible place we call home.
Have a Seafood Boil – On the Beach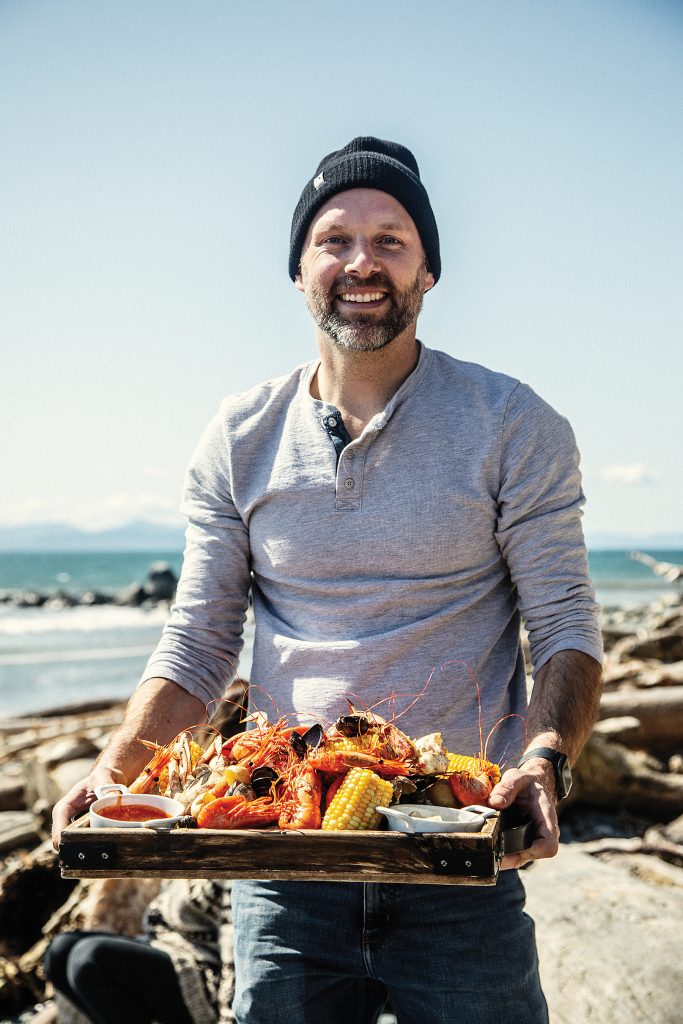 Growing up in Newfoundland, lobster boils were a highlight of every summer. (While I am a "townie," there are several fishermen in my extended family.) The camaraderie over an al fresco meal of freshly prepared seafood is something I've missed. Luckily, it's become a lot easier to host a seafood feast here in Victoria with The Wandering Mollusk Oyster Catering Co.'s new boil buckets — and our temperate climate means they can happen outside year round.
Jess Taylor, cofounder and "crew chief" at The Wandering Mollusk Oyster Catering Co., was actually inspired by the East Coast for this new offering.
"There always seemed to be more of a New England boil culture in the eastern states, and it intrigued me, thinking what that would look like using our own Island seafood," he says. "Growing up I only ever saw seafood boils in magazines and had never tried one until I started researching this idea … The recipe testing was the easiest part. Take fresh local seafood, treat it simply and let it shine. We really are lucky to have the world's best seafood all around us." Taylor knew the seafood had to be "beyond fresh" for his idea to work, so the company deals directly with shellfish farmers and fisherman.
"The clams are direct from the Salish Sea thanks to Evening Cove Farms," he says. "The crab is right off the boat fromHi-Gear Seafood. The mussels and beautiful frozen spot prawns are from Finest at Sea and are all harvested/fished fromlocal waters."
The buckets are made fresh each morning and come ready to cook. All one needs to do to prepare the meal is to place the bucket on a stove, barbecue or beach fire and add two cups of preferred liquid. (Taylor recommends white wine.)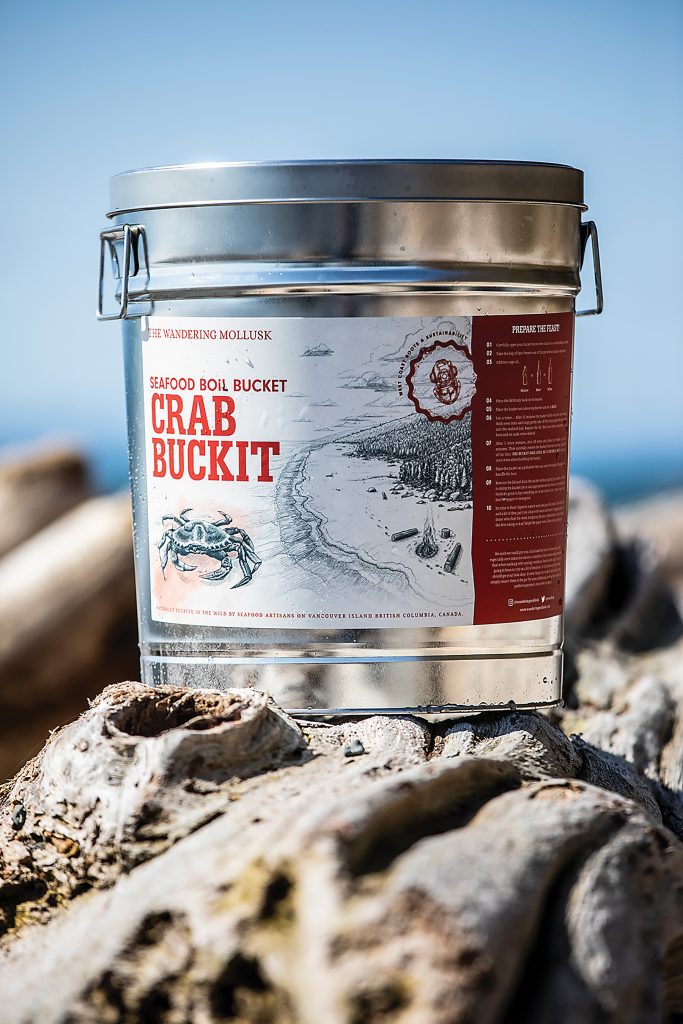 "The joy of these boils is you don't need to know how to work with or cook seafood to enjoy because we do it all for you," he says. "The buckets can be cooked anywhere there is a flame. Take them camping or to the beaches in Tofino. Just let us know and we can insulate the bucket with ice, so you can travel confidently with them … We have certainly seen the buckets used as a way to connect with family and friends — COVID bubble, of course — as they are such a great way to celebrate special events or just have a night out of the ordinary."
Take your Wandering Mollusk Seafood Boil Bucket to a nearby beach that allows fires. The seafood boils come in a one-time use pot with easy to follow instructions.
2. Try a Cannabis-Infused Meal
It will come as no surprise to anyone that friends and family back east believe B.C. is a groundbreaker in the cannabis realm. Chef Travis Petersen, known as the Nomad Cook, believes the province could also lead the way when it comes to infusing food with cannabis.
"There is a real opportunity here for B.C. chefs to really master this cuisine," he says. "I think we can be seen as a cannabis destination. I myself have had over three dozen people travel to this country just to have a cannabis meal with me."
Petersen, who grew up in Vancouver, is a pioneer in integrating cannabis into food and is considered one of the leading cannabis chefs in North America. Throughout 2018 and 2019, he travelled coast to coast in Canada, hosting infused pop-up dinners.
"I've served over 4,000 people their first infused meal," he says. "When I started, I expected the clientele to be 20-year-old males, and I couldn't have been more wrong. The average age is 39 and it's 57 per cent female. The demographic that's coming out are foodies or people who are real cannabis connoisseurs."
The dinner series also saw a lot of first-time users. With his recipes, Petersen is able to customize the dosage for each diner, enabling individuals to control their experience. When creating the recipes, Petersen treats the cannabis plant like any other premium ingredient and focuses on its terpene profile.
"Cannabis is about sharing,"Petersen says. "In the past, it was acceptable to share doobies with random people. You'd never walk up to someone and say, 'Hey, can I have a sip of your beer?' but cannabis is a sharing thing. At the dinners, we can share safely. When you see people at a table, and you add a little bit of cannabis in, it's amazing to watch how people connect with each other.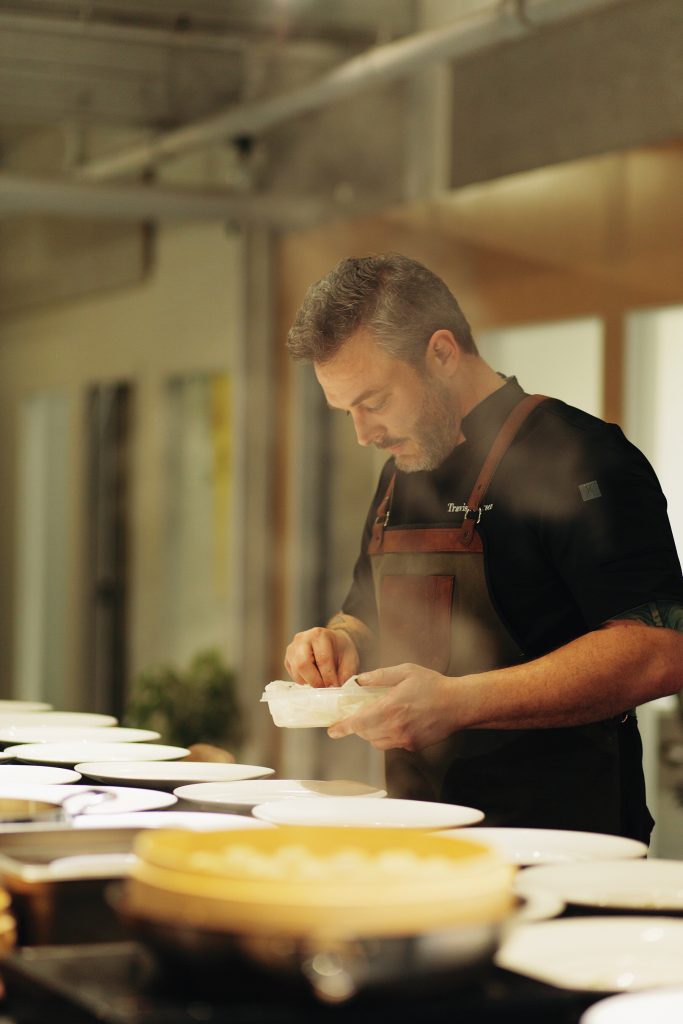 3. Protect our Urban Wildlife
Whether it's spotting the barred owl that frequents the tree outside the YAM office (pictured above), watching river otters devour crab along the Songhees Walkway or waiting for a family of deer to get off the road in Oak Bay, I always find wildlife encounters in Victoria to be thrilling. Of course, these creatures don't always benefit from their proximity to humans. Wild animals face many dangers in our urban landscape.
Last year, several local owls are believed to have died from rat poisoning. Groups, such as Owl Watch BC, area advocating for a province-wide ban on rodenticides. If you do experience a pest problem, consider working with a pest control company that does not use poison.
The team at BC SPCA's Wild Animal Rehabilitation Centre (Wild ARC), currently very busy with baby season, has pointers about coexisting with wildlife and helping animals in distress.
There are certain situations when a wild animal does need help. These include: obvious signs of injury; the animal seems dizzy or disoriented or stumbles and falls when it moves; or when a baby animal has been crying for a long time, is covered in bugs or is cold and not moving very much. Wild ARC stresses it's important to make sure a baby animal is truly orphaned before intervening. If you do find a wild animal in distress, call the BC SPCA Call Centre at 1-855-622-7722 as soon as possible.
Last year, Wild ARC treated 2,816 animals from all over the region, helping them recover and return to the wild.
If you'd like to make a donation or volunteer, visit their website at spca.bc.ca.
4. Take a Spin on the Pottery Wheel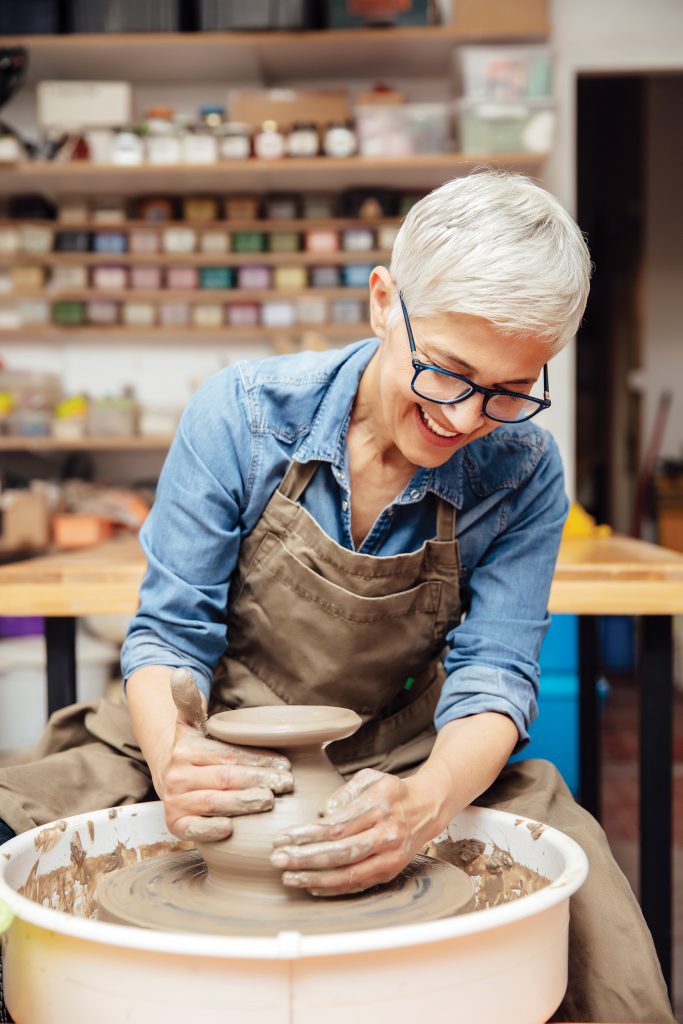 He may have his detractors, but I, for one, have enjoyed Seth Rogen's enthusiastic and vocal embrace of pottery these past few years. The famous Vancouver-born actor is a huge fan of making ashtrays, vases and pots, which he proudly shares on his social media accounts.
Rogen is not alone in discovering the joys of pottery. The craft has seen a resurgence in popularity, with local community centres and studios trying to keep up with the demand.
Raime Bornstein, the owner of the Hands on Clay Collective, believes there are many reasons people are drawn to it.
"Creating something out of clay is 'hands-on' and provides an opportunity for endless creativity at every stage of the process," Bornstein says. "It's a very different experience than being on your computer or phone — you get your handsdirty and make something beautiful and tangible. Pottery is also a very accessible craft — you can make something youlove no matter how old you are or what your skill level is."
He sees it as part of a larger trend of makers and creators who are bringing back the artisanal crafts and trades that have been industrialized and outsourced. While in-person classes at the Hands on Clay Collective are on hold temporarily, when they resume, they will offer a great way to connect with other people.
"Because pottery is so accessible, our studio has become a community for creative folks to learn from and be inspired by one another," he says. "There's just something magical about being able to transform a soft squishy ball of clay into a shiny functional object that will last for generations."
5. Discover Indigenous Art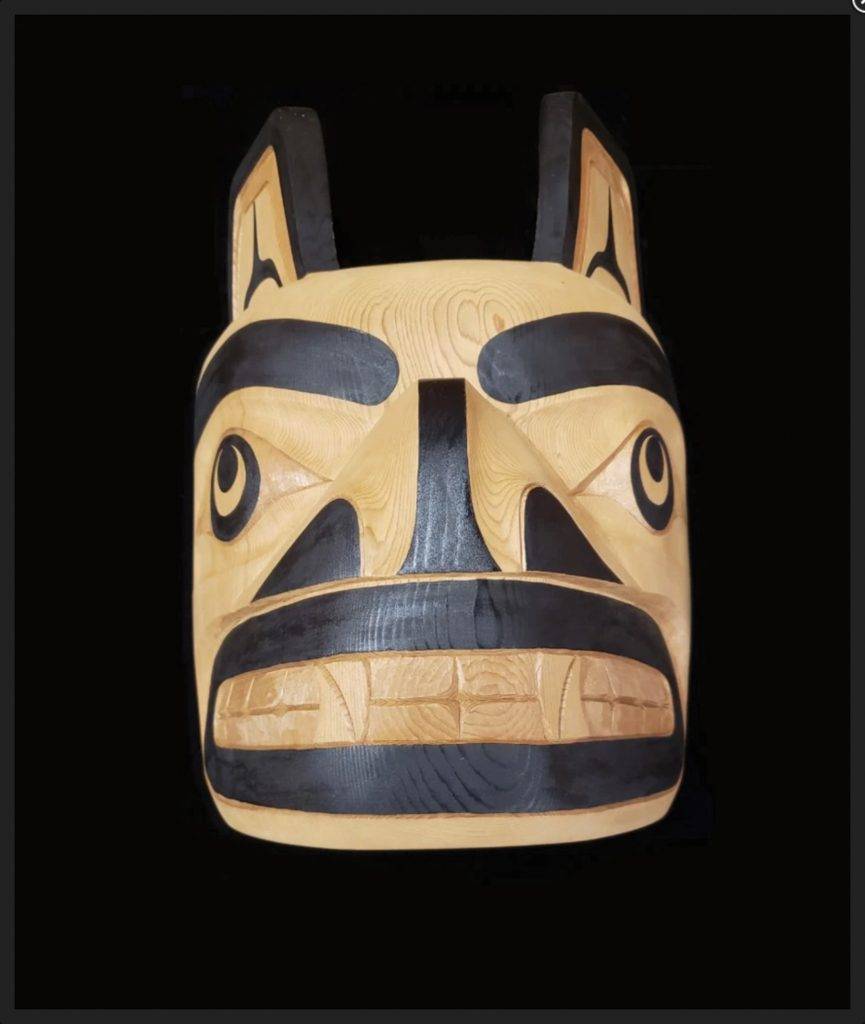 My partner and I try for daily walks to ease our pandemic stress. A favourite route takes us past Songhees Point, where we stop to look out over the Inner Harbour, next to a bronze cast carving by Clarence "Butch" Dick (Yux'wey'lupton). It is part of the Signs of Lekwungen, seven carvings along the Inner Harbour and surrounding areas that honour the art, history and culture of the Lekwungen People (known today as the Esquimalt and Songhees Nations), who have resided in the area for millenia.
Seeking out these markers is just one way to learn about the Island's original cultures. However, many authentic Indigenous experiences are not available given the pandemic. One safe way is to seek out the numerous Indigenous artists working to restore their creative heritage through wood, glass, silver, paint and textiles. There are many Indigenous galleries on the Island, and knowledge of an artist can deepen the connection to an art purchase.
Here in Victoria, Mark Loria Gallery specializes in contemporary art from the Northwest Coast of Canada. In Courtney, I-Hos Gallery — a participant in the Authentic Indigenous program — has a virtual gallery that offers a glimpse into the diversity of expression of Indigenous artists, with its collection of traditional and contemporary Northwest Coast artwork, including masks, prints, gold and silver jewelry, and wood carvings.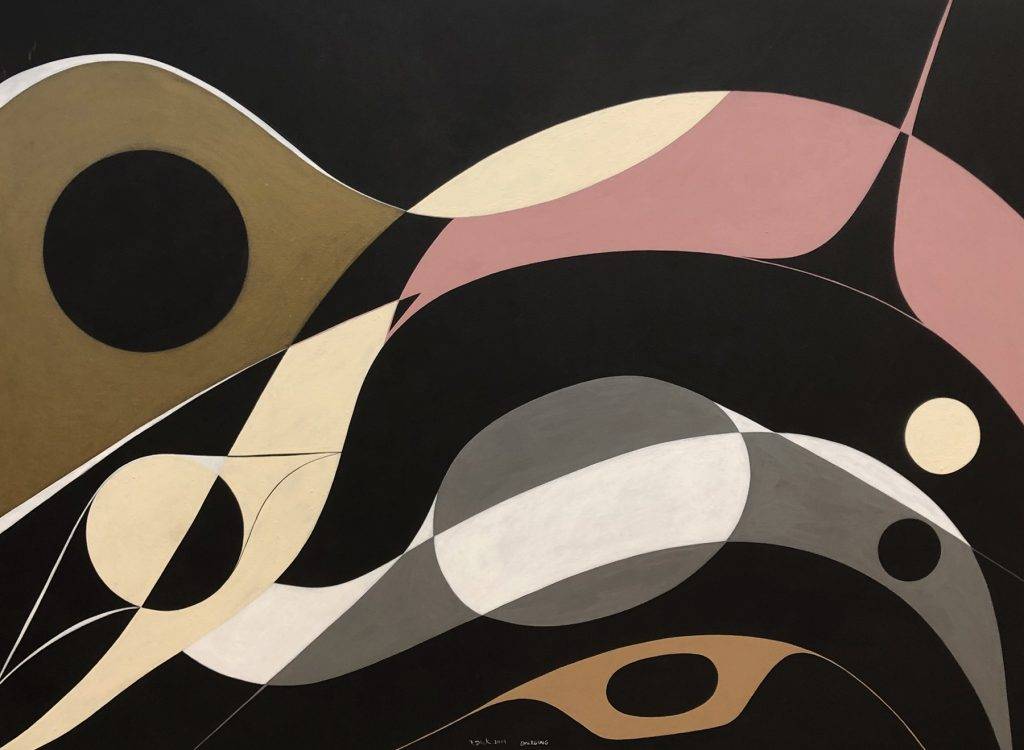 6. Try Paddle Boarding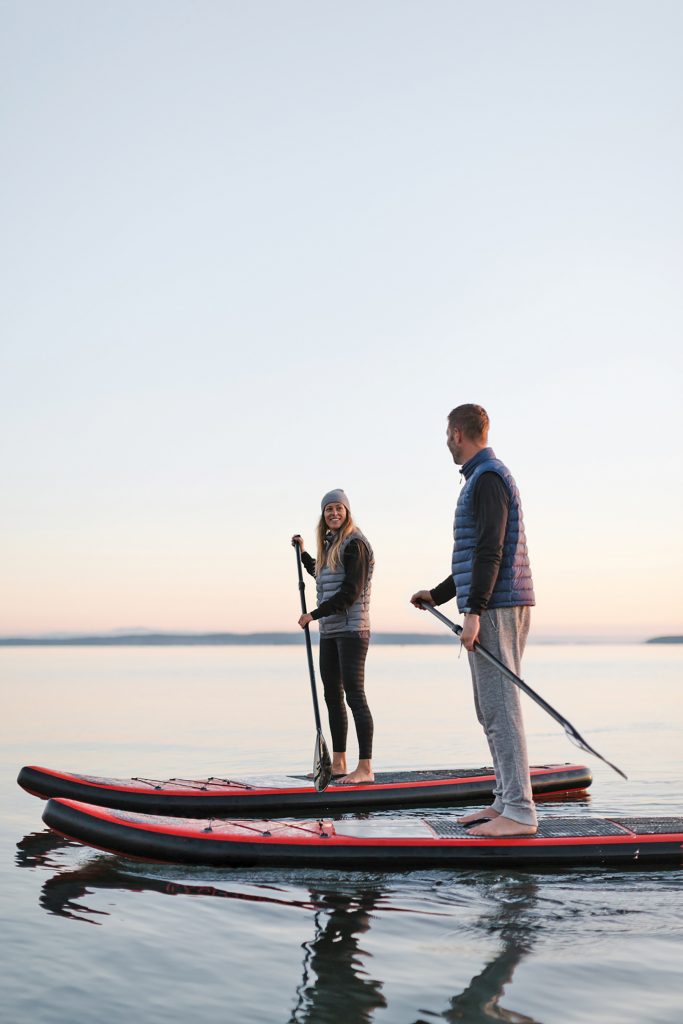 The first time I ever tried to paddle board, it was a windy day on Brentwood Bay, and I had a near miss with some rocks. Needless to say, I've been hesitant to try again, but after seeing more people paddling in the Gorge and Upper Harbour, I'm tempted to give it another go.
Luckily, there are options for nervous nellies like me, such as the lessons through Palli Palli Mobile Paddle Board Rentals.
"That's what we specialize in, not making you nervous," says owner Marc Helman. "We want to get more people on the water, so we made it super simple and easy. We start off with people on their bums or knees, and as they get more confidence and feel the board is stable and they're not going to fall, we slowly get them up. Our goal is that every customer who gets on a board, comes off with a smile."
The core of Palli Palli's business is its contactless board rentals. Their app allows customers to request delivery to a specific location, meaning one doesn't have to wrestle a boards onto a car rack.
This only adds to the appeal of paddle boarding for those of us not lucky enough to live right next to the water.
'You just get to go out there and have fun," Helman says. "You're also exercising and getting out in nature, breathing fresh air and taking in the beauty of the area. That combination of mind and body makes it the perfect sport for what we're going through right now.
7. Shake Up an Iconic Victoria Cocktail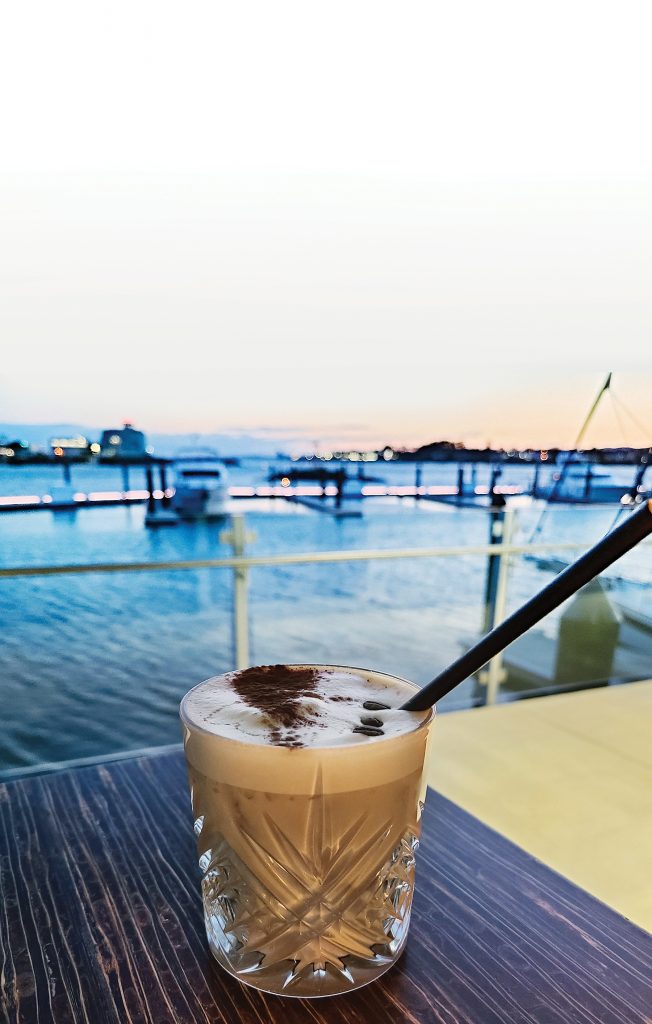 Until I moved to Victoria, I'd never tried the cocktail known as the Shaft, but quickly discovered a version of the coffee-based concoction on most menus around town. I've since learned it's a local tradition, normally consisting of vodka, Irish cream, coffee liqueur and cold brewed coffee, served over ice.
"It is quite ubiquitous in Victoria, but it is made to different qualities," says Vincent Vanderheide, beverage director at Boom + Batten. "As of recently, it is possible to make a lovely shaft with all B.C. ingredients."
Vanderheide shares his tasty, all-local version
The All B.C. Pick-Me-Up(a.k.a. The Shaft)
• .75 oz Per Se vodka from Ampersand Distilling Company in Duncan
• .75 oz Eclipse coffee liqueur from Bohemian Spirits in Kimberley
• .75 oz Honeycomb cream liqueur from Bohemian Spirits
• 2 oz Discovery cold brew coffee• Cocoa powder and coffee beans, for serving
Combine all ingredients in shaker, add ice and shake vigorously. Strain over fresh ice into a 10 oz rocks glass. Finish with adusting of cocoa powder and coffee beans.
Get the recipe here for Water's Edge Highball — another Boom + Batten cocktail that uses all local ingredients.