A new television commercial from Luxe Home Interiors is a reminder of how important it is for people to see positive representations of diverse families in the media. It starts with a stylish same-sex couple, outfitting their space with finds from Luxe and ends with the happy couple falling comfortably into their new sofa.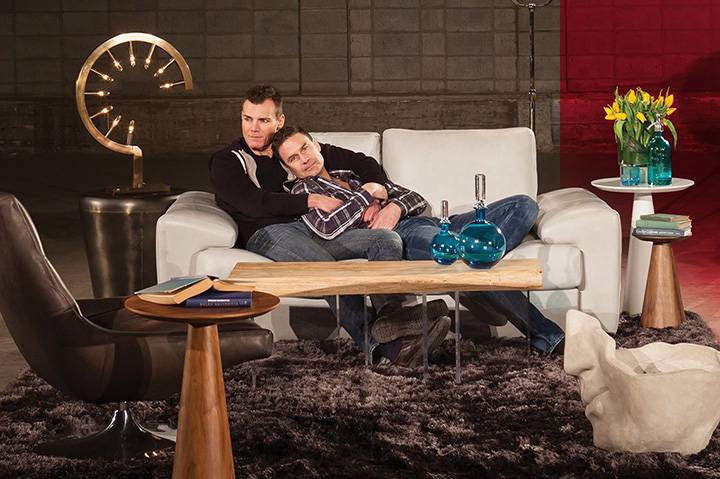 "[We] believe that creating a variety of positive images of same-sex couples is still very important in the media because when we see the same representations over and over, we start take them for granted internalizing them as ordinary and natural," say Luxe owners Darren Ausmus and Scott Elias in a statement about the commercial. "Just like skin colour, eye colour and gender, sexual orientation is only one of the wonders of human diversity."
The commercial has generated much attention on social media, with commenters sharing it and praising its portrayal of a happy home.
While the pair did not set out to make a political statement with their new ad — which was created with video creators from CTV Two — they say that the legislation passed in North Carolina and Mississippi that openly discriminates against the LGTB community was a reminder of how extremely important it is for people to see these positive representations of diverse families.  Although Canadian laws and societal acceptance for same-sex relationships has improved significantly during the past decades, the positive portrayal of gay and lesbian families remain rare in mainstream North American media and are often non-existent in numerous other countries around the globe.
As far as Ausmus and Elias know, this is the first and only commercial created and aired on Vancouver Island portraying a same-sex couple. In September, Luxe will also launch a full-page print ad portraying the same couple that will run in publications such as YAM magazine
"Local viewers and readers will see that gays and lesbians in the media are not just the product of distant Hollywood, but are real life people living right here in our own backyard, going to work and buying furniture at a local furniture store, just like everyone else….We all know that learning occurs by repetition – doing the same things over and over. Therefore, if we want our children to grow up tolerant and accepting of human difference, we need to regularly expose them to diverse and positive images. And if we want to eliminate the fear, isolation and depression many gay, lesbian and transgendered youth experience in their families and communities they need to see that they are not alone. They need to know that they can love and be loved just the way they are. The message from Luxe is simple, your home should be your favourite place in the world, no matter who you are or who you love."
Watch Luxe's new commercial by going to http://www.luxevictoria.ca