The worldwide epicurean phenomenon Dîner en Blanc is returning to Victoria for the fourth consecutive year. On June 23, guests will gather at a secret location to share a gourmet meal in one of the city's most beautiful public spaces.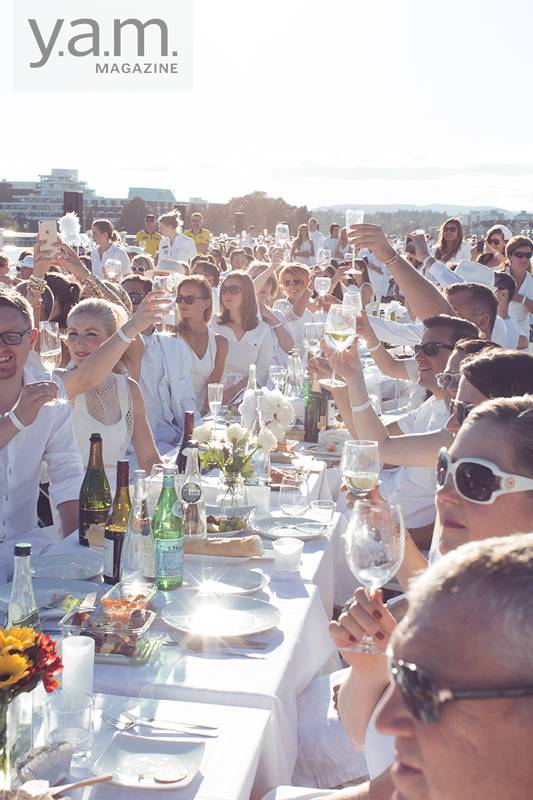 "Dîner en Blanc takes the simple joy of gathering outdoors for a beautiful meal and elevates it to something extraordinary," said Tyson Villeneuve, co-host of Dîner en Blanc Victoria.  "Not knowing the location until the last minute is part of the magic of this event and I think people will be pleasantly surprised by our venue this year."
The picnic is a much-anticipated annual celebration in Victoria. Last year, approximately 1,600 foodies, fashion and cultural enthusiasts attended the 2015 event at Ship's Point. This year, close to 2,000 people are expected to create a beautiful spectacle as they enjoy musical entertainment, dancing on location, the lighting of thousands of sparklers and an after party, also held at a secret location.
Guests bring their own gourmet feast, table, chairs and table setting. Dan Hayes, The London Chef, is once again providing three catered food options with desserts. The $35 Marseille features a gourmet salad with mission figs and an artisanal sandwich with marinated Buffalo mozzarella; the $45 Cannes features a toasted olive oil bread appetizer with summer vine tomatoes, marinated bocconcini, mixed olives and pickled red onion, and a main course with seared Albacore tuna and Cannellini bean salad.; and the $55 St. Tropez has a King prawn appetizer and a main course with seared Alberta tenderloin.
"This menu is fresh, seasonal, flavourful and delicious and heavily inspired by the south of France and Mediterranean," says Chef Hayes. "All of these options are best enjoyed al fresco, with friends, lots of great wine and of course dressed in white." 
The evening is filled with visually breathtaking moments including the waving of a cloth napkin to mark the beginning of the dinner and the lighting of sparklers to let guests know they are now free to mingle and dance. When at the end of the evening the trumpet sounds, guests pack up all of their belongings, pick up all their litter and head back into the night, leaving behind no sign of their elegant revelry.
For full details on the event's rules and regulations, please visit the official website: victoria.dinerenblanc.info.