By Danielle Pope
Photos by Joshua Lawrence (Unless otherwise noted)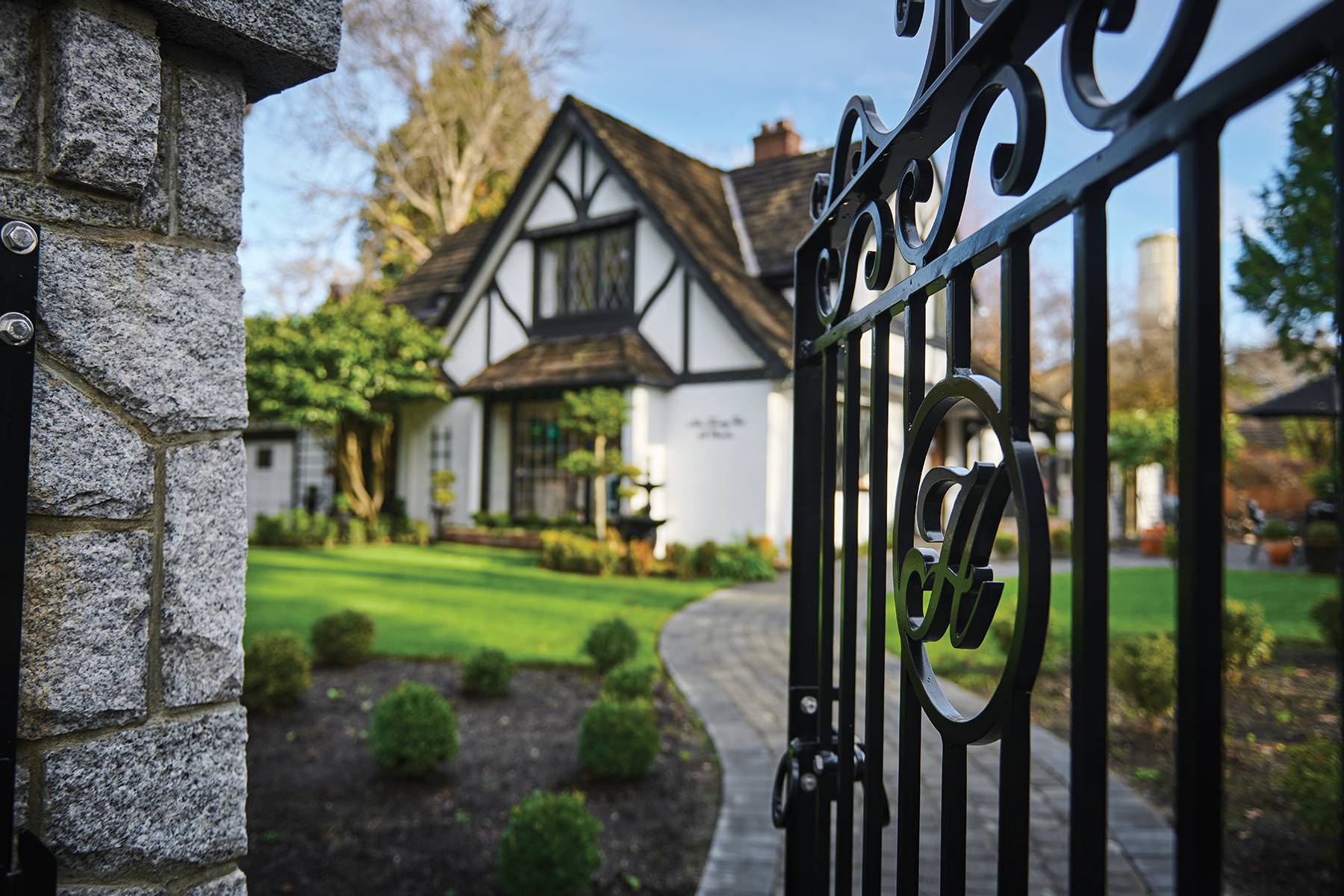 Debbie Bortolussi and her husband spent nearly two years searching for their ideal Victoria property before discovering the Rockland estate they would call home.
The pair had already moved from the mainland to Port Alberni, but Victoria was their retirement dream. With a surging market and then a global pandemic adding barriers to the quest, it wasn't until they learned of an unexpected estate sale in early 2020 that they found their match.
"We weren't going to move until we found what we wanted, but we kept turning up empty-handed," says Bortolussi. "We wanted a character home we could restore — we didn't want to tear down a house — and we had a number of nonnegotiables, like a fireplace and room for gardening."
When their Realtor flagged the 1940s Tudor-style character house on a quarter-acre lot, a "Cotswold cottage" designed by the renowned Victoria architect P. Leonard James, the couple was enchanted with it. Although the pandemic complicated everything from the sale to key exchange to moving, Bortolussi says her faith never wavered.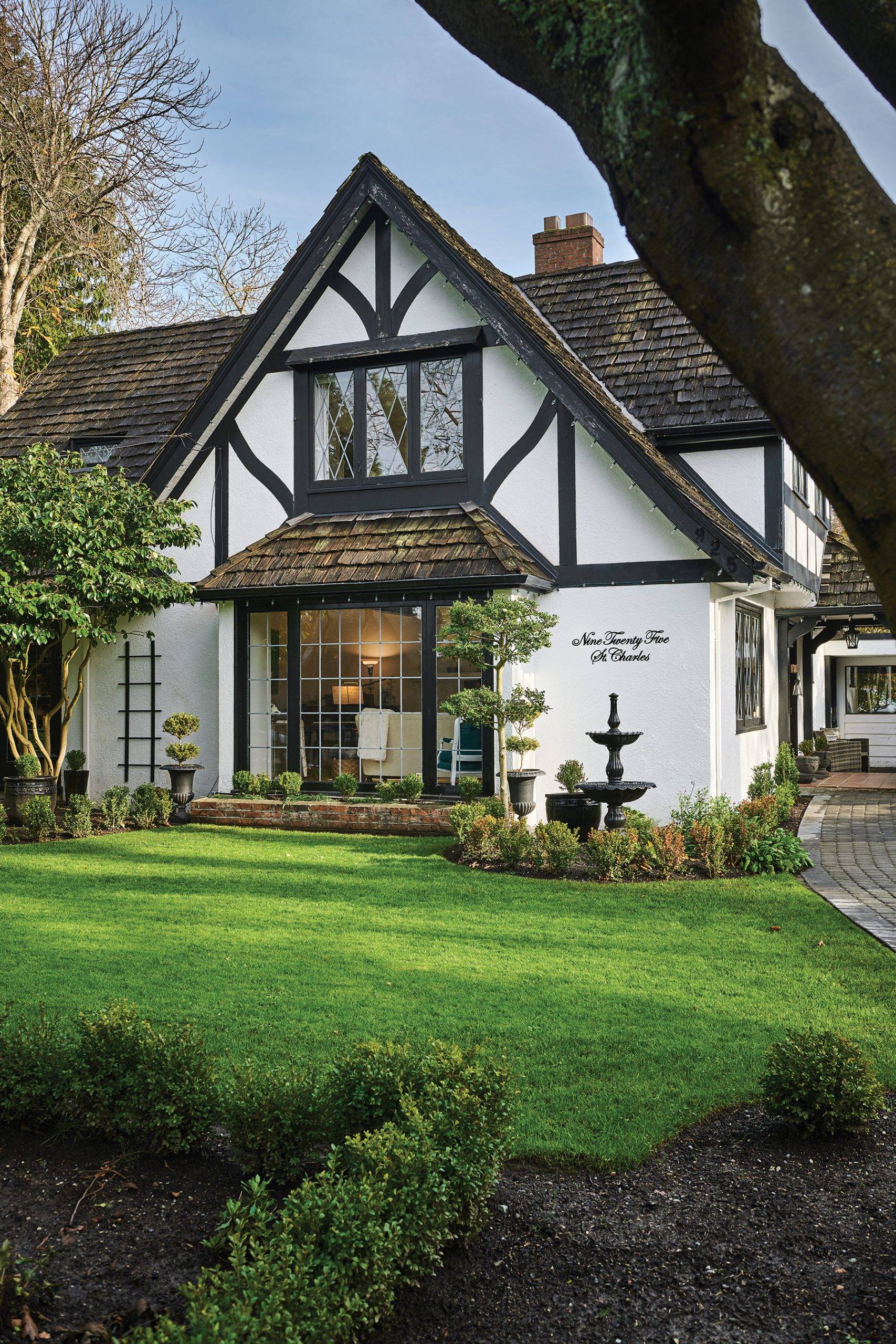 ---
"I never thought it wouldn't happen — I knew this was the property because of the curb appeal and even through the overgrown bushes I could see its potential," she says. "The space was important, because I'm an avid gardener, but we knew it needed some changes and it needed love."
With COVID at its peak and with some previous experience in landscaping and interior design, Bortolussi set about planning the changes from the outside in. The first task was bringing the grounds up to period-specific style by clearing the land and putting in a boxwood hedge, along with hiring Gary Wade Masonry to create authentic stone entry pillars to match the esthetic.
The pair laid a cobblestone drive and hired RE-LY Metal to custom-fabricate black steel fencing, which included scrollwork and a signature emblem, to install around the property. Things started to take shape when two dilapidated outbuildings were replaced with an entirely new garage and gardener's cottage.
---
"Debbie has a real vision for the property. The main thing was coming up with buildings that suited the existing house. When you're combining new materials and heritage structures, the design challenge is always building in that consistency," says Gary Streight, design principal with Studio Ink Residential Design, who worked on the project. "The backyard was terribly overgrown with blackberry bushes, shrubs and a variety of native trees, so we had to liaise with the city and an arborist to make sure these buildings could work."
The exterior's black-and-white Tudor theme then moved indoors, as Bortolussi and her husband took on the tasks of repainting the large black beams in the living area, refinishing the floors, tearing out dated cabinetry for space and adding French doors to transition between rooms.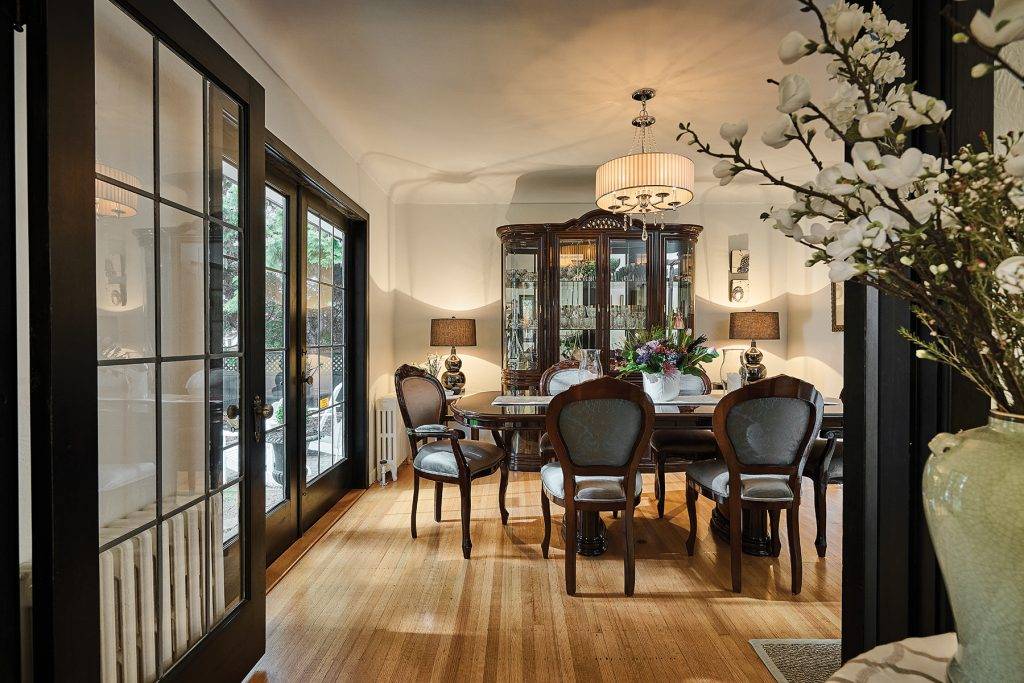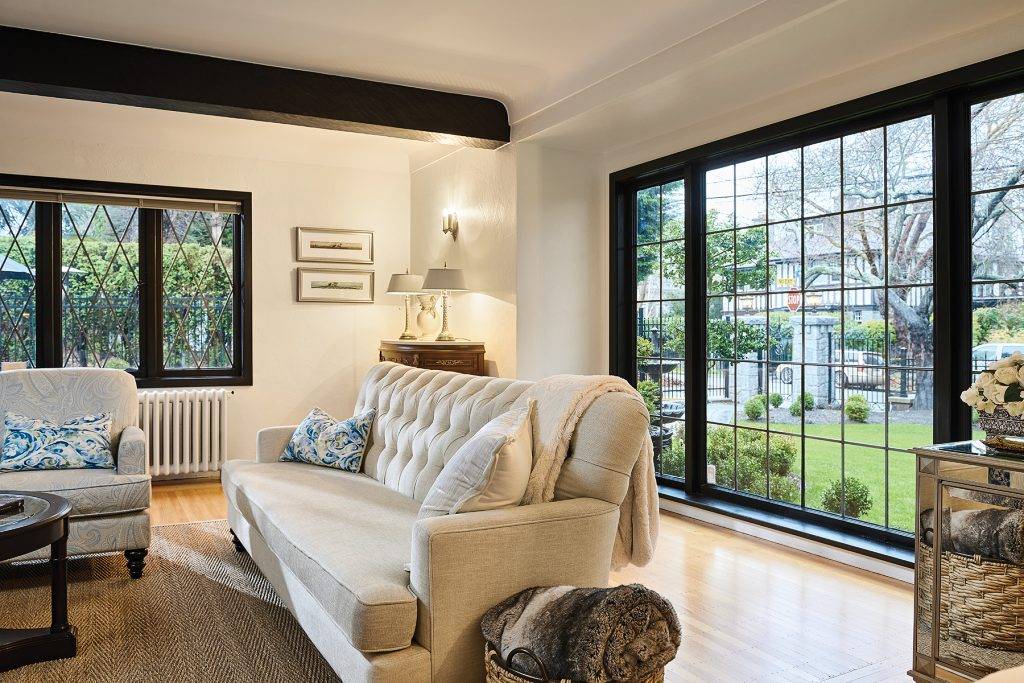 ---
"Because this house was built in the 1940s, it actually lacks a lot of the character you see in older homes," says Bortolussi. "People were away at war, so these houses just don't have the millwork and other features you'd see earlier."
Still, the original fireplace, with a custom iron horse design, adds a classic touch. To bring in more character features, Bortolussi has big plans for the kitchen, powder room and connecting rooms of the house.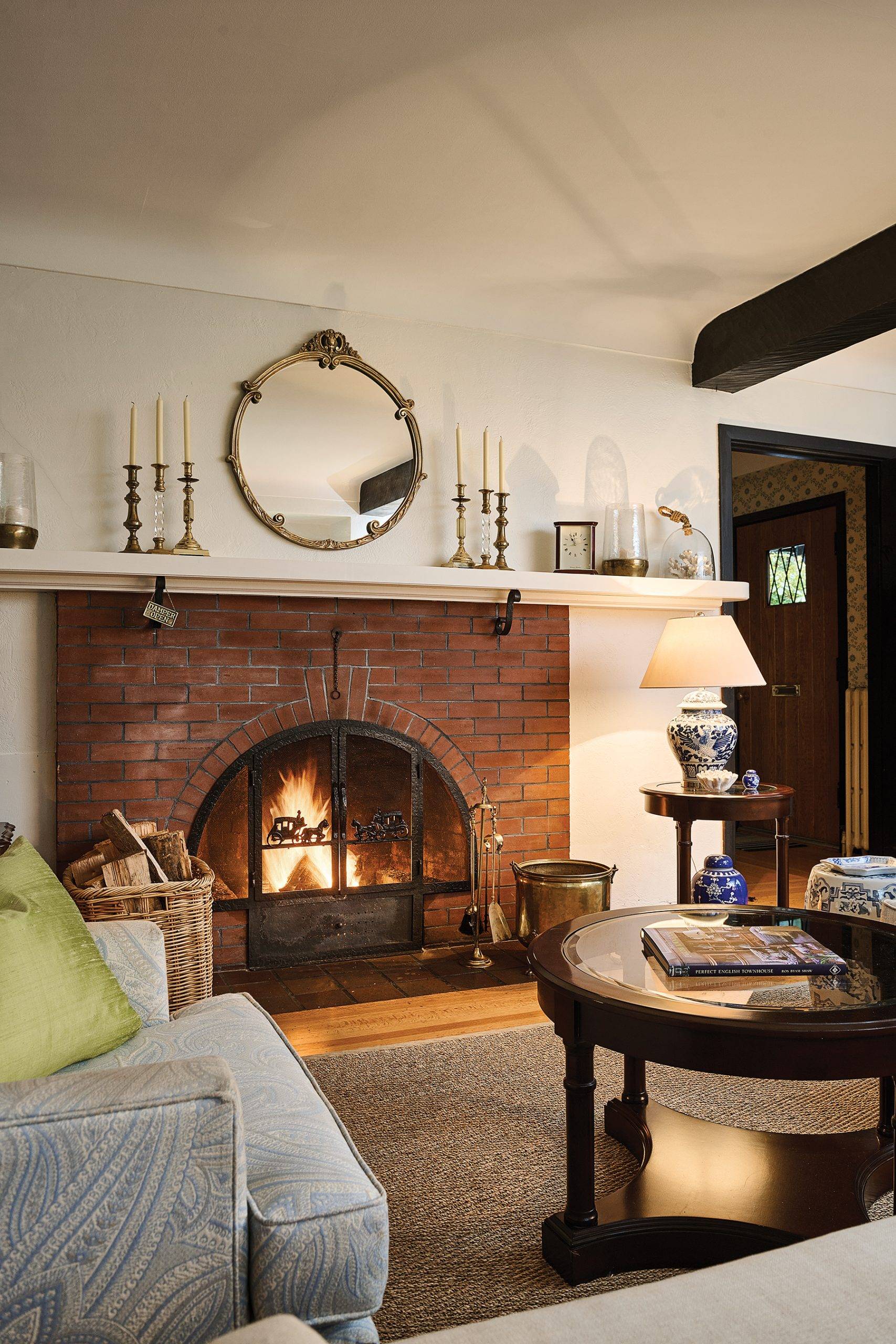 ---
"Part of the plan is to restore the original features of the house," says Bortolussi. For instance, she plans to rebuild an awkward 1970s kitchen addition and make it a functional space for cooking and hosting. This will transform the tight galley with its awkward addition into a vaulted space with all-white, Parisian-style accents, custom millwork and oversized Tudor-style windows that look onto the grounds. "The load-bearing walls will remain the same, because we like that separation, but partitions will come down to accommodate a new laundry area and mudroom."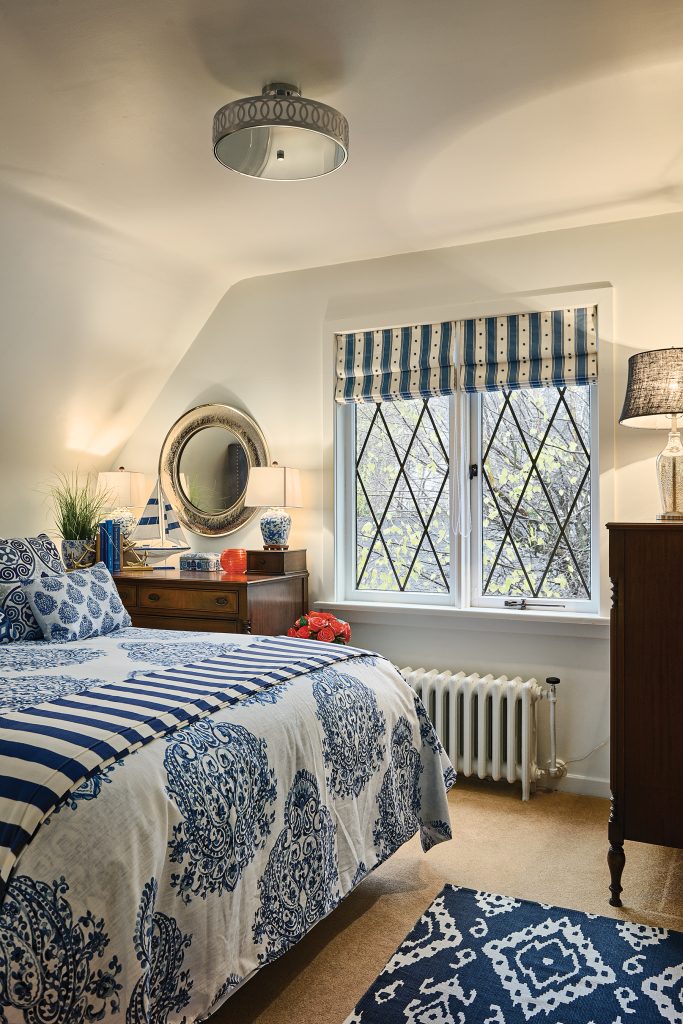 ---
Kris Ayres, owner of Koala Construction, worked with Streight and the homeowners on the creation of the outbuildings, and is looking forward to what's coming up inside the home. "Some of these buildings, like the sunroom off the back of the house, are out of step with the design and were tacked on over the decades," says Ayres. "Getting the chance to recreate high hand-pitched roofs is really fun, because you don't see that in modern structures — and you get to use those trigonometry skills. The kitchen will feature those same high peaks to keep it consistent with the design."
Bortolussi says while there's more work to come, she's smitten with what they're creating as they transform the property into an authentic home that aligns with their life.
"The way you make a decision on a house like this really comes down to location. Is it in a neighbourhood you love? Does the community feed you? Does the house have potential?" she says. "We knew our answer was, 'yes.' My husband calls this a happy house, and it is. You can tell when someone really cares about a place."
---
A Kitchen to Come…
Plans are underway for Debbie Bortolussi's character kitchen reno, with the overarching vision to bring in a light, functional design and period-specific touches that will match this 1940s Tudor-style home. Combining 16-foot vaulted ceilings with to-the-floor custom heritage windows and practical but thematic heating options, the future of this kitchen is looking bright.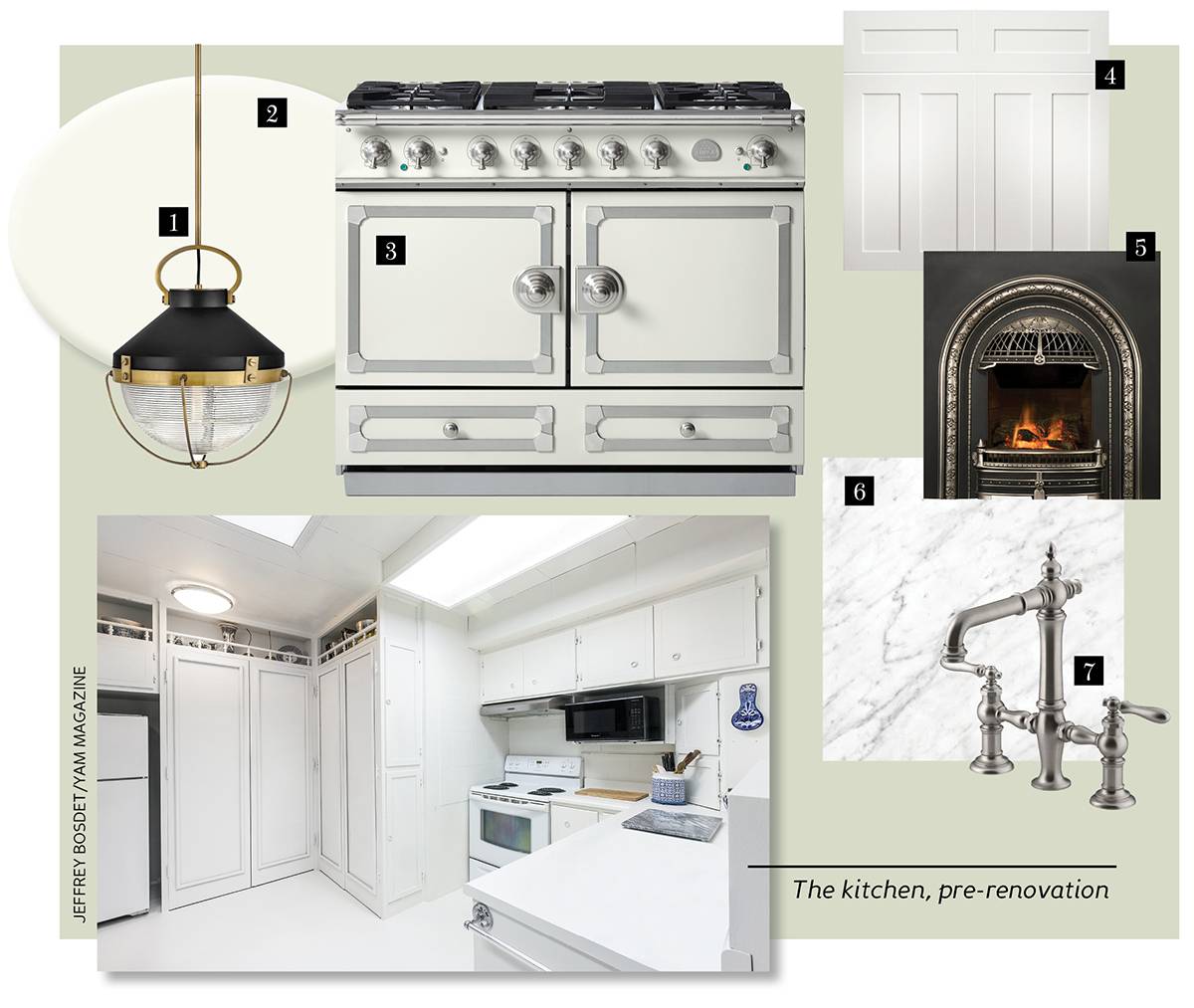 ---
Bathroom Bliss
The home's powder room is another spot slated for renovation. The designer will work with the small space to highlight the pre-existing windows and enhance the elements of classic architecture that are lacking in this 1940s build.