By Julia Dilworth | Photos by Jeffrey Bosdet
Ask around Victoria about who has great style and Josée Lalonde's name tops many lists. The interior designer and co-owner of The Housse seems to live and breathe style, from the way she wears her clothes to her home design sensibility and personality (three kisses, not two!).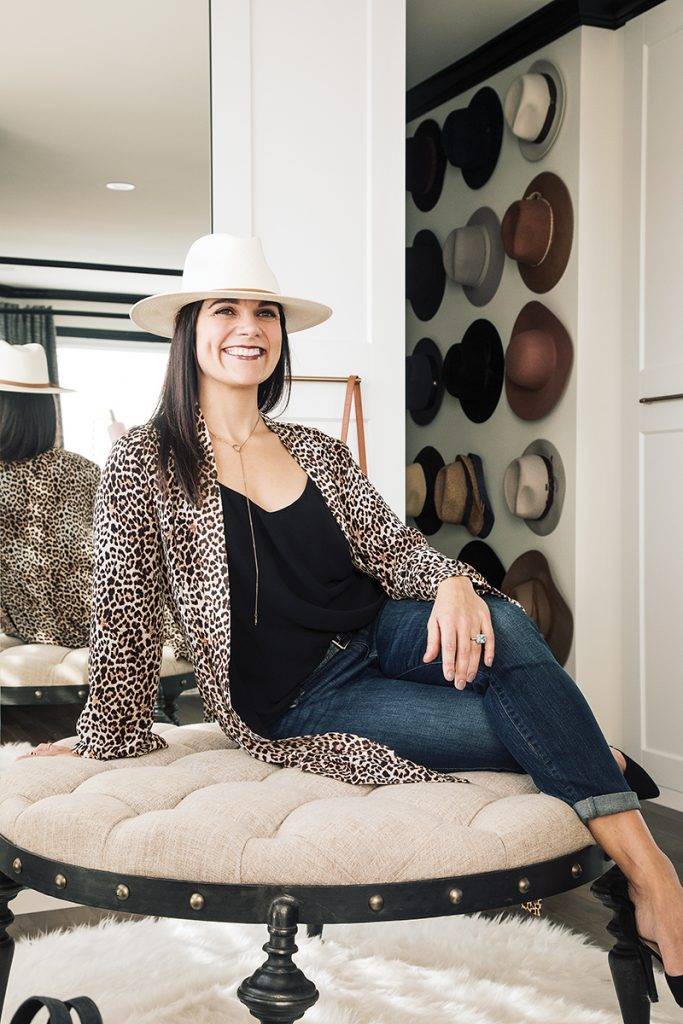 From the very first moment you meet Josée Lalonde in person, you know you're in the presence of someone who just has that "it" factor. From her Panama hat to her blue-and-zebra-print peep toe shoes, the interior designer and co-owner of The Housse — a one-stop shop home-staging collective in Victoria — seems effortlessly stylish.
The Franco-Ontarian Lalonde grew up loving fashion and design, but her career in styling actually emerged from a chance encounter. In another province, in another life, Lalonde was a dental assistant working on a military base in Ottawa. When her husband Murray Cuff was reassigned to Victoria, Lalonde helped to stage their house for sale. But when he realtor came in with her own stager, Lalonde says the poor stager felt a bit superfluous. "She looked around and said, 'OK, well, you can maybe hang this picture here, but I don't know what to tell you, it's pretty much done.'" The stager suggested Lalonde try staging professionally, and after moving to Victoria with her husband, she did.
Thanks to "bouche-à-oreille," a delightful French phrase for "word of mouth," part-time staging eventually grew into full time, and after opening The Housse in 2012 with her husband, the entrepreneur now has her own boutique design firm and three Housse warehouses stacked to the rafters with an inventory of 7,000-plus dining chairs, sofas, lamps, rugs and accessories.
Interior Design vs. Home Staging
The two businesses are very different, and the saying goes that you "renovate to live, and fix to sell," says Lalonde. With staging you have to isolate those special additions that will add value, without spending too much money.
"Staging is about creating that first impression," she says. "And thinking about how you want a home buyer to feel.
"Maybe you're placing your sofa this way because you don't want the glare of the window on your TV, but if you walk into a living room and see the back of the sofa, it sort of stops your flow. So we'll put it sideways, so there's a nice flow and you're not shuffling around stuff," she says.
It's a careful editing process that doesn't always make sense for everyday living, but can yield interesting results.
"Even when we're using [clients'] furniture, we'll move things around and add a piece of art, or we'll add colour, and then the homeowner will say, 'Why didn't I think of that?'"
After seven years in the home-staging business, Lalonde has learned (and pioneered) more than a few tricks of the trade. Plants are necessarily faux, silver accessories can be repainted a convincing gold with the right can of spray paint and the beds aren't really beds at all, but an ingenious puzzle of specially designed PVC piping with a foam topper.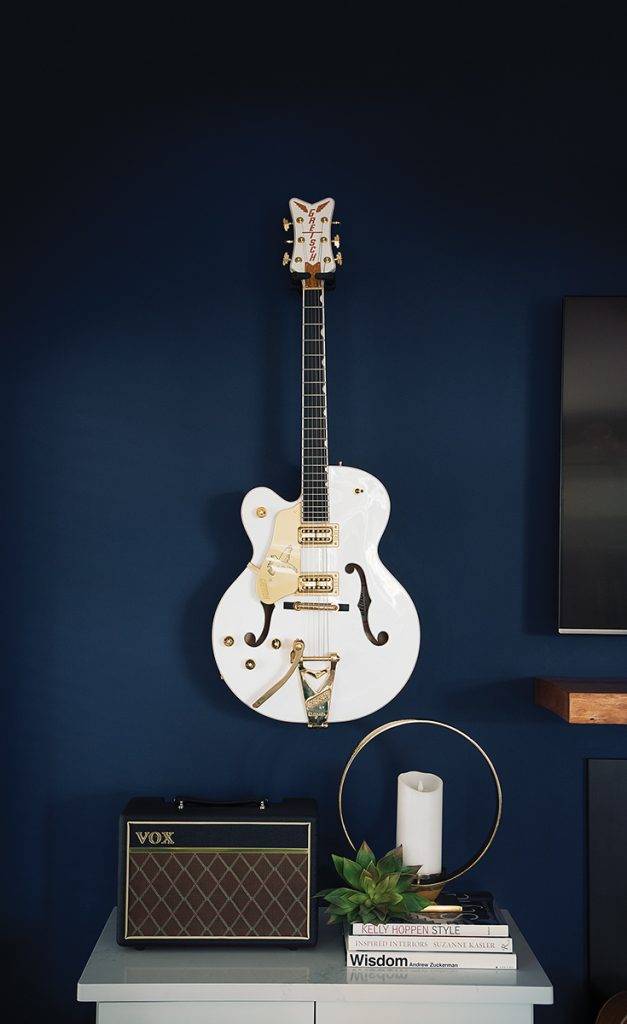 "We've created bed skirts that go with it and we dress it up like a real bed," says Lalonde. "We have to put little signs on it though, so people don't sit down." They're easy to assemble, easy to store and movers love them for obvious reasons.
Fortune Favours the Bold
If you were to pin down Lalonde's personal design style, it isn't farmhouse, or all white or ultra modern. "I like to mix a little bit of the different styles, and I can appreciate elements of every style, but I'm going to say my favourite is more of a classic contemporary with a bit of boldness in there," she says.
Her husband plays guitar, and when he set his sights on a white electric Falcon with gold accents, she told him he had to buy it so she could design a whole section of their home around it. Her kitchen and breakfast nook are now navy (so the white guitar hanging on the wall "would totally pop") with gold pendants over the kitchen island.
"I just get inspired by things like the guitar and work around it," she says.
Another bold move can be spotted in her living room where her sofa is festooned with 16 cushions in total. In the middle is one cushion decorated with a popular expletive, delicately written in cursive. In her native French it's not a swear word, Lalonde explains, and, said phonetically en français, it only means "seal." But it makes her laugh, and so it stays, even if it does shock the occasional guest.
Fearless Style
Even with her personal style, she enjoys taking risks. "I love colour, I'm not afraid of prints, and I can mix patterns as well," she says while wearing a cream and navy striped shirt with a pair of green camo joggers. "I have red pants, yellow pants, floral pants. I'll wear a lot of leopard prints too."
But this daring isn't without rules: She'll limit herself to one bold statement piece or one bold accent accessory per outfit.
"So if I have a hat on, I won't wear earrings or I won't have a necklace."
She never goes anywhere without her "I Love You Forever" ring, a heaping blue topaz, a gift from her husband. They've never legally married, so she also calls it her "Living in Sin" ring — "I could not live without it," she says.
Like her blunt fringe, expressive hand gestures and goodbye cheek kisses in triplicate, hats are a Lalonde signature. Her husband even built her a hat wall in their bedroom. It's covered in boutique-worthy light oak wooden pegs to mount her brown felt Brixtons, fedoras, straw Panama hats, wide-brims, cowboy hat and more.
Her closet is a fashion blogger's dream, with a full wall of shoe storage and a museum-calibre exhibit of dangling necklaces, vintage cuffs, chunky earrings and plastic costume rings draped and displayed around a glass vanity.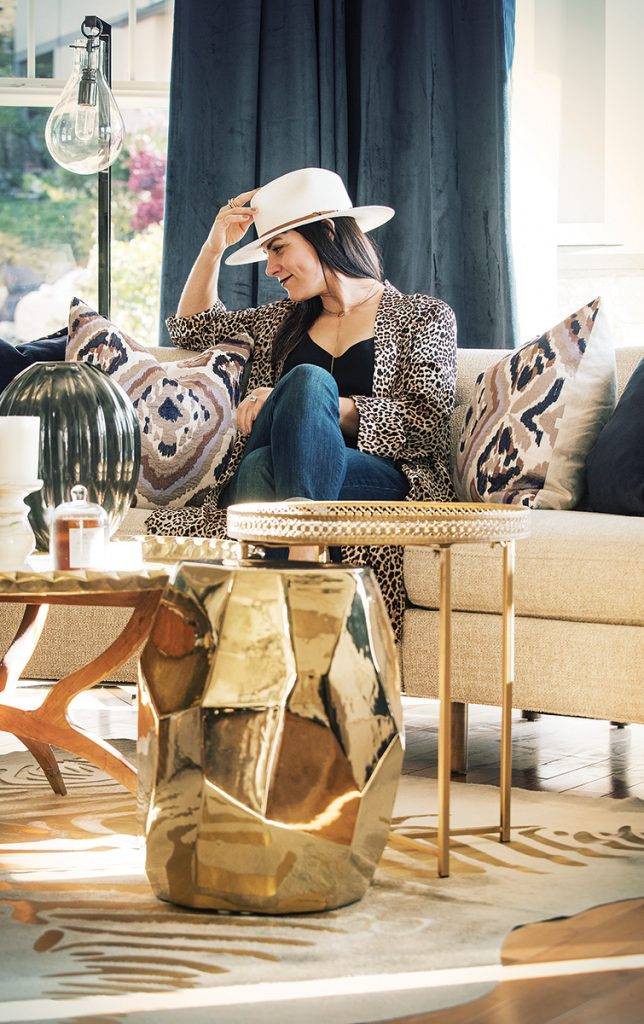 If Lalonde has disappeared in the house, her husband knows she's off playing in her closet. She'll take a glass of wine back there, try everything on and, when there's a good outfit, she'll record it in a spiral-bound notebook.
"I can't believe I'm telling you these secrets!" she says. Clothes are arranged by bottoms — pants, dresses or skirts — and what they go with.
"I write everything down so that in the morning, if I don't feel like thinking about it, I can just go through my list."
A quick skim starting with "white jeans" turns up recommended tops and accoutrements for every type of weather and season.
Rules of Play
"I love dressing up," she says. "But I buy things that I know I can wear with multiple things in my closet. I'm the same with shoes. If I can wear it with this, this, this and this, then all right! In the shopping bag they go."
She's similarly strict with trends. "If it's trendy, it doesn't necessarily mean that it suits your body type," says Lalonde, who loves an A-line, but stays away from long pleated skirts.
Because fit is so important, the designer isn't a huge fan of online shopping. "I've bought some stuff online, some good, mostly not so good, so I have to try everything on."
Lalonde's wardrobe is a healthy mix of high and low. ("Hats are high," she admits in an exasperated whisper.) Her closet features pieces from Bernstein & Gold, Flavour, Amelia Lee — and local designers like Teresa Lindsay. There are even some pieces from Dynamite.
Her favourite piece of clothing? "I have so many favourites! I want to wear it all right now, at the same time, like Joey from Friends," she laughs.
But perhaps it's her coveted BCBG dress that sums up her style best: "It's chiffon, pleated, and A-line with these leather straps in the back. It has a bit of sweet because it's a bright coral colour, but it also has a bit of an edge. I always try and have something that is going to catch the eye."
So what's Josée Lalonde's ultimate style secret? "I always feel like I'm overdressed for whatever occasion — but I don't care!" she says.
"In general, fashion has become a bit more relaxed, more casual, so I always like to zhuzh it up a bit. I'm not going in a crazy ballgown to an event, but I'll definitely wear a dress or something special, because I feel like we don't do it as often as we should. It just feels good when you feel good about what you're wearing."
---
This article is from the January/February 2020 issue of YAM.