In an oceanside neighbourhood, the Mills family embraced the idea of urban gardening so fully they designed their spectacular Scandi-inspired home around the concept of "food forests" that feed their family, engage their children and attract the bees.
By Danielle Pope // Photos by Joshua Lawrence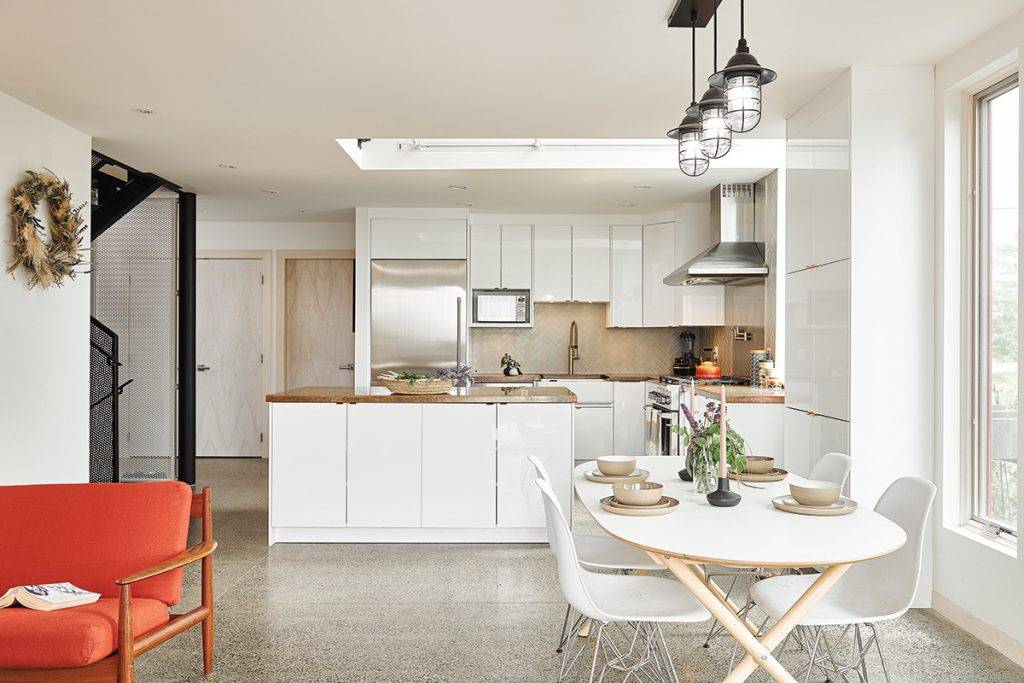 ---
Before plans were even in place, Daphna and Adam Mills knew permaculture would be the centrepiece of their dream home.
So when the two found a charming property on Harling Point only steps to the ocean, it didn't bother them that this was one of the windiest areas of Victoria, or that plants in this microclimate have to contend with sea salt, deer, acidic soil and water challenges. The couple had recently moved to Victoria from Nunavut and, with two young girls, they were just thrilled at the prospect of having a garden outdoors.
"We're always looking for projects for the girls, so the gardens give us something to play with and learn from every day," says Adam, a craftsman and stay-at-home dad. "Kids couldn't care less that you build a house — but they love those gardens and the bees and all the plants."
Melissa Baron, landscape designer, helped the Millses design their home exterior in the spirit of creating an entirely edible landscape. The space is over 2,600 square feet (including the patio and pathways), and hosts over 60 kinds of plants, plus eight varieties of fruit trees — from Asian pears and peaches, to goji berries, passionflowers, lavender and lettuce.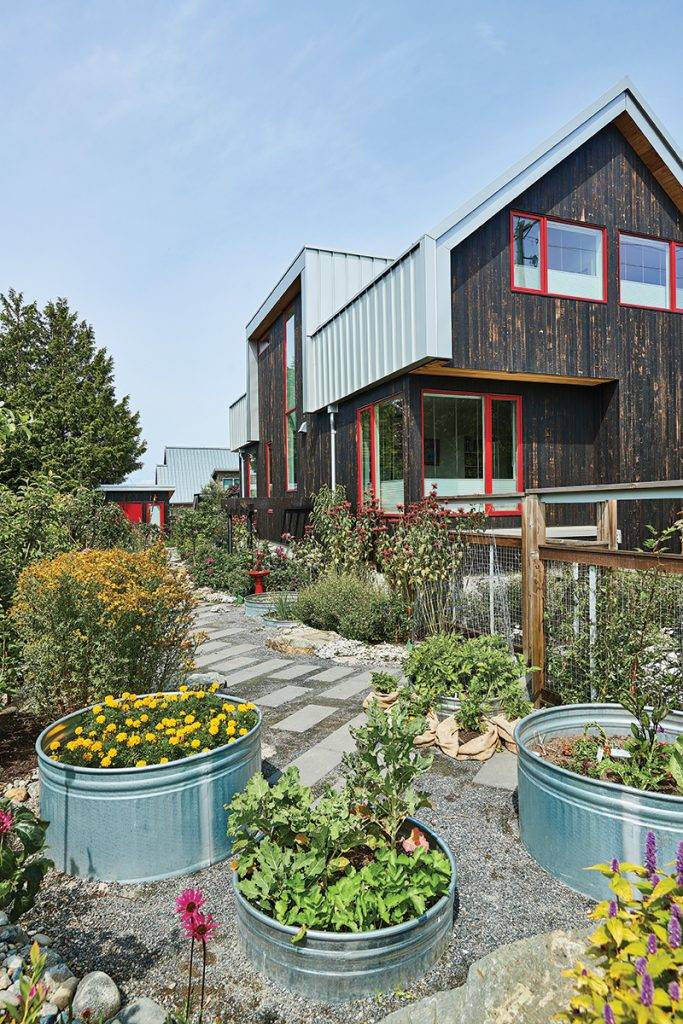 ---
Baron is passionate about helping people reconnect to their food and worked with Danée Lambourne of Demitasse Cafe & Garden Centre and Eden Projects to bring the family's vision to life.
"Projects like this are what I dream of because we help people create their own food and medicine, support the bee population and contribute to Island permaculture," says Baron. "There are challenges with awkward microclimates like this one, but there's always a way — and we found it. Now, their garden is a 'love' garden of mine, and I still visit sometimes."
The Mills family's landscape represents one of only a handful of homes on Vancouver Island with built-in "food forests." These homes incorporate plant architecture so fully into their designs that the houses are built around it.
No surprise, the family's home plays with a contemporary farmhouse style, mixed with a touch of Scandinavian beach house — complete with galvanized metal basins for lifted beds and aluminum fencing that blends in with the design.
"Even though we can't predict the future, we hope this is the last house we will live in," says Daphna, originally from the Mainland. "When we were building this house, the whole time, we were thinking, 'This is it.' This is where we want to live forever, with room for our kids, room for our parents and room for us when we get older."
A Rare Spot
The 2,700-square-foot home, with three-plus levels, is situated in one of the most historic locations in Victoria — near the traditional Chinese Cemetery. The property was first purchased in 1907, and the home on the lot was one of the first houses built on Harling Point. Despite its previous three storeys of illegal renovations, some neighbours were sad to see it go. In tribute, the family wanted to create a home that honoured classic architecture —
and that would last. '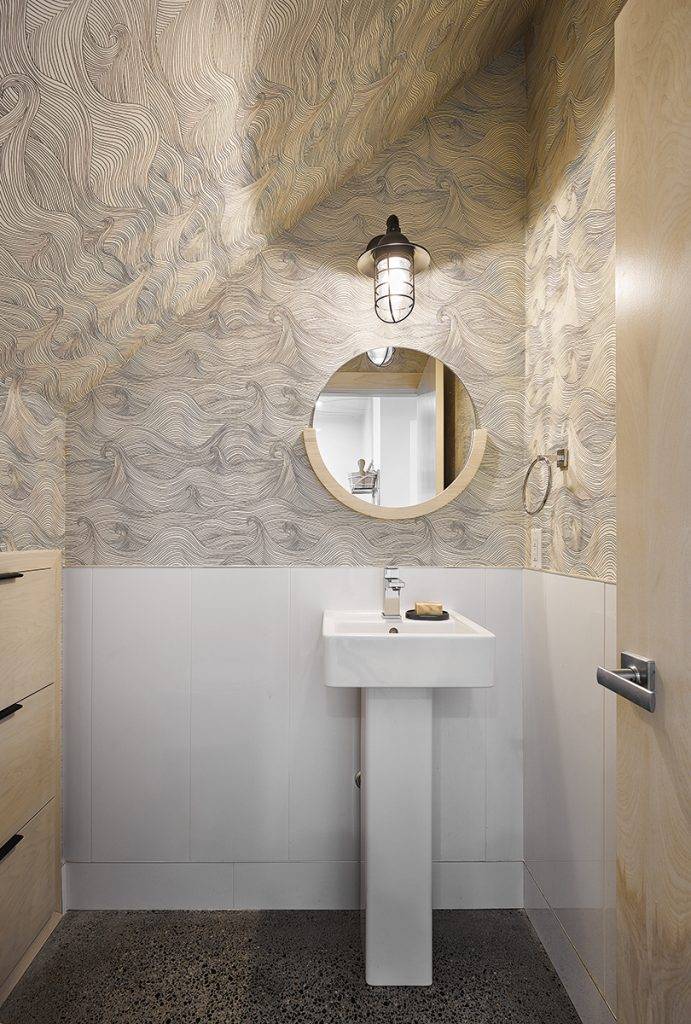 ---
With sloped roofs, red-framed windows, Japanese shou sugi ban siding and spectacular gardens in place of a lawn, the home has been welcomed into the neighbourhood. That neighbourhood is what drew Adam and Daphna to the area in the first place: a rare spot near the city where children can play, free-range, and neighbours still stop by for a visit or to bring over fresh greens.
"It took us a long time to come to where we are, but the most important feature of our home is this neighbourhood," says Daphna. "People here are so friendly. It feels like generations of family."
A Modern Riff
Chris Foyd, a registered Danish architect and owner of 519 Design+Build, had been working on another property in the area when he was asked to design a home for the Mills family. His favourite part about the request was that they wanted to create something traditional with a non-traditional site — and one that used height to access the views while leaving as much ground as possible for the gardens.
"It's an odd site, because the property line is double-headed, but this is a house that could have been built 100 years ago, now with a modern riff," says Foyd. "It's not every day you get the chance to work with a couple that knows so clearly what they want that they even convinced me to take a few chances — like the red window frames. We were all thrilled with the outcome."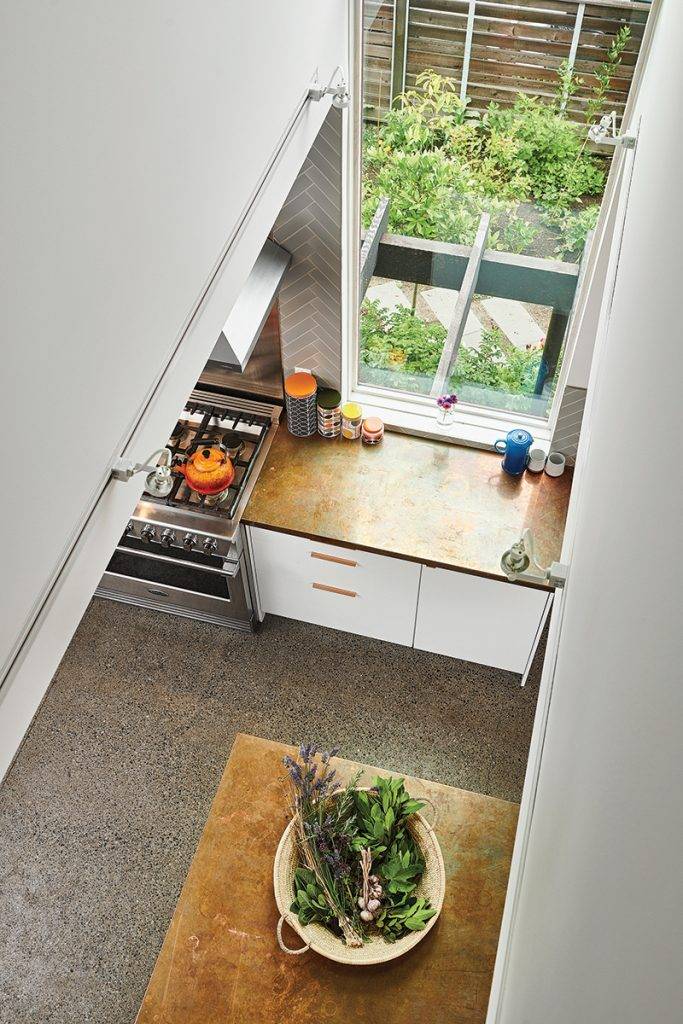 ---
A unique element of this home is its combination of Scandinavian vaulted ceilings and the open-concept main floor, blended with cozy rooms and small nooks that give it that "old farm" feeling. Foyd notes that while this home would hardly count as small, he's used to creating small functional areas — a wish of Daphna's to ensure no part of this home was wasted. In that vein, the two girls, seven and five years old, have twin bedrooms, made as identical opposites with a "secret" passageway between the two. A full lower level and exterior studio leaves room for family growth when needed.
"There were little wish-list items we had for this house, like the stove pot filler, dimmer lights, steamer shower and oversized kitchen that we didn't realize how much we would use until we had them," says Adam. "Now, it's hard to imagine life without them."
Home Evolution
Adam loves the home's metal and concrete motifs, like the polished concrete floors, grounded copper countertops and black powder-coated perforated steel panels for the staircase. Yet it also includes the clean lines, white walls and simple marine-farm décor Daphna enjoys. With two young kids, an old dog, a new puppy and three guinea pigs, durability is a feature everyone wants.
"We love to be at home, and we wanted to build a house that could evolve with us — one that is meant to wear, and will change over time. Just like our garden will grow, so will it," says Daphna. "It will get lived in and wrinkly and worn, and so will we — and that's just fine. It's meant to be a home that's loved."
Resources & Details
Architect: Chris Foyd, 519 Design+Build
Construction Manager: Alex Bateman
Doors & Hardware: Pella Windows & Doors of Victoria
Roofing: Parker Johnston Industries
Kitchen Millwork: IKEA kitchen installed by IKAN Installations
Bathroom: IKEA bathroom installed by builder
Custom Millwork: Kyle McCooey, Definitive Carpentry; (hearth drawers
by Thomas Philips Woodworking)
Countertops: Silver Fern Stainless
Finishing Carpentry: Kyle McCooey, Definitive Carpentry
Floor refinishing: CD Specialty Cleaning & Restoration
Landscape: Demitasse Café & Garden Centre and Eden Projects
Pavers: Demitasse Café & Garden Centre and Eden Projects
Fence: Willy Egeland, Footprint Builders
---
Twin bedrooms are shared by the kids, ages 5 and 7. Though equal space was a priority, the girls currently sleep in one room and use the other as a playroom, which doubles as a gathering space for the family's two dogs and three guinea pigs.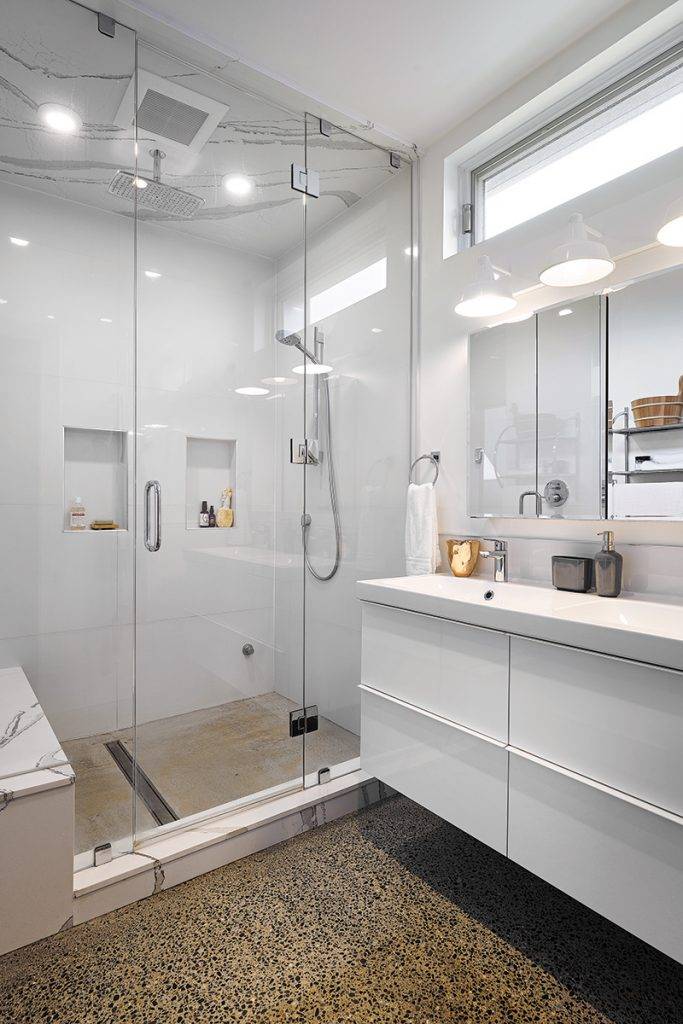 ---
The master bath was outfitted with a large glass walk-in shower instead of a bath to fit the busy family's lifestyle, and was tiled with durable Cambria Quartz sheets in "Brittanicca."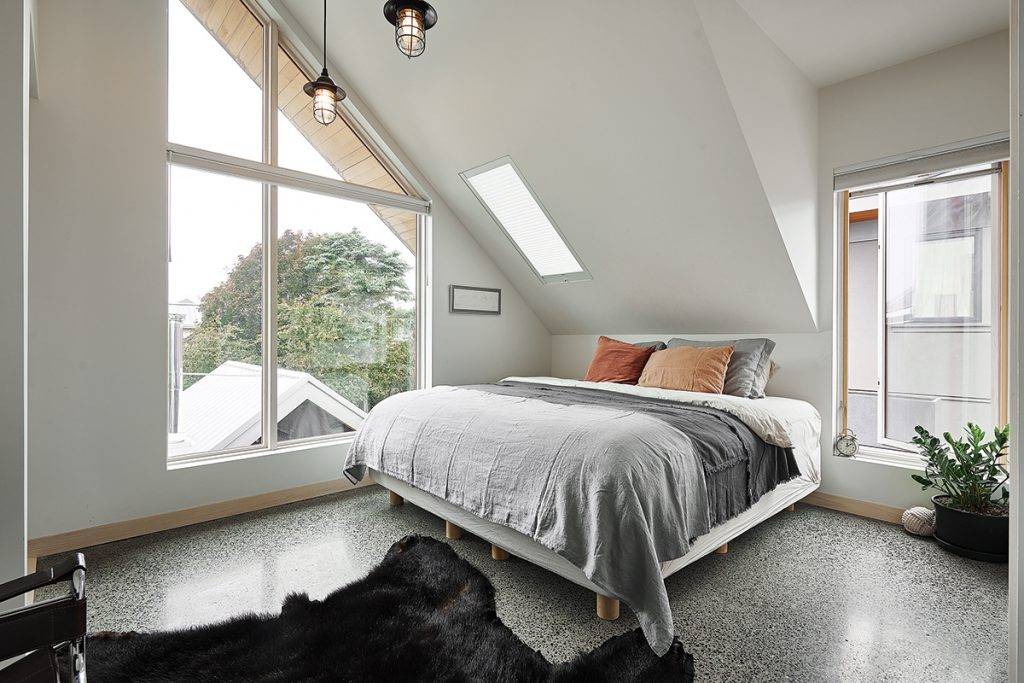 ---
The master bedroom was created in the homey style of a farmhouse attic with structured ceilings that offer a dynamic shapeliness to the space and windows that open to a full view of the sea. Bedding and pillows supplied by Pigeonhole Home Store.
---
Simple, consistent motifs were wish list items for Daphna Mills, but she also wanted pops of colour to help this home come alive. The living area has a playful vibe, with bright primary colours accenting the concrete flooring, a black fireplace and natural finishes.
Industrial Guard lamps from Barn Light Electric Company act as both sconce and pendant lights throughout the house. Dishes, throws and pillows supplied by Pigeonhole Home Store.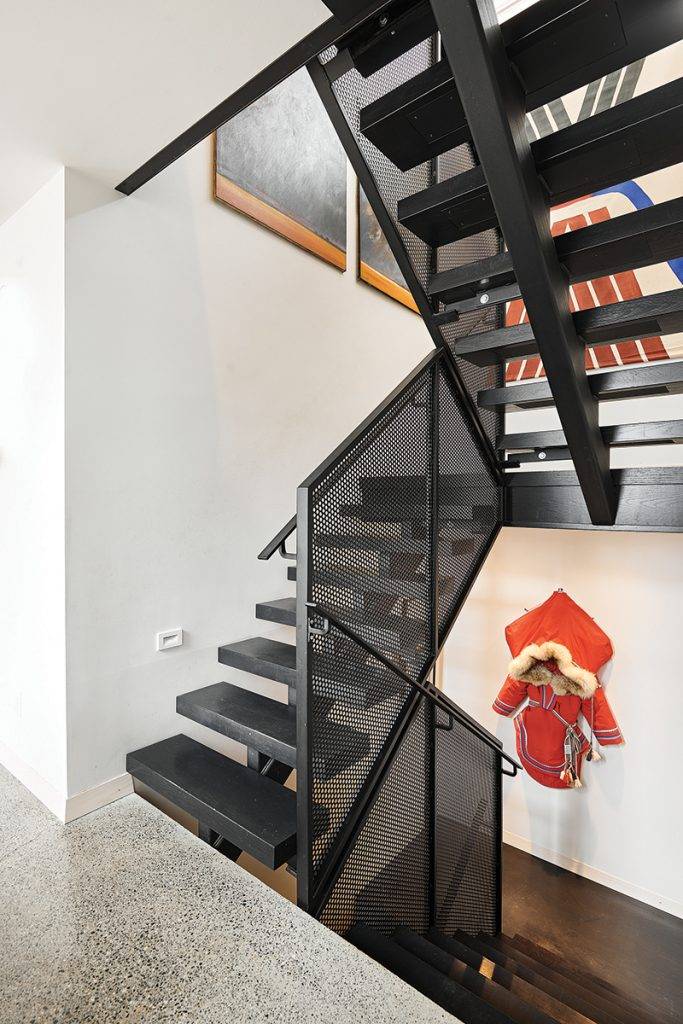 ---
The stairwell is a modern twist on the West Coast look, with black-stained red oak steps matching the black powder-coated steel railings and grates.