By Athena McKenzie
Photography by Simon DesRochers
Home staging by The HOUSSE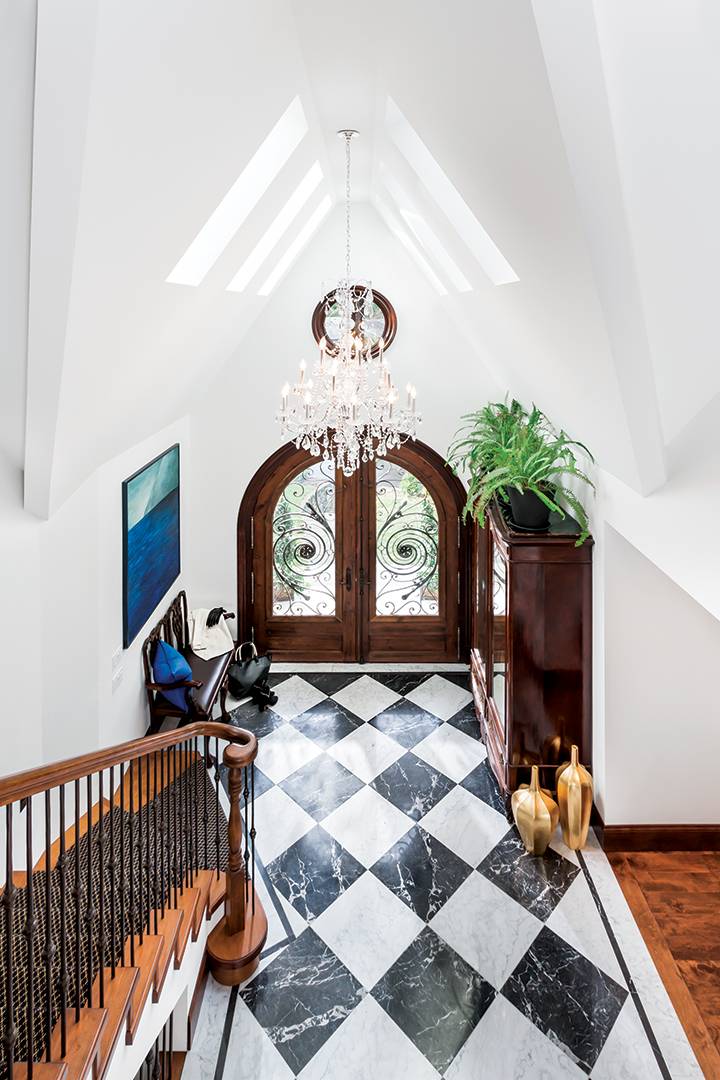 ---
Guests entering Frank and Tammy Arnold's house in the Gonzales neighbourhood of Victoria feel a true sense of arrival. Towering arched doors open into an airy two-storey foyer, with vaulted ceilings and a gorgeous black-and-white Vancouver Island marble-tiled floor. One's eyes are immediately drawn to a distinctive antique Italian marble chest under an oversized gilt-framed mirror. The space is inviting, elegant and traditional, and it's all part of a recent eco-renovation by home designer JC Scott that transformed a 1970s Tudor-style stucco cottage.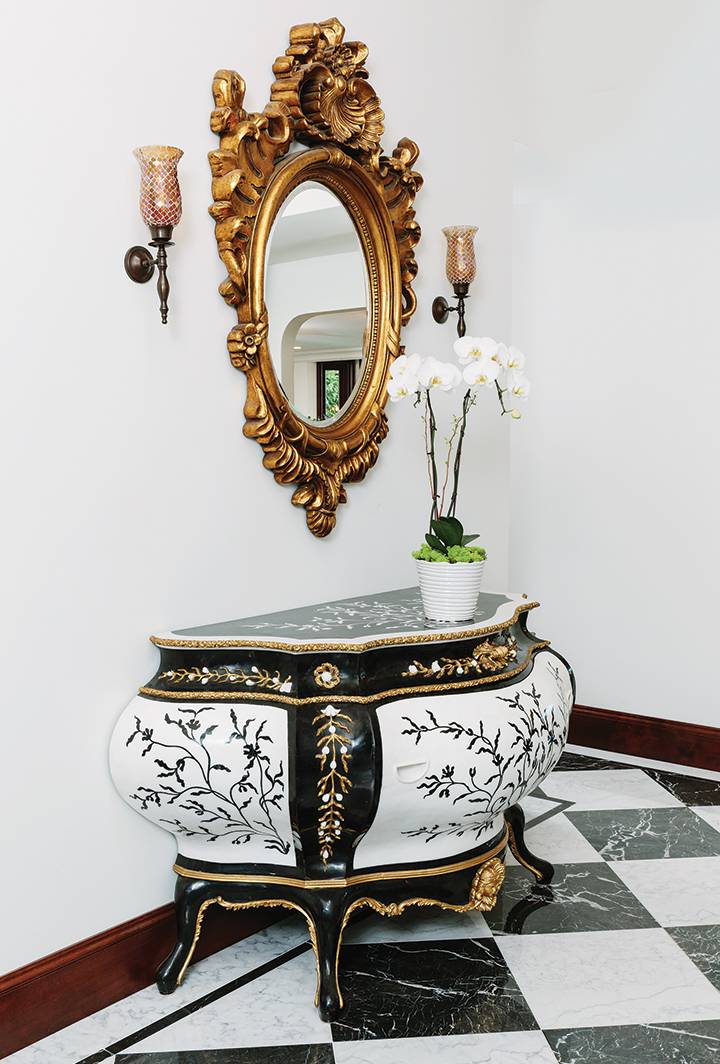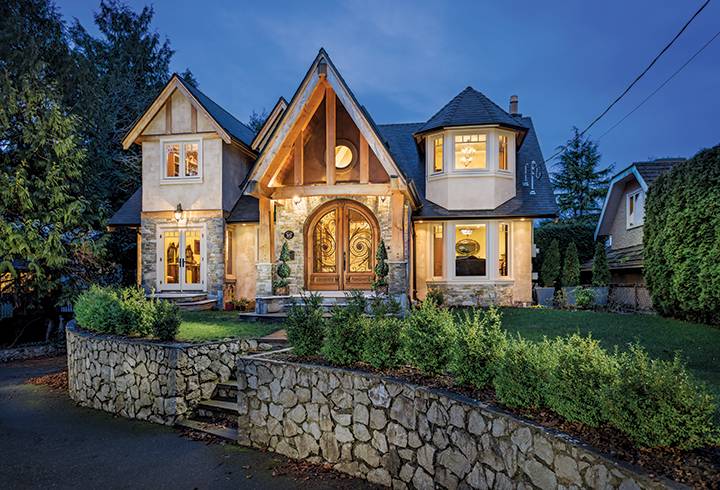 ---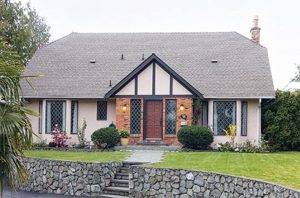 "You can see elements of the original, but it's like a completely new house," Frank says. "In terms of how the renovation was done, we wanted to do it as greenly and as eco-friendly as possible. We reused whatever we could and all of our finishes and systems had eco considerations built in. That's why we went with JC."
The couple, who have been collecting antiques for almost 20 years, and who bought the house in 2008, wanted their home to feel more like some of the older, more traditional houses around Oak Bay and Fairfield.
"Something we both loved about the older houses was the way they made you feel welcome when they had a grand entranceway," Tammy says.
She found JC after attending a couple of the lectures on eco-renovating through the Art Gallery of Victoria's Let's Talk Design series. The couple was drawn to JC's commitment to eco-design and the fact that "he seemed to really know his stuff," Tammy says.
The designer calls his design philosophy 100-Mile Design.
"That means I'm going to look locally first for a product that meets my sustainability goals," he says. "I'm not going to use a local product if it's toxic. But if I can find a local product that is sustainable, non-toxic and of equal or better quality than something I can import, then I would choose that. Local marble doesn't come in every colour, but it comes in black, white and grey, and that was enough for me with this project. And it's timeless, so perfect for people who collect antiques."
JC believes that renovation is usually the preferred route forward as opposed to tearing down and starting over, because with the amount of embedded carbon in a home, if it can be saved, that it is the right thing to do ecologically.
"With this project, we made a small house bigger with the same footprint. That's the kind of renovation that I believe is worthwhile, because without having to do any foundation work we were able to increase the usable square footage of the house substantially."
The project started by addressing the family needs. The Arnolds have two young children and wanted to move the master bedroom, which was originally on the main level, to the top floor, so all the bedrooms would be on the same level. This meant raising the roof and opening up the stairwell, which also resulted in the impressive two-storey entry. The basement level, which walks out to the family pool, was converted from mostly storage into recreational space by adding a media room, hobby room, gym and guest suite. The kitchen also got a major overhaul.
Along with low VOC paints, Roxul insulation — which JC calls the healthiest and most ecological — new doors and Milgard window frames to increase the EnerGuide rating, major environmental features include the heat pumps combined with under-floor radiant hot-water heating.
"It's the safest, most healthy form of heat," JC says. "Because they are ecologically minded people and parents, they wanted to make sure they were creating a healthy home."
It's also a warm, inviting home. The Arnolds have hosted several fundraisers for groups, mostly ecologically minded,  such as the Sierra Club of B.C. and the Land Trust Alliance of B.C.
"People tell us that it's beautiful but they don't feel like they can't sit down or touch anything," Tammy says. "We've had a number of compliments along that line."
Frank adds, "When JC first came to one our parties after we moved back in, he said he felt the house strikes a great balance between being elegant but still comfortable and family friendly. And that sums up perfectly how we feel about our home."
---
RESOURCES
Home designer : JC Scott eco Design Associates
Marble floors and counters : Matrix Marble & Stone
Wood floors : Woodland Wideplank Flooring
Millwork and fridge : KWB Cabinets
Copper oven hood : St Clair Custome Stainless Steel and Copper
Milgard window frames : Slegg Building Supplies
Antiques : Applewood Antiques, Kilshaw's Auctioneers, Lunds Auctioneers & Appraisers
Painting : Gulnar Jamal Painting
Exterior stone : 

K2 Stone