The venerable View Street club, which has been the heart and soul of the Island's jazz and blues culture for three decades, literally has a new lease on life.
By David Lennam // Photos by Jeffrey Bosdet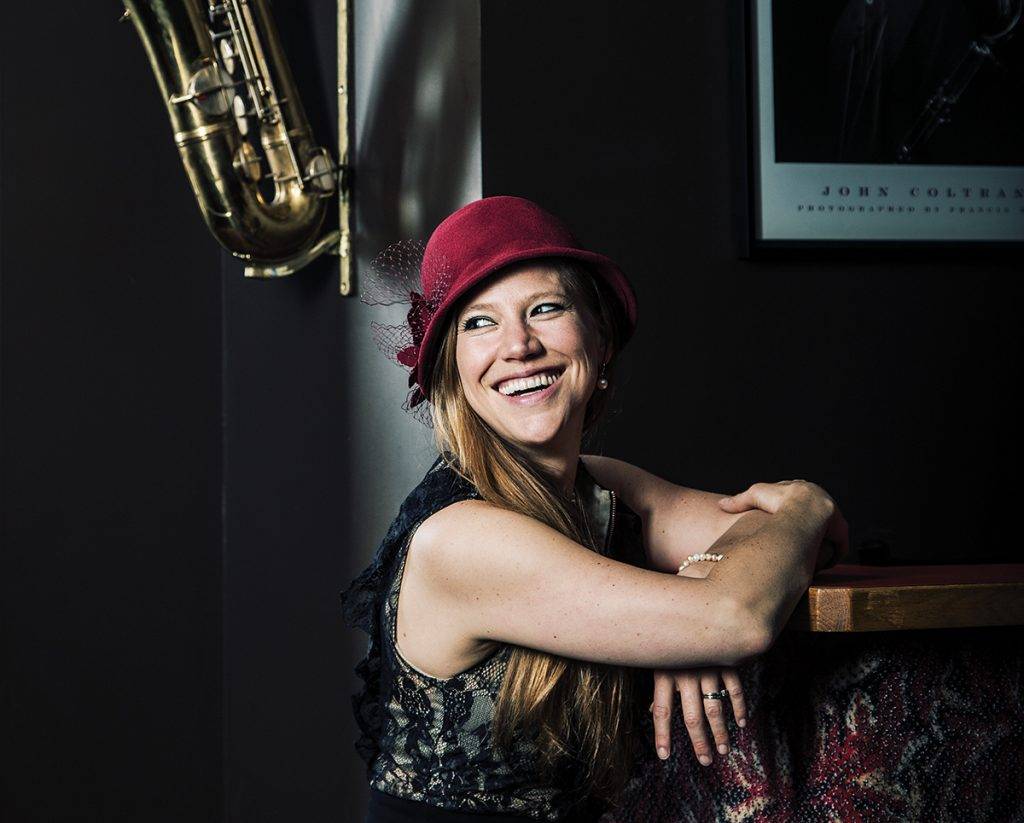 ---
"When you hit a wrong note, it's the next note that makes it good or bad." Miles Davis said that in 1963, embedding words deep in mythos.
The legendary jazz trumpeter was playing So What with his second great quintet, which included Herbie Hancock, when the pianist hit the wrong chord. Davis paused, probably glowered at his sideman, and then blew some new notes that just made those wrong notes so right.
Hancock revealed that his bandleader didn't hear it as a mistake. Davis just heard it as something that happened, part of the reality of the moment.
Let that simmer as an anecdote that applies to the saving of Victoria's Hermann's Jazz Club.
The immediate future of the iconic View Street club, opened by the late Hermann Nieweler in 1986, five years after he'd run a similar club at the old Bastion Inn, was in jeopardy after Hermann's death in 2015 at the age of 79.
His three children bickered about what to do with it, as well as the building itself, home to two other licensed establishments, one upstairs, the other next door. They were ready to shut the doors and sell, a very wrong chord if you're a lover of jazz, blues and intimate venues.
Back to Hancock. Years later, in an interview, he said the important lesson learned from that awkward moment with Davis was that we grow by opening our minds to experience situations as they are. We can make something constructive from an unsatisfactory chord as easily as we can from a clumsily handled takeover.
In jazz speak: improvise.
So a new tune was composed. On the fly. This one had a hastily assembled non-profit, the Jazz on View Society (now the Arts on View Society), launch a crowd-funding effort that, in six weeks, raised $91,000 to ensure the signing of a five-year lease on Hermann's, the longest continually running jazz club in Canada … and counting.
Essential, Beloved, "like church"
Hermann's casts that rare spell of great halls: Birdland, The Fillmore, The Commodore. When you're there, you could be in New York. The calibre can be world class. Wynton Marsalis, Kenny Wheeler, Brian Auger, Judy Collins, Renee Rosnes, Brad Turner, Diana Krall — they've all played in this homey reminds-us-of-a-basement-rec-room club, where the audience sits within a couple of eighth notes of the action, hushed and reverent like a church. (Who hasn't been "ssssshhh'ed" there?)
The real lure of Hermann's is that it's a listening room, not a noisy bar where the music gets lost in the conversation.
"People are there to have an intimate viewing of music, an undisturbed viewing of music, so the room is quiet," says Nichola Walkden, who has worked in the room coming up on 20 years and is now interim executive director of the Arts on View Society.
"Everybody there is paying attention to what's on the stage and is expected to do so."
The musicians, adds Walkden, whether they be jazz or blues, newcomers or veterans of the scene, have an experience different from what they get 99 per cent of the time.
"You'd think the 1970s carpeting and decor would put off any jazz man from playing Hermann's," jokes NYC pianist Misha Piatigorsky. "It may for the first few minutes, until you realize the love and enthusiasm generated in the room by diehard fans who support the artistic efforts of local and international artists, night after night. At the end of the day, it's always the people that make a jazz house special."
The Kids are Alright
Because Hermann's is an all-ages room, it's been a vital training ground for up-and-comers.
Ashley Wey, who first played Hermann's at age 13 (and today manages and gigs there regularly), is one of the hundreds of kids who have taken the stage at Hermann's, thanks to Nieweler.
---
"Hermann believed in having a place where everyone is welcome," says Wey. "Women, men, coming alone or in groups, people of all ages. He believed in having a space for mentorship and for youth to grow. [He] always encouraged students to continue performing and follow their dreams."
Those dreams have been realized by mentors like Dave Flello and Tom Vickery, whom Wey credits with helping her along.
"I would go to the Esquimalt student jams in the 90s and also to the Tom Vickery jazz jams. By the age of 16, I was performing at Hermann's with the Island Big Band and other small ensembles."
Jazz and boogie-woogie pianist Michael Kaeshammer was 18 and had just moved to Canada when he first got up on the Hermann's stage, at Vickery's fabled Thursday night jam.
"There are few jazz clubs in this country, and in the world, that really work and are focused on the music and musicians," says the now-42-year-old Juno winner.
"The room has been conditioned this way, and you can feel it's special when you walk in. It's all about the music. I know from friends around the country, who come to Hermann's on one of their tour stops, that it's always a highlight. I would go as far as calling it a national treasure."
There are very few all-age venues that are well-established listening rooms with high-quality performances left in North America, adds Wey. "Venue's like Hermann's are institutions that are a treasure and need to be preserved."
Saxophonist Noah Becker, who now lives and plays in New York, remembers sitting in with the Island Big Band at Hermann's when he was 17.
"It's such a great venue for musicians starting out to cut their teeth. We all had a chance to learn on the job with Tom Vickery at his jam session or on countless gigs we've done at the club over the years."
Trombonist Nick La Riviere has the same story. "Yeah, the weekly jam session was great. When I was a young musician, it was the place to go to be inspired by people like Hugh Fraser."
Or by Louise Rose, Victoria's First Lady of jazz. "As a player, it's the intimacy of the room," she says. "There's something that happens when you play next to brick, a warmth and a colour that resonates. You can hear everything."
Even audience members humming the tune when there's a little break in the music.
"Hermann's is known all over the country. It has a reputation," says the 75-year-old Rose, who first played Hermann's 35 years ago one night after her regular gig at The Empress. "And it's really important to have a home base for musicians (to keep them in town)."
Drummer Kelby MacNayr, as regular as anyone playing Hermann's, refers to the jazz tradition as one of informal mentorship. Senior artists practice their craft while the youngsters learn it.
"That's one of the most important things that's not always understood about the jazz ecosystem; it needs artists at all stages of their careers to complete the cycle, to mutually inspire, to pass the torch and it needs a physical place to do this that is open to all aspects of the musical community, styles, ages, abilities. They all need to have a place to intermix."
Coming Up…
The next chorus to be riffed on in this ongoing composition involves the future of what's upstairs. Above Hermann's are three more rooms with a capacity of 380 (formerly the nightclubs Touch, the Drawing Room, the Red Jacket and the short-lived Yuk Yuk's).
The Arts on View Society is eyeing to lease the upstairs as another live venue. Hermann would have loved that. He knew how performance builds community, notes Walkden.
"Being seen and recognizing the crowd, participating in live music," he says. "It's like the community itself is important to the community."
---
This article is from the September/October 2019 issue of YAM.