By Kerry Slavens
Tofino is a summer destination for thousands, but with the arrival of winter, the town gets quieter and the voice of nature gets louder. It's a wild and beautiful time to visit.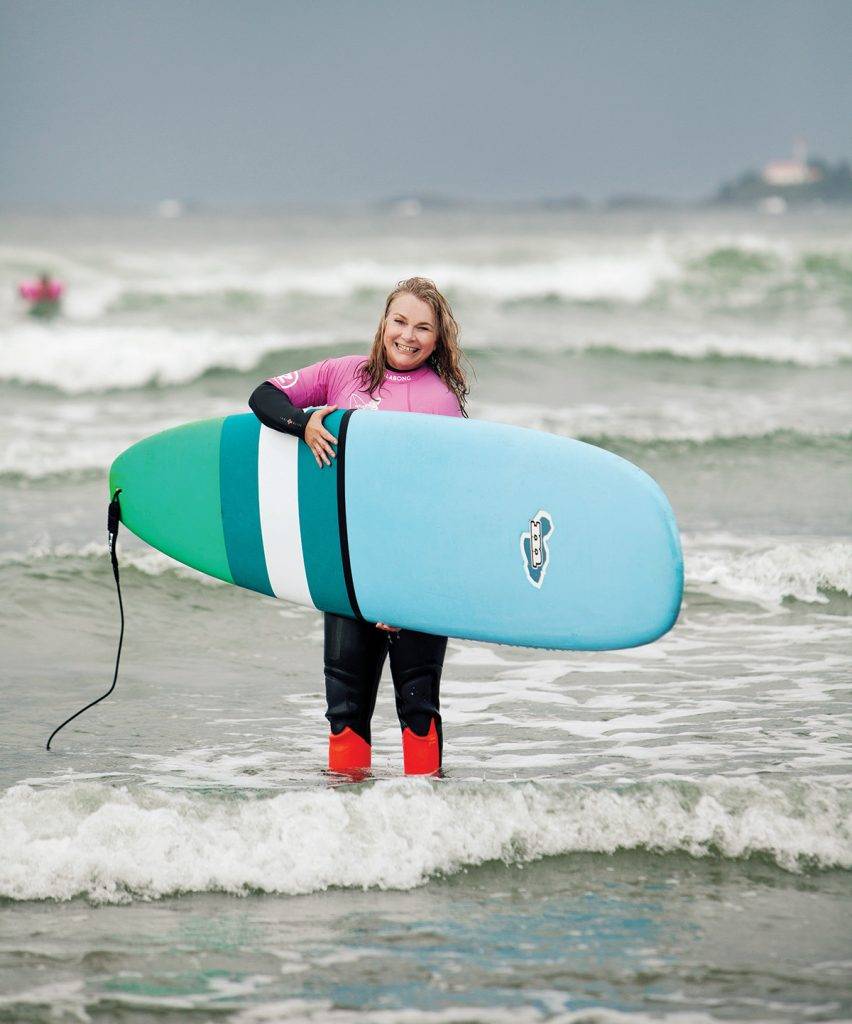 I am standing on our hotel room balcony at Tofino's Pacific Sands Beach Resort, watching a squall push across Cox Bay, a long stretch of soft sand known as Tofino's prime surf beach because "it always has a wave to be ridden," according to surfcam.ca. It has a wild, almost surreal feel — and cold. It looks very cold.
"I can't believe we're actually going to walk out into that water tomorrow," says Chris, my partner of many years, who has bravely agreed to join me in the morning for a co-ed lesson with legendary local surf school Surf Sister.
"I can't either," I say, but I'm mindful that I came to Tofino with a mantra of Henry David Thoreau's words: "We need the tonic of wildness …"
"We're not backing down," I say to Chris. "Are we?"
We don't back down. After a long, luxurious sleep to the sound of big surf, we arrive the next morning at the Surf Shack on the grounds of Pacific Sands. Our instructor, Anne-Lise, is one of 30 team members at Surf Sister, the world's largest all-female-instructor surf school. She greets us with a softened Edinburgh accent and tells us that, compared to surfing in Scotland, the ocean around Tofino is considered positively balmy, with not much seasonal variation.
Water temperatures range from seven to 15°C. It's cold enough that after an indoor surfboard anatomy lesson (nose, tails, fin, leg rope) and tips on safety and technique, we struggle into wet suits (which I can only compare to putting on full-body Spanx) and head down to the beach strewn with kelp and sand dollars, carrying our boards in pairs.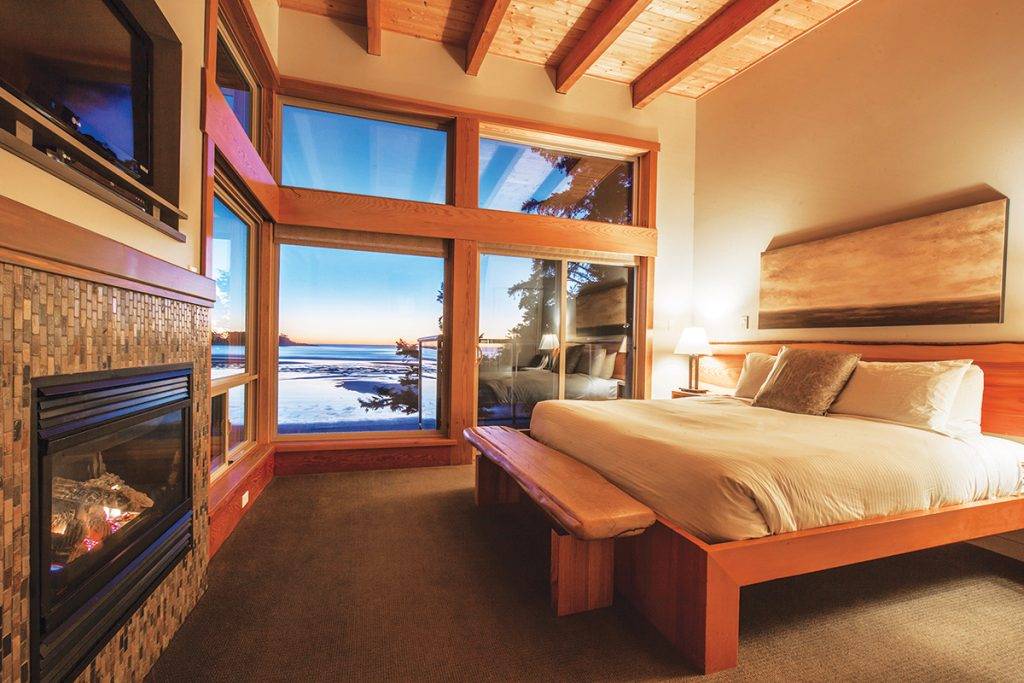 ---
Overnight, the sky has cleared, and the surf breaks like liquid silver beneath the light mist overlaying a churning sea. I'm sweating as we practice how to "pop up" on our fibreglass boards. Behind me, the ocean rolls and rumbles. Here, on the dramatic west coast of Vancouver Island, on the edge of Clayoquot Sound, the sea is a constant voice that seeps into my subconscious. Maybe it's the influence of the Surf Sister class, but the voice sounds female, a goddess who alternately shushes and roars.
I'll need her on my side today for my first foray into surfing because, despite many years of living on the Island, I'm not on hugging terms with the ocean. I'm mountain born, a creature of clear, calm alpine lakes.
The ocean is something else entirely. It rushes at me as I wade into the frothy white wash and quickly lose my grip on my board. A big wave lifts me with the ease of a giant picking up a child, tossing me toward the beach. I see what fantasy writer Holly Black meant when she wrote about "the serene brutality of the ocean."
I feel the tug of the surfboard safety cord at my ankle and take in a mouthful of briny water as I scramble to regain control. Later, I'll tell friends surfing is like being tossed in a big salty washing machine. I look longingly back along the beach at Pacific Sands, my home away from home for the next three days. I was comfortable lounging there in a beach-side hammock with a glass of wine. Why did I venture out?
I spit out a mouthful of salt water and remind myself that growth is seldom comfortable. I want to do this. I'm just intimidated. Then, thankfully, I look to my left and see Anne-Lise making her way toward me. She helps me position my board, nose facing the shore.
"Here comes a good one," she says. "Get ready." I place my hands flat in the centre of the board and pull my body forward. The swell catches the board and then I'm aloft, not on my feet but definitely belly-surfing, as the wave drives me to shore. It's exhilarating and disorienting, like a carnival ride. I realize I'm laughing out loud at the sheer joy of it.
I do it again and again, each time a little more confident. By the end of our lesson, Chris is on his feet, surfing toward shore, his fist raised to the sky. "He's like Neptune holding his trident," says Anne-Lise. I've not managed to stand up on my board, but the ocean has been kind to me today and I do get on my knees briefly before tumbling into the wash.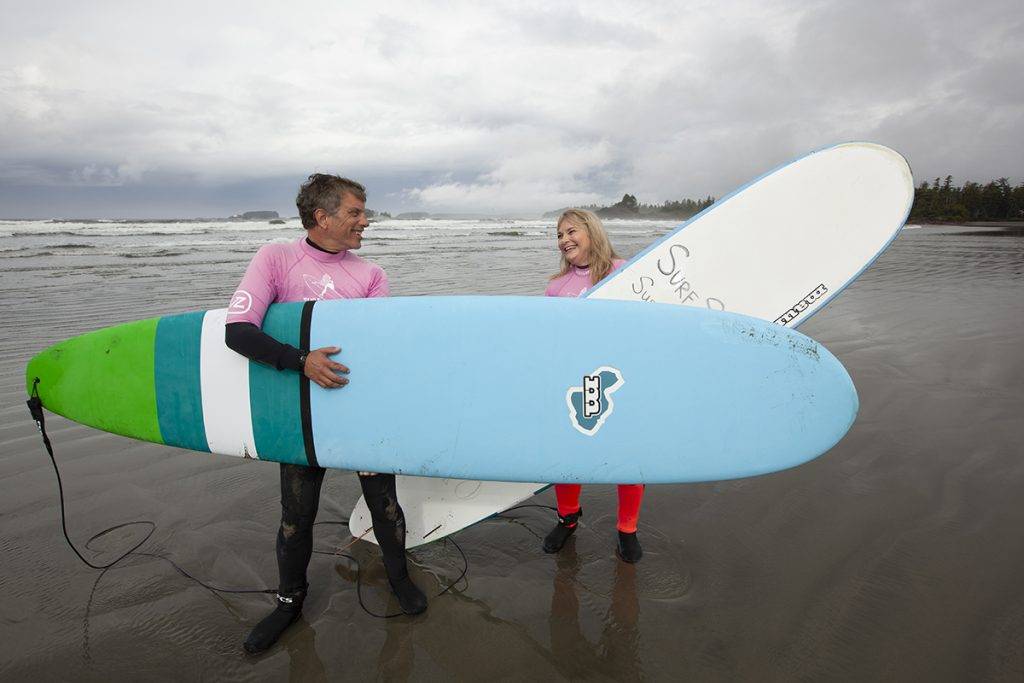 ---
An hour later, over a heavenly patio lunch of fish and chips at the Surfside Grill (the cod is fresh, the batter crispy and the beer cold), I feel loose and relaxed. We wander back to our room and throw open windows and doors to the sea. From the balcony, I watch a fresh crop of surf students venturing into the waves. Farther out, the pro surfers sit astride their boards, rocking in the waves, waiting for the right one.
Cox Bay is just a kilometre and a half of Tofino's spectacular 35 kilometres of beaches along a coastline fully exposed to the moody Pacific. They don't call this place the storm-watching and surf capital for nothing, but it wasn't always a tourism hot spot. Indigenous people have lived here since time immemorial, and settlers have lived here since the late 1890s, but tourists were few until the 60s when a logging road was upgraded into narrow, mountainous Highway 4. By 1970, 511 square kilometres of temperate rainforests and beaches, including Long Beach, were protected as Pacific Rim National Park.
Today, Tofino has 2,000 permanent residents, but the population balloons in summer months. Winter is a quieter, contemplative time. It rains a lot, but that's what rain slickers are for, say locals. And if you're surfing, you are going to get wet anyway.
Cold-water surfing is big any time thanks to advances in wet-suit technology in the 90s, but women surfers were few until 1999 when Tofino native Jenny Hudnall launched the all-female Surf Sister (now owned by Krissy Montgomery). Now, women surfers are as plentiful as the men.
Sea and surf have shaped the town, a charismatic mix of some of Canada's best restaurants (Wolf in the Fog and 1909 Kitchen are legendary), high-end shops and down-to-earth feel with, increasingly, more than a nod to the Indigenous origin story of this land.
We wander into cool shops like Caravan and Love Craft Gallery; an artisan collective called The Factory; and Blue, a gallery featuring the works of metalsmith Christy Feaver. We also visit Tsimshian artist Roy Henry Vickers' impressive gallery, a traditional northwest coast longhouse built by Vickers on Tofino's main street in 1986. Like many who came to Tofino from afar, Vickers fell in love with the town and made it one of his home bases.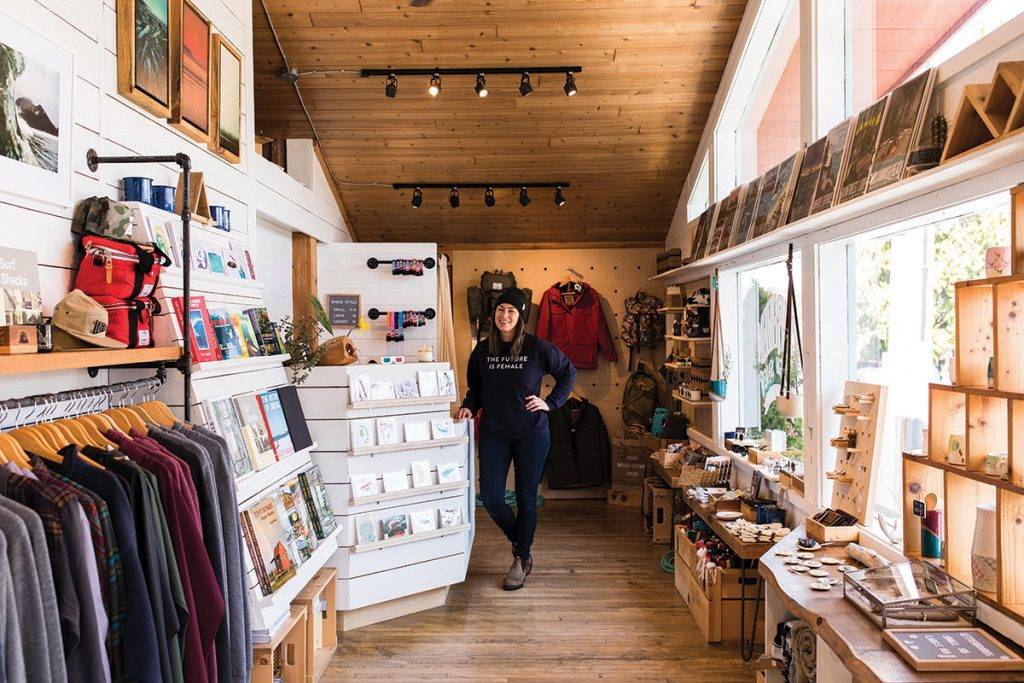 ---
Many people refer to Tofino as the end of the road, because it is, literally. But clearly for people like Vickers, it's something else entirely. Later, over a dinner of potato-crusted oysters and halibut at Wolf in the Fog, Lynda Kaye of Tourism Tofino tells us she sees Tofino as a beginning, not an end. Indeed, many travellers just like me have come here seeking renewal. There's something about the salt- and cedar-laden air that pulls the stress out of you and awakens something both primal and poetic.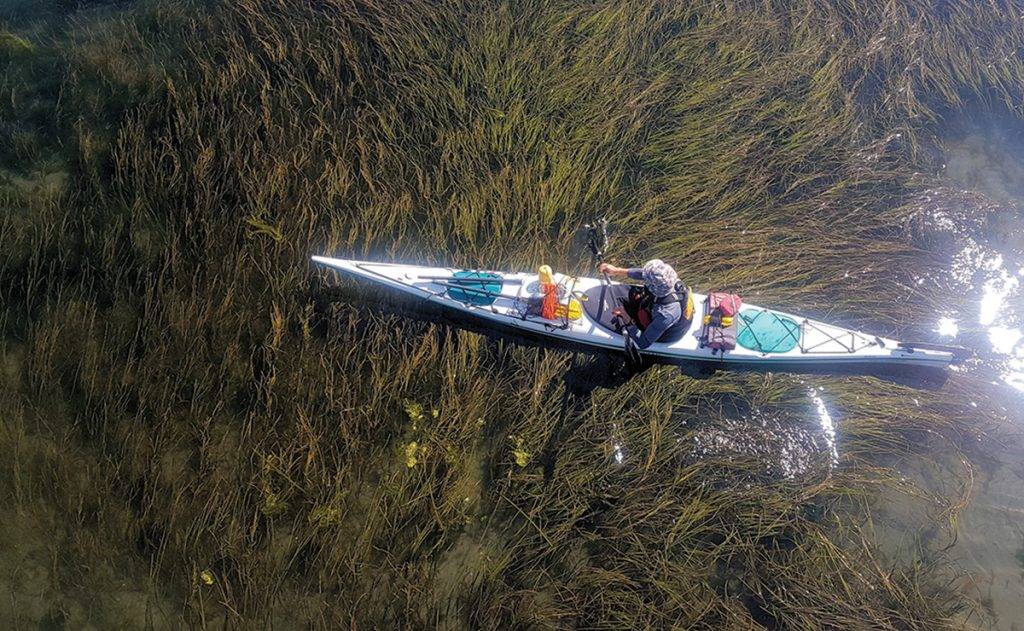 ---
The next day is brilliantly sunny. As the mist lifts, we leave Tofino in a kayak and paddle across the calm waters of Tofino Harbour, which is busy with float planes and working boats. Our destination is Meares Island where the ancient rainforest is home to some of the oldest living beings on earth, massive 900 to 2,000-year-old Western redcedars whose origins predate the pyramids.
It's the first time Chris and I have kayaked, so we choose a two-seater for its stability. Led by Tofino-born Ellie Law, a guide at Tofino Sea Kayaking, we wobble, wander and bicker as we seek to find our balance and stay on course. By the time we paddle over ancient mussel beds and past Dead Man's Island, a sacred place where the Tla-o-qui-aht once interred their dead in the trees, we are silent, reverent.
Behind us, Tofino sprawls along the shoreline, the colours of its buildings evident and its church spire poking at the sky. Ahead, on the southeast end of Meares, is the village of Opitsaht, home to the Tla-o-qui-aht people of the Nuu-chah-nulth First Nation, who have called the region home for thousands of years.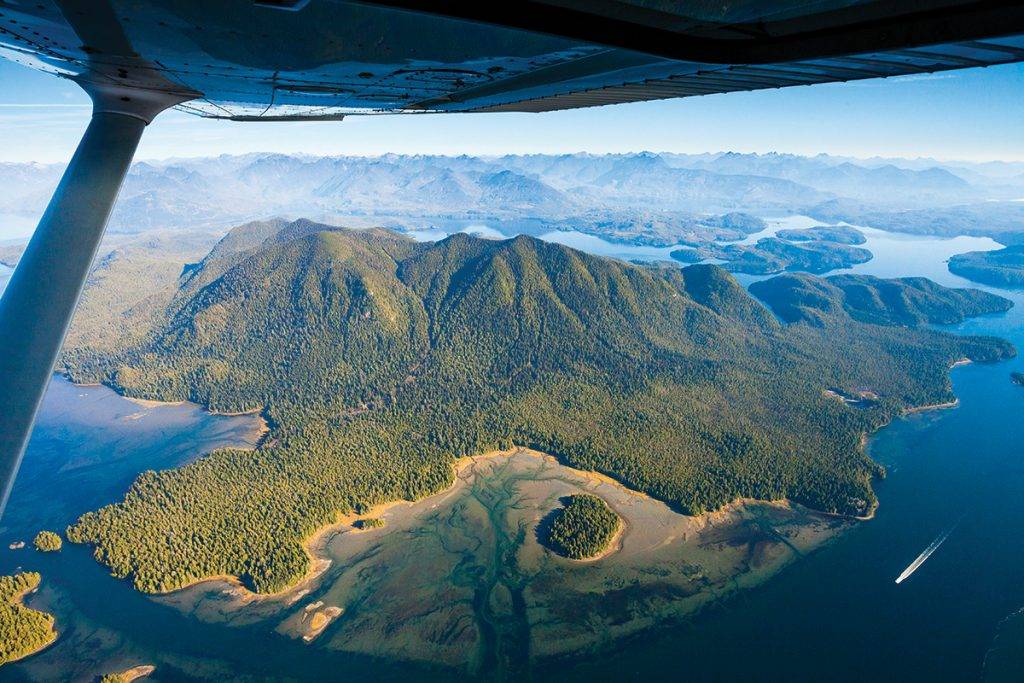 ---
I've never been to Meares, but it's long been special to me. I was one of thousands who protested from a distance for its survival during the War in the Woods in Clayoquot Sound in 1990, which saw the Tla-o-qui-aht people and allies take a stand against MacMillan Bloedel, who wanted to log the Island's magnificent old growth. Had the Indigenous people and their supporters not prevailed — in what is still Canada's largest act of civil disobedience — Meares Island would have been logged off.
We arrive on Meares and clumsily disembark — it's easier getting into a kayak than getting out. Ellie, points to a dugout canoe crafted by carver Joe Martin whose uncle, Chief Moses Martin, famously declared to loggers who had come to clearcut Meares, "This is not a tree farm. This is Wah-nah-jus Hilth-hoo-iss. This is our garden, this is a tribal park."
And as wild as Meares looks, it is indeed a garden where plant medicines have long been collected by the Tla-o-qui-aht who developed ingenious ways of making use of the forest without harming it. Cedar trees have provided clothing, shelter and artistic material for ceremonial and spiritual activities. The fibrous inner bark is so soft it was even used to make baby diapers. The Tla-o-qui-aht became so adept, they can remove a plank from a tree without threatening the tree's life.
---
We climb to the beginning of Big Tree Trail, a boardwalk made of hand-split, salvaged Western redcedar, crafted by First Nations and the Friends of Clayoquot Sound. We hike by trees, some with girths of 17 to 18 metres. These aren't the world's tallest cedars, but they do hold records for their massive girths. We pause by one where artist Gisele Martin has carefully stripped away a patch of bark, perhaps for use in weaving, muses Ellie.
Later on the path, we come to the Hanging Garden Tree, a Western redcedar estimated to be between 1,500 and 2,000 years old. Symbiotic ferns and other plant life terrace their way up and around its 18-meter-round trunk, giving it the look of a hanging garden.
I find myself close to tears several times as I ponder the remarkable age of these trees and the interconnectedness of this temperate rainforest, where 80 per cent of the nitrogen in tissue samples taken from the trees was found to have come from the salmon. We hike to what Ellie refers to as a mother tree. She says if a redcedar population is threatened by drought or another catastrophe, a mother tree may kill itself off in order to send nutrients to its offspring. She also says redcedars will never grow taller than the forest canopy.
We stop by a stream stained the colour of tea from tannins in the forest floor. Salamanders live and spawn here. Bears and wolves live on Meares too. It's is also home to yellow cedar, spruce, alder and berries, including salmon berries whose ripening is a sign the salmon run will begin soon.
Kayaking back to Tofino, we pass Morpheus Island, used as Tofino's cemetery until the 50s. Forty-four graves remain there, but no one else can be buried on the island.
One of the people buried on Morpheus is Fred Tibbs, a British settler who bought his Dream Isle (now called Arnett Island) nearby in 1905. For some reason, he clearcut the island but for a 100-foot spruce tree where he built a platform to sit upon and play his cornet, perhaps to woo his two loves, Alma Arnet and Olive Garrad. We paddle past Arnett, but there's no big spruce or the four-story wooden castle Tibbs built. Mysteriously, he left the castle to Olive Garrad, while the island itself was left to Alma Arnet, whose family eventually bought the castle from the Garrads.
Back in Tofino, we change into dry clothes and head to 1909 Kitchen at Tofino Resort + Marina for Outlandish Raw Oysters with citrus and fresh wasabi, locally caught albacore tuna, cedar-roasted black cod and a wood-fired pizza with locally foraged chanterelles, cauliflower cream and arugula.
We talk about how different kayaking to Meares was from our afternoon trip to Pacific Rim National Park to hike the 800-metre Bog Trail through a forest of stunted and misshapen shore pines. These trees, one of the few types of trees that can survive the lack of nutrients in this bog, resemble oversized bonsais. The bog itself is carpeted in two-meter thick sphagnum moss, thought to be up to 400 years old. The inhospitable but strangely compelling bog is also home to small carnivorous sundew plants.
As lush and thriving as Meares Island is, this anemic-looking bog forest is the extreme opposite. Both forests have something in common — the ability to survive the extremes, as long as humans do not interfere.
And indeed, Tofino itself is like that. A remote land where the sea and the weather are constant reminders of how fragile we are in the face of their power. A magical place that reminds you hourly, with each shift of wind and tide, of the exhilaration of being alive.