By Cinda Chavich | Photos by Belle White
Castro Boateng, named Chef of the Year at YAM's 2019 Restaurant Awards, cooks up a traditional African feast for family and friends — and shares some coveted recipes.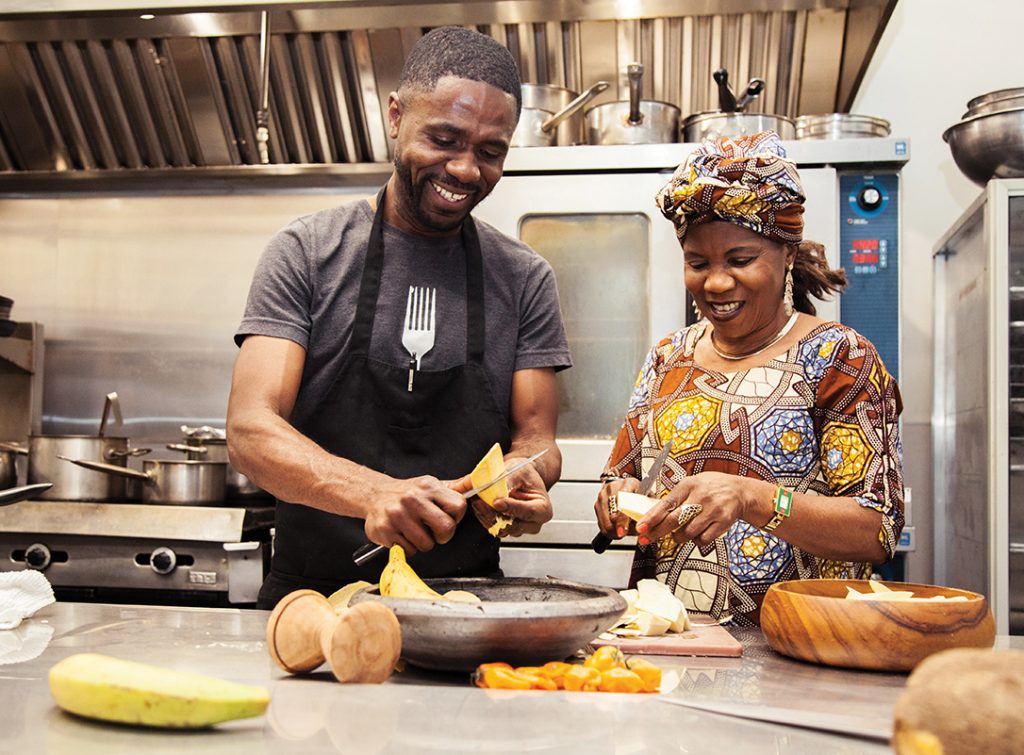 "Akwaaba — Welcome to our home."
These are the words that Chef Castro Boateng uses to greet diners at his Langford café and, as he gathers friends and family for a special dinner celebrating his African heritage, that warm welcome is palpable.
When Boateng was a kid growing up in Toronto, he was surrounded by a big Ghanaian community. He could walk down Jane Street or Wilson Avenue and duck into local African food shops filled with the aromas of spicy kebabs, okra and eggplant stew or jollof rice, the kind of hearty dishes his mother and aunts cooked for their big family dinners. Tonight he is channeling that memory, his long table draped in colourful kente cloth and laden with traditional foods.
Though Victoria's African community is definitely smaller than Toronto's, it is mighty. Beyond Boateng himself — the chef behind the award-winning House of Boateng — tonight's guests include acclaimed Victoria writer Esi Edugyan, author of two Giller prize-winning novels; Troy Wilson, owner of Status Barbershop and Mary Scheer, proprietor of Victoria's Island Afrikan Supermarket, the source of many of tonight's authentic ingredients.
"This is a celebration of our black history and there are many successful people here," said Boateng, welcoming his guests with his wife Charlotte, mother Felicia Amponsem and brother Isaac at his side.
"I am very proud to call you my family and friends — you all encourage me to be better every day."
African food is all about communal dining, cooking and eating with a large, extended family, Boateng explains.
"African food is always built on family and getting together," he says. "It's always about the meal. We can turn anything into a party."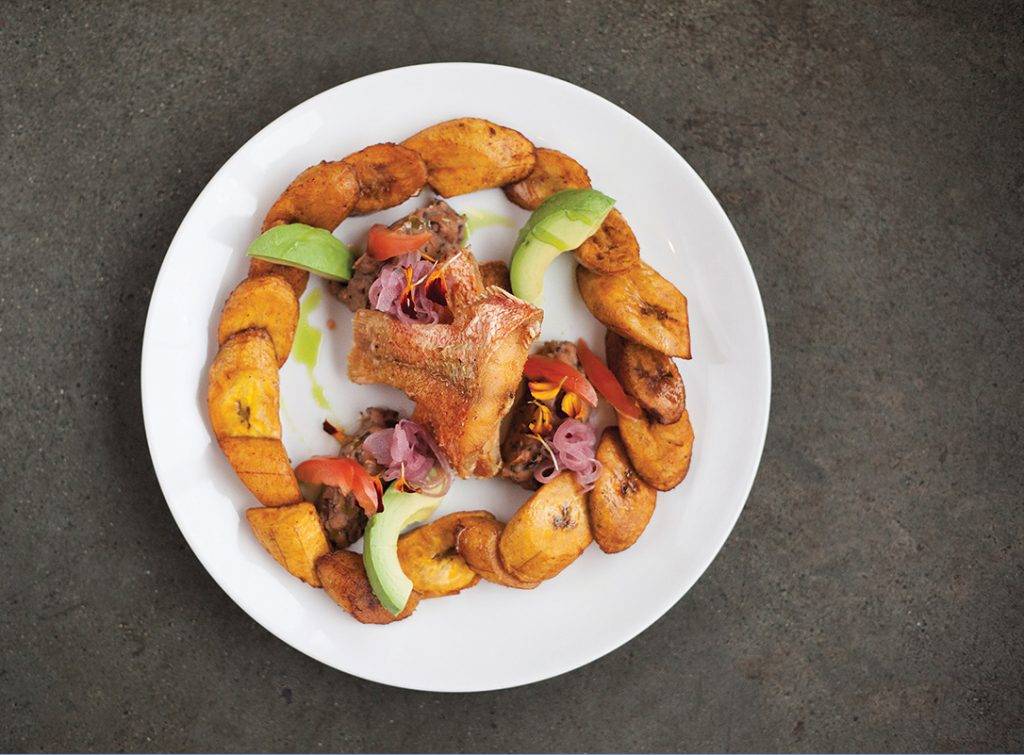 And this is a party. What began as an idea to share a family-style dinner with a few friends has grown, in typical Boateng style, into an extravaganza of colours and flavours, with more than a dozen dishes, both strictly traditional recipes and some with his own Afro-Canadian spin.
Tonight Boateng has invited his mother Felicia to share in the cooking. The two converse in their Ghanaian Twi dialect as she tends to pots of her savoury soups and stews simmering on the stove. "I didn't cook when I was a kid at all," admits the chef. You'd never guess it now.
The aromas emanating from his catering kitchen a few hours before guests arrive are intoxicating. As his mother peels big cocoyams and grinds tomatoes, habaneros and onions into a spicy relish by hand in a traditional asanka, Boateng readies starchy plantains for the fryer.
The spread is impressive — the Ghanaian red rice and beans dish known as Waakye (waa-chay), creamy chicken and peanut soup, okra stew, ruddy palm and goat soup, spinach stew with foraged Island mushrooms and Red Red (bean stew), all alongside the requisite African starchy staples, boiled and fried yams, fried plantains, omo tuo (rice balls) and banku, lightly fermented corn and cassava dumplings.
Edugyan recalls her mother making the red beans and crispy plantains when she was growing up in Calgary, flavours that are both memorable and addictive. I am particularly taken with the banku, served with a rustic okra stew. And Wilson, recalling his blended Caribbean and Nigerian family in Nova Scotia, admits the spicy jollof rice is a personal favourite.
These are all accessible and comforting dishes, part of the African tradition of sharing time around the table.
Though Boateng doesn't serve many traditional Ghanian dishes like this on his regular House of Boateng menu, he's developed a unique style that combines his classical chef's training with the culinary muscle memory that comes from childhood experiences. For Boateng, that means an African melting pot of ingredients and inspirations — a love of Jamaican jerk and crispy little bofrot doughnuts, the subtle sweetness of young coconut and the fiery kick of scotch bonnet peppers.
Whether it's the Taste of Africa food station at his catered events (think spiced and battered African fish with cassava chips and preserved lemon, Ghanaian-style arancini, and sweet roasted plantains with roasted pork belly and smoked shrimp aioli), or the casual House of Boateng menu with his African bowl of jollof rice and scrambled eggs, or his famous mango and habanero salsa, there's a little exotic African flavour on every plate.
But tonight it's all about tradition — a taste of black history and heritage, to share with his new extended family, right here on Vancouver Island.
---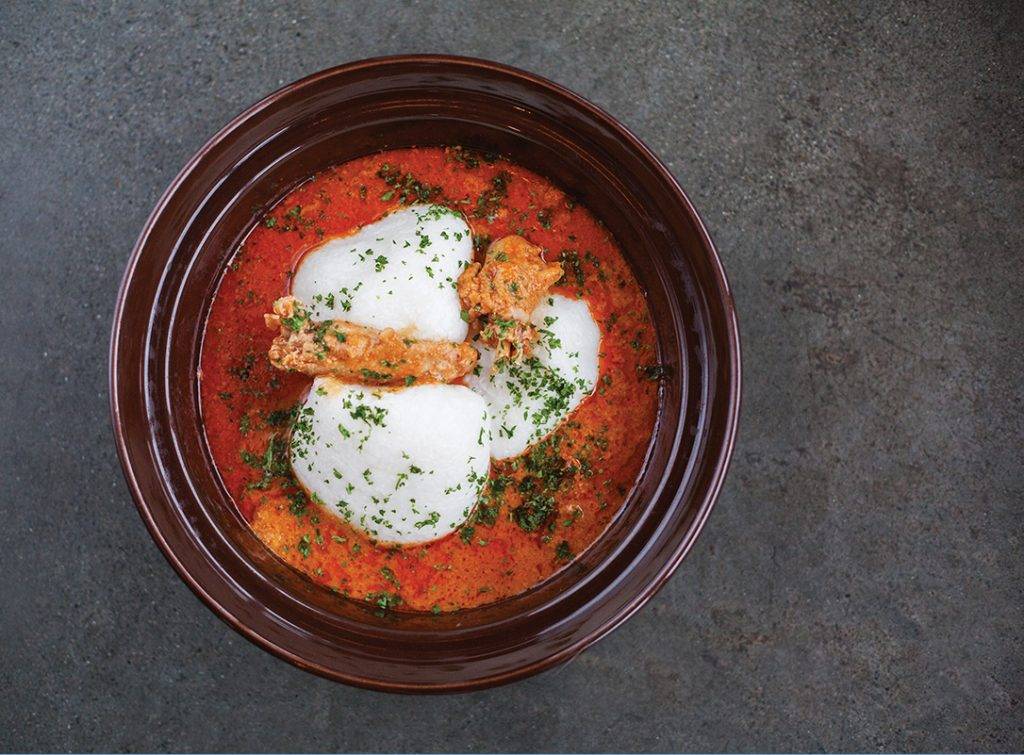 Chicken and Peanut Soup (Nkatie Kwan) with OMO TUO
Serve this rich and savoury chicken soup with omo tuo (steamed rice balls), boiled yam, plantains or fufu. This is a family favourite for kids and adults alike.
• 2 kg bone-in chicken pieces, legs and thighs
• salt and pepper
• 1/2 Tbsp cayenne pepper
• 4 Tbsp sliced fresh ginger, divided
• 3 garlic cloves, sliced and divided
• 2 medium onions, chopped
• 796 ml can diced plum tomatoes, divided
• 1 habanero
• 1 cup natural peanut butter
• 8 1/2 cups chicken stock or water, divided
• 8 fresh okra, chopped (optional)
Season chicken pieces with salt and pepper, cayenne, half of the ginger, half of the garlic and set aside in the refrigerator for 4 hours or overnight.
Heat a large pot over medium heat, then add chicken.
Add half of the onions and 1/4 of the tomatoes, cover the pot and steam for 20 minutes.
In a blender or food processor, combine the remaining onions, reserved tomatoes, rest of the ginger and garlic, habanero, peanut butter and 2 cups of the stock or water and blend until smooth. Pour the mixture into a separate pot and simmer for 30 minutes or until the mixture thickens.
Add the nut mixture to the chicken. Add the remaining stock or water and bring to a boil. Season the soup and simmer on low heat for another 45 minutes or until the meat falls off the bones and the soup has thickened.
Meanwhile, cover the okra with water and season with salt. Simmer for 15 minutes.
Serve the okra with the soup.
Serves 8 to 10.