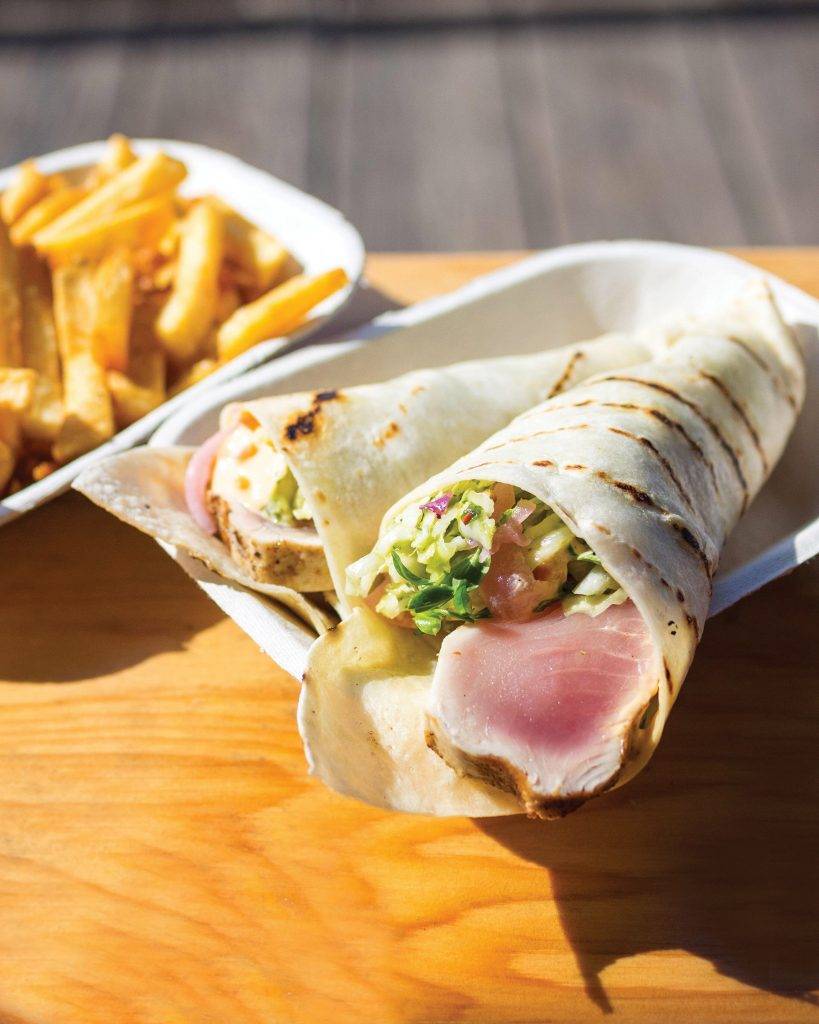 by Cinda Chavich
Bruce Martinelli is a fisherman who lives on Quadra Island, and I can see his smiling face on the label of the ivory albacore tuna loin thawing on my kitchen counter.
This North Pacific albacore was hauled from the waters off our coast, from his 50-foot troller Tantrum No.1, where his wife Pilar and three-year-old son Rex round out the family crew. The Martinellis fish sustainably — each fish is caught with hooks and lines, never nets, and brought on board by hand, to be quickly flash-frozen. The result is local fish that's truly pristine when it gets to the table.
I received their albacore via my Skipper Otto community-shared fishing (CSF) subscription. It's a great way to put a face on your food and contribute to the livelihood of a local fishing family.
After talking with the Martinellis about the weeks they spend out on the open ocean, the long and difficult days fishing 50 to 200 miles offshore in rough seas and changeable weather, I'm amazed at their commitment and grit. Their Canadian tuna fleet uses hook and line gear, trolling for this highly migratory species. It's a targeted, sustainable fishery with little bycatch or other environmental impacts. In a world that's dominated by an armada of giant industrial trawlers, fishing tuna on the high seas using miles of baited long lines and massive drift nets that scoop up birds, turtles, aquatic mammals and other fish in their wake, I'm learning why B.C. albacore is the best choice.
"All of our tuna are small fish, five years old max and just 14 to 20 pounds," says Pilar, noting the smaller albacore are low in mercury and higher in healthy omega-3 fatty acids when compared with larger tuna.
"I feel very proud about our product and the way Bruce fishes with care and concern.
BUYING TUNA
Figuring out which tuna to buy can be a bit confusing. As with all wild fish, buying sustainable tuna is all about the health of the population and how and where it's caught.
Giant bluefin, the largest tuna, is endangered, and so is never a good choice. B.C. trollers targeting albacore may bring in an occasional bluefin and a few red-fleshed yellowfin (ahi) tuna too. But when you see inexpensive frozen tuna in the supermarket, it's likely coming from foreign long liners.
A good fishmonger can tell you where the fish they sell was caught, and often by which vessel. At Oak Bay Seafood, for example, all of the fish — whether fresh, frozen or served in their café — comes from sustainable fisheries.
You'll see who caught the fish in the retail store at Finest At Sea (FAS) in Victoria. Operations manager Jennifer Gidorasays FAS's own fishermen offload their catch at Fisherman's Wharf. It's a premium product that's processed on site andsold frozen, cold- or hot-smoked.
"When I'm talking to chefs, I explain that it's important to know the origin of the fish, the vessel and catch method —trust your fishmonger," she says.
"We have five of our own boats fishing tuna," adds Rich McBride, a fisherman and FAS's plant manager. The coastalCanadian fleet fishes inside the 200-mile nautical limit where albacore come to the surface in warm currents, he says, but there is also cheaper tuna being dumped into the market, fish that's caught by industrial trawlers using miles of drifting long lines and nets that trap other fish, turtles and aquatic mammals. Whether its southern Pacific albacore, red ahi or bigeye, larger fish are likely caught on the high seas by foreign fleets, a largely unregulated fishery that's been blamed forover fishing and exploitation of the word's oceans.
"They're landing hundreds of thousands of pounds of tuna in Vancouver and Seattle at bargain basement prices. It's cut down into smaller loins and all looks the same," adds McBride of the fish coming from industrial trawlers.
"Tuna is migratory, spanning the whole Pacific Ocean, and it's really hard to regulate anything on the high seas."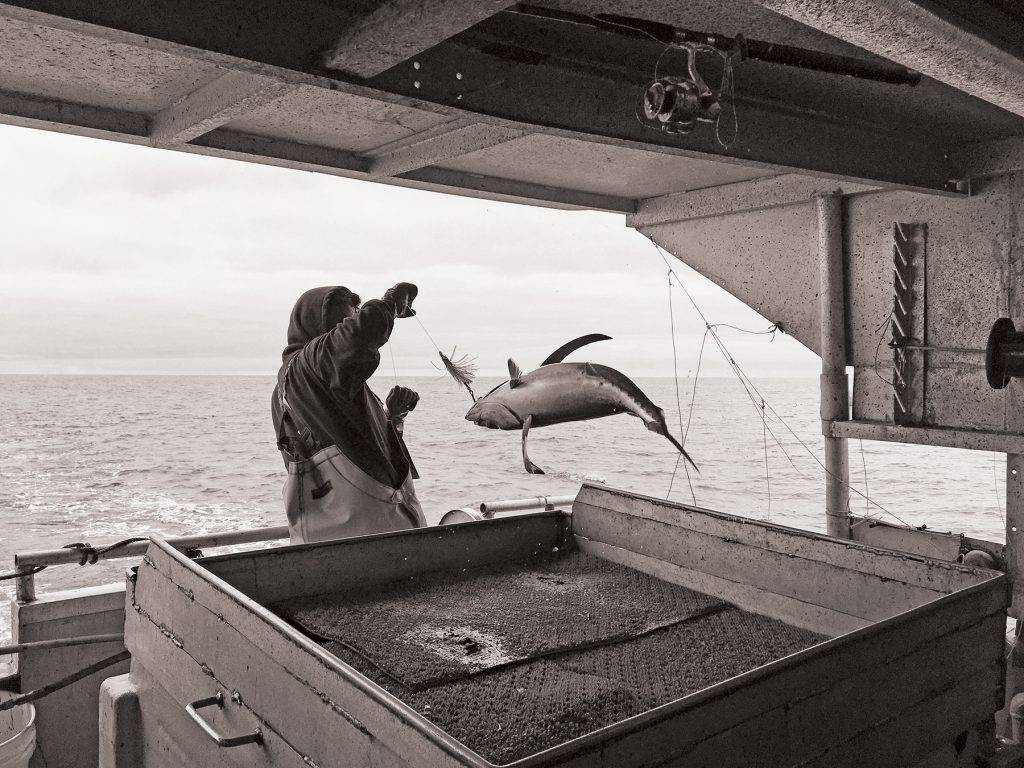 EATING B.C. ALBACORE
So once you have that pristine piece of local albacore tuna, what's the best way to serve it? The smaller albacore tuna has the highest levels of healthy omega-3 fats, but it's a dense, meaty fish and easy to overcook. Like a good steak, rare is best, or, as many tuna experts agree, raw is better.
"I'm pretty opinionated about how to eat tuna," says chef Jesse Wilson, who included "ultra rare" tuna on the menu during his time at Little Jumbo. "When it comes to tuna, I would have it raw over cooked every time."
Wilson believes albacore pairs well with Asian flavours and is delicious when lightly smoked. For his Tuna and SobaNoodle Salad (see the recipe on page 71), the lightly seared albacore is served on soba noodles with a sesame emulsion.At home, the chef says he simply douses his raw sashimi grade tuna with soy sauce for a fast poke-style snack.
"The flavour is subtle and beautiful. I want to taste the tuna," he adds. "I'm all about local albacore — what grows together, goes together."
Pilar Martinelli agrees.
"The higher fat content of this cold-water fish lends a lusciousness to its flavour profile and firm flesh," she says. "We love this sashimi-grade fish seared, grilled and raw. It's one of our favourite choices for tacos!"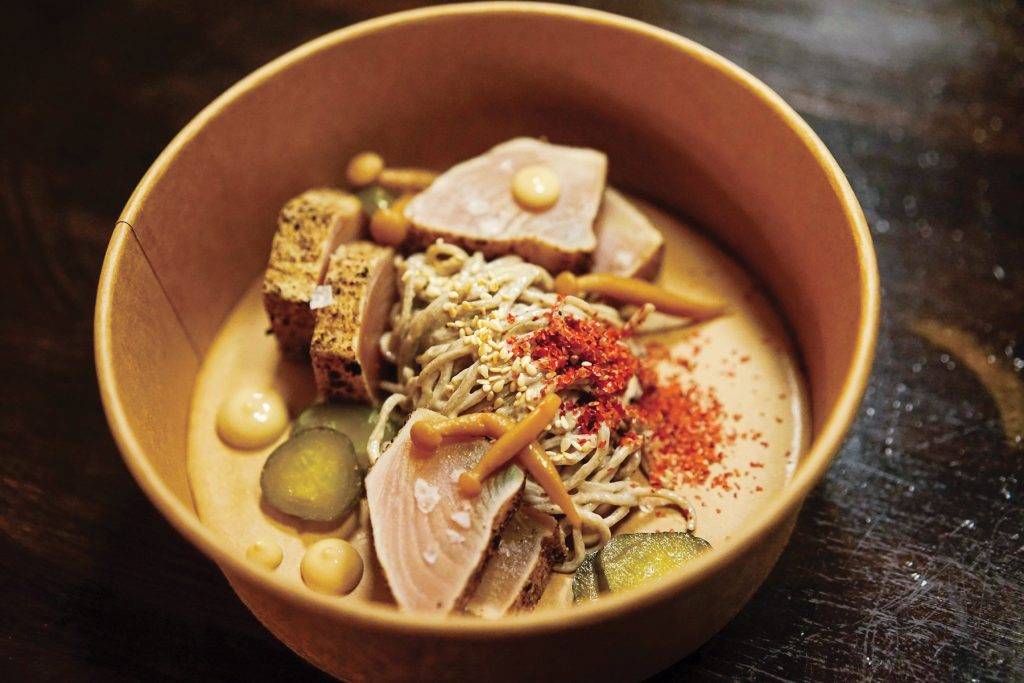 Fresh B.C. albacore is on the menu at many top tables in Victoria, from the Empress Hotel to Agrius and Little Jumbo.But you'll also find local albacore seared medium rare with spot prawn mayo in the tuna tacone from Red Fish Blue Fish and on Tractor Foods' Seared Albacore Bowl. Soy-cured local albacore comes with marinated cucumber in a rice bowl atFoo Asian Street Food, and cold smoked tuna tops the tasty Tuna Melt tartine at Fishhook.
McBride likes his albacore tataki-style and says the chefs at Ebizo Japanese Restaurant are the experts, creating a lightly seared loin with no char. At home, he recommends a quick sauté in a bit of canola and sesame oil, just until the fish turns white. Starting with cold or slightly frozen fish helps keep it rare, he says.
THE FILET MIGNON OF FISH
It wasn't too long ago that most of the albacore tuna available was found in cans, but happily it's now far easier to access fresh albacore to cook at home.
Sleek, silvery and built for speed, tuna are most common in tropical waters, but come to the surface in warm currents off our coastline in the summer. B.C. albacore is blast-frozen at sea, keeping its fresh, just-caught quality intact — a "sashimi grade" fish that's safe to consume raw. But it's also beautiful to grill, a meaty fish known as "the sirloin of the sea."
I'll be looking for more of this delicate, buttery tuna, to serve with fresh tomatoes and green beans in Niçoise salads, tossed with soy sauce for Hawaiian-style poke or rolled into fresh corn tortillas with avocados and salsa. I may even try tuna Sicilian-style, baked with green olives, capers and raisins in a basil-infused tomato sauce, or lightly "cooked" with citrus and chilies in fresh tuna ceviche.
I'm also partial to cold-smoked albacore — a sliver of silky smoked tuna on a seaweed rice cracker, with a dab of wasabi-infused mayonnaise is our go-to appetizer. Albacore tuna is a gift from our local waters and our hard-working local fishermen. I'm hooked!"