Design Specialist: Iván Meade
Photographed by Simon DesRochers
A labour of love restores a rare Modernistic house from the 1940s into a celebration of the eclectic and exuberant style of the Art Deco movement.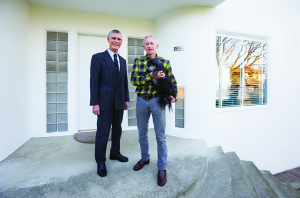 Tucked into a quiet corner of Esquimalt, you'll find Larry Richardson and Albert Beekman's inviting monument to Art Deco. While the smooth stucco walls, with their gentle curves, the glass brick light boxes that flank the front door, and the flat roof are all identifying features of the architectural style of the era, it's only when one steps inside the home that you truly understand the attention to detail that has gone into this project. From the paint colours to the furnishings — whether found in auction houses or antique stores, or custom built — all of the interior design is meticulously in keeping with the Art Deco style, which had its heyday in the 1920s and 30s.
Although the architecture of the house is typical of the Art Deco era, it was actually built in 1945 by Victoria hardware tycoon A.H.F. Stelck, who built several similar properties in Esquimalt. Richardson and Beekman have been restoring this home
to its Modernistic roots since they purchased it in 1989.
"What attracts me to Art Deco is the exuberance it represents of the people living it at the time," Richardson says. "I love the clean, optimistic lines of Moderne."