Tofino's new art gallery brings a contemporary offering to the area, focusing on local and Canadian artists across diverse mediums.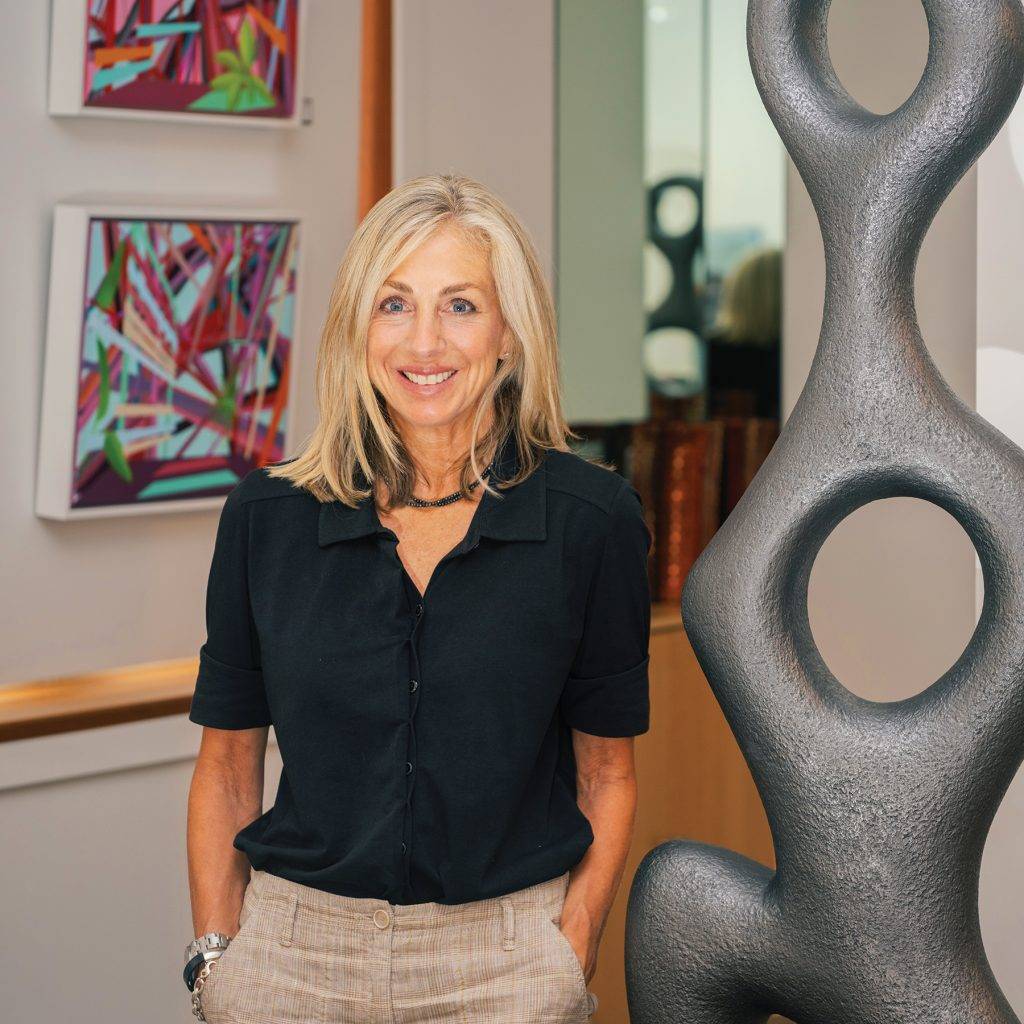 By David Lennam
Leah McDiarmid has always had a passion for art, with contemporary art being her particular enthusiasm. The 55-year-old — who's been called a humble perfectionist (but she says, "I tend to focus with intensity, a.k.a. obsess, on certain details") — has been a collector since she was in her early 20s, filling the walls of her Oak Bay home with pieces from Victoria's Limner Group, original lithographs by Joan Miro and Paul Klee, and, most recently, a Sylvia Tait.
The first piece she bought was Herbert Siebner's "Woman and Man" from a lawyer she worked for in Victoria.
"I would see it hanging in his office every day and fell in love with it," she says. "He took a one-year sabbatical and said he'd sell it to me. I paid in instalments over four months."
Follow the doughnuts
Collecting for fun has recently taken a more serious twist. This June, McDiarmid opened a gallery in her other home, Tofino, filling a void for current Canadian art in the West Coast surf spot. The Tofino Gallery of Contemporary Art is in an intimate space off the main drag of Campbell Street behind Rhino Coffee House (just look for the long lineups and follow the smell of the doughnuts). The gallery is located in Campbell House, a building owned by McDiarmid and her husband, Bruce, where they used to run Tofino Vacation Rentals. They sold the business in 2015, freeing up some potential.
"I always had this vision that this space could be a great gallery," says McDiarmid. "A few people thought I was a little bit mad. They couldn't see it, but the germ of an idea was there."
The roster is local and regional Canadian artists, from emerging to mid-career, in diverse mediums — abstracts, figurative works, photography, sculpture — including Irma Soltonovich, Ira Hoffecker, Graeme Masterton, Arden Rose, Fran Solar, Stacey Bodnaruk and Marion Evamy's apropos surfer series.
The artists will vary, and McDiarmid hopes to attract some big Canadian names in the future. Right now she's keeping it local, small and manageable, laughing off notions of those really big names.
"With my Dutch background, of course I love the Old Masters and post-impressionism," she says. "But there are no Vermeers, Rembrandts or van Goghs hanging in our home, unfortunately."
Giving emerging talent an opportunity
McDiarmid is no artist ("I draw stick people") but certainly knows her stuff, recently completing a degree in art history and visual studies at UVic. She's discriminating about what she will sell.
Deep Bay-based sculptor Birgit Piskor is excited to have her work shown in Tofino, and, more importantly, shown by McDiarmid, whom she greatly admires ("there's just something about her Leah-ness," exclaims Piskor).
"She has a very good eye, she really does, and working with someone who is just so passionate and supportive of the local artists is an exciting opportunity. I love that she's not afraid to say, 'I don't know.' I know she's going to be really honest and fair with her artists and very supportive."
Piskor, whose sensual, human-sized concrete sculptures are in galleries across North America, says this venture gives McDiarmid the chance to use her instincts to procure fantastic pieces as well as discover new artists.
One of those new artists is Victoria's Paula Callahan whose mixed media abstracts have become creative catharsis for years spent on the front lines with Doctors without Borders. McDiarmid had bought a couple of Callahan's paintings after they became friends, then convinced the reluctant artist that it was time to show off her stuff.
"It terrifies me because I am so private," admits Callahan. "I really want to paint. It's therapeutic and good for me. But it comes with a price — exposure — and I hate that so much."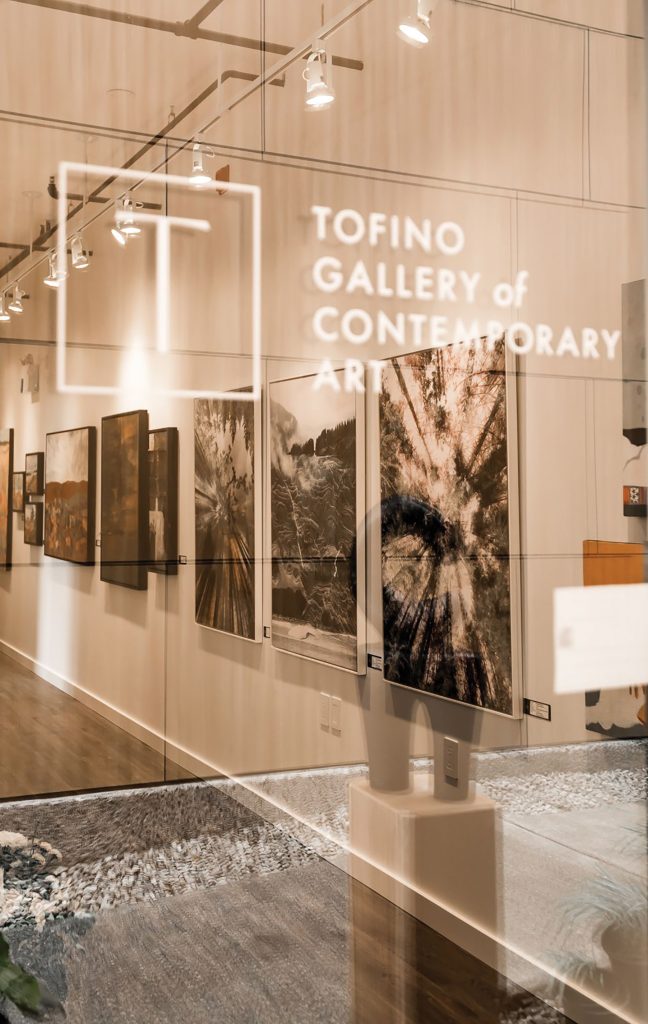 A space for Tofino to celebrate
McDiarmid and her husband Bruce are part of the family that owns the Wickaninnish Inn. A branch of Tofino royalty, if you will. Bruce's father, Dr. Howard McDiarmid, Tofino's only doctor back in 1955, opened the resort in 1996, was a Social Credit MLA and helped establish the Pacific Rim National Park Reserve.
The couple also runs a trio of vacation rental Chesterman Beach homes — each filled with original art from McDiarmid's collection.
That she's opened a gallery could be seen as Leah doing something for Leah, a venture away from hotels and rental houses.
"It's kind of my baby, and, as Bruce said, you came to Tofino with me, and we're part of the opening of the Wickaninnish, and we've had a very successful business together."
Her timing could be impeccable as pandemic restrictions start to lift and Tofino gets its mojo back.
But McDiarmid dashes assumptions her gallery is there to cater to visitors. ("It's not touristy gimmicky. It's thoughtfully curated.")
She'll be inviting the locals, the year-rounders and the regulars, immersing herself in the local arts scene, in conjunction with the Tofino Arts Council.
"I want this to be a community gallery and a space to hold events."
That pleases Maureen Fraser, Tofino Arts Council president, to see a contemporary gallery alongside already established galleries specializing in Indigenous art and photography.
"It's fabulous that Leah is opening one. There is a gap in our art galleries."
And it closes another gap — that between McDiarmid and art, her genuine love for it.
"I think being exposed to the artists, the friendships that developed, being able to share the art with collectors … Somebody comes in and says, 'Wow, this painting is incredible.' To be able to say, 'Let's take it to your home' — that's the connection I feel."