The objects we surround ourselves with can remind us of who we are and connect us to other people, places and times. We invited some of Victoria's most fascinating people to tell the stories of the objects that matter most to them.
By Kerry Slavens // Photo by Jeffrey Bosdet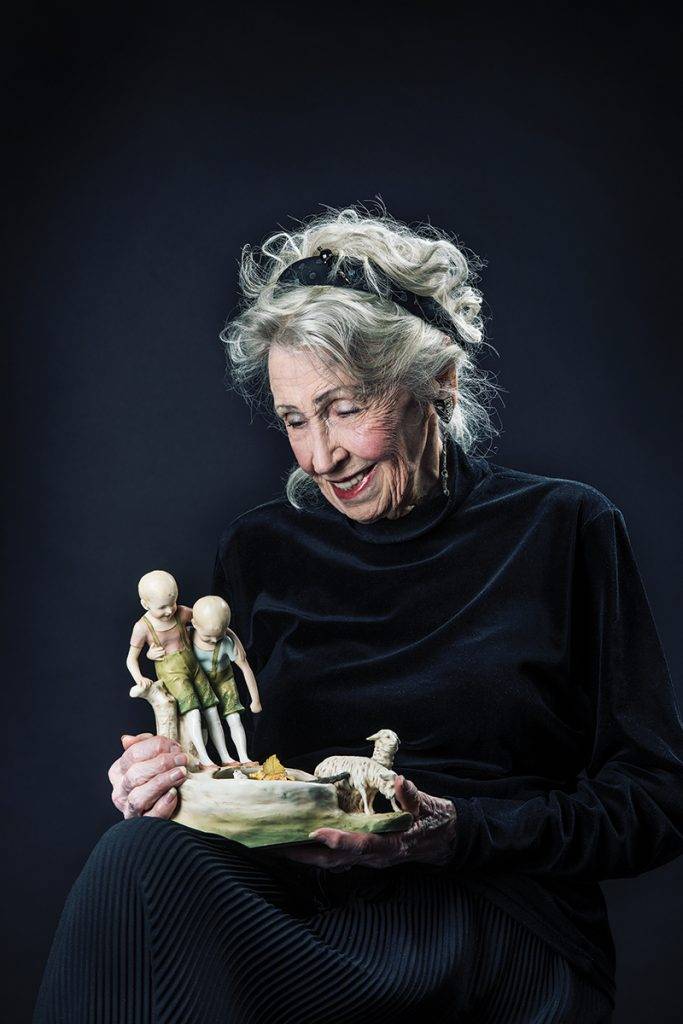 ---
OBJECT: Porcelain figurine
OWNER: Pat Martin Bates, printmaker, painter, sculptor
Beside her bed, Pat Martin Bates keeps a porcelain figurine of two little blonde boys in green shorts, flanked by two lambs standing over a pond. The boys remind the artist of her father, Chester, and his cousin, Ronald, both of whom died tragically young.
Over the years, Pat has turned the figurine into a shrine of sorts, filling its pond ("it's a magic pond") with seashells and pearls ("we all love pearls"), a thimble-sized swaddled baby doll ("that's me), and the figures of two dogs, one a terrier who belonged to her family and died in the Tidal Bore in the Bay of Fundy in New Brunswick, where Pat grew up and discovered the talents which would lead her to become one of Canada's most revered artists.
Pat Martin Bates (or PMB as she's known) says the figurine evokes joy and melancholy, reminding her of her doting father who died when Pat was eight. There are many stories about him in her book, It is I, Patricia: An Artist's Childhood (Hedgerow Press, 2010).
Her father, she says, once kept the figurine by his bed and put his watch in it. Later, Pat kept her own Lady Hamilton watch in it, a connection through time.
And PMB knows about time. Timepieces and the movement of the sun and moon are recurring themes in her work, which has been exhibited worldwide and acclaimed for its ability to transcend the ordinary.
Critic Richard Simmins once wrote, "Bates lives in a strange world. She intensifies experience …" And so a simple figurine is not so simple. It holds a magical world that she tends as she continues to create because, as she says, "An artist never retires."
---
This article is from the September/October 2019 issue of YAM.