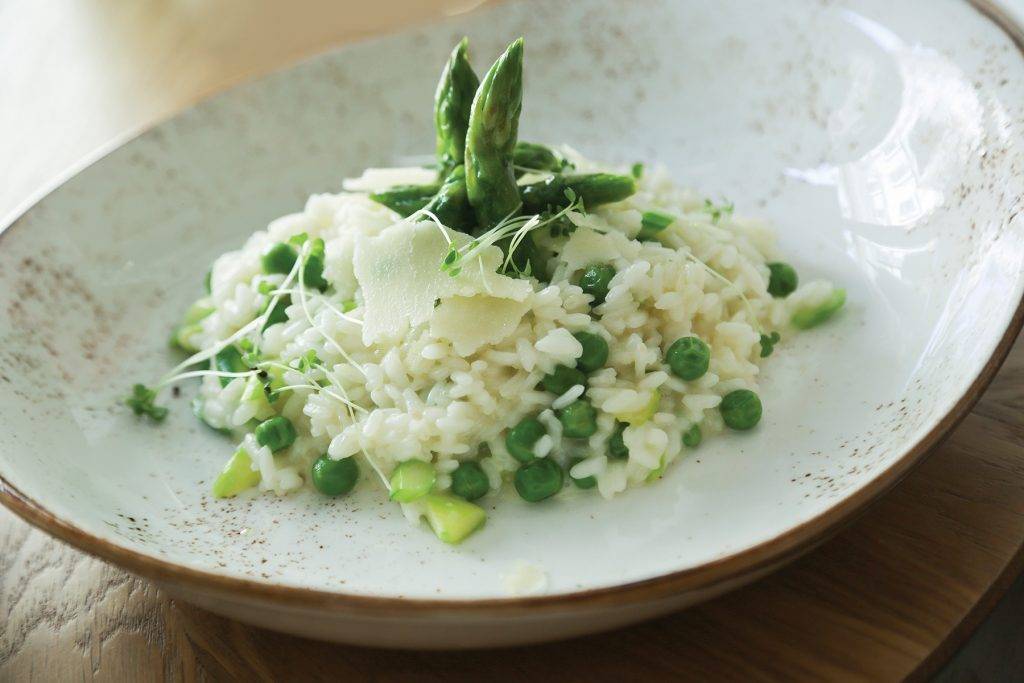 From The Waste Not, Want Not Cookbook by Cinda Chavich.
This risotto recipe uses asparagus, but you can also add peas, spinach, sautéed mushrooms, roasted peppers, sausage and/or shrimp.
• 1 pound asparagu
s• 4 cups chicken broth
• pinch of saffron thread
s• 2 tablespoons butter
• 2 tablespoons extra virgin olive oil
• 1 medium onion, finely chopped
• 1 1/2 cups Arborio rice or short-grain white rice
• 1/2 cup dry white wine• 1 tablespoon finely chopped fresh herbs (optional)
• 1 1/2 cups freshly grated Parmesan cheese
• salt and freshly ground black pepper
Snap off the tough ends of the asparagus, cut off tips and reserve. Slice stalks on the diagonal.Heat chicken broth to boiling. Keep warm. Crumble the saffron threads into broth.
In a large sauté pan, heat the butter and olive oil. Add the onion and sauté over medium heat until tender.Stir in the rice and cook together for a minute.
Add the wine and stir until absorbed, then ladle in a little hot broth (about 1/2 cup) and simmer until the liquid is absorbed, stirring often. Continue adding broth, 1/2 cup at a time, until it's absorbed, and cook,stirring often, for about 10 minutes.
Add the asparagus stalks and the herbs, if using. Add more broth, stirring,until the rice is al dente (still slightly firm), about 10 to 15 minutes longer. The risotto should be loose but not soupy.Add the asparagus tips and continue cooking until the rice is just tender, adding more broth, as needed, tokeep the mixture creamy.
Stir in 1 cup (250 ml) of the Parmesan. Season to taste with salt and pepper. Serve immediately, topped with remaining Parmesan. Serves 2 heartily as a main dish or 4 with other courses.
TIP:For a brilliant green risotto, lightly steam half the asparagus stalks and purée in the food processor or blender with 2 tablespoons of melted butter. When the rice is almost tender, add the asparagus purée. You can also try this technique with spinach or fresh or frozen green peas and fresh mint.