Whether raw or roasted or baked into delectable treats like walnuts rolls or pecan pies, nuts are healthy crowd-pleasers for the holiday season.

By Cinda Chavich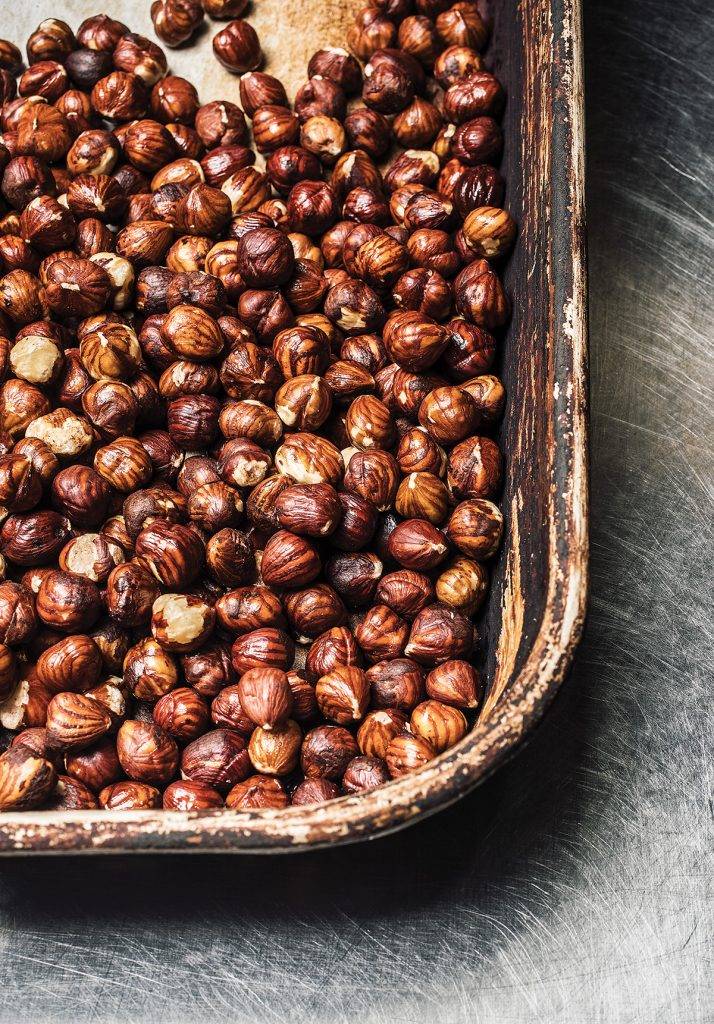 ---
When I was a kid, cracking through a big bowl of nuts still enclosed in their hard shells was a holiday tradition. Nuts were exotic imports from around the world — fat, almost impenetrable black Brazil nuts; bulbous walnuts; smooth, shiny pecans and hazelnuts. They were piled into wooden bowls with elaborate crackers and dangerous-looking metal picks for noshing, with just the right amount of energy required to extract the sweet nutmeats to prevent over indulging.
These days, elaborate nutcrackers are often more decorative than practical, as nuts come pre-shelled in giant bags from wholesale supermarkets all year round. But you'll still find freshly-harvested nuts in the shell around the holidays, because the tradition of eating whole nuts at this time of year runs deep. Who doesn't wait for The Nutcracker ballet or the visit from Saint Nick, that bearded bearer of nuts, oranges and sweets?
In ancient Rome, a good nut harvest signaled a fertile future, so nuts were scattered at weddings and at the winter solstice festival of Saturnalia. Nuts became a symbol of good luck, the nut bowl passed at winter feasts to share good fortune with guests.
So it's not surprising that nuts are featured in many traditional holiday recipes, whether you're rolling up a nutty rugelach or walnut roll, making crisp hazelnut meringue cookies, or whipping up nutty fruitcakes or chestnut stuffings.
Nut Knowledge
Nut trees grow around the world, but some are native to Canadian forests. In Eastern Canada, you'll find American beechnut and black walnut, while in western Canada, indigenous Garry Oak, whitebark pine and beaked hazelnut produce edible nuts. In fact, Coastal Salish tribes traditionally gathered and consumed Garry Oak acorns — whether steamed, roasted or boiled — nuts long being a source of protein, vitamins and minerals for people around the world. Be warned, though, that preparing wild acorns requires plenty of preparation and stages of boiling and roasting to remove the inedible tannins.
Hazelnuts (a.k.a. filberts) are also cultivated in B.C. A blight destroyed many trees in recent years, but growers are now replanting with blight-resistant rootstock to revive the industry.
Max Young of Victoria's Island Nut Roastery sources fresh nuts from around the world. He sells them raw, roasted and ground into nut butters at the family's bulk food shop, For Good Measure, in Cadboro Bay, and at local grocers, including The Root Cellar and Market on Yates.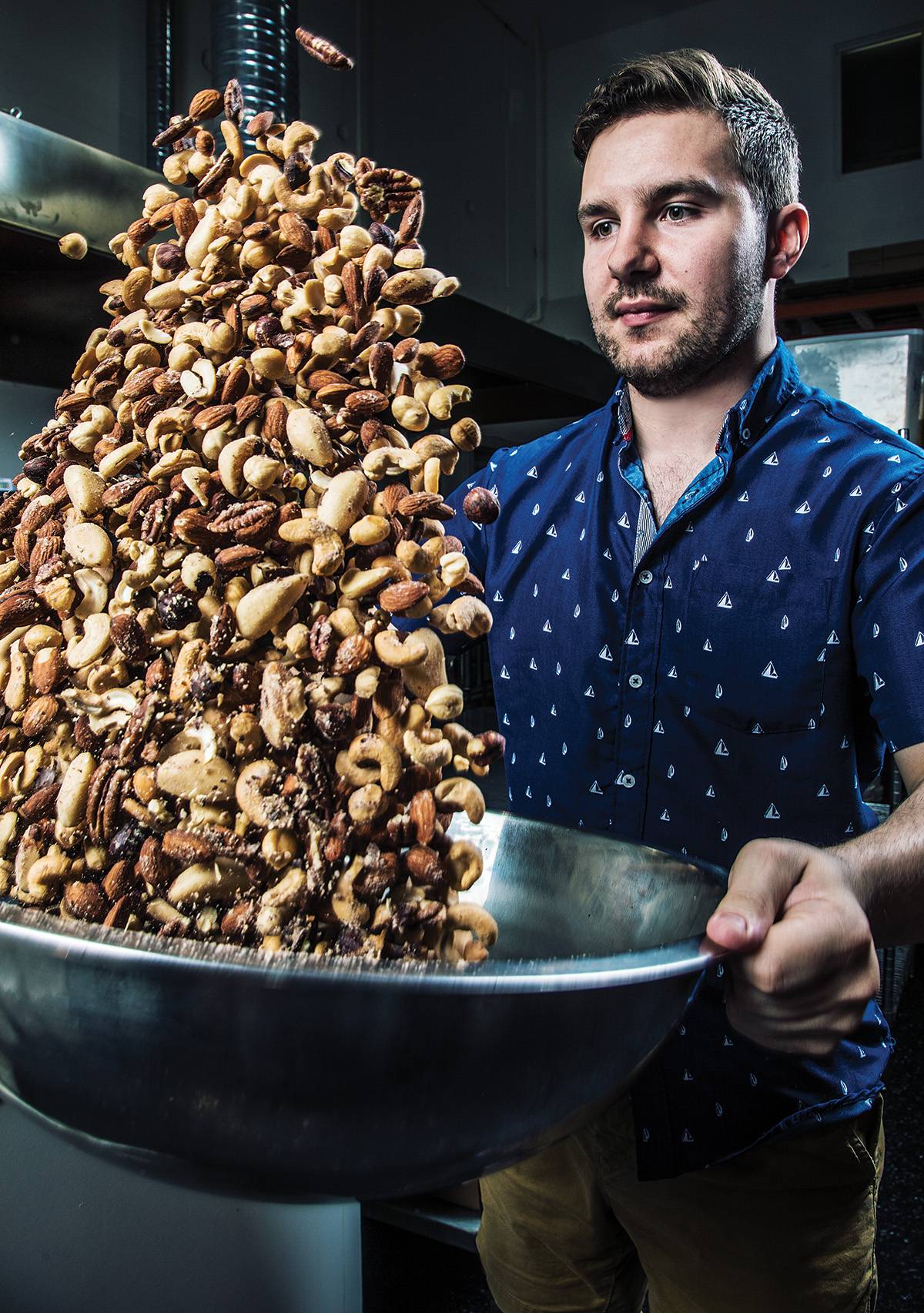 ---
Hazelnuts come from farms on Vancouver Island, he says, while almonds are grown in California and the finest cashews arrive from Vietnam.
"We roast every nut under the sun — pecans, hazelnuts, walnuts, almonds — and the holidays are our busiest time," says Young.
Nuts are loaded with healthy fats, protein, fiber and important vitamins and minerals. Walnuts and almonds in particular have both been shown to help reduce total and bad (LDL) cholesterol.
Chestnuts are lowest in fat among all nuts, while macadamia nuts, native to Australia, are the highest in natural oils and calories. Both cashews and Brazil nuts originated in the Brazilian rainforest, but the former are now grown from India to Southeast Asia.
Most of the almonds we eat in Canada come from California, though the larger Marcona almond, a gourmet treat when fried in olive oil and tossed with sea salt, is grown in Spain. Pecans are lovely to toast with spices or bake into pecan pies, while walnuts are classic additions to chocolate brownies and maple walnut ice cream. Nuts make healthy additions to homemade granola, crispy coatings for fried chicken and fish, and crunchy toppings for cakes, crumbles and fruit pies. If you're baking with gluten-free nut flours, you'll need to include some wheat flour for lighter results. Or choose recipes for dense chocolate desserts or meringue-based cookies made with ground nuts.
Roasted or Raw
Eat nuts raw, or roast them in a hot pan with a little butter or olive oil to sprinkle over salads for a bit of crunchy contrast and toss with spices for snacking. Toasting deepens the flavour and can tame the bitterness found in some nuts. You can toast nuts in a dry pan on the stovetop or in the oven, but watch them carefully. Toasting only takes a few minutes — it's easy to burn nuts.
I like to buy nuts in bulk from local shops that have a high turnover. Nuts are harvested in late fall so that's when they are freshest. Ask your retailer when they expect the new crop to arrive.
Fresh nuts have a two-year shelf life, but are best stored in a cool dark place, refrigerated or frozen, preferably vacuum packed. Old nuts may taste stale or turn rancid if not properly stored. So look for the fresh, new crop of nuts, sold in the shell, at this time of year. When choosing nuts in the shell, pick the heaviest for their size and avoid nuts with cracked or broken shells.
Take a trip to a local thrift store, where you're certain to find an eclectic selection of vintage crackers, then get cracking and cooking.
And have yourself a nutty little Christmas!
---
CRANBERRY PECAN PIE

This is one of my favourite desserts to serve for holiday meals. It's like a big butter tart but with the added zing of dried cranberries. The fresh orange and cranberry sauce adds another dimension and balances the sweetness. This is the perfect time to haul out that fancy tart pan with the removable bottom.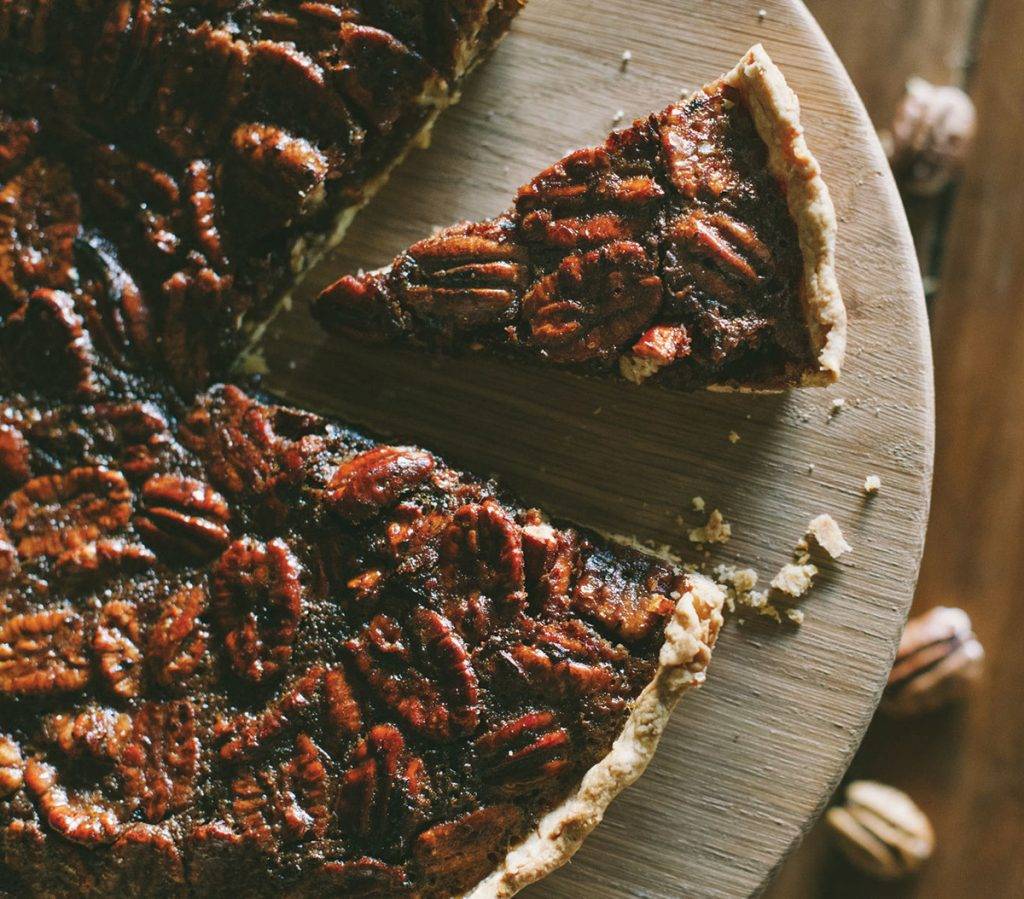 CRUST
• 1 1/4 cups all-purpose flour
• 2 tbsp brown sugar
• pinch salt
• 1/2 cup butter
• 1 egg yolk
• 1 tbsp milk
FILLING
• 2 whole eggs
• 1/2 cup granulated sugar
• 1 cup corn syrup
• 1/2 cup melted butter
• 1 tbsp all-purpose flour
• 2 tbsp orange brandy or frozen orange juice concentrate
• grated zest of 2 oranges
• 1 tsp vanilla extract
• pinch of salt
• 2 cups chopped pecans
• 1 1/2 cups dried cranberries
FRUIT SAUCE
• 4 oranges
• 1 cup fresh cranberries
• 1/2 cup granulated sugar
• 1/2 cup orange juice
• 1 tbsp orange brandy
To make the crust, combine the flour, sugar, salt and butter in the food processor and process until crumbly. Add the egg yolk and milk. Pulse until the dough forms a ball. Wrap in plastic wrap and refrigerate for 1 hour to chill.
Preheat the oven to 350ºF. Roll out the pastry and line a 10-inch tart pan. This pastry is totally forgiving, so don't panic — any rips or cracks can be repaired by pressing in extra bits of dough. Cover the pastry with foil and add some pie weights or dried beans (this helps the crust bake evenly) and bake for 20 minutes. Remove the foil and let the pastry cool.
To make the filling, whisk the eggs, sugar, syrup, butter, flour, brandy, zest, vanilla and salt together in a bowl. Stir in the nuts and dried cranberries. Pour into the pie shell and bake for 35 to 40 minutes, until the filling is set.
To make the sauce, start by sectioning the oranges. Using a sharp, serrated knife, cut a slice from the top and the bottom of each orange, exposing the fruit. Then, working over a bowl to catch any juice, cut away the rind and white pith. Cut between the membranes and the orange segments will fall out into the bowl.
Meanwhile, in a small saucepan, cook the cranberries with the sugar and orange juice over medium heat. When the berries soften and begin to pop, they're done. Remove from the heat and stir in the orange sections and brandy. Chill.
Slice the pie into thin wedges and serve with the fruit sauce on the side.
Serves 10 to 12.
---
CRUNCHY ALMOND BARK

This is my version of an expensive almond and pecan candy — even more impressive when made by a creative elf at home. Pull out the parchment paper or your silicone baking sheet for this one. Pack it into pretty holiday tins for gourmet gifts.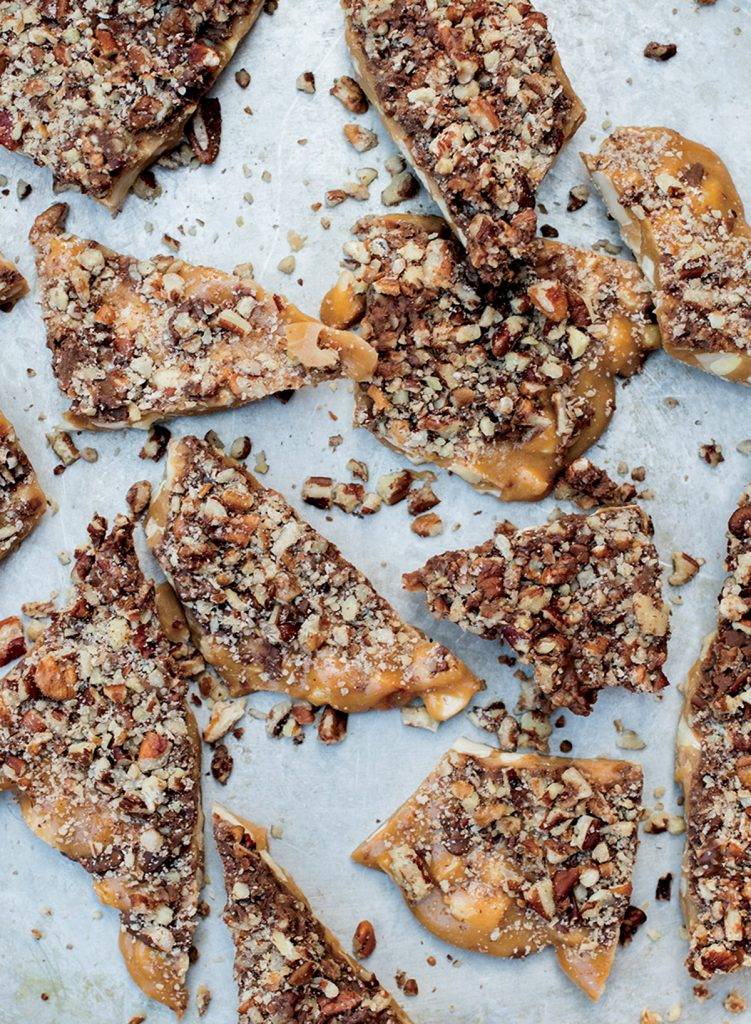 • 1 cup butter
• 1 cup white sugar
• 1 cup blanched almonds, coarsely chopped
• 6 oz good-quality milk chocolate, grated
• 3/4 cup pecans, finely ground
In a heavy sauté pan, melt the butter and sugar together over medium heat. When the mixture begins to bubble, add the chopped almonds and increase the heat to medium high.
Stirring constantly, cook for 5 to 7 minutes, until the mixture turns a nice caramel colour and the nuts are lightly toasted. Be careful — you can easily overdo it and burn the nuts.
Line a baking sheet with parchment paper (or use your Silpat silicone sheet) and pour the caramelized sugar mixture onto the pan. Use a metal spoon to quickly spread it evenly and, while it's hot, scatter the grated milk chocolate over top, then evenly sprinkle with the ground pecans. Use the spoon to press the pecans down evenly over the entire surface of the hot candy. Cool.
When the candy is cold and stiff, break into chunks and store in sealed containers.
From The Girl Can't Cook by Cinda Chavich (Whitecap Books).
---
WALNUT ROLL
My grandma used to make two kinds of rolled sweet breads for holidays — one filled with poppy seeds, another with sweet ground walnuts. She made long loaves, like big jelly rolls, but I've also discovered a new way to present this delicious coffee cake — made into long, narrower rolls that are coiled again into big round breads, or folded into loaf pans. Either way, you get a sweet treat that's filled with nutty flavour, and is perfect to share as a holiday gift.

DOUGH
• 1 package dry yeast (1 tablespoon)
• 1/4 cup warm water mixed with 1 tsp sugar
• 1 cup milk
• 1/4 cup granulated sugar
• 1/3 cup butter
• 1 egg plus 1 egg yolk, beaten
• 1/4 tsp salt
• 3 1/2 to 4 cups unbleached all-purpose flour
• 1 beaten egg, mixed with 2 tbsp water for glaze
FILLING
• 2 cups ground walnuts
• 1/2 cup brown sugar
• 1/4 cup cream
• 1 egg
• 1 tsp vanilla
• 2 tbsp softened butter
Sprinkle yeast over warm sugar water and let stand 10 minutes to proof. In a small saucepan, scald the milk. Bring it just to a simmer and remove from heat, then stir in the 1/4 cup of sugar and butter. Stir until the butter is melted. When cool, add the beaten egg and egg yolk, salt and dissolved yeast mixture.
Put 3 1/2 cups of the flour into a food processor (or large bowl) and add the milk mixture, processing until the dough forms a ball. If it's too wet, add a little more flour. The dough should be soft, not sticky.
Set the dough in a greased bowl in a warm spot, cover with a clean towel and let rise for an hour, until doubled. Punch the dough down and roll (or wrap well and refrigerate overnight and roll the next day). To make the filling, grind the walnuts in the food processor and add the remaining ingredients. Process to combine well.
Preheat oven to 350˚F. Divide the dough in half and roll out each piece, on a floured surface, into an 8-by-15-inch rectangle. Spread each with half of the filling and roll into large oval loaves, pinching the ends to seal. Place loaves, seam side down, on a parchment-lined baking sheet, cover with a clean towel and set aside in a warm place to rise for 30 to 40 minutes.
Preheat oven to 350˚F. Brush rolls with beaten egg and water mixture to glaze, then bake 35 to 40 minutes, until golden.
Set loaves aside to cool on a rack before slicing. Makes 2 loaves (may be frozen).
Tip: To make a round or rectangular nut bread, divide the dough into two pieces then roll each into a large, thin rectangle, about 12 by 24 inches. Spread each with half of the walnut filling. From the long side, start rolling into a tight jelly roll. You'll have two rolled "snakes," each about 2 feet long. Form the rolls into coils on a parchment-lined baking sheet or fold them back and forth onto themselves in buttered bread pans. Cover and allow the loaves to rise again, about 30 to 45 minutes longer. Brush the loaves with a little beaten egg and water to glaze the tops. Bake at 375˚F for 35 to 40 minutes, until nicely browned. Remove loaves from pans and cool well before slicing.
---
DARK CHOCOLATE HAZELNUT TRUFFLES
These simple truffles, loaded with toasted hazelnuts, are a holiday favourite in our family — a recipe from my old friend Bonnie Stern. Just make sure to start with the best dark chocolate.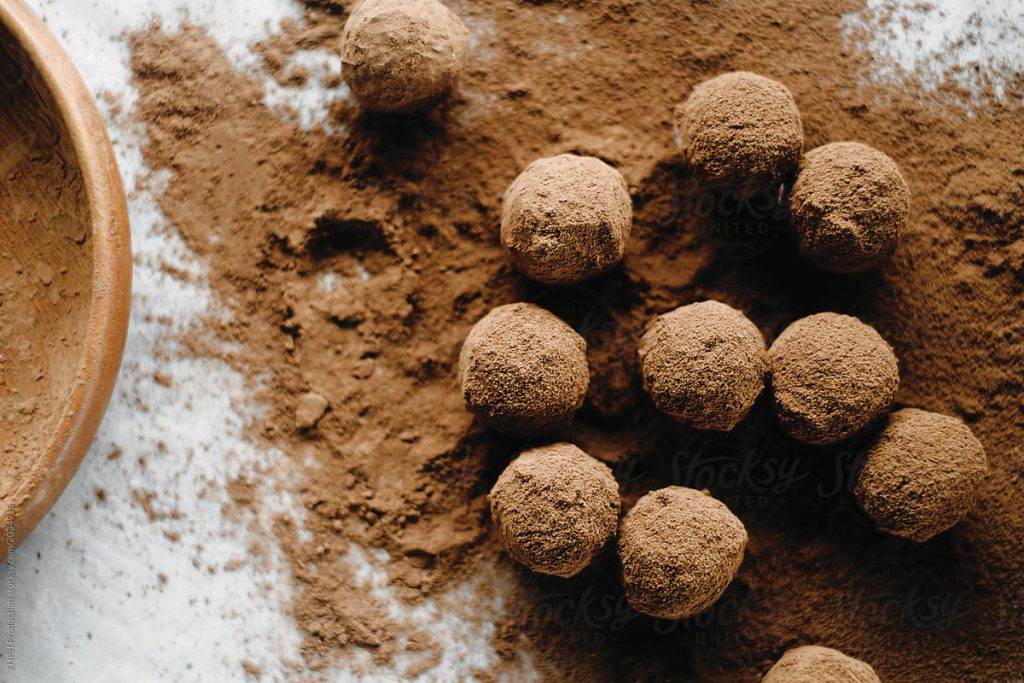 • 1/4 cup granulated sugar
• zest of 1 orange
• 1 cup shelled hazelnuts, toasted and skins removed
• 12 ounces good-quality bittersweet chocolate (Valrhona, Callebaut or Rogers')
• 1/2 cup unsalted butter
• 3 tbsp orange-flavored liqueur or brandy (Cointreau or Grand Marnier)
• 1/2 cup Dutch-process cocoa powder
In a food processor, combine the sugar and orange zest and process until finely minced.
Add the hazelnuts and pulse until the nuts are finely ground.
Chop the chocolate and put it in a small glass bowl with the butter. Microwave on medium power for 1 minute, stir, then continue to microwave, a minute at a time, stirring until the chocolate is melted. Add to the food processor along with the liqueur and whirl to combine.
Put the truffle mixture into a bowl, cover and refrigerate until firm.
Place the cocoa in a shallow bowl. Scoop out the truffle mixture and roll into small balls. Roll each ball in cocoa to coat on all sides, then set in a foil cup. Refrigerate or freeze.
Makes 50 to 60 truffles.
---