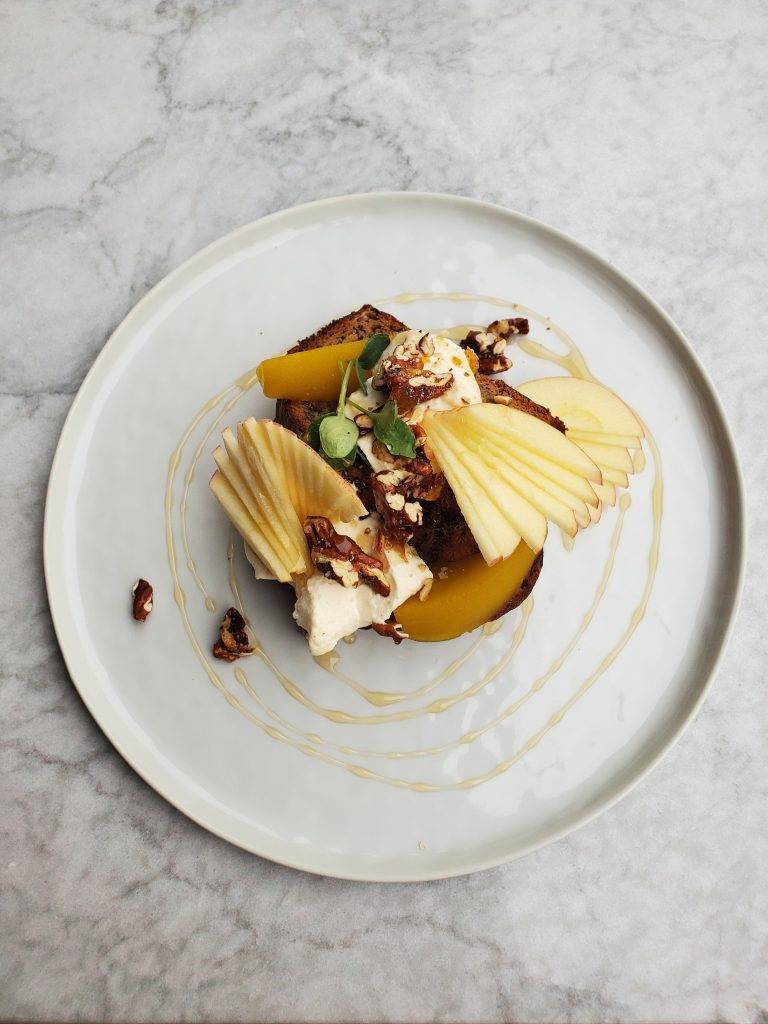 Who doesn't love banana bread? With its super-moist texture, buttery banana and brown sugar flavors, it's the perfect guilt free indulgence morning or evening.
Add a tender, fragrant poached pear, rich ricotta whip and candied pecans and you have a sumptuous dessert.
Owner of Bear and Joey, Peter Wood, loves this fun take on banana bread: "I like it as it's simple and a fun twist on a classic! Adding a couple of different textures, take a 'regular old' banana bread and make it interesting."
(makes 5 portions)
Banana Bread
1 rectangle loaf tin
4 over ripe bananas
76g butter room temp
213g brown sugar
2 eggs
5g baking soda
5g baking pow
3g salt
246g ap flour
In a kitchen aid using the paddle attachment, add the butter and sugar and whip for 10 mins on medium speed. Turning down the speed to low add the eggs and whip on low for 2 mins. Peel and add the banana. Whip till the banana breaks down. Add the flour, baking soda, baking pow and salt and only mix until the flour has incorporated into the wet mixture. Don't over mix. Put the mixture in a parchment lined tin and bake at 325f for 35-40 mins. Check with a skewer to see if it comes out clean before removing from the oven. Rest in the tin for 20 mins. Then on a cake rack till cool.
Poached Pear
3 pears
300g water
10g sugar
1 lemon zest
1 lemon juice
1pepper corn
2g salt
1 pinch nutmeg
1/4 teaspoon turmeric pow
In a pot bring the water, spices, lemon, sugar and salt to a boil and turn off. Peel the pears and take out the cores, cut the pears from top to bottom into 12 equal slices and put into the liquid. Turn the heat back on low and simmer till a small knife can skewer the pear and its soft. 10-20 mins. Set aside for later.
Ricotta Whip
300g whipping cream
175g ricotta
In a kitchen aid, whip the cream and ricotta till stiff peaks. Set aside in the fridge for garnish
Candied Pecans
150g pecans toasted lighlty
75g white sugar
1 small metal pan with parchment lined
Put the sugar into a pot with a touch of water. Mix enough so its all wet. Boil the sugar into a dark caramel. Off the heat quickly add the pecans and stir with a metal spoon very quickly so the caramel coats all the pecans. Quickly remove from the pot and spread out over the sheet pan. Cool for ½ hour. On a chopping board, chop the pecans till desired texture. Not too large or you might break a tooth on the hard toffee.
Assembling
Slice the banana bread loaf into 10 equal slices. Toast under the grill in the oven. Serve 2 slices of banana bread on a plate. Warm the pears back up if needed on low so they don't explode. Serve a few slices on the banana bread. Place two dollops of ricotta whip on top and sprinkle with the chopped pecans. Can add a few slices of apple and banana and a drizzle of honey for colour and presentation.