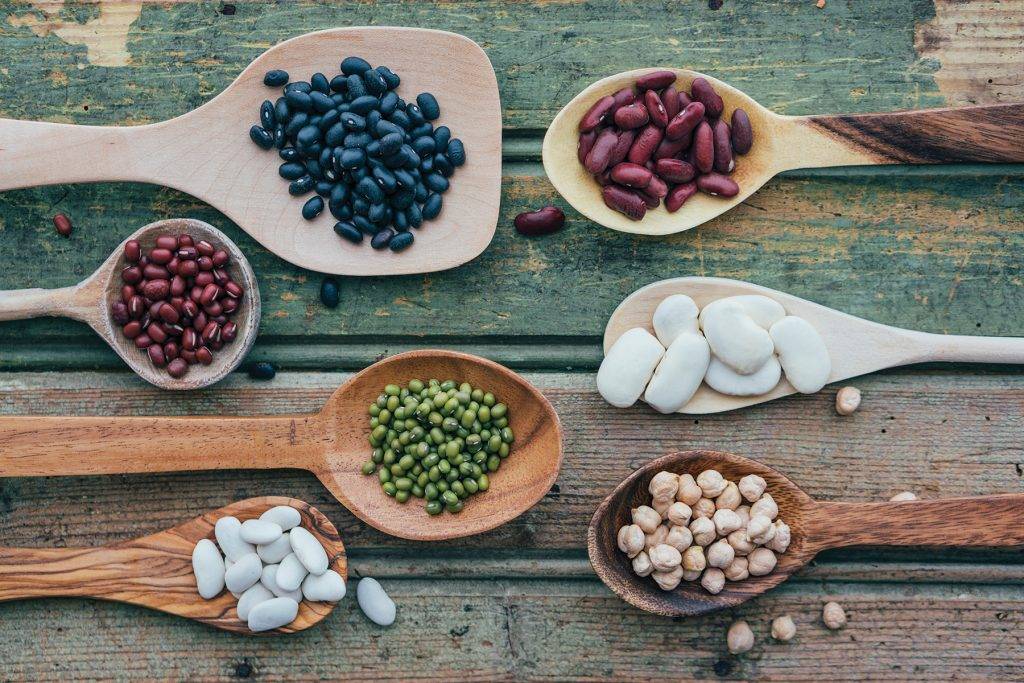 BY CINDA CHAVICH
The Bean Eater (Il Mangiafagioli) is a famous Italian painting, Annibale Carracci's snapshot of a day in the life of a 16th century Tuscan peasant. The image is simple — a man digging into a bowl of white beans, with a loaf of bread and jug of wine at his side. Though it's a rustic dish, it's still something you'll find on every table among "the bean eaters" of Northern Italy.
Beans were once considered peasant food in many parts of the world, an inexpensive source of protein that formed the filling backbone of everyday meals, from Italian ribolitta soup, scented with garlic and rosemary, to French cassoulet, a hearty bean dish studded with bits of savoury sausage and duck confit, to Indian dal and chickpea curries. Wherever meat was expensive or scarce, inventive cooks used legumes in hearty dishes that rose above their simple parts.
We are still enjoying these delicious dishes today. But there are more reasons than ever to embrace the humble bean.
Food prices in Canada jumped nearly five per cent in 2021 and may rise another seven per cent in 2022, adding nearly $1,000 to the annual family food bill. Choosing beans instead of animal proteins — at least part of the time — can save resources and stretch your food dollars.
Bean There
Canada is a world leader in legumes. We are a major producer of dried beans, peas, lentils and chickpeas, and the planet's largest pulse exporter, with 80 per cent of the crop sent around the world. Despite prairie droughts, Canadian farmers produced a 325,000-tonne pulse crop this year, and though prices may be a bit higher, beans are a bargain by any measure.
Pulses are a healthy, high-fibre source of plant protein and are considered a sustainable, eco-friendly crop. The plants pull nitrogen from the air and fix it in the soil, which means they don't require the high levels of fertilizers that increase the carbon footprint of other food crops. Pulse crops are very efficient water users, and, when farmed using zero-till methods, can also sequester carbon.
Most of these pulse crops are grown in Saskatchewan, Alberta and Manitoba, so are an important piece of the Canadian food sovereignty story, too.
Look for Canadian-grown dried beans in bulk food sections and at Middle Eastern grocers or buy unique heirloom beans from specialty suppliers.
For Good Measure has a good selection of bulk organic beans. Vancouver's Flourist (formerly Grain) buys grains and legumes, including pinto, black and navy beans, direct from prairie farmers, and literally puts these rural personalities on the packaging. If you can find heirloom or heritage bean varieties (like the ones grown by Rancho Gordo in Napa, California), cook them simply to taste the differences between varieties like black-and-white Orca beans, striped Tiger Eye, mottled red Jacob's Cattle and pale green flageolets.
You can even try growing your own heirloom beans to dry them for storage. Plant heritage beans from Salt Spring Seeds, West Coast Seeds or the Canadian heirloom bean specialists, Heritage Harvest Seed in Manitoba.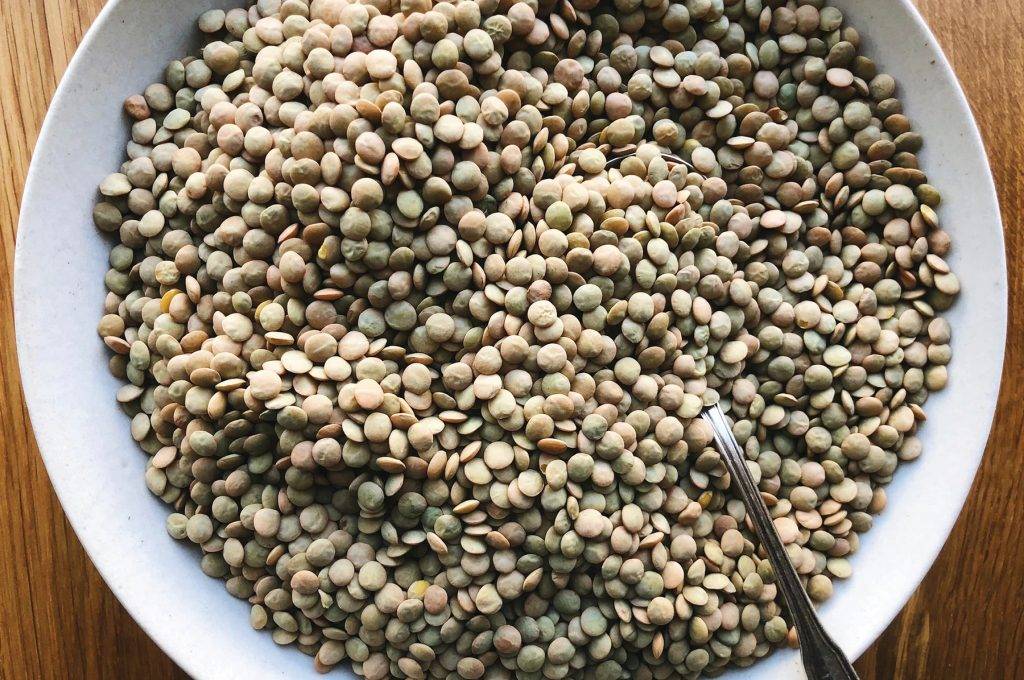 A Healthy Pulse
Beans, lentils and chickpeas are not only healthy for the planet, but they are also gaining popularity as health-conscious consumers move to plant-forward diets.
Whole pea, bean and chickpea flours can be incorporated into various food products, ranging from burgers to pasta, offering vegetarian and gluten-free options, or can replace at least part of the meat in everyday dishes, stretching the budget and boosting healthy fibre.
That's another way to look at beans, even if you're not a strict vegan. Combining ground meats with beans makes healthy, high-fibre burgers. A cassoulet or traditional bean soup may be seasoned with small amounts of ham or duck confit, but it's the beans that do the heavy lifting, producing a rich, savoury, filling dish with far less animal protein.
Or you can choose a classic Indian lentil or chickpea curry that's completely meat free.
Pulses have twice the protein levels of grains, and when combined with grains provide a complete protein, along with micronutrients and high levels of soluble and insoluble fibre. Eating pulses can decrease your cholesterol and blood pressure, while high-fibre beans, with their slowly digestible starches, help manage blood glucose levels.
And because they're low fat and filling, beans may even help with weight loss.
Cooking Beans
While it's easy to make any bean dish with canned beans, if you cook them from scratch, you'll be rewarded with flavourful beans that have firm skins and the kind of "bite" that creates a superior result.
I experimented with cooking many different types of beans from scratch while writing 225 Best Pressure Cooker Recipes, and found pressure cooking speeds up the process considerably and results in lovely, toothsome beans that can be precooked and frozen for convenient use later.
Dry beans don't need to be soaked overnight, but it will reduce their cooking time, especially if your beans are older, and will help to keep their skins intact. Try to buy beans from a grocer that has high turnover — you'll be rewarded with fresher, tastier dried legumes.
To speed up the soaking process, cover beans with lots of water in a saucepan, bring them to a boil, then cover the pot and set it aside for an hour to soak. A similar trick can be done using a stovetop pressure cooker or Instant Pot. Just bring the beans and water up to full pressure, then remove from heat and let them stand until the pressure drops.
Then you can cook your beans — usually for about an hour on the stovetop or 20 minutes in the pressure cooker — with aromatics such as garlic, onions and herbs, a ham bone or a classic mirepoix or sofrito, and have them ready to eat or add to any dishes you like. (The starchy cooking liquid is delicious, too.)
Season the cooked beans well with salt and pepper and let them cool in the cooking liquid to soak up the most flavour.
To season the cooked beans for a side dish, add a chopped chipotle chili in adobo sauce and some cilantro for a Latin meal. Or stir fresh chopped herbs like rosemary, thyme, or basil and parsley, with a little garlic and butter or cream, into a pot of tiny French flageolets.
Plain, precooked beans will keep in the refrigerator for a week or can be packaged and frozen, ready to use in salads, soups and other bean dishes. A pound of dried beans (about 2 cups) yields 6 cups of cooked beans, equivalent to three large
540 mL cans.
If you plan to purée your beans or chickpeas for a recipe, canned products are fine. Just make sure to rinse away the salty liquid in the can, then proceed with your recipe.
A World of Beans
Old-fashioned chili, baked beans and pea soup are classic Canadian traditions, but there are so many different cuisines to explore when you start cooking with legumes.
Beans offer a blank slate for assertive herbs like rosemary and sage. Smoky bacon and ham add flavour and fat to many classic bean dishes and soups, while bits of other rich proteins (think duck, lamb shoulder or pork sausages) are perfect partners for beans and lentils.
Hummus may be the easiest way to serve chickpeas — simply puréed with olive oil, garlic, lemon juice and tahini (sesame paste) to scoop up with pita chips. In Greece, giant gigantes beans are cooked with olive oil, garlic, dill and tomatoes for a rich, satisfying, meat-free meal.
Chilies and spices are essential additions to curries, dal or Mexican bean dishes. Black beans are combined with pork in feijoada, a classic Brazilian dish, and in the Caribbean, it's red beans and rice with coconut milk, chilies and thyme.
Of course, baked beans on toast make a simple supper across the U.K. and, in Canada, white beans are traditionally baked with maple syrup.
As Deepak Chopra reminds us, eating less meat "offers us a path toward a more ecological, sustainable, humane and compassionate world." And bean cuisine is a great place to start!
---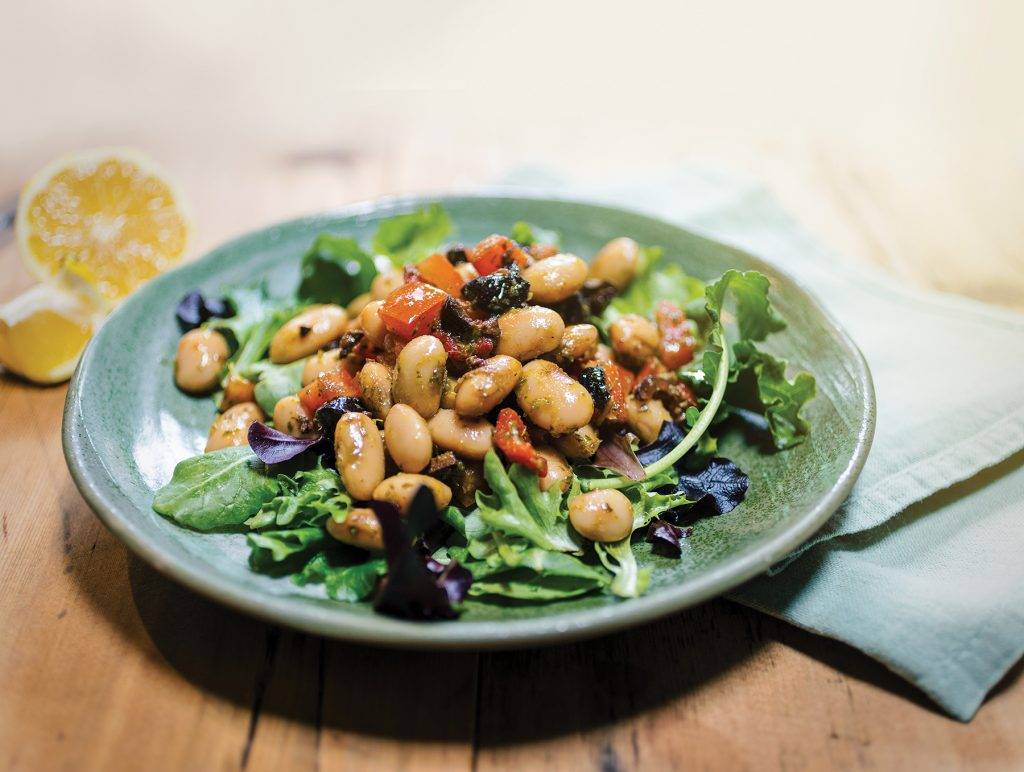 Warm Gigantes Bean Salad
I discovered these giant white beans — as big as your thumb — while on a press trip to Greece. Look for them at Greek or Mediterranean grocers or substitute large cannellini or lima beans. You can also substitute canned white cannellini beans in this Mediterranean salad, but they won't have the lovely bite of beans cooked from scratch.
•1 cup dry gigantes beans (or other large white beans)
•2 Roma tomatoes, seeded and chopped
•1 to 2 roasted red bell peppers, chopped (jarred is fine)
•1/3 cup air-cured black olives, pitted and chopped
•1/4 cup extra-virgin olive oil (preferably Greek)
•Juice and zest of 1/2 a lemon (about 1 teaspoon of minced zest and 2 tablespoons juice)
•2 tablespoons basil pesto
•Salt and freshly ground black pepper, to taste
•Optional: Sturdy mixed greens like romaine, kale and/or arugula
Cook the beans. Start by soaking the beans overnight in plenty of cold water or use the quick soak method. (Cover with water, boil and then set aside for 1 hour.) Drain the beans and place them in a saucepan or pressure cooker. Add cold water to cover them by 2 to 3 inches. Boil until tender (about 1 hour) or pressure cook at high pressure for 12 to 15 minutes, then allow the pressure to drop naturally. (This helps to keep the beans intact.) Drain beans well.
While the beans are cooking, combine the chopped tomatoes, roasted peppers, olives, olive oil, lemon zest and juice in a bowl. Stir in the warm beans and pesto. Season to taste with salt and pepper. Serve as a side dish alongside grilled meats or as a starter with mixed greens.
Serves 6.
---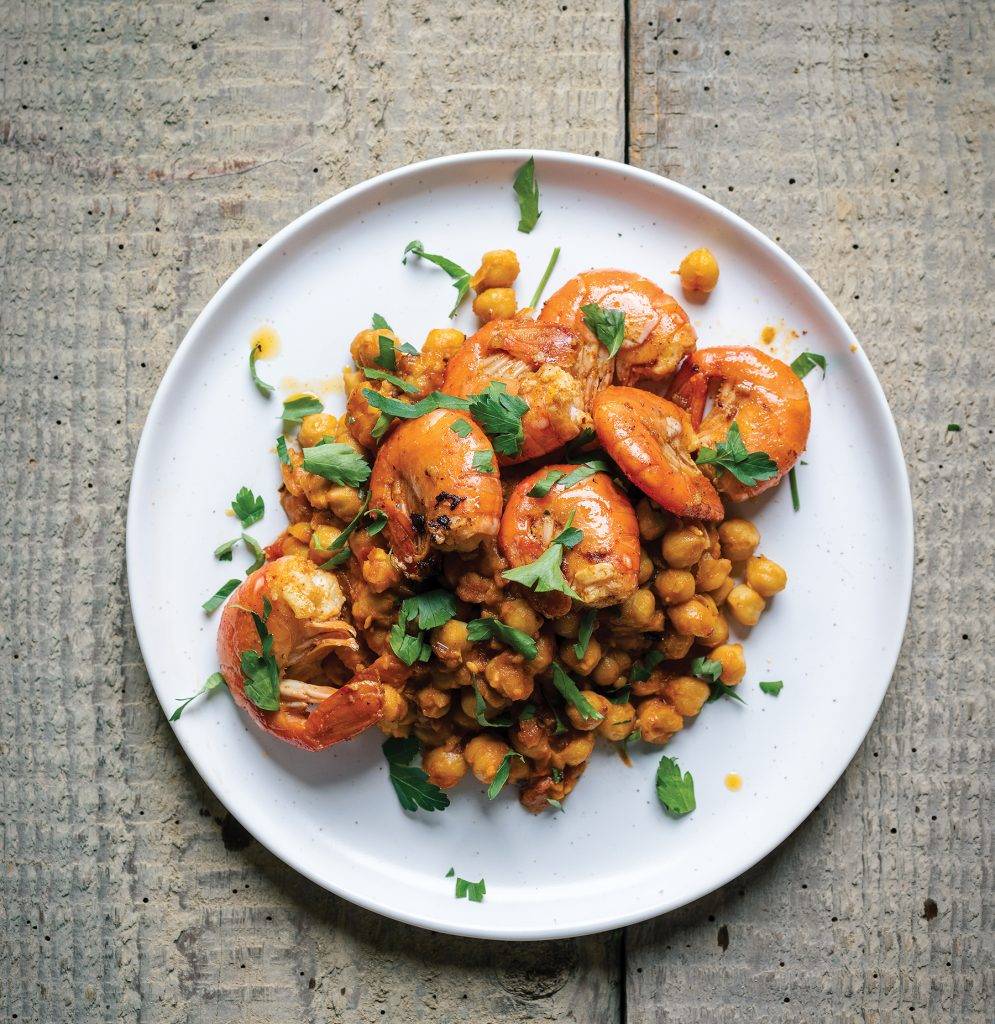 Spicy Garbanzos with Garlic Shrimp
This dish reminds me of traveling in Spain and the small, savoury dishes I enjoyed at the tapas bars in San Sebastian. I served this with roasted spaghetti squash and leeks for dinner, but crispy roasted potatoes or toasted baguette, brushed with olive oil, make classic sides, too. You can substitute a can of white beans for the garbanzos (a.k.a. chickpeas) for equally delicious results.
Shrimp:
•10 ounces large shrimp or prawns, shelled and deveined, if you prefer
•2 tablespoons olive oil
•1 teaspoon smoked paprika
•2 garlic cloves, crushed in a garlic press
Garbanzos (Chickpeas):
•3 tablespoons olive oil
•2 cloves garlic, chopped fine
•1/2 teaspoon crushed dried chilies or Aleppo red pepper flakes (or more to taste)
•1 fresh bay leaf
•1 1/2 cups chopped fresh or canned tomatoes
•1 tablespoon tomato paste
•1 (540 mL) tin chickpeas (or white beans), rinsed and drained
•1/2 cup chicken broth
•Salt and pepper, to taste
•1 tablespoon chopped Italian parsley
In a bowl, combine the shrimp, olive oil, smoked paprika and garlic and set aside.
In a small ovenproof sauté pan, heat the oil over medium high heat. When it's sizzling, add the garlic and chilies and cook for 30 seconds.
Add bay leaf and tomatoes to the pan and cook until the tomatoes break down, about 5 minutes.
Add the tomato paste and stir until it starts to darken, then stir in the chickpeas.
Add the broth, bring to a boil and simmer until the liquid has reduced and the mixture is thickened. (Crush some of the beans slightly for a thicker sauce.) Season with salt, pepper and more chilies, to taste.
Arrange the marinated shrimp in a single layer over the hot chickpeas. Place the pan under a preheated broiler and cook the shrimp for 3 to 4 minutes, until just pink.
Remove and sprinkle with chopped parsley.
Serves 4 as a starter, 2 as a main dish.
---
Canadian Cassoulet
This variation on the classic dish from France's Languedoc region is made all-Canadian with back bacon, sausage, rye whisky and maple syrup.This version is not strictly authentic, but is similarly impressive.
Beans:
•1 1/2 cups dried flageolet,navy or other small white beans
•1/4 pound Canadian back bacon orsmoky side bacon, chopped
•4 whole cloves garlic, peeled
•2 bay leaves
•2 thyme sprigs
Sauce:
•1 lb boneless pork shoulder (or chicken thighs)
•1 tablespoon olive oil
•1/2 pound fresh garlic pork sausage
•2 carrots, chopped fine
•1 large onion, chopped fine
•2 celery stalks, chopped fine
•2 garlic cloves, minced
•1/4 cup rye whisky
•1 cup chicken stock
•1 cup chopped tomatoes (fresh or canned)
•1 tablespoon maple syrup
•1 tablespoon chopped fresh rosemary
• Salt and freshly ground black pepper to taste
Topping:
•1 cup dry breadcrumbs
•3 tablespoons olive oil
•2 tablespoons chopped fresh parsley
•2 garlic cloves, minced or pressed
•Salt and freshly ground black pepper to taste
Soak beans overnight in cold water or bring beans and water to a full boil, cover, remove from heat and let them quick soak for an hour before cooking.
Drain the soaked beans and return to the pot. Cover with 6 cups of water. Add the bacon, garlic, bay leaves and thyme. Bring to a boil. Cover, reduce the heat to low and simmer until tender, about 1 to 1.5 hours (or pressure cook 20 minutes).
Meanwhile, cut the pork into 1- to 2-inch pieces, removing any visible fat. In a Dutch oven or large heavy-bottomed pot, heat the olive oil over medium-high heat and brown the pork pieces. Remove the pork and set aside. In the same pot, brown the sausages. Remove the sausages, slice, and set aside with the pork.
Add the carrots, onions, celery and minced garlic to the pot and sauté until soft, about 5 minutes. Pour in the whisky to deglaze, stirring up any browned bits and reduce by half, then add the stock, tomatoes, maple syrup, and rosemary. Bring to a boil, return the browned pork and sausage to the pot, then cover, reduce the heat to low and simmer for 1 hour or until the meat is tender.
Drain the beans, retaining the cooking liquid and bacon. Discard the herbs and bay leaves. Assemble the cassoulet in a deep earthenware casserole dish or heavy enameled roasting pan.
Layer the cooked beans and meat sauce, starting with 1/3 of the beans and 1⁄2 of the sauce, then repeat, ending with a layer of beans. Add enough of the reserved bean liquid to the dish so you can just begin to see it through the top layer of beans. (If making ahead, the dish can be prepared to this point, covered, and refrigerated for up to two days.)
To finish, combine the topping ingredients and sprinkle evenly over the cassoulet. Bake in a preheated 350°F oven for 1 hour until bubbly and nicely browned. Serves 6.
TIP: Any leftover cassoulet makes almost instant Pasta Fazool — just boil 1 to 2 cups of short pasta until tender, drain (reserve some of the salted cooking water), then stir in the beans and simmer with enough cooking water to make a sauce, and serve topped with shards of Parmesan.