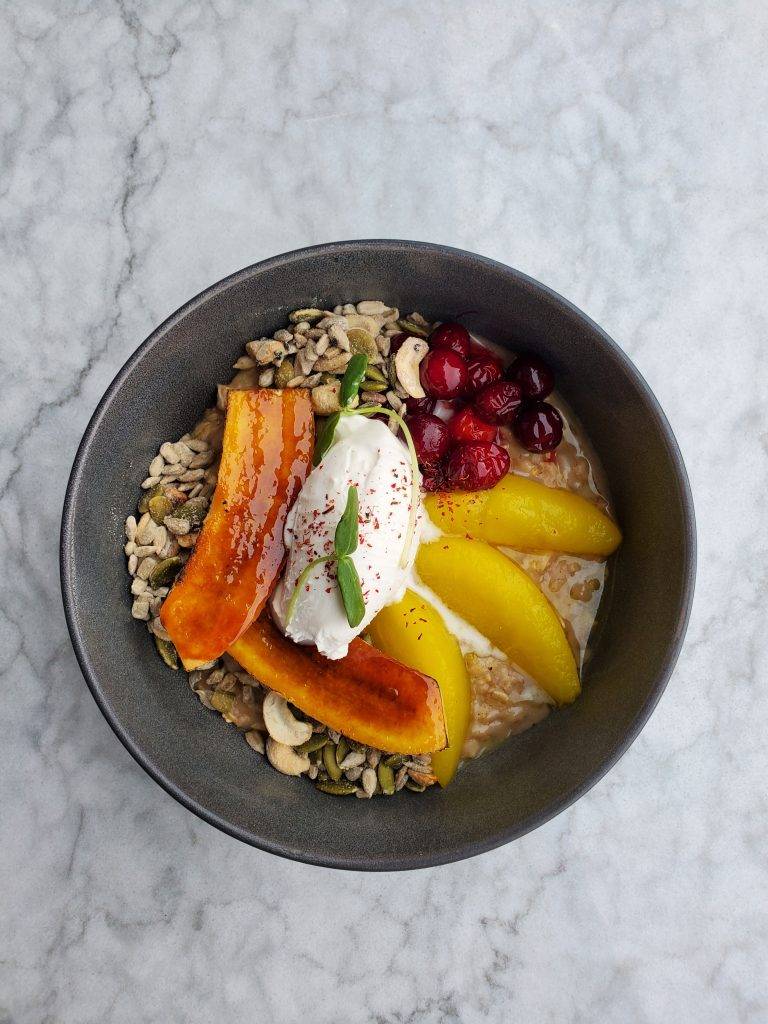 This cold-weather friendly dish puts a fresh spin on a trusted staple: porridge!
Dress up your grains with more nuanced and decadent flavour, colour and texture by adding fragrant poached pears, stewed cranberries, crunchy brulee banana and toasted cashews.
"The porridge is one of our most popular dishes and feels like a big hug from mum," says owner of Bear and Joey Peter Wood.
Makes Four Servings
This recipe calls for a base of oats (though you could substitute for a different grain or legume) infused with your pantry's most comforting spices. The porridge is topped with a wide array of heart-warming and flavourful ingredients including stewed cranberries, turmeric-poached pears, bruleed-banana, toasted cashews and your choice of nut butter (sunflower butter comes highly recommended!).
First things first: let's prep some of those toppings!
1. Poached Pear
300g water
100g sugar
30g lemon juice
½ a lemon's worth of zest
¼ of a cinnamon stick
2 pc whole peppercorn
2g salt
1 pinch nutmeg
⅛ teaspoon turmeric
2 pears
Bring the sugar, lemon, spices and herbs, salt and water up to the boil in a pot, then reduce heat to low. Peel the pears and cut into them quarters, taking out their core. Once prepped, put the pears in the liquid and simmer for 20 minutes. Using a small knife, skewer one pear and check that it is soft. Take your pears off the heat and let rest.
2. Stewed Cranberries
102g fresh cranberries (use about one third of 12 oz. pack of cranberries)
15g lemon juice
30g white sugar
Boil the sugar and lemon, and quickly add the cranberries. Stirring non stop for 2 – 6 mins with a metal spoon (as to not crush the berries), keep coating the cranberries as they stew gently on medium heat. Medium heat (not high) helps to retain the cranberries' texture and ensures they don't all burst into a mush!
3. Porridge
540g water
90g raw oats
90g toasted oats golden
40g brown sugar
5g salt
1g ground cinnamon
1g ground nutmeg
1g ground clove
1g ground star anise
1g ground cardamom
1 tbsp coconut cream
As your cranberries stew, begin the pièce de résistance of this porridge extravaganza. Boil water with sugar, salt and spices. Add in oats, and stir the mixture together thoroughly. Reduce heat and cook for 5-10 minutes, stirring occasionally so you avoid a burnt oat-bottom. Add in coconut cream for extra creamy delicious.
4. Brulee Banana
We're almost finished with the toppings! Slice 2 bananas in half lengthways. Put on a metal pan flat side facing up. Sprinkle with a little sugar. Burn with a food grade blow torch till the sugar caramelises and goes dark golden brown. Be carfefull handling as the burnt sugar will be incredibly hot.
5. Toasted Cashews
4 tbsp cashews
4 tbsp mixed seeds (think: pumpkin, sunflower, hemp, chia, sesame, etc.)
Spread nuts and seeds out on a medium bake tray, and toast in the oven at 325° for 5 mins till golden brown.