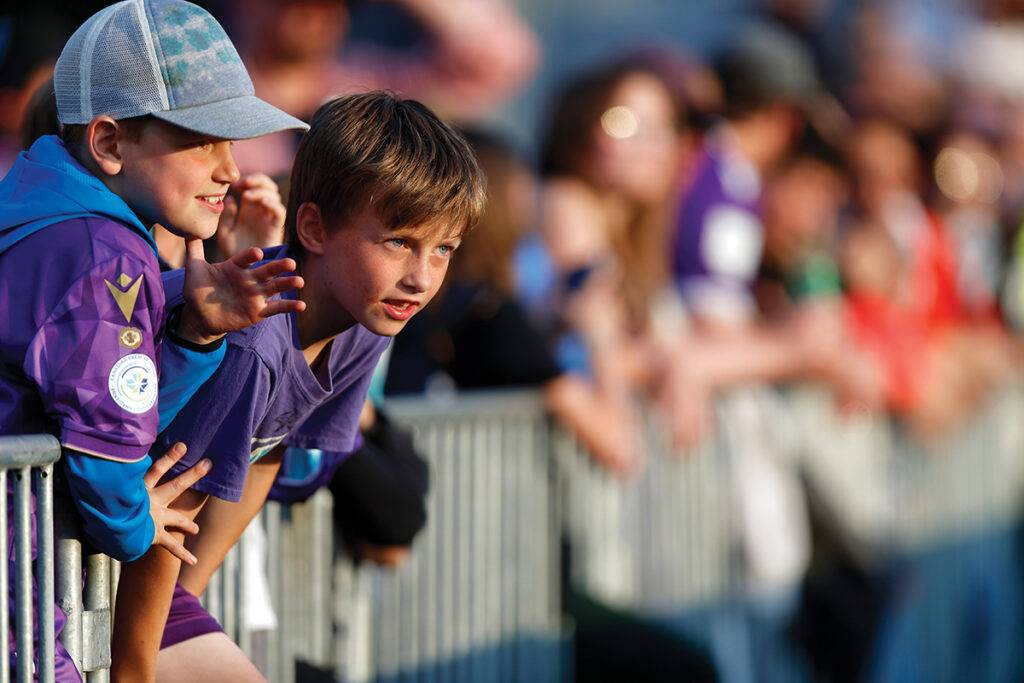 BY JOANNE SASVARI | PHOTOS BY KEVIN LIGHT
"Georges! Georges! Way to go, Georges!" It's the very first game of the season, Pacific FC vs. Vancouver FC, and the kids around me are so excited, they're bouncing around like overinflated soccer balls. Their hero, the defender Georges Mukumbilwa, is right there, only a few metres in front of us, so close you can see his dreads bouncing and his quads flexing and hear his teammates shouting "Go, go!" as he runs, fast as the wind, down the pitch.
The action on the field is thrilling, but the scene in the stands is almost as entertaining. There are fans young and old, male and female, from a multitude of cultures, almost every one of them wearing a purple-and-teal PFC scarf or jersey or ball cap, many of them in the Indigenous formline jersey designed by the artist Maynard Johnny Jr. There are drums and horns and the thunder of people stomping on the bleachers at Starlight Stadium here in Langford. When the ref makes a bad call, the crowd shouts at him in Spanish and Dutch and Portuguese as well as English. But really, they are all speaking the same language.
That's the power of soccer, the world's only truly global sport.
Professional soccer is still new to Victoria, but this city has fallen in love with the team, and the team loves the city right back. "Being able to play professionally in your hometown is a very rare thing and it's something I'm extremely grateful to do," says team captain Josh Heard. "At our home games, I look to the crowd to see past coaches, teachers, family and friends and it gives me that extra bit of motivation to perform. Having the support of the soccer community that I grew up in is very special and you can feel it when we play at Starlight Stadium."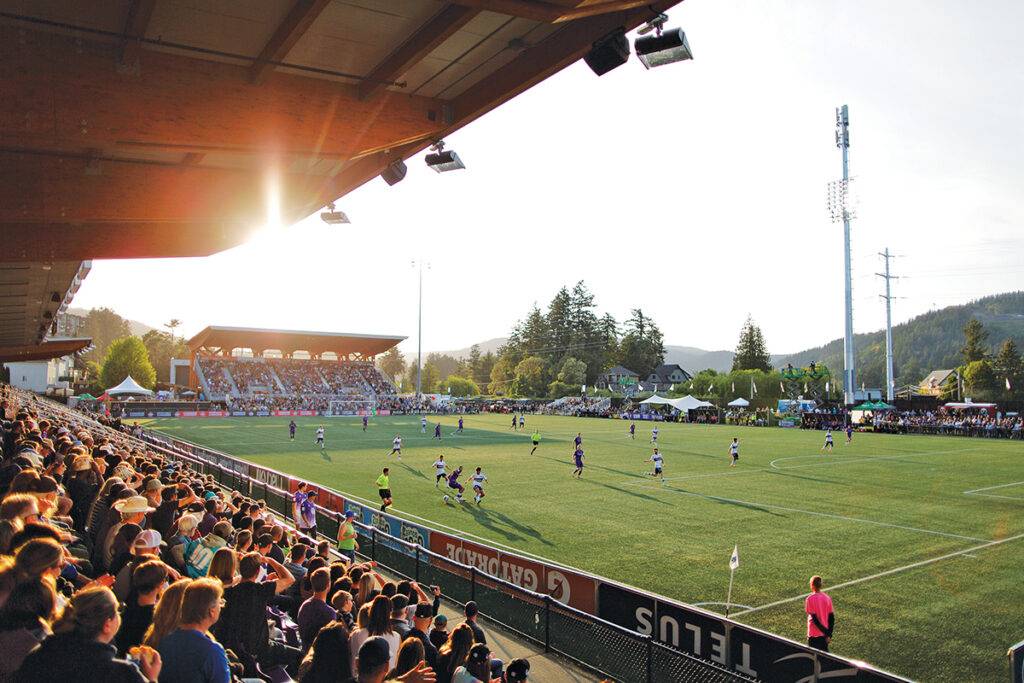 And it's not just about winning or losing or shiny trophies. "What attracts me to the sport is what you see in the stands," says Paul Beirne, Pacific FC's managing director. When your team plays, he says, there's a sense of identity, of shared emotion, of human connection that simply doesn't exist in any other aspect of life. "There's something metaphysical about it. It gives you goosebumps."
* Unless otherwise noted.
The Beautiful Game
It's only human nature to see a ball on the ground and want to kick it, to see how far it can fly.
We've been playing some sort of football game since ancient Mesopotamia, when the ball was actually a rock. But the game we know as soccer (or football, futebol or calcio, depending where in the world you are playing it) was born in 1863 when England's newly formed Football Association wrote down a set of rules for what had, until then, been a sort of "folk football."
"O jogo bonito," the legendary Brazilian player Pelé famously called it. The Beautiful Game.
Soccer is as simple as a sport can be: Two teams of 11 players try to manoeuvre a ball into the opposing team's net, using any part of their body except their hands and arms. No matter where on the planet you are, the rules are the same. It can be played anywhere, from official pitches to streets, gyms, parking lots and beaches, and the only equipment needed is a ball. Even shoes are optional. There is almost no barrier to entry; little wonder then that soccer has become the world's most popular ball sport.
"Football is the one sport that is everywhere and there is something special about that," Beirne says.
Professional soccer's governing body, the Federation Internationale de Football Association, estimates that about 250 million people around the world play football. FIFA also estimates that 1.5 billion people worldwide watched the 2022 men's World Cup final between France and Argentina. (Argentina won in a penalty shootout.) And fans should tune in this summer, starting July 20, when the women's World Cup kicks off in New Zealand and Australia.
Although Canada may still be a hockey country on a pro level, soccer is the country's largest and fastest growing participatory sport, with nearly a million active participants registered within Canada Soccer's 1,200 clubs. As Trisha Lees, the public relations expert for Pacific FC says, "Soccer is doing its own PR."
Now if Beirne and his colleagues have their way, Canada is going to become a serious soccer contender, and that starts in places like Victoria.
Cool Colours
In 2018, Canada had a handful of soccer teams, including the Vancouver Whitecaps, members of the cross-border Major League Soccer. But it didn't have a national league, which meant it didn't really have a professional path for players to follow. Instead, they pretty much had to leave the country for training and work.
Enter Beirne and the CPL.
Beirne had already been involved in launching a couple of major franchises, pro basketball's Toronto Raptors in 1994 and MLS's Toronto FC in 2006, when he decided that Canada needed a league of its own. It took him three years to establish the Canadian Premier League; in 2018, he became its founder and first president. The timing couldn't have been better for an initiative designed to improve homegrown talent — in 2026, the men's World Cup will be held across North America, including, for the first time, Canada, with games planned for Toronto and Vancouver.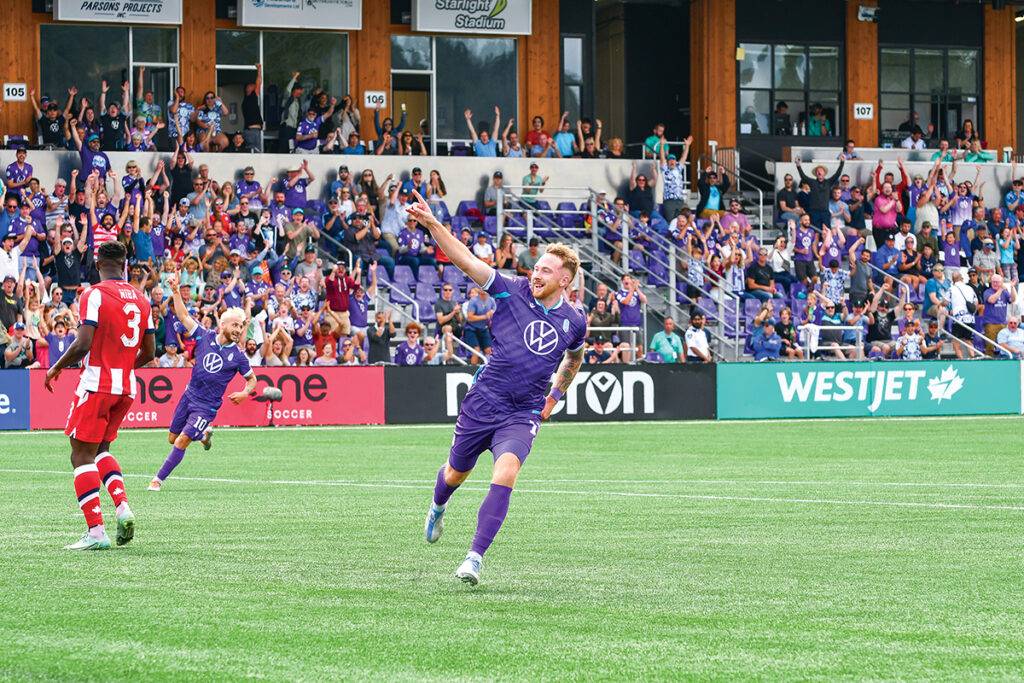 The CPL comprises eight professional men's teams from Vancouver Island to Halifax. On July 20, 2018, Pacific Football Club became the seventh team to join the CPL. Right from the beginning, the team had an enthusiastic following.
For one thing, fans loved the kit. The team's crest features a stylized Douglas fir, split into two segments, with the right side forming the shape of the Island. Its secondary logo is a roundel with trident; hence the nickname the Tridents. Both come in attractive hues of "starfish purple," "lagoon blue" and "lighthouse white."
For another thing, the team immediately began working with the community, supporting charities, connecting with schools, reaching out to First Nations, creating partnerships wherever they could.
The games quickly became a place where everyone felt at home, even, or maybe especially, newcomers to Victoria and Canada. "When you come to our games, you see old Victoria for sure, but you also see new Victoria," Beirne says. After all, he points out, "Canada is a country of immigrants and everyone is from a football-playing country."
Much of the credit goes to the owners, themselves former soccer players who left Canada to play professionally. Rob Friend, originally from Kelowna, played in Germany's Bundesliga. Josh Simpson, who grew up on the Island, played in Germany, Turkey and Switzerland. Now they are giving Canadian players the opportunity to stay and play right here at home.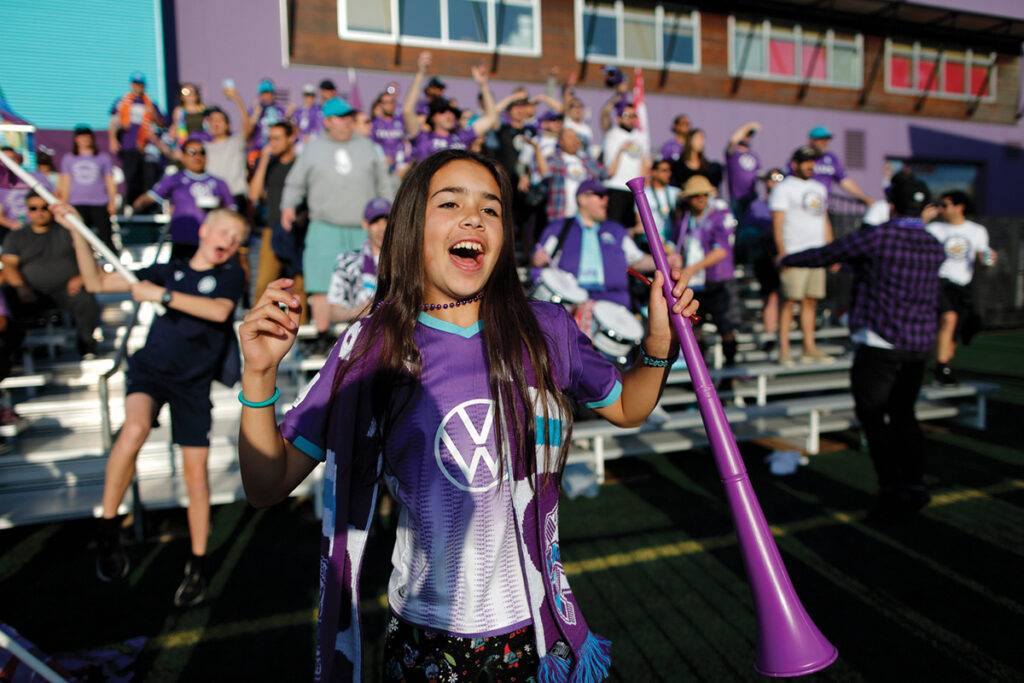 A Positive Platform
Beirne, who moved to Victoria from Toronto last fall, talks a lot about the outsized platform sports has, about using it to do good and about making Pacific FC a "purpose-driven" club. He talks, most of all, about what they can do for youth. "There's an ethos in the team from top to bottom for creating a platform for young players," Beirne says. "People on the Island care about the future and they care about kids, and they are concerned about the future we are leaving them. How do we harness this army to positively affect the future?"
By the time he joined the club, it had already done a lot of good things, he says. The Maynard Johnny Jr. jersey, for instance, created a link with Indigenous communities and set a standard for inclusion and diversity. That work continues; Johnny is designing another jersey for 2024, and PFC just donated a five-a-side pitch to WSANEC School Board in Brentwood Bay, for the youth of the Tsartlip, Pauquachin, Tseycum and Tsawout Nations.
PFC is also determined to use that outsize platform to help young people be better prepared for a thriving future, both physically and mentally. "The commitment to youth has been in our DNA from the beginning," Beirne says. "The difference now is we have a focus. We're a professional sports organization and everything we do is about physical activity. The more you are outside and running around in the fresh air, the less time you are spending in front of a screen. And that has to be good, right?"
Among their initiatives: working with partners to fund, design and deliver school programs that go beyond the traditional "meet and greet, high five"; hosting theme-driven games that promote inclusivity on, for instance, Pride Night and Orange Shirt Day; partnering with Help Fill A Dream Foundation to support families in need; supporting some 450 kids across Vancouver Island in the Trident Development program; operating the Island Training Centre, home to the VI Wave program comprising six girls' and six boys' teams.
"We started strong," Beirne says, "and we're just getting started."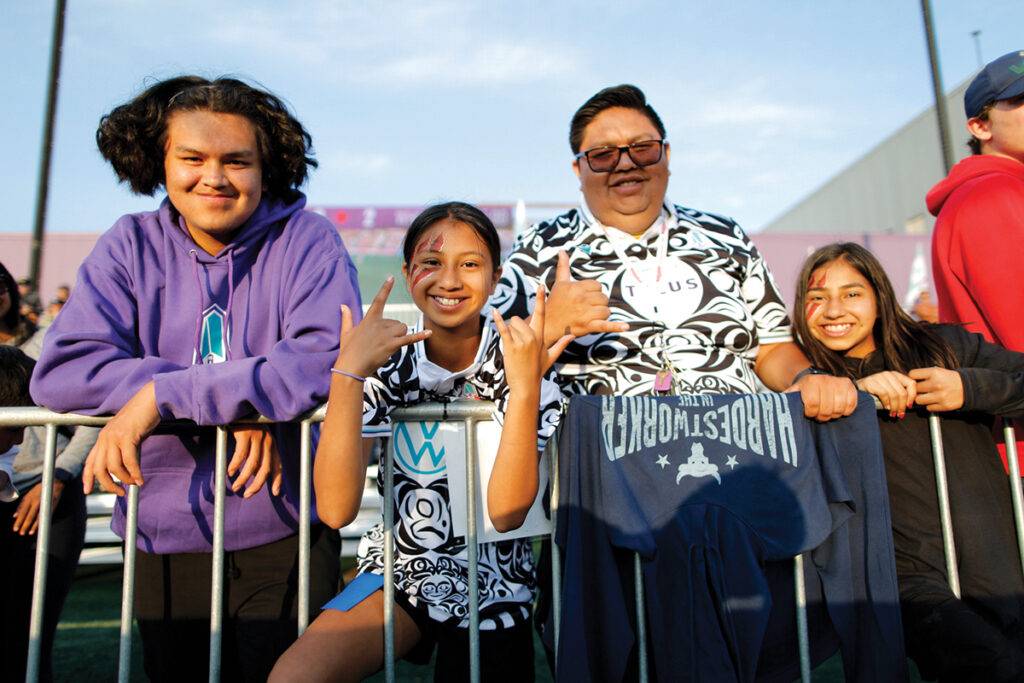 Cheers and Chants
It's another summer night and it's a sea of purple and teal here at Starlight Stadium, from the overflowing beer garden to the long, long lineup for mini-doughnuts to the supporters' groups in the bleachers at the far side of the stadium, where the Lake Side Buoys and Torcida Organizada Pacifica wave giant flags and sing and bang drums, and a little girl on a megaphone leads chants for the Lakeside Kids.
But they're not the only ones cheering as midfielder Manny Aparacio appears seemingly out of nowhere to make a shot on goal, or as defender Kunle Dada-Luke slides gracefully across the turf in a determined tackle, or as the goalie, Emil Gazdov, plucks the ball from mid-air. When Heard walks off the pitch in the last minutes of the game, someone calls out, "Josh Heard, you're my hero!" and the stands erupt
in applause.
Now that really is beautiful.