By Linda Barnard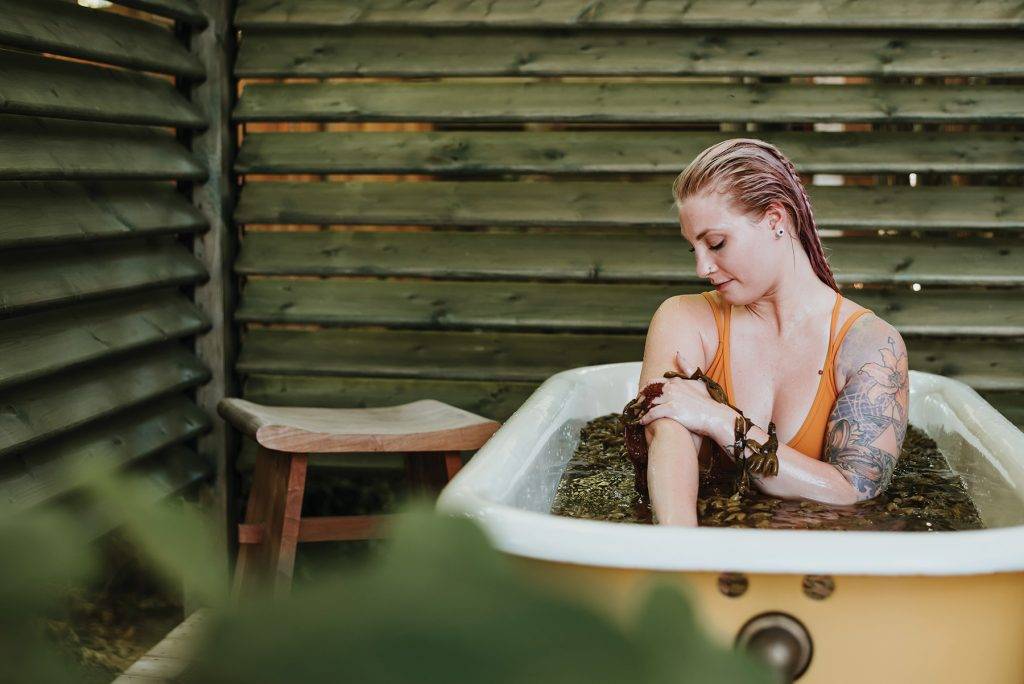 Mermaids have the right idea, I thought, relaxing in an outdoor tub filled with pleasantly hot water scattered with colourful seaweed.
My seaweed bath, experienced at Avacena in Qualicum Beach, smelled pleasantly of the ocean and the essential oils added to the water. The cool strips and pods of green, brown and purple seaweed were slippery, soothing and fun to play with, especially the crab-claw-shaped bladderwrack, which, when popped, released a cool gel for a face mask . The bumpy surface on the purple Turkish towel seaweed did double duty, exfoliating and moisturizing.
Afterward, my skin felt smooth and tight. There was also a good night's sleep to follow; vitamin and mineral-rich seaweed also contain melatonin.
Thalassotherapy — skincare using seaweed, marine mud and sea water — is an ancient practice that's a modern skincare darling. Scientific research shows nutrient and mineral-packed seaweed promotes healthy skin and body, inside and out.
Luckily for us, we're surrounded by seaweed on Vancouver Island, a massive ocean garden that's home to about 650 species.
We can experience this seaweed in many ways, from trying luxe skincare products and relaxing spa treatments to using locally harvested, dried seaweed for at-home treatments and baths.
Avacena owner and "curator of seaweed experiences" Liz Glowacki has been fascinated with seaweed for its natural beauty properties and effectiveness since she discovered it calmed her eczema.
She started Avacena in 2019, creating a backyard spa with a pair of bright yellow clawfoot bathtubs on a sheltered deck, overlooking her garden. The baths are open April to October.
Glowacki studied with marine biologist and long-time seaweed harvester Amanda Swinimer of Dakini Tidal Wilds, a Shirley seaweed expert dubbed the "mermaid of the Pacific."
Glowacki gathers seaweed at low tide. After a storm, she finds large pieces of seaweed on the beach that have torn from their holdfasts in deeper water. She dries the seaweed for future use.
The waters from northern California to Alaska make up the greatest cold-water seaweed diversity anywhere in the world, says Swinimer, who has been sustainably harvesting seaweed from Sooke-area beaches with Dakini Tidal Wilds since 2003.
"I love this mysterious hold [seaweed] has on beauty," says Swinimer. "They've been used for thousands of years to promote beauty, promote health, promote vitality, promote a strong constitution."
The seaweed she harvests is a favourite with chefs. It's also used for body care. She sells packages of dried winged kelp and bull kelp on her website, as well as Mermaid's Shake — flaked dried kelp to sprinkle on food or bloom in a small dish of fresh warm water to use as a masque or body wrap. Toss a piece of dried kelp in a hot bath for health and relaxation, she says, or soak it and wrap it around a pulled muscle, secured with a tensor bandage for pain relief.
"We're absolutely just scratching the surface," Swinimer says. "I started my business 19 years ago, and at that time, I was only selling seaweed to health food stores, and people were mostly eating it to get the health benefits."
Coastal First Nations people have used seaweed in many ways for generations, including for food and health. It was a prized trade item, Swinimer says.
Today, as the protective benefits of seaweed become better known and scientifically proven, it's become a hot ticket, she says. Swinimer is especially excited about studies exploring fucoidan, found in some brown seaweeds, for its anti-cancer properties.
Seaweed enhances immunity and prevents diseases associated with aging, including cancer, Type 2 diabetes and cardiovascular disease, says Swinimer. It even protects the skin from harmful UV rays, whether it is applied or eaten.
It's a nutritional powerhouse and the planet's most concentrated food source of minerals, many of which can be absorbed through the skin. Beneficial seaweed gets into our bodies very effectively.
Keeping it Natural
Sooke-based Seaflora Skincare makes small-batch face and body products from nine varieties of seaweed, hand-harvested around Sooke and up the coast by company CEO Adam Butcher. His father, marine biologist George Butcher, occasionally pitches in.
Seaweed is the first ingredient listed on Seaflora products, an indication that it is the primary ingredient.
Butcher's mother, local seaweed pioneer 
Diane Bernard, started the company 22 years 
ago, harvesting seaweed for local chefs. 
Dismayed that some beauty companies were selling skin care products made with heavily processed, bleached and powdered seaweed, Bernard decided to make her own products with raw, locally harvested seaweed.
"It matters how the seaweeds are processed because you want to keep the fibres in; you want to keep the vitamins and the minerals and all the compounds intact," Butcher says.
Butcher and Seaflora sales and marketing manager Chantelle Line took me on a seaweed education walk along a Sooke-area beach at low tide to show me the rich variety of seaweed there.
Based on what you see (and smell) on beach walks, you may think of seaweed as stinky and slimy. It's neither. Fresh, healthy seaweed smells like the ocean, says Butcher. It's pleasantly slippery, not slimy.
"Seaweed is in beauty products because it gives your body everything it needs to slow the aging process, to detoxify," Line says, adding the alginate in seaweed soothes and plumps the skin. We stopped to admire the iridescent sheen of rainbow seaweed, one of three seaweeds in Seaflora's Seaweed Bath, a home thalassotherapy treatment. The bag of dried seaweed, sea salts and aromatic essential oils comes with two reusable hemp bags to make a kind of tea in bathwater. Squeezing the wet seaweed in the bag releases a soothing gel to apply to the skin. The seaweed can be dumped in the garden as compost afterward.
Cumberland-area clinical herbalist Angela Willard, cofounder of Harmonic Arts Botanical Dispensary, has been studying seaweed for 15 years. She says while seaweed has been a popular food item on Vancouver Island, increasingly people are realizing it has many benefits when used topically.
Harmonic Arts' colourful Sea-Veg blend can be used in food or as a body treatment.
Hot water extracts seaweed's emollient alginate properties, Willard says. Let it warm up slowly for 15 minutes and apply to the skin. Willard also uses it as a masque to tame her frizzy hair.
Sustainable Self-Care
Oak Bay Beach Hotel spa manager Avneet Manchanda has been using seaweed treatments for clients since her days with a luxury hotel in Mumbai. She also uses seaweed at home as part of her body-care routine.
"Seaweed definitely has a lot of health benefits," Manchanda says, adding it has vitamins A, C, D and K, as well as zinc. "It helps in hydration, it is anti-inflammatory, it helps in increasing the collagen production, increasing cell growth."
I indulged in a one-hour Ocean Elements Body Ritual at the hotel's Boathouse Spa & Baths, which begins with giant kelp fronds harvested off Haida Gwaii. Fun fact: giant kelp is the fastest-growing organism on the planet, gaining as much as 60 cm a day.
The seaweed was soaked in warm water to plump up, then massaged along my body and left on my back, legs and chest. Cool glacial Canadian marine clay was applied next, followed by a luxurious massage with Pacific Seaweed Body Butter, both from Vancouver company Beauty Through Balance. An application of Green Tea Indian Spice Oil was the final relaxing element.
While Angela Willard is happy to see nutritious seaweed gaining ground as a healthy, organic skincare treatment, it needs to be harvested responsibly and sustainably.
"Anything that becomes a popular trend has the potential of being overused or misused in terms of how it's harvested and collected and gathered and even cultivated," she says. "As long as we've got a set standard of healthy practices for the environment and then also the social aspect of healthy businesses that are being created around seaweed, then I think, absolutely, it has a huge potential here."
Know your Colours
There are three main groups of seaweed: brown, green and red.
Brown seaweed, like kelp, has the most B vitamins and are best for tissue repair and circulation. They also have a compound called fucoidan, shown in studies to have anti-cancer qualities.
Green seaweed, like sea lettuce, is the most detoxifying, says Chantelle Line, sales and marketing manager of Seaflora Skincare.
Red seaweed, including bumpy-surfaced Turkish towel, has the most protein, Line says. Red seaweed is in almost all of Seaflora's products because it's the best for anti-aging.
Super Seaweed
"I've always stood by the motto 'Don't put anything on your skin that you wouldn't eat.' Skin absolutely absorbs what you put on it," says marine biologist and seaweed expert Amanda Swinimer of Dakini Tidal Wilds.
Ask her what makes seaweed so healthy for skin and body and the list is long.
Seaweed has compounds called phlorotannins, among the most powerful antioxidants ever discovered and tested on Earth, Swinimer says. That makes them popular in anti-aging creams. It is hydrophilic, drawing in moisture, so it's very hydrating.
Seaweed creates a gelatinous UV barrier to protect its sex cells from sunlight, creating sun protection whether used topically or eaten.
Seaweed has significant amounts of melatonin, which helps to induce a good night's sleep. It increases circulation and quiets the central nervous system, creating a sense of comfort and relaxation.
Fucoidan, found in some brown seaweed, has been shown in studies to have anti-cancer qualities.
Seaweed is anti-bacterial and has anti-inflammatory properties, helping cleanse lactic acid, making a seaweed bath excellent for muscle pain.
Seaweed has been touted to increase collagen production, but Swinimer said she couldn't confirm that in scientific literature.
Brown seaweed contains sodium alginate, which draws toxins, including heavy metals like mercury and lead, along with radioactive isotopes, dioxins and other harmful chemicals, before safely passing them from the body through stools.
Seaweed is the most concentrated food source of minerals on the planet. It includes calcium, magnesium, manganese, protein, zinc, iodine and iron. It is rich in B vitamins as well as vitamin A, C, D, E and K.