Friend or foe? We're diving right into the debate over the beloved Blackberry. Plus, four exciting recipes you can make with it!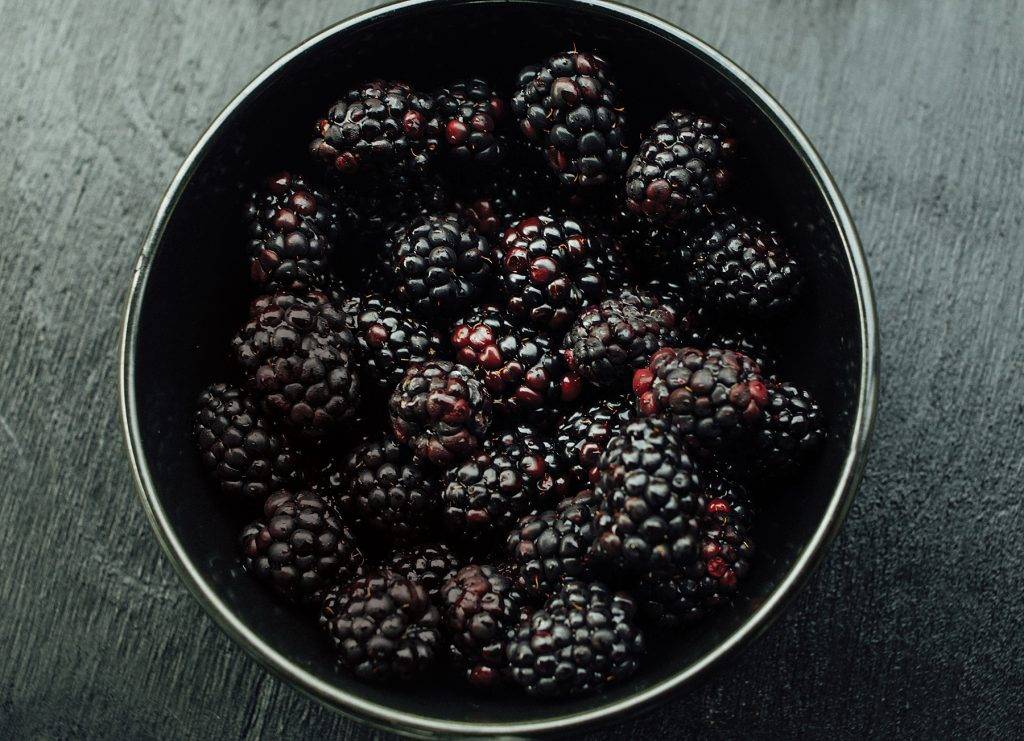 ---
BY CINDA CHAVICH
One of my first visits to the West Coast was on a cycling trip through the Gulf Islands, and two things stick in my mind — the steep terrain and the feasts of wild blackberries. Around every corner was another uphill sprint and the reward of another bountiful berry patch.
Fast forward to today. I'm a resident now, and I still can't get enough of this delicious summer fruit. At this time of year, I always carry a few empty yogurt containers with me wherever I go, on the increasingly rare but lucky chance that I come upon a patch of ripe blackberries on my travels.
Blackberries are my summer obsession — the big, dark, juicy kind that stain your hands purple and make the best jams, cobblers and crisps. You might find me standing in a ditch on a rural road, next to a schoolyard, along a bike path or golf course — anywhere this delicious fruit can still be found.
Blackberry picking has long been a treasured Island tradition, but the Himalayan blackberry is now on the invasive species hit list and may soon be a memory, as local municipalities and well-meaning green teams pull out the bramble patches in the name of protecting native species.
We like to bemoan this sad reality on our morning walks where big bushes laden with sweet berries once lined the roadways, attracting berry pickers like me, and the birds that often beat us to the best spots.
For despite our love of blackberry jam and bumbleberry pies, our days of wild blackberry foraging may be numbered.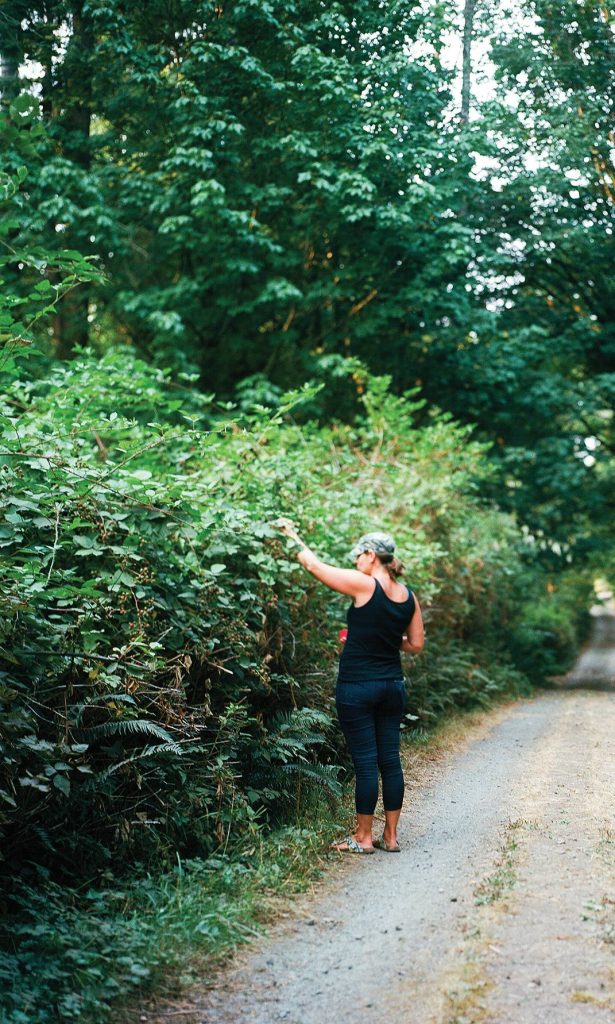 ---
Love them or hate them
On the Royal BC Museum's learning portal, the Himalayan blackberry is described as a "Jekyll-and-Hyde invasive," one that's "loved by cooks for their sweet fruit and bee keepers for the nectar they provide" but that's recognized as a home wrecker in the wild.
Though ubiquitous here for generations, the Himalayan blackberry (HBB) is not indigenous to the Pacific Northwest, and therein lies the problem.
As its Latin scientific name suggests, the Rubus armeniacus actually traces its roots to Armenia, and now "the large, dense, impenetrable thickets are a serious problem for native species," notes the museum's website.
"In less than two years, a single cane cutting can produce a blackberry thicket five metres in diameter that will shade out native plants. The dense canopy can be particularly harmful to young Garry oak saplings, which are shade intolerant."
And our apparently insatiable love of this invader's fruit adds insult to injury: "As well, berry pickers may further harm native plants, trampling them to get at the best berries."
First introduced on the west coast by American horticulturist Luther Burbank in the late 1800s, and prized for its sweet fruit, the tenacious plant soon found its way out of our gardens and into the wild, often outcompeting its indigenous relative, the Pacific trailing blackberry. So, there's no love lost for the gnarly brambles among conservationists.
If you're a cook — or a bird or even a bear — you likely love them. If you're a horticulturist, the aggressive blackberry likely falls on the hate side of the ledger.
Lose it or use it
It's clear that these thorny bushes are late-coming colonists, opportunistic plants that get a foothold in disturbed ground along roads, at the edge of forests and streams, wetlands and in wooded ravines. They can survive in barren and infertile soils, which is why you usually find them in the abandoned corners of the landscape.
But the HBB thrives in our coastal climate — a particularly prolific fruit that, like salmon or shellfish, finds its way into many west coast recipes. Sometimes called "the cabernet of berries" for its intense, winey notes, the wild blackberry turns up in a variety of local products, too.
At Sea Cider Farm & Ciderhouse, owner Kristen Needham Jordan uses blackberries in her beverages, while acknowledging their negative effect on farms and forests.
"It's a love/hate relationship," she admits, echoing many who prize the berries for their exceptional flavour while struggling to keep them in check. "We have four acres of forest on the property and two varieties of wild blackberries growing here," says Needham Jordan, who doesn't encourage HBB on the farm but uses the wild fruit she has, augmented by commercial B.C. berries.
In fact, Sea Cider's Canadian Invasion Series of ciders is designed to bring attention to the problems of invasive plants, including Rosa rugosa, Scotch broom and Himalayan blackberries. But blackberries are integral to Sea Cider's Temperance Bonnie, a delicious alcohol-free apple/berry juice blend named for Dr. Bonnie Henry. A portion of proceeds from Sea Cider's Temperance Series goes to support wellness programs in Canada.
Blackberries are also added to Sea Cider's award-winning Bramble Bubbly (a Canadian Invasion Series cider), giving this sparkling hard cider its rosy hue and wild flavour.
"We also make a Black Apple Jack cider eau de vie with blackberries, aged in oak barrels for six months," Needham Jordan says.
Several other famed local libations owe their character to the invasive HBB, too.
In Duncan, Stillhead Distillery creates its Wild Blackberry Gin — voted Best Flavoured Gin in Canada for two years running — using locally picked wild Cowichan blackberries and Canadian honey.
Wild HBBs growing around the region also make it into dessert wine or "blackberry port" made at several small local wineries.
Cherry Point Estate Wines' Cowichan is a fortified wine "made with 100 per cent blackberries," says Maria Clara Mora. "It has become a tradition in the Cowichan Valley to go out blackberry picking and then bringing them to Cherry Point Estate Wines." She notes the winery has a sorting table and a scale outside in the summer, and buys from everyone who brings in the fruit.
"We have families who go out together and then each one brings their one container with what they have gathered," she adds. "It is truly a community-oriented event."
A free wild food
Island chefs love adding wild foods to their menus, and even invasives like Japanese knotweed, autumn olive (a.k.a. silverberries), sea buckthorn and blackberries find their way to top tables.
Joshua Clae Wagler, of Edible Landscapes Design, specializes in designing and planting edible landscapes and food forests and says the HBB is an invasive species with benefits.
"This is an incredibly drought-tolerant, abundant source of food that literally grows with no care," he says. "I do tend to be more tolerant of invasive species. It's a question of management, not whether a plant is good or bad."
Wagler's Edible Landscapes Design team consults with gardeners to create spaces filled with tasty perennial plants and trees. Though he doesn't plant HBBs, they can be moved if encroaching on neighbouring gardens or simply trimmed and trellised to create edible screens. Thornless varieties or native trailing blackberries are also an option for food gardens, but the HBB is a more prolific producer.
"In this era of supply chain breakdowns and climate change, it seems like a bit of madness to be getting rid of these food-bearing plants, especially in areas that are already claimed by the blackberries," says Wagler, suggesting gleaning teams to save wild fruit. "The native plant restoration is important, and I plant lots of edible native plants, too. But this is an important conversation to have."
And though the CRD lists Rubus armeniacus among a long list of invasive species, it's not on the red, orange or even yellow lists of invasive plants, but rather falls into the green "control" zone. Our tasty HBB is so common and widespread, the CRD recommends it be "controlled," not eradicated, with a focus on "high-value conservation areas."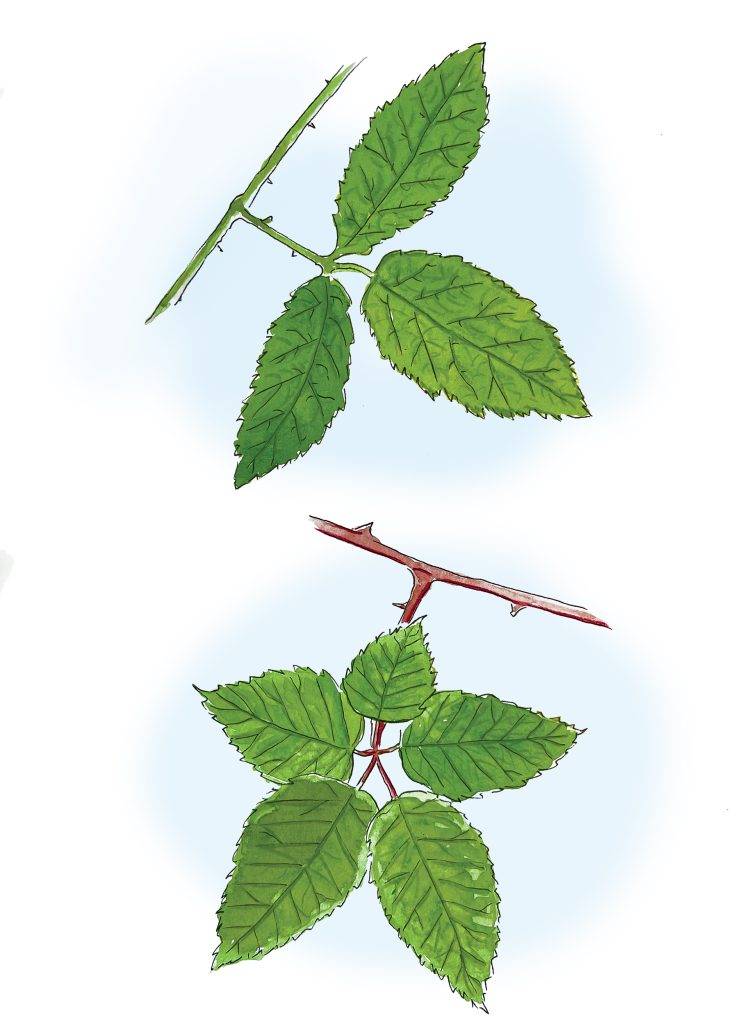 ---
Pick, Eat, Repeat
You can buy Island-grown blackberries, raspberries and tayberries at this time of year, or even find some wild salmonberries and Pacific trailing blackberries to pick.
But you can likely find the HBB somewhere nearby, along your own walking or cycling route, free to pick from late July through September. And then there are many wonderful ways to enjoy this tasty, antioxidant-rich fruit.
Bake blackberry pies and mixed fruit crumbles, preserve them alone or with other berries in jams, make berry syrups to add to cocktails or just eat them fresh, piled on pancakes, crushed on toast, stirred into yogurt or smoothies.
You can also infuse blackberries in wine vinegar for salads or add them to savoury sauces for duck, lamb and venison.
If the blackberries are invading, I say it's our responsibility to tame them by keeping them in check and, of course, eating them. Because they are strong and tough and prolific, we can all benefit by picking, canning and preserving our fill, while making sure the gnarly bramble patches we love don't negatively impact other plants.
I like to think of the Himalayan blackberry not as a noxious weed but as a slightly overbearing friend with a generous sweet side — and as a delicious sign of summer.
BLACKBERRY JAM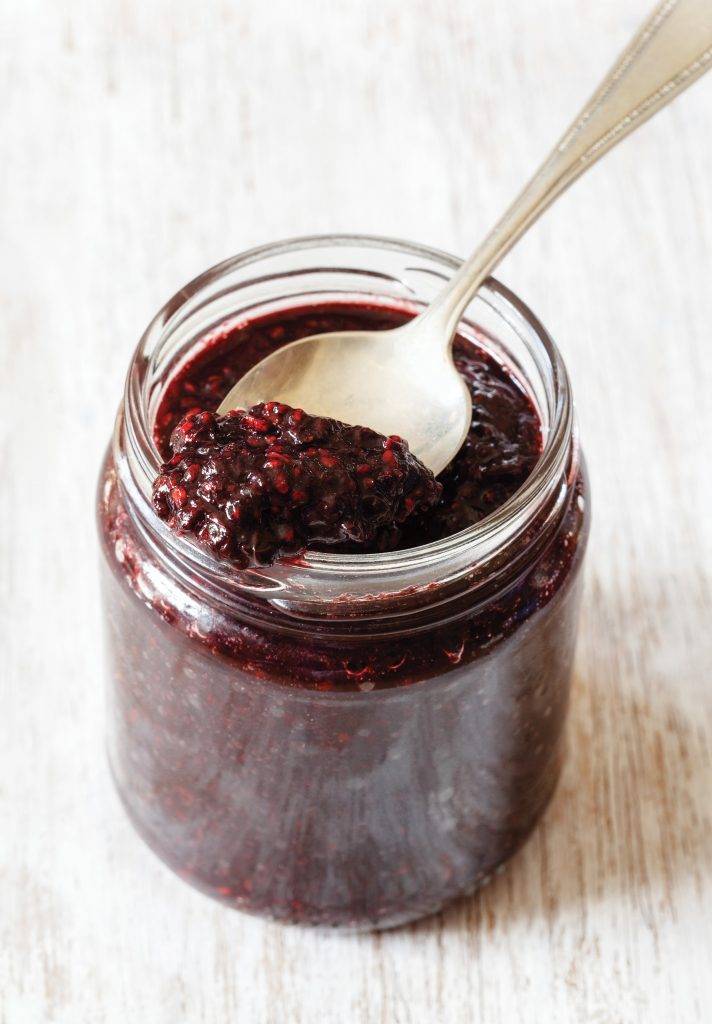 The perfect way to preserve summer flavour in a jar.
• 6 cups blackberries
• 4 cups sugar (approximately; see instructions)
• 2 tablespoons fresh lemon juice
• 1 teaspoon butter
• 1 pouch liquid pectin (about 75 ml)
Fill a large canner pot with hot water and bring to a boil. Wash berries under running water and drain in a colander.
Place berries in a large bowl and crush the fruit with a potato masher. Measure the crushed fruit and place in a large heavy saucepan. Add an equal amount of sugar, then stir in lemon juice and butter.
Bring mixture to a boil. Add the pectin, stir and boil for 2 minutes longer. Skim any foam from the surface and ladle into hot sterilized jars, leaving 1/4- to 1/2-inch headspace.
Wipe rims, top with two-piece canning lids and screw the bands on, just "finger-tip tight."
Fit a rack into the bottom of the pot. Lower the jars into the canner, placing them on the rack, making sure they are covered by at least 1 inch of water and boil for 10 minutes. Remove jars and set on a folded towel on the counter. Leave to cool completely (the lids will pop down and seal), then label and store in a cool, dark place. If jars don't seal, refrigerate.
Makes about 6 cups
AS CANADIAN AS BUMBLEBERRY PIE
This ruby red cocktail, created by bartender Kade Russell at Clive's Classic Lounge, tastes like berry pie in a glass.
• 1 oz (30 ml) Wayward Distillery's Raspberry Gin
• 1 oz (30 ml) Stillhead Distillery's Wild Blackberry Gin
• 2 spoonfuls of mixed berries
• 1/2 oz (15 ml) Frangelico
• 1 oz (30 ml) lemon juice
• Blueberries rolled in sugar
Shake all ingredients with ice and double strain into a cocktail glass. Garnish with blueberries rolled in sugar.
"It's a question of management, not whether a plant is good or bad."
BLACKBERRY BARS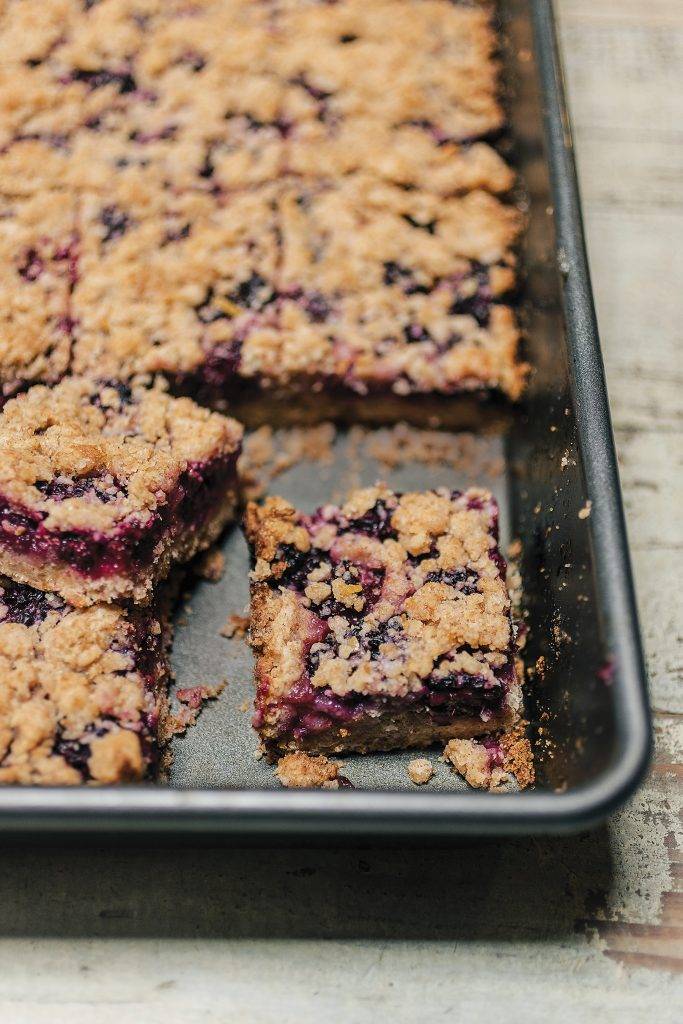 Nothing says summer like fresh fruit pies — but I also like to make this pie/square hybrid — a bar that's perfect to share with a group or haul along to a summer picnic.
• 1 cup cold unsalted butter, cut into cubes (and extra for buttering the pan)
• 4 cups fresh blackberries (or a combination of blackberries, blueberries and raspberries)
• 1 tablespoon cornstarch
• zest and juice of one lemon, divided
• 1 1/2 cups sugar, divided
• 1 1/2 cups all-purpose flour
• 1 1/2 cups whole wheat flour
• 1 1/2 teaspoons baking powder
• 1 teaspoon cinnamon
• 1/4 teaspoon salt
• 1 large egg
• 1 teaspoon vanilla extract
Preheat the oven to 375°F. Find an oblong baking pan — a 9×13-inch or an 8×11-inch pan for thicker squares — and rub the base and sides generously with butter.
In a bowl, combine the fruit, cornstarch, half of the lemon juice and 1/2 cup of the sugar. Stir and set aside.
Use the food processor to quickly make the pastry base/topping — combine the remaining 1 cup of sugar, the flours, baking powder, cinnamon, salt and lemon zest to the bowl and pulse to combine. Then add the cubed butter, whole egg, half of the reserved lemon juice and vanilla. Continue to pulse until the dough comes together in a crumbly mass. Use two-thirds of the mixture for the base, patting it into the prepared pan, then top with the berry mixture. Crumble the remaining dough in an even layer over the fruit.
Bake for about 40 minutes, or until the top is beginning to brown. Reduce heat to 325°F and bake 10 to 15 minutes longer, until bubbling and set.
Remove from the oven and set the pan on a rack to cool. Cut into larger squares for a dessert. (Dust with icing sugar for a pretty presentation and serve with whipped cream or vanilla bean ice cream.) Or cut into smaller bars for lunches and picnics. Store in an airtight container.
Makes 12 to 16 squares
BLACKBERRY CHEESECAKE IN A JAR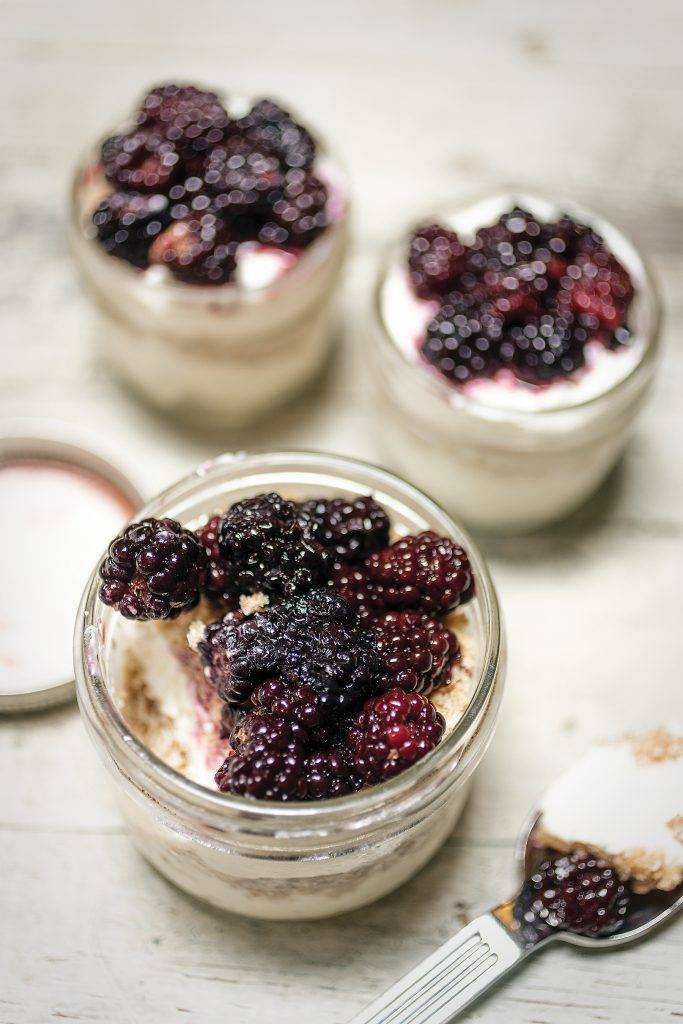 A small canning jar is the perfect vessel for these easy desserts that can be made ahead and refrigerated. Toss whole berries with a spoonful of sugar or a splash of blackberry dessert wine for added flavour.
• 8–10 1/2-cup canning jars or small glasses
• 2 cups whipping cream
• 1/2 cup icing sugar
• 1 teaspoon vanilla
• 2 8-oz packages cream cheese, softened
• 1 cup graham cracker or ginger cookie crumbs
• 3 tablespoons melted butter
• 1–2 cups fresh blackberries
In a bowl, whip the cream with the icing sugar and vanilla until stiff. Chill.
In another bowl, beat the cream cheese until smooth. Fold in the whipped cream, one-third at a time, to lighten the cheesecake mixture.
Combine the cookie crumbs with the melted butter.
Place a spoonful of cheesecake mixture in the bottom of each jar or glass. Top with some cookie crumbs, more cheesecake mixture and a layer of fruit. (Repeat layers if using taller glasses, ending with fruit.)
Top the jars with lids (or cover glasses with plastic wrap) and refrigerate up to 24 hours before serving.
Makes 8 to 10 servings