If you love summertime and ice cold craft beer, you are in luck! The BC Ale Trail has put together a list of the Best Summer Patios in BC for a Craft Beer.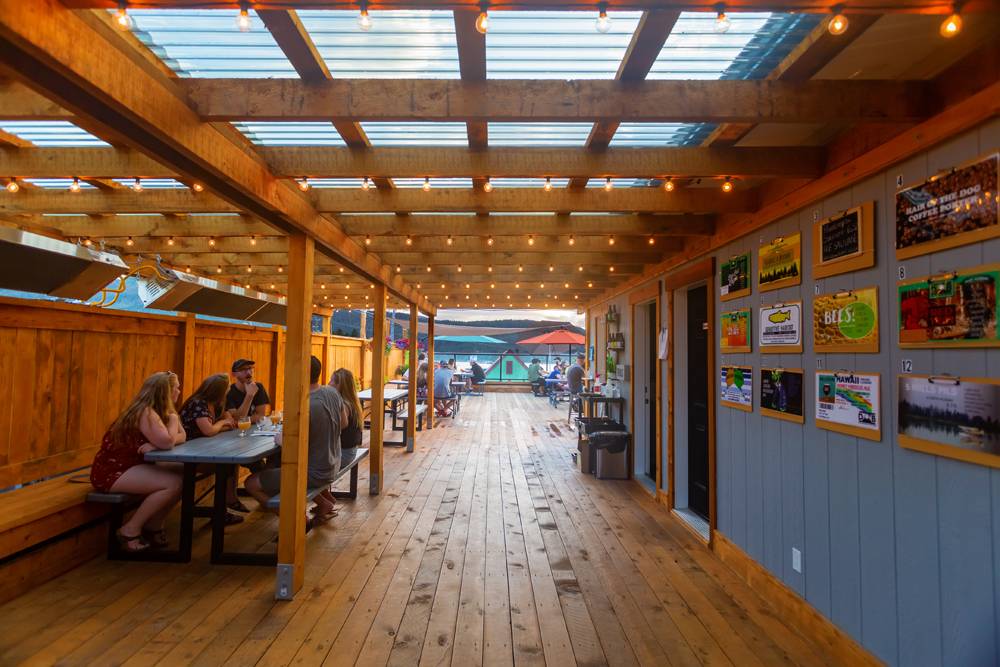 Phase 3 of BC's Restart Plan has brought a welcome update for breweries that were forced to close their tasting rooms when COVID-19 arrived. Breweries are now permitted to expand outdoor patios or even add new outdoor spaces — ensuring that you can enjoy summer patio season, support local businesses, and stay safely distanced outside.
With that in mind, here is a list of the best patios in BC for craft beer at local craft breweries located all around British Columbia. This summer, explore your local breweries and you'll find "New Experiences are Brewing Nearby!"
Best Patios in BC For Craft Beer
Three Ranges Brewing (Valemount) Picnic tables and other lawn furniture give this patio the feel of a beer garden. Although food isn't available on site, customers are welcome to bring their own food or grab a wood-fired pizza from the pizzeria across the street.
Three Ranges Brewing can be found on the Northern BC Ale Trail.
Canoe Brewpub (Victoria) Canoe has the best patio in Victoria, if not all of BC, full stop, thanks to its setting next to the Inner Harbour below the new bridge. Add to that food from an excellent kitchen and delicious craft beer brewed on site.
Canoe Brewpub can be found on the Victoria Ale Trail.
Howe Sound Brewing (Squamish) The breathtaking backdrop of The Stawamus Chief has made this patio one of the best spots to sip a beer in BC since this brewpub opened in 1996.
Howe Sound Brewing can be found on the Squamish Ale Trail.
Wildeye Brewing (North Vancouver)
In addition to its large indoor tasting room, Wildeye recently opened an outdoor patio with picnic tables, shrubs and even a palm tree.
Wildeye Brewing can be found on the Vancouver's North Shore Ale Trail.
Parkside Brewery (Port Moody) Most of the breweries on Brewers Row in Port Moody have outdoor spaces, but the biggest is the patio at Parkside Brewery. Now this brewery has added a second side patio for ever more outdoor seating.
Parkside Brewery can be found on the Port Moody Ale Trail.
Cannery Brewing (Penticton) Cannery already had a patio set up, but it recently added The Backyard, a comfortable space behind the brewery that will make you feel right at home.
Cannery Brewing can be found on the Penticton Ale Trail.
Over Time Beer Works (Kimberley) Over Time took advantage of "time off" during the pandemic to add a comfortable patio beside the brewery, complete with a bocce pit.
Over Time Beer Works can be found on the Kootenay Rockies East Ale Trail.
Tapworks Brewing (Gibsons) Tapworks' rooftop patio offers a spectacular setting to enjoy food and beer with views of Howe Sound.
Tapworks Brewing can be found on the Sunshine Coast Ale Trail.
Field House Brewing (Abbotsford) Field House has a covered patio along with a 3000-square-foot Beer Lawn in front of the brewery.
Field House Brewing can be found on the Fraser Valley Ale Trail.
Dog Mountain Brewing (Port Alberni) This brewery, which opened late in 2019, has a rooftop patio with stellar views of the Alberni Inlet.
Dog Mountain Brewing can be found on the Vancouver Island Ale Trail Part 2.
Tread along the BC Ale Trail sampling the best of summer brews and explore beautiful British Columbia. For more information, visit https://bcaletrail.ca/.
Continue Reading… Ultimate Guide to Waterfront Patios in Victoria