The people have spoken. Victoria's vibrant restaurant scene is vast but, with the help of your nominations, our panel of judges has again curated a list of the city's best chefs, spaces and concepts to celebrate. Herewith, YAM's 2022 Best Restaurant Awards — let the dining begin!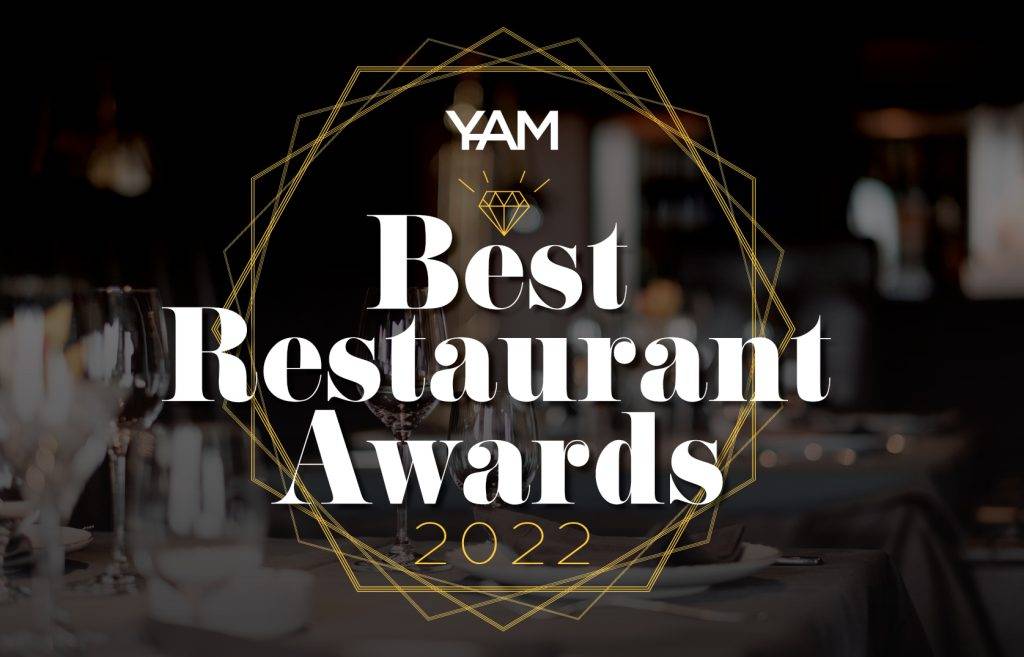 By Cinda Chavich
It's time again (finally) to celebrate our city's chefs and restaurateurs, the people who have kept us safe, sated and sane during this crazy year. Yes, the annual YAM Restaurant Awards are back, a chance to shine a light on some of Victoria's finest food purveyors and offer our readers a snapshot of what's happening in the local food scene today.
---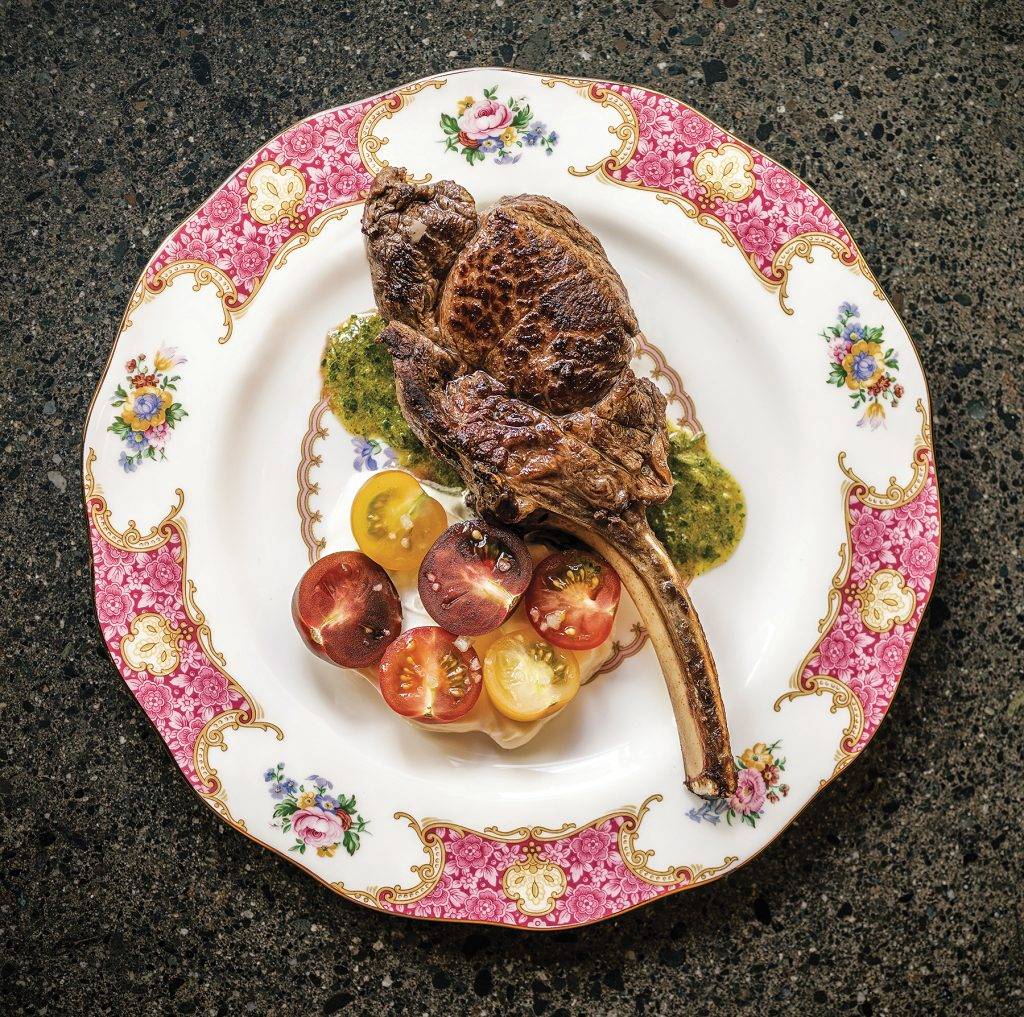 Nowhere is chef Clark Deutscher's second restaurant, the follow-up to his unapologetically meat-centric Hanks, with a rotating tasting menu of local delights.
It's cheekily named Nowhere for its hidden location, accessed by an off-street courtyard, but since opening in 2018, it's clearly become "somewhere" for Victoria diners seeking ingredient-driven dining. And if you're up for surprises, the ever-changing tasting menu, posted on social media every week, is the way to go.
Simple, rustic, creative, even a little messy — a meal at Nowhere is an adventure. This is a casual space where the chefs let the seasonal local produce define the dishes, and their riffs on even the most pedestrian ingredients are always interesting, and often inspirational.
Runners Up: Saveur Restaurant | The Courtney Room
Read the full article: Best Restaurant of the Year – Nowhere A* Restaurant
---
Chef Castro Boateng proved again this year that he is both talented and in tune with the times.
His contribution to the local food scene — as a leader, mentor, innovator and entrepreneur — expanded during this challenging period, starting with a goal of putting families and community first.
Like other small owner-operated restaurants, his eponymous House of Boateng (HOB) had to shift focus quickly to keep the staff working and the local Langford community fed.
Boateng was among the first chefs to join the Victoria Boxes of Hope project, providing hot meals to people in need as COVID closed city shelters.
Runners Up: Rob Cassels (Saveur) | Peter Zambri (Zambri's)
Read the full article: Chef of the Year: Castro Boateng
---
If you didn't think schnitzel could be stylish, think again. Eva Schnitzelhaus is the latest eatery to take up the sleek little space at Fisgard and Store streets (former home of the late, great OLO) and with chef Max Durand in the kitchen, crisp pork cutlets and spaëtzle never tasted better.
Runners Up: L'Apéro Wine & Cheese Bistro | Yua Bistro
Read the full article: Best New Restaurant of the Year: Eva Schnitzelhaus
---
Producer of the Year:
MAiiZ Nixtamal
The Island's farmers, fishers and food producers are vital to the restaurant industry, providing the quality local ingredients that inspire their menus. And MAiiZ Nixtamal has everything that defines a great food producer — passion, attention to detail, sustainable food sourcing and a commitment to community.
In just over two years, chef Israel Álvarez Molina has taken his passion for authentic Mexican food from a small pop-up to a downtown tortilleria, making stone-ground masa and corn tortillas, using the ancient process of nixtamalization.
Runners Up: TOPSOIL | Finest at Sea
Read the full article: Producer of the Year: MAiiZ Nixtamal
---
Best Patio:
Boomtown
Many city restaurants expanded their patios this year, but Boomtown Beer Garden + Burritos literally took the idea of eating outdoors to a new level. Boomtown is more street-side seating than restaurant — a giant multi-tiered deck wedged into a former parking lot on Yates Street, with a small walk-up kitchen/takeout space attached. With various seating areas, tables, bleachers, potted plants and trees, plus 21 taps in the tap shack, it's the hot spot to chill.
Runners Up:
Aura Waterfront Restaurant + Patio | The Local
Best Grocerant:
Fig Deli
A dine-in deli or "grocerant" is a great place to shop and refuel, and Fig Deli is all about the Mediterranean fare. Stop in for their wide selection of imported pastas, olives and sauces, then sit down for lunch — housemade soups, shawarma or souvlaki wraps, manoushi flatbread topped with spicy ground meat, plus beautiful baklava and Turkish coffee. Take home their feta red pepper or muhammara spreads, tabbouleh and Egyptian lentil koshari.
Runners Up:
Niche Grocerant | For Good Measure
---
Best Upscale:
Saveur
Stylish Saveur offers a feast for the eyes as well as the palate. Chef/owner Robert Cassels is a keen forager and supporter of small farms, so you may see pickled, powdered and sautéed bull kelp with beef tartare or albacore tuna with leek ash and pickled sea asparagus on his seasonal menu. Cassels made enjoying his fine food even easier this year by building a new street-side patio and creating beautiful sous-vide family meals to take away.
Runners Up:
The Courtney Room | Nowhere *A Restaurant
Best West Coast Contemporary:
The Courtney Room
With its stylish spaces and French bistro feel, The Courtney Room is a spot for fine dining, creative cocktails, a lovely prix fixe lunch or an elegant brunch. Chef Brian Tesolin sources the best B.C. ingredients, whether he is serving a Fraser Valley duck breast with duck leg cabbage roll, silky handmade pasta or a juicy Wagyu beef burger. The compact bar is a chic spot for a plate of oysters and an afternoon happy hour cocktail, too.
Runners Up:
Wild Mountain Food & Drink | Wind Cries Mary
---
Best Brunch:
Nourish Kitchen & Café
Victoria is known as the Brunch Capital of Canada, so it's no surprise that this was a hotly contested category. But Nourish, a fresh, pretty space in a historic house in James Bay, won the top spot for its unique and nourishing morning menu. Whether you grab a mug of coastal mushroom-infused bone broth, tuck into a stack of Sleeping Beauty oatmeal pancakes or get the vegetarian benny with cashew hollandaise, you'll start your day right.
Runners Up:
The Ruby | House of Boateng
Best Plant-Based:
Nourish Kitchen & Café
Nourish got our judges' nod for best plant-based dining, too. The brunch-focused menu leans heavily on vegan soups, dairy-free sauces, fermented vegetables and tartines topped with tempeh, crunchy veggies and the signature cashew cheeze. Carnivores will find eggs, local Berryman smoked bacon and Haus Sausage on the menu, too, so as their tagline says, it's a great place to "Eat with People You Love."
Runners Up:
Fern Café and Bakery | Be Love
---
Best Happy Hour:
Bodega
Happy hour at tiny Bodega in Trounce Alley is like stepping into a tapas bar in Spain. Grab a seat between 3 and 6 p.m. and order a glass of Spanish wine or have a flight of sherry, each with a complimentary bit of Spanish cheese, a few olives or toasted Marcona almonds to match. Tapas selections include meat and cheese boards, with Manchego cheese and Serrano ham, boquerones and bite-sized pinchos, too.
Runners Up:
Cenote | The Courtney Room
Best Cocktail/Wine Bar:
Citrus & Cane
Victoria is home to a cool cocktail bar scene, and the new Citrus & Cane tops the list for its stylish tropical vibe, complete with a sleek central bar, a colourful Audubon-inspired mural and lots of tall fruity umbrella drinks. Whether it's a classic Piña Colada, Mai Tai or the retro Don Draper's Puerto Rican Weekend, rum is often the spirit of choice here and C&C has an impressive collection on offer.
Runners Up:
Clive's Classic Lounge | Cenote
---
Best Bakery/Café:
Fol Epi
Fol Epi is ground zero for Victoria's legendary artisan bread-baking and fresh flour-milling traditions. Visit the original bakery in Vic West or the downtown bakery café for chewy baguette, boule and bâtard loaves. All are made with organic Red Fife and Island grains milled on site and baked in their wood-fired oven. Stop for coffee and buttery viennoiserie, too — enjoy a perfectly flaky pain au chocolat or sweet fruit danish.
Runners Up:
Crust Bakery | Fry's Bakery
Best Takeout:
Jones Bar-B-Que
With a counter service diner and a large custom smoker in the space next door, Jones Bar-B-Que turns out the kind of smoky beef brisket, pulled pork, ribs and chicken you usually only find south of the border, and owner Chris Jones credits his BBQ skills to a Texas tutelage. Order BBQ mains as plates with sides of pit beans and potato salad or get the smoky meats to take home by the piece and the pound.
Runners Up:
Maiiz Nixtamal | La Pasta La Pizza
---
Best Pub:
Bartholomew's Public House
Bartholomew's Public House (a.k.a. Bart's) first opened in 1975 and is one of the city's original downtown pubs. With 20-plus rotating taps (both local craft beers and U.K. imports), plus the largest gin selection on Vancouver Island, it's a place for a pint or a creative G&T. With a new British gastropub menu, beer flights, a cool cocktail list and regular trivia nights, it's the urban local, a home-away-from-home when you're living or working downtown.
Runners Up:
Spinnakers | Bard & Banker
Best Middle Eastern:
Superbaba
Victoria is home to the original Superbaba location, a Lebanese-inspired fast food chainlet. And though it's quick and easy to order your meal at the counter to eat in or take out, there's a slow-food angle here, too. From the fluffy pita breads made from scratch and rosy turnips pickled in beet brine, to chickpeas ground fresh for falafels and grilled steak kabobs destined for grain bowls and wraps, this is quality fast food, made fresh daily.
---
Best East Asian:
Ghost Ramen
Ghost Ramen began as a pop-up in The Village Chinatown and is now a rebranded entity of its own. It's the new hot spot for Asian appetizers, cocktails and, of course, their signature bowls of ramen noodle soups. Whether creamy pork tonkotsu bone broth with pork belly chashu, chicken karaage and miso, or vegan shoyu with tofu and pickled shiitake, all are made with fresh noodles arriving daily from their mentors and partners at Nikkei Ramen-ya in Courtenay.
Runners Up:
Nubo Japanese Tapas | Bao Victoria
Best South or Southeast Asian:
Nohra Thai Kitchen
This modern Thai restaurant in Oak Bay's Estevan Village offers a comfortable dining experience with a stylish gilded décor and beautiful plates to match from Thai chef Phen Bryan. Her bright Thai crab cakes, spicy tom yum soup, pad Thai noodles and Massaman lamb shank curry are just a few of the classic dishes regulars enjoy at this friendly, family-run spot. With a good B.C. wine list and Thai-inspired cocktails, it's a neighbourhood gem.
Runners Up:
Spice Valley | Baan Thai Wok and Bar
---
Best Latin (Spanish, Mexican, South American):
MAiiZ Nixtamal
MAiiZ Nixtamal is a small tortilleria with just a few tables for dine in, plus a takeout menu of Mexican meal components and complete dinners. It's authentic Mexican food from chef Israel Álvarez Molina, whether you get his nixtamalized corn masa in a stack of handmade corn tortillas, quesadillas or banana-leaf-wrapped tamales, or take home a meal kit of chicken tinga, chorizo or beef barbacoa from Haus Sausage and Natural Pastures cheese curds.
Runners Up:
Chorizo & Co. | Cafe Mexico
Best European (French, Italian, German, Greek):
Zambri's
Peter Zambri is Victoria's king of modern Italian cooking, and Zambri's is a beloved spot to dine, whether for his classic pasta dishes, foraged ingredients or seasonal specialties. His sister Jo Zambri manages the stylish, zero-waste, carbon-neutral space, with its well-curated wine list and superior service team. Now Zambri's also offers takeaway options, including their homestyle tomato sauce, frozen meatballs, lasagna and pizza, available from the restaurant or at several city grocers.
Runners Up:
Brasserie L'Ecole | Ithaka Greek Restaurant
---
People's Choice, Best Date Night AND Best Casual Dining:
Chorizo & Co.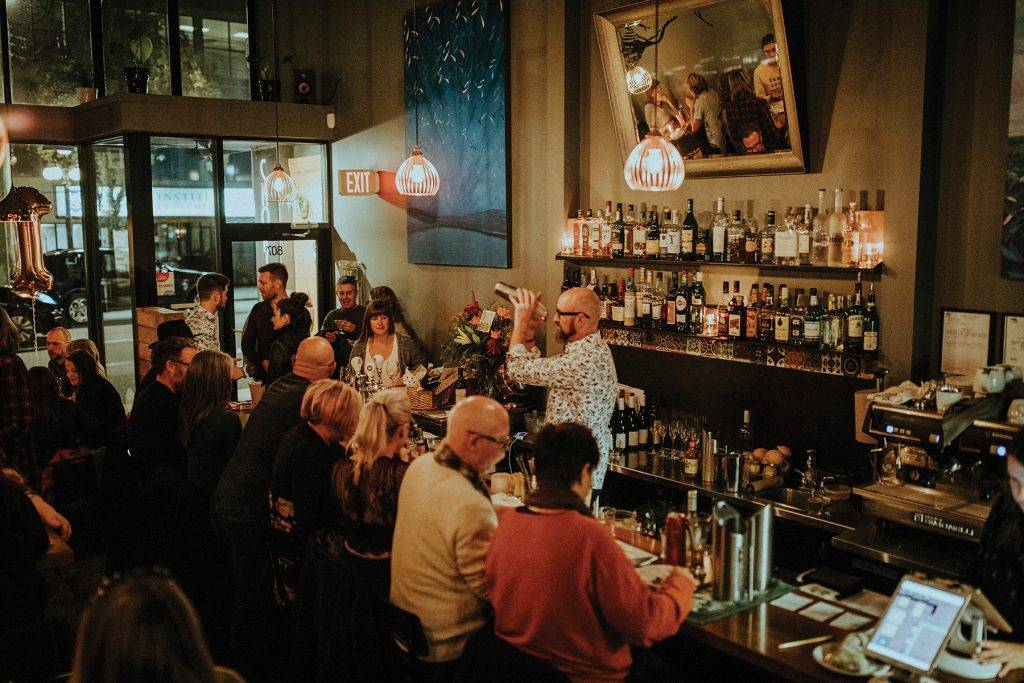 As a downtown staple for cocktails and creative tapas, Chorizo & Co. is a hot spot for diners of all kinds, from happy hour early birds to after-hours industry types. Whether you stop in for a drink at the bar or gather a group to enjoy their Spanish-inspired share plates, this is a small welcoming space with a busy vibe.
Chorizo & Co. began life as a Spanish deli, selling house-made chorizo and breakfast sandwiches. When Stephen Quigley and Dave Brooks took over the Fort Street space, they kept the name but expanded the concept. Now the menu ranges from charred octopus and grilled Humboldt squid to white anchovies on toast and chunky seafood paella, with wine and cocktails to match.
If you're looking for a romantic evening, ask for the table for two on the upstairs mezzanine, where you can watch the busy action below while sipping a brandy-spiked sangria.
Best Date Night Runners Up: Fireside Grill | Saveur
Best Casual Runners Up: Roast | Fireside Grill
---
People's Choice, Best Takeout:
Big Wheel Burger
When it comes to takeout, Big Wheel Burger is a local favourite, with five shops, including its original Cook Street location. They do great burgers, fries and shakes with locally sourced ingredients, and they're all about doing the right thing — this is Canada's first carbon-neutral fast food restaurant, with 100-per-cent compostable packaging that's composted for FED (food eco district) urban gardens. Their mantra: Fast food doesn't have to be junk food!
Runners Up: Chorizo & Co. | Urban Forage
---
Thank you to our 2022 sponsors: