Bingsoo is the Korean version of shaved ice. Here's why you have to try this delicate dessert!
By Cinda Chavich // Photo by Belle White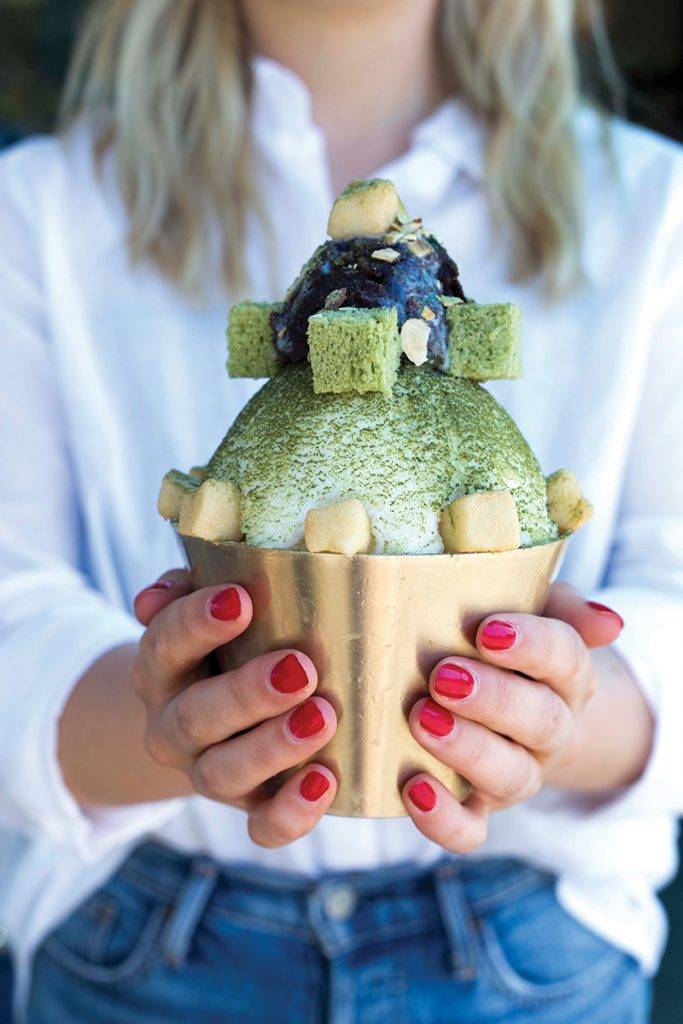 The only way to describe shaved ice is ethereal — like a delicate snowflake melting on your tongue.
An Asian invention hailing from Korea, Taiwan, Hawaii — and most recently Vancouver — shaved ice, or bingsoo, has now arrived in Victoria.
Shaved ice is a frozen dessert like no other — not creamy gelato, granita or the crunchy snow cones of yore, but rather a fluffy pile of sweet, feathery icy shavings, as light as air.
At the Snowy Village dessert café, you'll find it heaped into a deep metal bowl like an exotic Asian sundae, generously topped with everything from fresh mangoes, melon balls and strawberries, to chewy little rice cakes, sweet red beans or matcha tea. 
The Vancouver-based chain makes its shaved ice Korean-style with a whole milk base, which gives the frozen dessert its creamy consistency. A warm, crispy contrast to the icy bingsoo is their other specialty, taiyaki, a crispy, fish-shaped waffle that's filled with red beans, custard, sweet potatoes or Nutella.
Unlike Hawaiian shaved ice — which is literally shaved from a block of plain ice and topped with a rainbow of gooey, sweet syrups — Korean bingsoo starts with blocks of lightly sweetened, milky ice. A powerful electric ice-shaving machine is used to create the fluffiest results.
Today, even top chefs are scooping up the shaved ice trend, whether it's foie gras kakigori at Maison in Paris or horchata-infused shaved ice at Majordomo in L.A. Victoria is home to several fine artisan ice cream and Italian gelato makers, and Korean bingsoo is another icy treat.
Line up in the tiny Snowy Village café on Shelbourne Street to share a giant bowl, or get your shaved ice packed in one of their special, insulated bags for takeout.
It may be sunny and warm, but there's snow in the forecast!