The much-awaited Rifflandia festival returns to Victoria on September 15 to 18. In the meantime, find out how the festival came to life from the founder himself, Nick Blasko.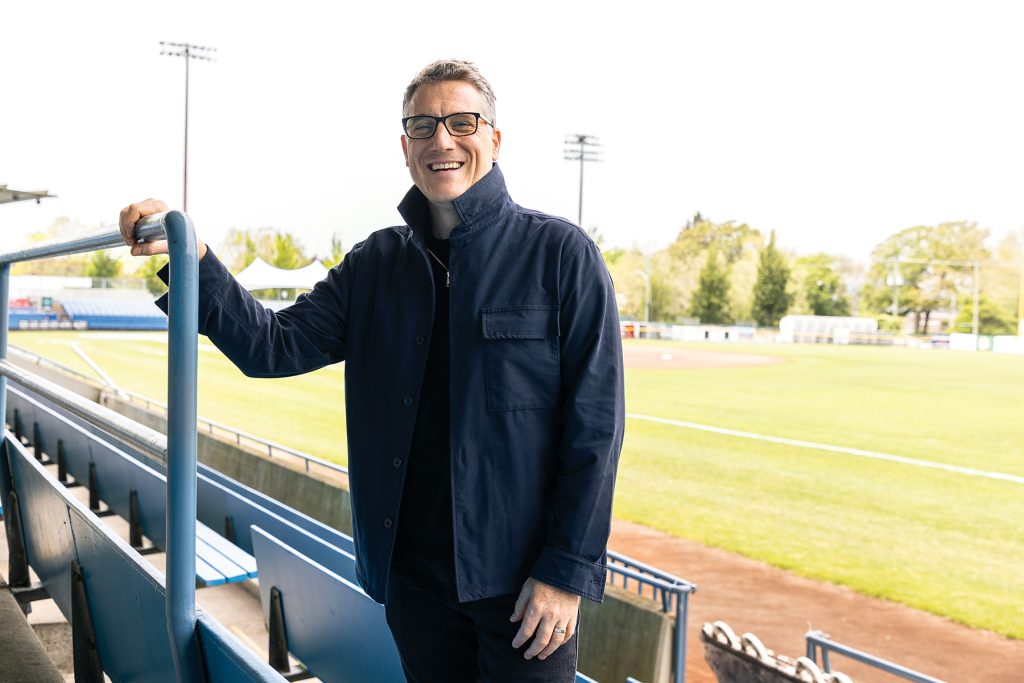 BY DAVID LENNAM
Remember when you pressed pause on a CD player and the music stopped playing, but the disc kept on spinning? (Do you even remember CDs?)
That's sort of what happened with Rifflandia when the stage went quiet after the last show in 2018. No music, but that disc just kept on spinning, and that disc was the mind of Rifflandia founder Nick Blasko. Then the ether of the pandemic stole two festival years, but Rifflandia was still firmly stuck in Blasko's head. And in his heart.
And in our hearts, too, as Blasko proudly emphasizes.
"This September, your festival returns. Period. Not our, or the, it's yours. Because we really feel like, ultimately, that's who owns this and dictates the success of it — the customer, the family and the person who chooses to buy a ticket and come and see it."
Homegrown, home-owned, built for locals, beloved by visitors, Rifflandia's absence was an empty hole inside a larger, emptier one that engulfed all of our live music in face masks, social distancing, jabs and fear. It has been four years since Current Swell (swelled by Jon and Roy, Jesse Roper and members of Carmanah) closed out the main stage at Royal Athletic Park. And perhaps it was fitting that the last act to grace that stage in 2018 could not have been more Victoria.
Adds Blasko, "It's Victoria's festival and a lot of people I talk to love it, and they're proud of it and they invite all their friends to it. People use it as an annual rally point for friends and family."
But back to that spinning disc, which began when Current Swell finished their set that night.
A changing landscape in festival production — doubling costs to book bands, rising competition from other festivals with deep, deep pockets — had Blasko hitting pause on Rifflandia for one year to recalibrate what had been, since 2008, an iconic showcase featuring 1,500 bands and performers.
He recalls it was like a series of paper cuts to his business. "Little things that you're losing audience to and competition for talent getting more fierce and expensive."
The plan was to take a year off and come back strong in 2020. But that was scuttled by a pandemic that pressed pause once more. Around the same time, Blasko sold Atomique Productions, the company he and Dimitri Demers had founded, to the Vancouver-based entertainment and hospitality heavyweight The MRG Group. However, he managed to hang onto the Rifflandia brand, keeping that out of the MRG acquisition.
Like most Rifflandia patrons, I had assumed the festival was a licence to print money, but Blasko informed me that the first time it actually made money was in 2017, 10 years in.
"It certainly wasn't a windfall," he explains, "but it was enough to say, 'Okay, I think there's a business model here and we can do it.' " Atomique had subsidized the festival through other parts of their business just to keep it going. Outwardly, to everyone, it looked wildly successful, but the truth is it was super difficult."
Blasko acknowledges that most people in the festival biz who take a year off don't come back. But, to him, resurrection was always inevitable.
"Obviously, this festival is super close to me, my family and my relationship to Victoria. I grew up here going to shows, playing in bands, doing everything I could in music."
And this September's comeback, he says, will put the eyes of the world on us. "People will pay attention to this from all over. You can't come back soft."
That means next level stuff. An elevated experience in the performers and at the venues — while still trying to create an event accessible to everyone in Victoria.
Family-friendly Royal Athletic Park will still be the main stage, with performers like Lorde, Charli XCX and Cypress Hill as well as acts like Pussy Riot, Bran Van 3000 and Art d'Ecco. However, nine of the 15 stages will be along a licensed and closed-to-traffic Discovery Street, dubbed Electric Avenue, including Phillips Brewery, Club Kwench and the Powerhouse.
"That experience of discovering music and going from venue to venue is still very much alive," Blasko points out. "But it's contained in a two-block area, so you don't have to walk all over town."
While at its core, Rifflandia is a destination for locals, organizers have always envisioned it as one for festival pilgrims. This could be the year where more than 20 to 25 per cent of attendees are from off the Island.
Historically, Rifflandia is a curated eclectic mix. Something for everyone. Always a bit of a risk and that's always suited Blasko. He says that's part of the fun of booking a festival.
"I don't like fully predictable outcomes in my life. It's not gambling. I consider myself a dreamer who wants to act on his dreams, realizing they might not materialize."
He says that oft-repeated definition of insanity is doing the same thing over and over again and expecting a different outcome.
"Well, you can apply that to festival production. We're coming back after a super disruptive two years, and we're all optimistic and we all have the greatest of intentions, but we're also not in charge of the outcome, so there's a lot of faith," says Blasko, then adds with a laugh, "You gotta jump, you know?"