Blu Smith is one of the west coast's best known abstract artists. He is especially revered for the way he magically captures the luminous quality of light in his work.
By Erin McIntosh // Photos by Dean Azim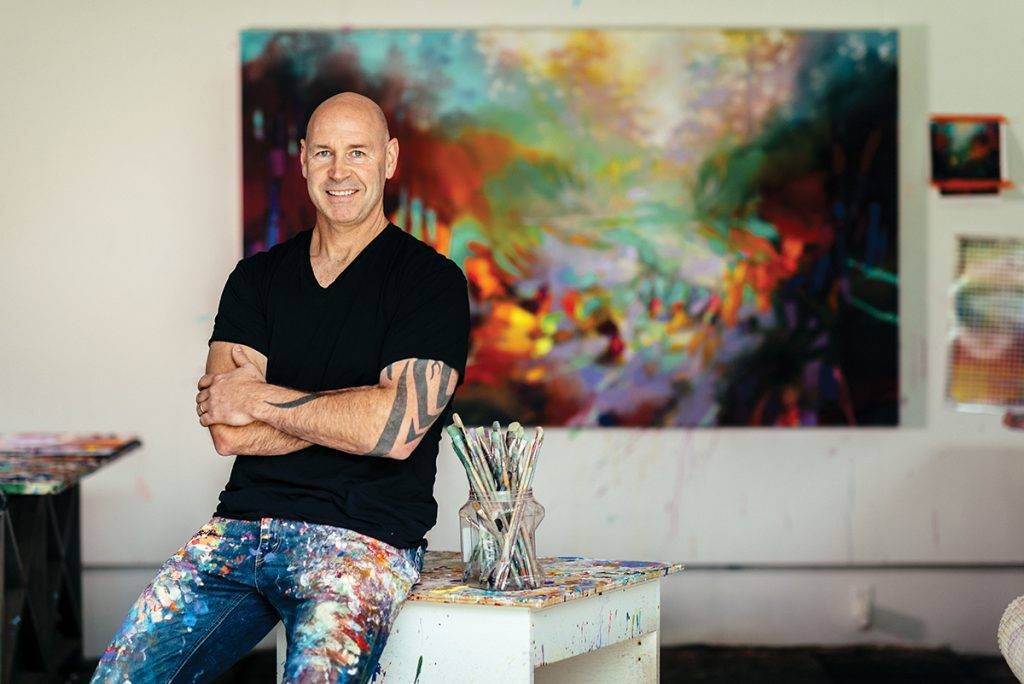 In his sun-bathed North Saanich studio, Blu Smith has no trouble making a mess. There's paint on the walls, paint on the floors, paint on his hands and clothes, but all that matters is the paint on the canvas. It's an organized chaos of colour, textures and light.
"Drips are everywhere, splatters are everywhere, that's all part of it," Smith says. "And I'm fine with that."
It's here in his messy studio where the artist's magic happens. Smith starts with a big, blank canvas. He prefers to work on larger canvases because the power in his pieces responds better to large scale, a preference he picked up in his early years working at a signage shop.
The blank canvas is quickly covered with colour as Smith plans out a background colour scheme. He dilutes with a matte medium, using the big, broad strokes of a house painting brush, then wipes everything away with rags.
"What ends up happening is [that] as the paint dries, the edges of the paint dry on the canvas first," he says. "The inside of the big brush strokes are still wet. When I wipe it away, you're left with these lines of where your major brush strokes went from. So it's a little bit of a ghost image of those large brush strokes."
Using that as the framework, Smith begins to fill in certain areas with light, a signature component of his work.
Finding His Way
Because he is so well known as an artist, it's easy to believe Smith must have painted since his childhood. But as a young man growing up in the town of Vernon in the Okanagan, his eyes were set on the rink, not the canvas. He wanted to be a hockey player and he did play junior hockey, but when a motorcycle accident at age 18 forced him off the ice, he was left wondering what to do next.
He had always been fond of art — and had spent much of his youth drawing — but it had never been a career option. Then, after receiving a push from a guidance counsellor to pursue art at Okanagan College in Kelowna, he went for it.
"I was a young 19-year-old guy, and cocky as hell," he recalls, "so I thought I knew everything because I could draw well, but I knew nothing about art." Even though the program was a challenge, he stuck with it.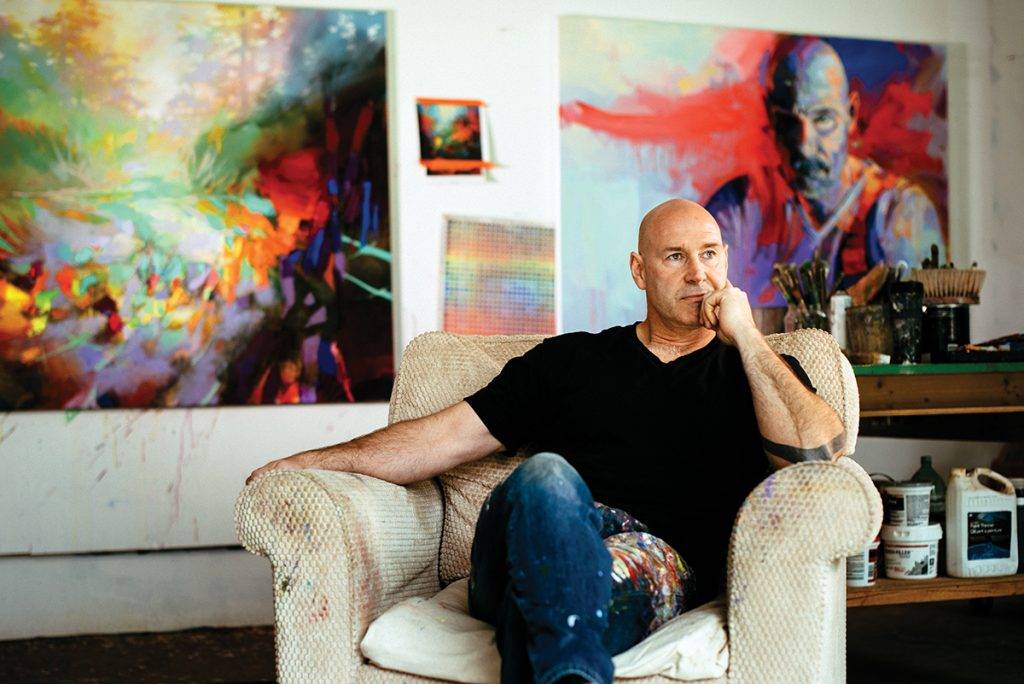 In 1989, at age 21 and fresh out of the two-year art program in Kelowna, he moved to Victoria and found a sign shop job that challenged him artistically. He learned to be precise with a brush, to do detailed lettering and to paint large-scale murals. Without those skills, he says, his current non-representational abstract pieces would not speak so loudly or shine so brightly.
He decided to go to the University of Victoria to complete his fine arts degree, and while he admits he didn't learn many new skills or lessons at university, one thing has stuck with him his whole life: "The most valuable thing I learned in art school was being able to paint for eight hours a day," he says.
It's something he still practices today.
Exploring the Abstract
Smith started to show at galleries and began experimenting with different styles, including pop art and realism, but he still felt continually unfulfilled, like he hadn't tapped into his creative potential. Abstract art had always been in the back of his mind, but in school, he had been very vocal about his disdain for it.
"There was always something about the abstract artists I was curious about, but I hated at the same time," Smith says. Eventually, he decided to explore that curiosity. What he found was what he had been looking for: an outlet for his creativity.
He loosened up. He threw paint around. It was challenging and liberating and exactly what he needed.
Over the next few years, he experimented, creating hundreds of abstract pieces. He found himself inspired by the abstract expressionists of the 40s and 50s: Jackson Pollock, Mark Rothko, Franz Kline. And while Smith had always been under the impression that these artists had started out painting abstractly, he soon discovered that, much like the path he found himself on, they too were trained in other disciplines and later chose to follow abstraction.
Abstract art, he says, has moved him in ways that realism and technical artwork couldn't. He hasn't looked back.
Over time, Smith's simple abstract drawings developed. "I would start bringing in uses of light into these 2D abstracts, which is something different; you don't normally see light emulating out of abstract works. I started to play around with that, and little bits of nature started to come into my abstract work. It was just little snapshots that I would take in my mind from waking up in the morning and seeing the sunrise."
This went on for a good 15 years. But sunrises he watched from his hillside home with a view of Mount Baker have been replaced in his work with rays of light dancing through trees in the lush, forested area of the Peninsula where Smith and his family moved six years ago. Slowly but surely, the Douglas fir and other trees he looked at every day began seeping into his artwork, taking him down an exploratory path of abstract landscapes.
Now he spends his time moving between abstract landscapes and the pure abstracts.
"It keeps things fresh … ," Smith says.
He takes liberties with his art that he says most traditional landscape artists don't do. His work shines with uncommon colour combinations, broad brush strokes and interpretative images, leaving it up to the viewer to decipher what's really going on behind the paint.
Imagination Required
Every day at 7:30 a.m., Smith steps out of his house, crosses his yard and heads into his studio, also known as the Lighthouse. The 1,200-square-foot building in his backyard was built with intention two years ago. Everything is sectioned off: one side for building, with tools, boxes and extra canvases, and one side for creating. The floors are concrete, the walls white and the windows big, allowing waves of light to wash over his art.
Smith has been a full-time painter for seven years now, which had been his goal ever since finishing art school. Today, he's represented in seven galleries across North America and Europe, from Gallery 133 in Toronto to Saatchi Art in Los Angeles, and has exhibited his work in Canada, the U.S., Europe and the United Arab Emirates.
The West End Gallery in Victoria took on Smith's work in February, based on his colourful work and his symbiotic relationship with the artists at the West End Gallery in Edmonton.
"He's a very talented painter, and when he does a painting, he doesn't really spend a lot of time in terms of detailing it; he attacks it with vigour and it explodes into a beautiful composition," says Dan Hudon, director and co-owner of the West End Gallery in Victoria. "His work is very interesting because there's a bit of an imagination required."
The gallery currently represents 45 different artists, all on a permanent basis. Colour is a strong theme throughout, a characteristic so strongly defined in Smith's work. "We can put Blu Smith next to Paul Jorgensen, and there's no friction at all," Hudon says.
"It's just the freeness of his work that impresses people because it's so loose and the colours all come together," Hudon adds. "If you hang one in your home, it'll make a statement on that wall. Other artists don't seem to have that magnetism, where you really are attracted to it, and he will explode all the way across the room."
Home and Harmony
Back in his North Saanich studio, Smith is currently putting together work for a gallery in Mykonos, Greece. He always has projects on the go, and between painting and taking care of his family, it can be tough to find downtime.
Despite his packed schedule, Smith says that being an artist is the only job that has ever given him happiness. And while there is chaos splattered on the canvas, there's also harmony and balance.
It's not about perfection or precision; it's about an overall feeling. Before putting a brush down, Smith ensures the line work is strong, the light is shining through and, most importantly, "the colours need to be singing."
---
This article is from the July/August 2019 issue of YAM.