This summer a woman will play the traditionally male role in Blue Bridge's A Funny Thing Happened On The Way To The Forum, and it's not just a stunt. It's a way to make outdated theatre relevant to contemporary audiences.
By David Lennam // Photo by Belle White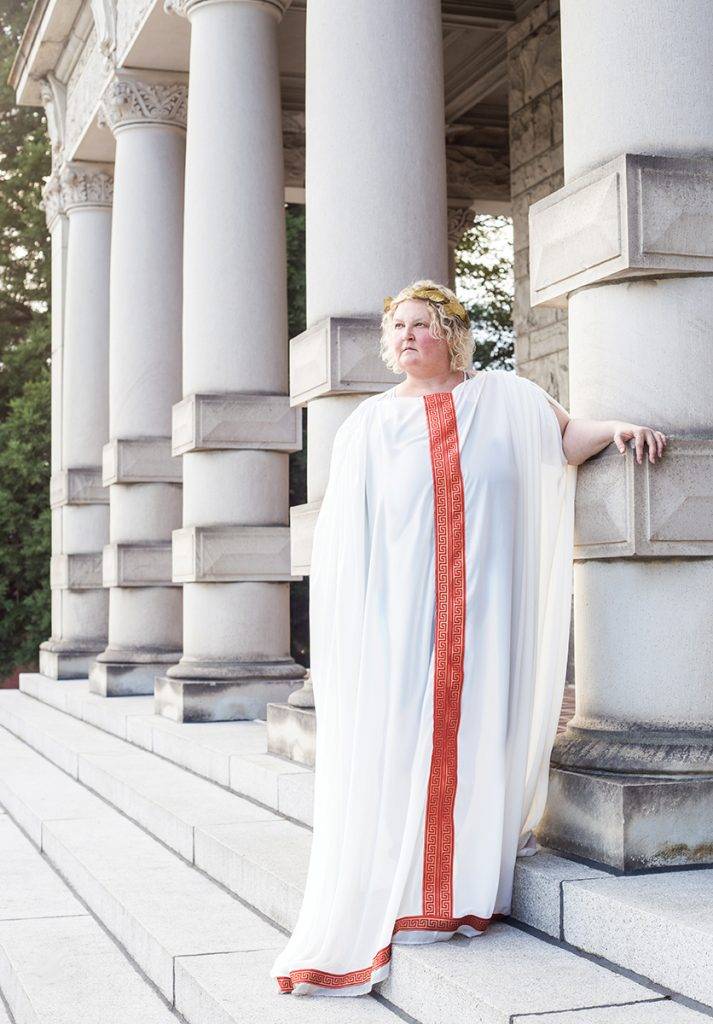 It was the first time in twenty-something years that Britt Small had auditioned for a role. The co-founder of Victoria's comedy cabaret Atomic Vaudeville and celebrated director-at-large (Ride The Cyclone, My Chernobyl) was chosen to play Pseudolus, the ancient Roman slave trying to win his freedom, in Blue Bridge Theatre's A Funny Thing Happened On The Way To The Forum, which runs from August 1 to 11.
It's the same role Zero Mostel made his own in the 1966 film version of the bawdy romp of a musical comedy.
A traditionally male role.
So will it work?
According to the play's director, Kevin McKendrick, who felt "rankled" when faced with a script about old men with power chasing young women without power, Small's inclusion in the play helps serve his vision of flipping male characters to women to soften some of the show's more cringeworthy moments and even change the context.
"Without rewriting Sondheim's music or Larry Gelbart's book, how could we stand that on its head a bit?" muses McKendrick. "If it's a classic, it has to be relevant to a contemporary milieu."
As for Small, she understands that while some of Forum's dated sexism just doesn't play the same way to a modern audience, the farcical aspects, the pure comedy, still stands up.
And according to McKendrick, the gender-switch casting works because Small is a natural clown (actually a trained clown) for a part that demands physical hijinks well beyond a spit take.
For Small, clown work is a lot more serious than a pie in the face. It's timing, rhythm and an almost mathematical devotion to finding those places where you stop the action to create the opportunity for comedy.
"One of the first exercises you do as a clown is be yourself," she says. "It's one of the hardest things to do."
Clown training, she explains, means being coached to do less and less, contrary to the all-action-all-the-time cliché. Being interested instead of interesting is key — interested in the audience, how they're responding, and then adapting to that.
"That's how you keep your presence very much alive and in the room, as opposed to feeling like people are watching you. You see clowns; they're always clocking the audience (looking at them, measuring their response)."
Gender Shift
Clowning aside, by no means is swapping out traditional roles simply stunt casting. (Ladies and gentlemen, tonight the part of Jean Valjean will be played by a singing bear.) Instead, it's part of a necessary shift that sees traditional male roles going to women: Helen Mirren in The Tempest, Glenda Jackson in King Lear and an all-female Julius Caesar in London and New York. Particularly germane, Whoopi Goldberg took over the role of Pseudolus from Nathan Lane in a Broadway revival of Forum 12 years ago.
This summer's Greater Victoria Shakespeare Festival is also tweaking gender in their Julius Caesar, with some of the lead roles being swapped. Last year they had a female Prospero, a cross-cast Pericles and, before that, a Twelfth Night where all the male roles were played by women and all female roles played by men.
Festival artistic director Karen Lee Pickett says when you see a play touted to be universal, and you don't see yourself represented as a woman or person of colour or whatever, then that play doesn't speak to you. "You're going to have a different experience with that."
She says the last three or four years have shown a marked effort from theatre companies to hold up female playwrights to tell different stories with different voices, and, at the same time, to gender-balance the casting.
Equity in entertainment
Dr. Monica Prendergast, an associate professor in drama education at the University of Victoria, understands why there's a gender equity problem in theatre. She points to studies that show the Canadian theatre triumvirate of artistic director/director/playwright — in other words, those deciding what gets put on stages — are 70 per cent male.
"The majority of plays are written by men, so the majority of protagonists are male."
But, she says, the theatre business is trying to be more mindful with gender equity to give women a crack at some of the great roles.
"As a spectator, I'm willing to go there if the experiment is bold, even if it fails. I saw Prince Hamlet in January in Toronto. It didn't concern me for a moment that Hamlet was a woman."
(Christine Horne, who played that Hamlet, was, in fact, nominated for a Dora Award for outstanding performance.)
Back to Small. Remember, she killed it as another man, standing in as a last-minute Harpo Marx in Blue Bridge's Animal Crackers three seasons ago.
She figures the gender flipping is good for Forum, which can feel "a bit dusty, like it's of that time. It's still really funny, but it's hard for it to not feel like a museum piece. This is a way to inject a different kind of energy into it, while still kind of saying the same thing."
A Funny Thing Happened On The Way To The Forum takes place from August 1 to 11 at the Roxy Theatre.
---
This article is from the July/August 2019 issue of YAM.