If you're not familiar with mandelbrot (Yiddish for "almond bread"), they're like a friendlier, more forgiving version of biscotti: you don't need to pull out a hefty electric mixer or wrangle a super sticky dough to make them, but you do use the same technique of baking the cookies in a big log, then slicing the log and sending the cookies back into the oven to firm up. This less traditional take on mandelbrot, from Food52 Baking: 60 Sensational Treats You Can Pull Off in a Snap (Penquin Randon House Canada), uses almond paste to add pockets of softness and sweetness to an otherwise firm cookie. Because they have a long shelf life, they are perfect for sending in the mail as a gift.
Want to take your holiday baking to the next level?
ENTER YAM'S BOOST YOUR HOLIDAY BAKING GIVEAWAY!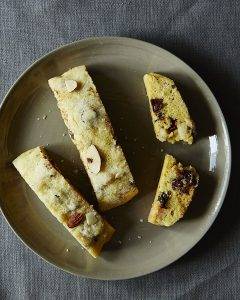 DARK CHOCOLAT AND CHERRY MANDELBROT
Makes 20 to 24 cookies
5 ounces (140g) almond paste, chopped into small pieces
Confectioners' sugar, for coating the almond paste
3 cups (375g) all-purpose flour
1 teaspoon baking powder
3⁄4 teaspoon kosher salt
1 cup (240ml) vegetable oil
1 cup plus 2 tablespoons (225g) granulated sugar
3 eggs
2 teaspoons vanilla extract
1⁄2 teaspoon almond extract
1⁄2 cup (85g) dark chocolate chips
1⁄2 cup (65g) dried sweet or sour cherries
Sea salt
2 to 4 tablespoons sliced almonds (optional)
1. In a small bowl, toss the chopped almond paste with a bit of confectioners' sugar to prevent the pieces from sticking together. In a medium bowl, whisk together the flour, baking powder, and salt.
2. In a large bowl, whisk together the oil and 1 cup (200g) of granulated sugar. Whisk in the eggs one at a time, then whisk in the vanilla and almond extracts. While mixing with a wooden spoon, add the flour mixture. Add the almond paste pieces, chocolate chips, and cherries and stir to combine. Cover the dough with plastic wrap and refrigerate for at least an hour, and up to a day.
3. Sprinkle the tops with the remaining 2 tablespoons of sugar, a few pinches of sea salt, and the sliced almonds. You may need to gently press the almonds into the dough for them to stick.
4. When you're ready to bake, preheat the oven to 350°F (175°C). Line a baking sheet with parchment paper. Divide the dough into two portions and orient them lengthwise on the lined baking sheet. Mold each into a long rectangle about 3 inches (7.5cm) wide, making sure to leave about 2 inches (5cm) of space between the logs. If the dough is sticky, lightly oil your hands.
5. Bake for 25 to 30 minutes, until the center is set and the dough has lost some of its paleness. Remove from the oven and turn the oven temperature down to 250°F (120°C). Let the dough logs cool slightly, about 10 minutes, then use a serrated knife to slice them crosswise into pieces 1 inch (2.5cm) thick. Turn the slices on their sides, then bake for about 20 minutes, until they reach the desired crispness. Let cool for 2 to 5 minutes on the baking sheets, then transfer the mandelbrot to a wire rack to cool completely. Store the cookies in an airtight container for up to several weeks.
Excerpted with permission from Food52 Baking: 60 Sensational Treats You Can Pull Off in a Snap from Penguin Random House Canada.