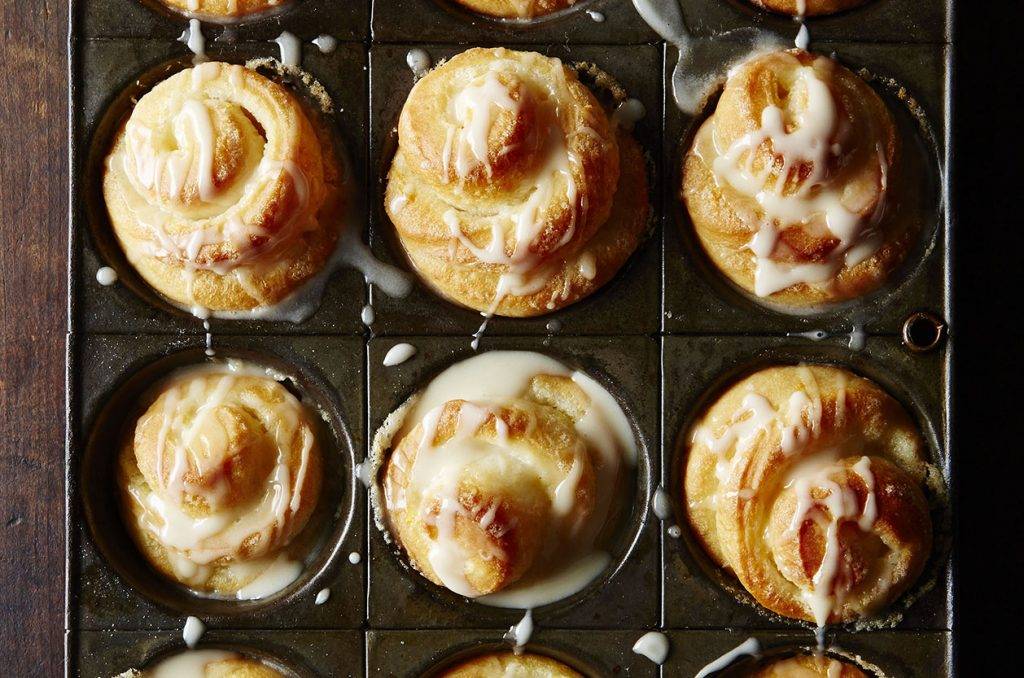 While you may think that having fresh-from-the-oven yeast rolls before noon is out of your reach, this recipe from Food52 Baking: 60 Sensational Treats You Can Pull Off in a Snap shows it can be done. Just mix the dough in the evening, then roll, shape, and bake the buns in the morning. Altogether, the recipe requires only about 15 minutes of hands-on time, and baking the rolls in muffin tins with paper liners makes the process especially easy (and mess-free).
OVERNIGHT ORANGE REFRIGERATOR ROLLS
(Makes 24 Rolls)
DOUGH
1 cup (240ml) water
1⁄4 cup (60g) unsalted butter
1⁄4 cup (50g) shortening, preferably butter-flavoured
7 tablespoons (85g) granulated sugar
3⁄4 teaspoon salt
2 1⁄4 teaspoons (1 package) active dry yeast
1 egg, slightly beaten
3 cups (375g) all-purpose flour, or as needed
FILLING
8 tablespoons (100g) unsalted butter, at room temperature
1⁄2 cup (100g) granulated sugar
1 1⁄2 teaspoons finely grated orange zest
GLAZE
2 cups (250g) confectioners' sugar
1⁄4 cup (60ml) freshly squeezed orange juice
1. To make the dough, boil 1⁄2 cup (120ml) of the water in a small saucepan. Remove from the heat, add the butter and shortening, and stir until melted. Add the granulated sugar and salt and stir until combined. Let cool until lukewarm.
2. Heat the remaining 1⁄2 cup (120ml) water until it is between 105°F (40°C) and 115°F (45°C). Pour it into a large bowl, sprinkle the yeast over the top, and stir to dissolve the yeast. Stir in the sugar-butter-shortening mixture and the egg. Add the flour and mix thoroughly. If the dough is still sticky to the touch, add more flour, 1 tablespoon at a time, until the dough is smooth and no longer tacky. Cover and refrigerate for 8 to 10 hours, until doubled in size.
3. Meanwhile, make the filling. Stir together the butter, granulated sugar, and orange zest until completely combined. Set aside.
4. About 2 hours before serving, line two muffin pans with paper liners or butter three 8- or 9-inch (20 or 23cm) square baking pans.
5. Turn the dough out onto a floured work surface, divide it in half, and roll out each portion into an 8 by 12-inch (20 by 30cm) rectangle.
6. Spread half of the filling over each piece of dough. Roll up each rectangle to make an even, firm log, then slice each into 12 equal rounds. Put each round in a lined muffin cup, or arrange them in the prepared pans. Let rise for 1 1⁄2 hours, until they've doubled in size and a finger indentation bounces back slowly but remains visible.
7. Preheat the oven to 375°F (190°C). Bake until lightly browned, about 15 minutes if using individual muffin cups and 20 minutes if using square baking pans.
8. Meanwhile, make the glaze. Stir together the confectioners' sugar and orange juice until smooth. Drizzle the glaze over the warm rolls.
Recipe Credit: TheWimpyVegetarian
Excerpted with permission from Food52 Baking: 60 Sensational Treats You Can Pull Off in a Snap from Penguin Random House Canada.