Blues-rock guitarist and singer Brett Smith-Daniels is charting his own course to success.
By David Lennam // Photo by Jeffrey Bosdet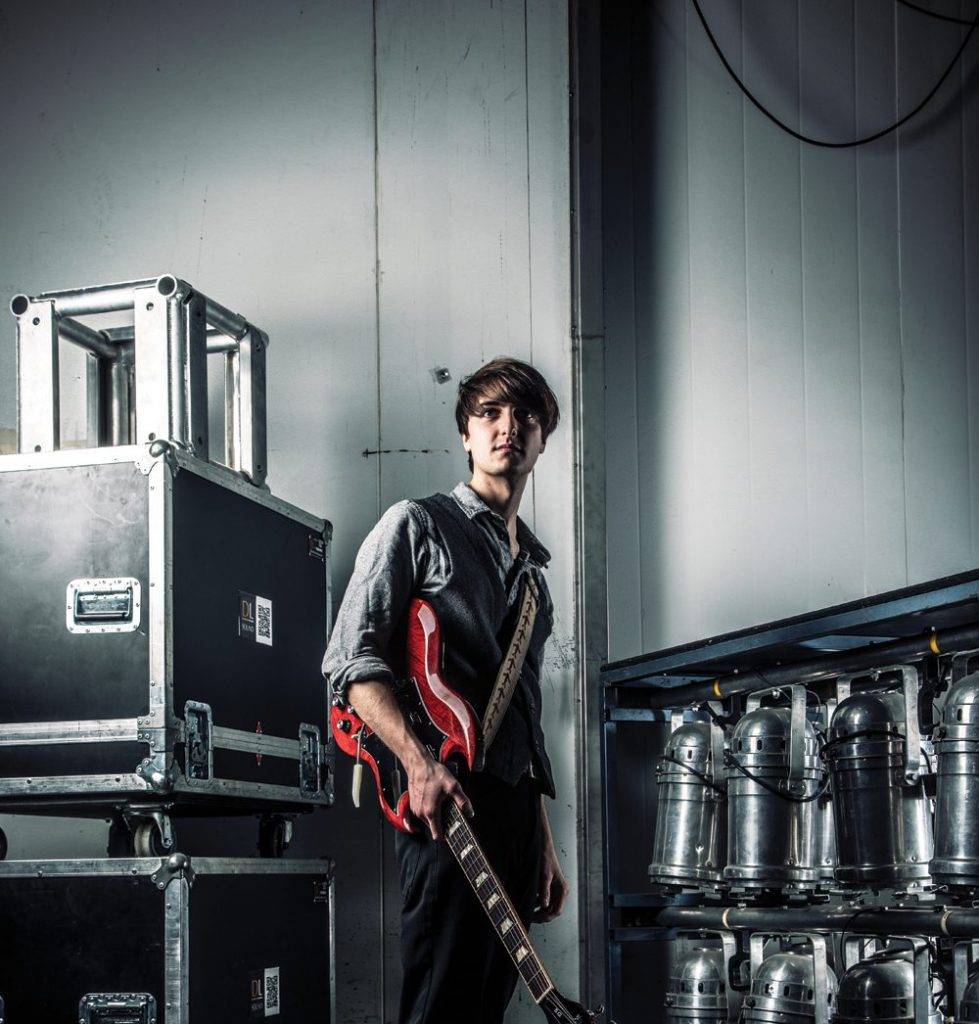 Slight of frame and looking a bit like Harry Potter without the glasses (or scar!) — and, with his British accent, sounding even more like him — Victoria's Brett Smith-Daniels is a man with a plan. Albeit a young man with a bold plan. A blueprint for the blues.
Regarded as a virtuoso blues-rock guitarist and singer, the 23-year-old makes regular appearances at The Bard & Banker and Irish Times and pops up on just about every stage in town. He played nearly 230 gigs in 2019 while celebrating 10 years as a working musician.
The quietly affable Smith-Daniels has done a lot in the time he's held a guitar, bouncing back and forth between England and Canada. And he's ridden that rock 'n' roll roller coaster up and down the geography of peaks and valleys faster than Walter Trout's fingers on a solo.
Consider that when Smith-Daniels was 13, he was leading the very young Victoria rock band Endurance. When he was 14, he played Massey Hall. When he was 15, he was pitching to CBC's Dragons' Den.
When he was 19, he was playing to 4,500 people at a festival in Mexico City.
He jammed with Rolling Stone Mick Taylor at 20 and was called the "future of rock and roll" by Guns N' Roses drummer Matt Sorum.
And, in 2015, the U.K. publication The Blues Magazine praised his then-band The Villanovas as "THE band to watch."
But jammed tight between the highlights, Smith-Daniels has found himself on the streets, alone, busking for change, and thinking about starting over.
"Suddenly you go to L.A. and people are blowing smoke up your arse," he recalls, "and then you go to Mexico and you headline for a few thousand people, and then you're working behind a bar, and then you're busking, and then it's snowing and you don't have enough money to catch the train home, so you keep busking…. so by the time you get to making a living out of it, two or three years later, anything you can do to further that, you cling to it."
That's why you have to have a plan. And because Tom Petty once said, "The rock 'n' roll lifestyle does not encourage you to be responsible."
And because Matt Sorum told him to trust no one, stay independent and work only with a band that supports you and is playing for the music and not for themselves. And don't give up.
That part stuck. Smith-Daniels has watched musicians with gold records playing pubs 50 years later.
"They're not in any way jaded by that. It's just the name of the game," he understands. "But to the outsider, I suppose it looks like a solid slope up. It's a game of small peaks, and then gradually your dips get higher. Music's a very odd industry."
The Independent Path
Smith-Daniels says he started thinking about how his favourite artists began making a living.
Step one, become the house band at a club so you can jettison that day job. Think the Stones at the Crawdaddy Club, the Beatles at the Cavern Club.
"They're all cover gigs. But they got to the point where they were bringing in enough of an audience that it didn't really matter whether they were playing their own music or covers. And that's the kind of the thing I'm doing — start throwing a few of my own songs in there and transform my audience a bit."
Playing covers means you're constantly learning new material and studying the songwriting of other musicians, so your own writing improves, explains Brett Smith-Daniels, who works sometimes seven days a week and writes every day.
Step two, buy recording equipment, start experimenting and own it yourself.
Brett Smith-Daniels can print CDs at home now for far less than CD Baby charges. And through Spotify, he can hire a recording engineer who may live on the other side of the planet.
"So if I sit at home and record stems — the actual guitar parts, drum parts or whatever — I can send them off to a Grammy award-winning engineer for a few hundred dollars. I've got some friends in studios in London who I can send it to for masters for a couple of hundred dollars, and then you're getting a label-quality product, but you don't have to pay a label fee. So you're putting the money out, and taking more of a risk, but then if you make money out of it, you're making all of it, which I like the idea of."
The other part of it is not missing an opportunity. Like persuading Bob Geldof to help with a fundraiser, busking for Nickelback, or jamming with Micky Moody (Whitesnake), Robbie McIntosh (The Pretenders, Paul McCartney) and Mick Taylor (Rolling Stones) — or with local heroes like Tal Bachman and Jesse Roper.
"Brett's a stupendous guitar player," says Roper, who was hesitant to bring the budding bluesman on stage with him for fear he'd outshine him.
"I remember he clicked onto his wah pedal in one of his solos, and I felt my guts twist and my neck tighten," he laughs. "It was killer. I'm cheering for him. Trends don't make things easier for guys like him. Guitar shredding isn't exactly as mainstream as it was in the 70s and 80s. Hopefully, he can find a crack in the rocks and push his way through." Adds Bachman, "I'm not privy to the details of
Brett's business plan, but having a plan is always important, even if the plan is just 'I must first write a hit.' So if Brett's business plan is along those lines, he's in an elite category of musicians already, and his odds of large-scale success are already great."
Overcoming The Kid Factor
Brett Smith-Daniels recognizes how that potential was eagerly fed when he was growing up as a miniature six-string hero, hoping not to peak early.
"It's all well and good when you're 15 and you cut a home demo, and a month later you're filming a national show, because when you're that age, those things just sort of happen, especially with parental support and, you know, the kid factor at that age."
But even at that age, his bandmates knew how much he wanted it.
In a business that constantly rejects you. Or ejects you. Where you're fired, fleeced, forgotten or never really gotten, all in the same week, it's essential to keep playing. Trevor Kidd, who was part of the Endurance lineup eight years ago, agrees.
"I've always been concerned that if Brett didn't make it in music, he wouldn't know how to do anything else. That drive has always been there and has never gone away. I think when you put all your eggs in one basket, it becomes a real make- or-break thing — it's what you live and breathe. It's survival. That's what allows someone to become so good at what they do because there's no other option. He's definitely not half in."
Continue Reading: A New Note for Hermann's Jazz Club