Community involvement, attention to detail in the process of buying and selling homes and a passion for life on Vancouver Island is all in a day's work at Briggs & Stratton and Associates.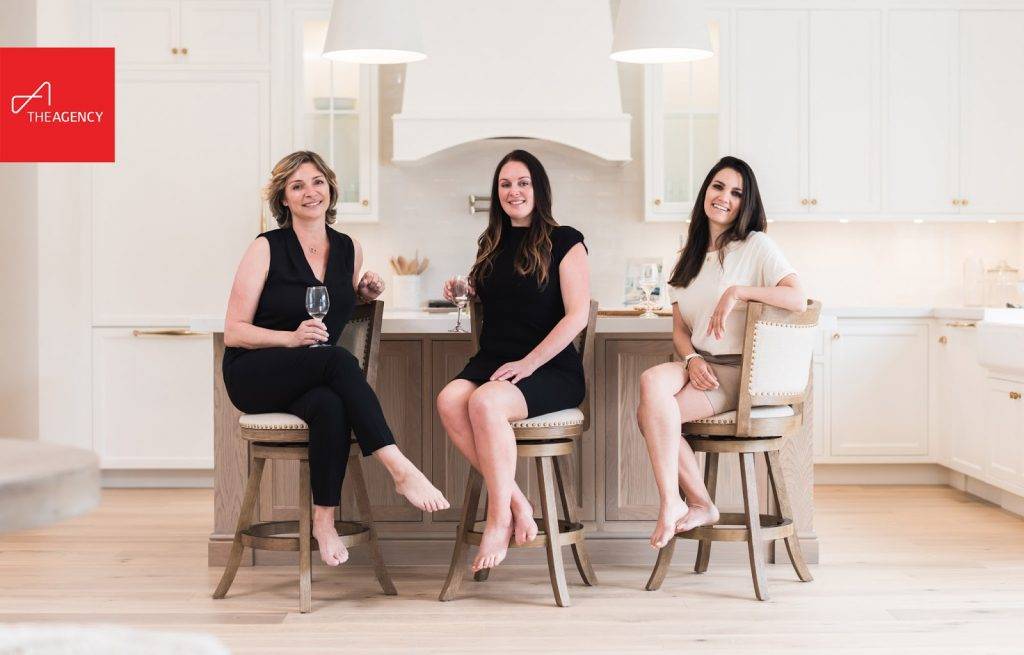 Sophia Briggs partnered with Nancy Stratton to form Briggs & Stratton and Associates, a few years ago, quickly bringing on Rebecca Barritt–another strong player from Victoria's Real Estate scene. In the spring of 2020, they made their move to join The Agency – a full-service, luxury real estate brokerage and lifestyle company that has redefined and modernized the real estate industry.
Today, properties are moving quickly. Once listed, a home may receive multiple offers and sell in just a few hours. Even with COVID-19 restrictions in place, the higher end of Victoria's real estate market is producing record sales and the average home is moving at lightning speed! As a buyer or seller you need to be well-equipped to make decisions quickly and come to the table ready, tough prep work done.
Being a seller in this market seems like a walk in the park, but it comes with stressors:
Your home must be prepared for the market: staged, cleaned, with all the "little fixes" done. You only have a few days to showcase your home to buyers!
Give your Realtor® time to:

Gather details and key records on the home; any history and disclosure information is key to helping buyers make a quick decision
Get professional photos taken and videos filmed; marketing must be on point

Make a plan for your next move (rent an Airbnb, purchase a new home, etc.)
As a buyer, you must be ready to go with all supporting documents submitted to (and fully pre-approved by) a mortgage broker. Wasting time is not an option in today's market:
Make time to see a home as soon as it's listed; may make for some longer days.
Get as much information as possible; consider conducting a home pre-inspection and be ready and able to review documents on the go (title, permit records, etc) that will help when you are up against other buyers.
Add a personal touch to offers; a letter sharing a little about yourself goes a long way!
When you have a capable team helping you, it makes an already stressful process easier. Briggs & Stratton offer a pool of knowledge to draw from, and they're always ready and able to help clients in a timely manner. "If you are thinking of buying I would highly recommend speaking to a Realtor about the process and be prepared before you start your search," says Sophia Briggs.
If you are ready to make your move, be it listing your home or buying a new one, visit their website and read through their handy guides for buyers and sellers or follow Briggs & Stratton on social media for advice, inspiration, and to learn about our community.
Who are they when they're not helping clients?
Born and raised in Victoria, Sophia and her husband Andrew Wade (in-house mortgage broker) are enthusiastic about the island lifestyle. Currently in the process of waiting to adopt their first child, these two spend as much time as they can walking their dogs around town, going for hikes, mountain biking, wine-tasting, cooking, travelling, and being with family.
Nancy and her husband Tom moved to Vancouver Island from Alberta, drawn to the Island for its climate and outdoor offerings. Living downtown, they like to spend their time golfing, sailing, and walking their retriever Finlay along the West Songhees.
Hailing from Rossland, BC, Rebecca is a hard-working mother who plays and teaches music when she's not running marathons. She lives with her two children and husband Chris and loves sitting in her new favourite corner of the house, drinking coffee and enjoying the garden.
Readily involved in local charity events, giving back to the community is a key pillar in how this team operates. Over the past holiday season they campaigned for food/monetary donations, raising over $7500 for The Mustard Seed Food Drive. They also worked with three families to help them put food on the table and gifts under the tree at Christmas, through the "Mamas for Mamas Victoria Christmas Hampers" program. This year they'll support the Cridge Centre for the Family's "Wishlist" program, helping folks get on their feet and into safe, stable housing.
Having lived and worked on Vancouver Island for well over a decade, this team knows where to look for your dream home and how to effectively negotiate price. Client satisfaction is of the utmost importance and, collaborating with an expansive network, these ladies sell homes!