Part art gallery, part big-city loft, this downtown penthouse offers a unique take on the West Coast urban lifestyle.
By Danielle Pope / Photos by Joshua Lawrence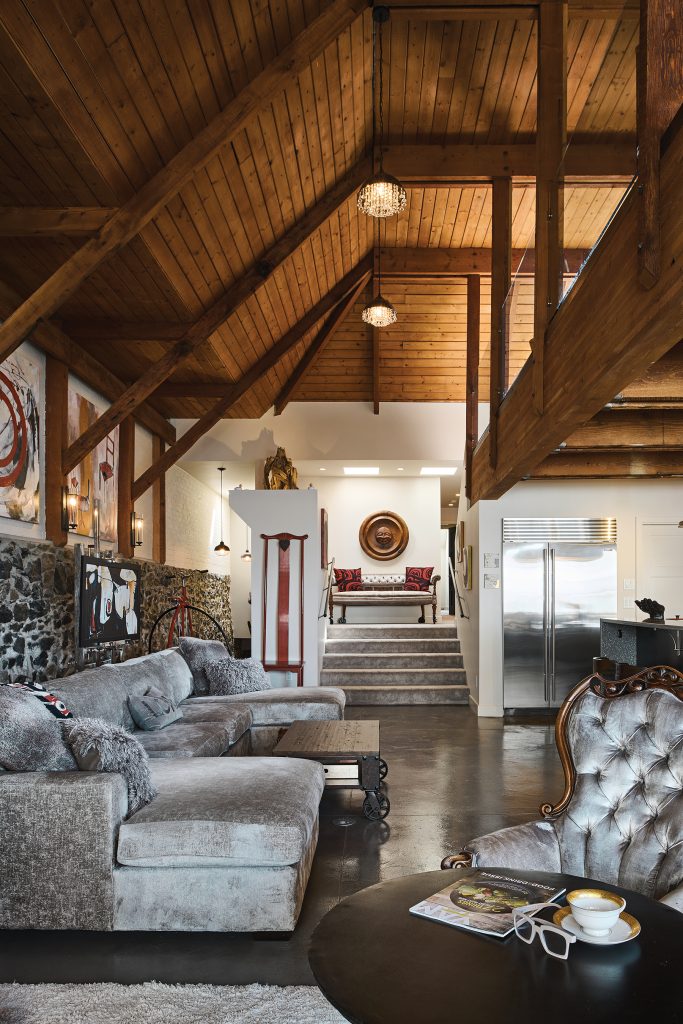 Katy and her husband Michael knew they were ready to downsize before many of their friends. With four grown children, the pair wanted to capitalize on their freedom and embrace a coveted urban lifestyle together.
They traded in their large home on the south coast of the Island for a unique condo in the heart of downtown, overlooking the Inner Harbour. What started as a dream, transformed into one part West Coast art gallery and one part New York penthouse, with bold style and the spaciousness to accommodate beloved guests.
"We loved this space as soon as we saw it, but we knew we would only say yes if Kevin Painting, the contractor who worked on our house, was willing to do it," says Katy. "He took one look at it and said, 'Absolutely — but this will be a wild ride.' And it was."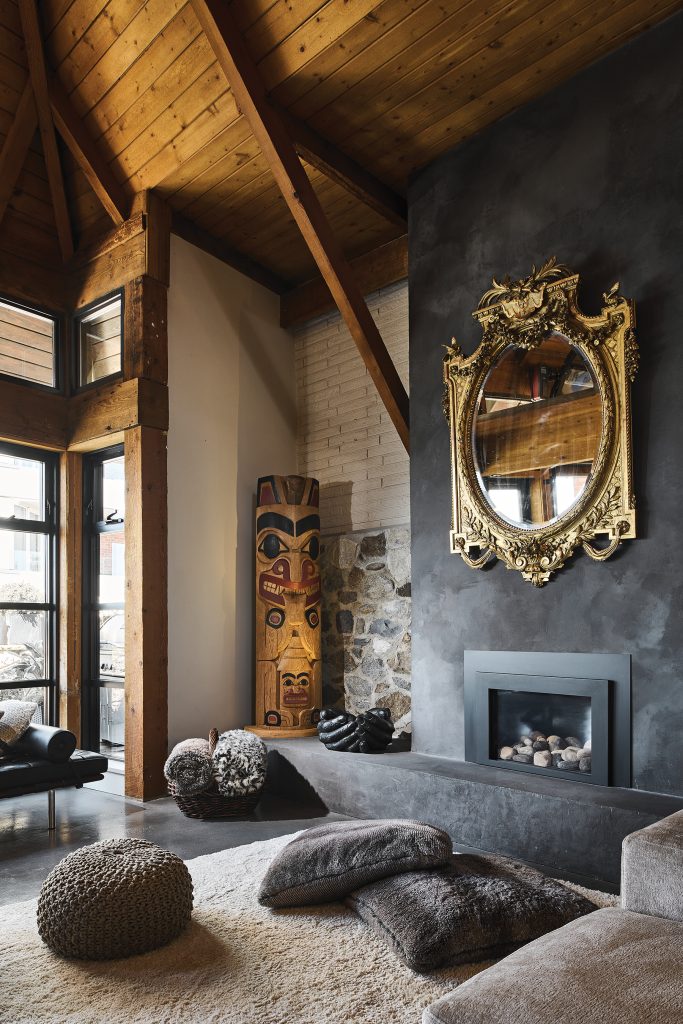 Their building was first constructed in the mid-1800s, and was briefly home to Victoria's first-known pub. With a rumoured history of catering to the City's grumblers and malcontents, it's little wonder Katy's entryway still has signs of an old speakeasy — with the building's original ship ballast stones adorning one wall. In the late 1970s, this heritage building was redeveloped into a commercial space with the residential area added above.
"We had all of these dreams, like we wanted to install in-floor heating, and pretty quickly we learned it was going to be a lot harder than we thought," says Katy. "For perspective, there are 59 stairs between the trunk of our car and our kitchen counter. It's urban, and it has its wonderful peculiarities."
Kevin Painting of St. James Construction helped the couple see their vision through. The 2,200-square-foot condo still stands out to Painting as one of the most complex projects he's ever worked on.
"My initial thought when I first saw the place was: I can't believe all this is behind that tiny doorway and narrow staircase," says Painting. "You're in town, everything seems so tight and then suddenly you're in what looks like a movie scene of an inner city loft. It's such a cool space."
Potential aside, Painting and the homeowners agreed the space needed a great deal of fixing up. From the tiny galley-style, linoleum-floored kitchen to awkward rooms and weathered flooring, the condo still bore the signs of its '70s construction.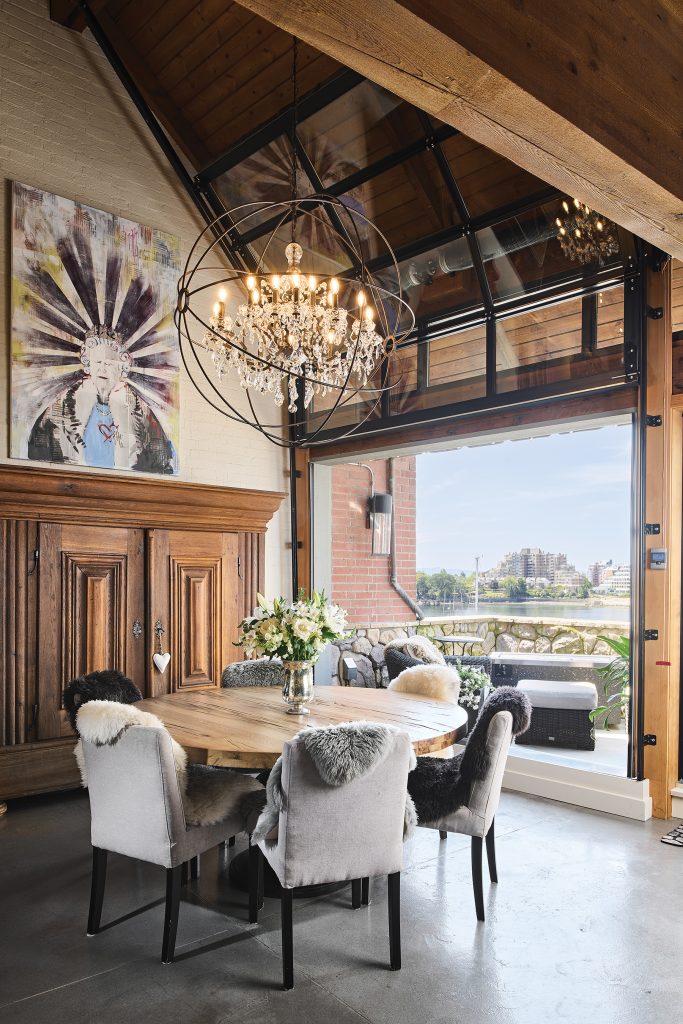 What would stay was the rich cedar vaulted ceiling, the exposed heritage beams and the breathtaking views. The rest had to go — largely by hand. While breaking up 52,000 pounds of concrete flooring was no easy task in itself, nor was carrying it down flights of stairs to the bins below, what made it worse was the impact it had on the lower-level businesses.
"We had to work with the restaurant below us to figure out ideal times when we could use the jackhammers because then we'd be running down and sweeping their floors and cleaning the dust off their tables before their lunch or dinner rush," says Katy. "There are some unique parts to rebuilding your home over top of a commercial space."
More challenges ensued, from revamping the electrical system to pouring cement through a line pump into the penthouse to renovating the restaurant's HVAC system (which ran directly through the home out the roof) to rebuilding the roof, and shuttling appliances up a challenging flight of stairs. The feat was no easy one. Still, with a January to September construction window, the mission was completed.
"Every little problem we had — which you always do have — we came up with a solution, even when it took a little bit of head scratching," says Painting. "Trust is a huge factor in these projects because there are just so many unknown factors."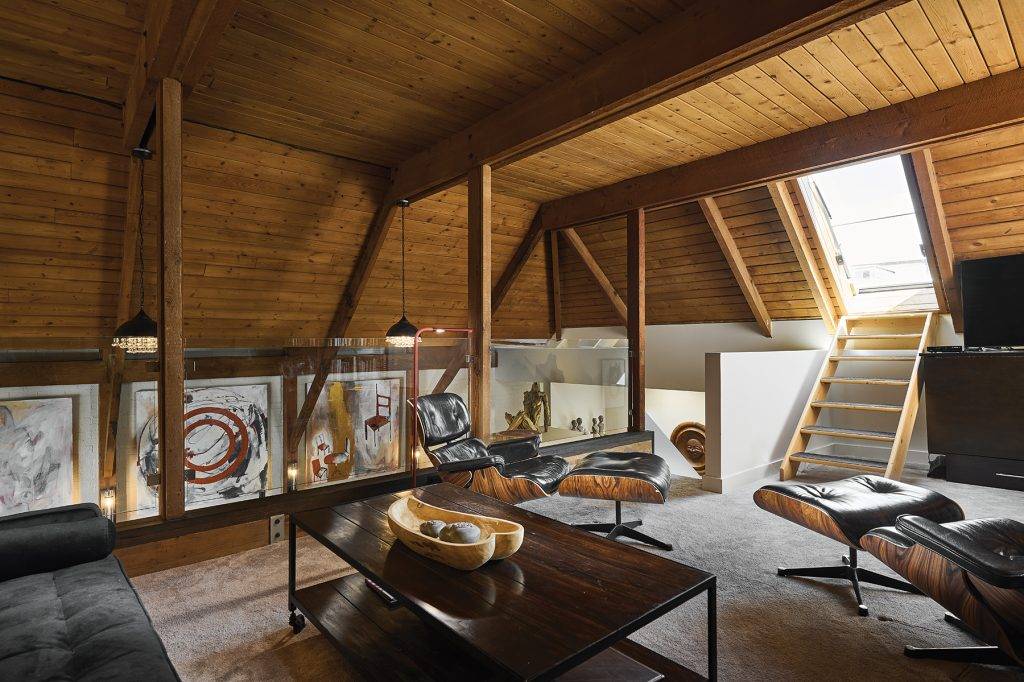 Today, Katy says the space has become her and Michael's dream home. On nights when they watch the Inner Harbour from their rooftop patio, or entertain family visiting for the holidays, she knows all the work was worth it.
"People will say doing a project like this could make or break a marriage, but we had no hesitancy at all — we had already done this once with our larger home," says Katy. "During construction, in the evenings, we would pour a glass of wine and walk through to see all the progress. It was incredible watching how it all came together. We loved it. And now, here we are."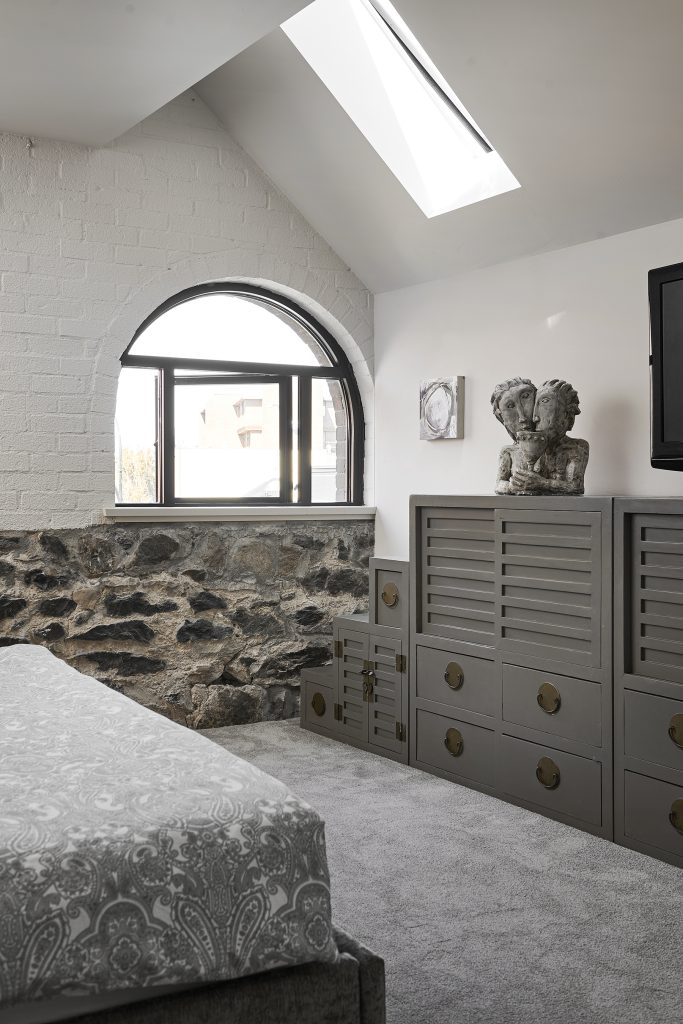 RESOURCES
Builder/Contractor: Kevin Painting of St. James Construction
Concept Drawings: Randall Recinos
Millwork: Kevin Painting of St. James Construction
Counters (kitchen): FloForm Countertops; (bathroom): Island Marble
Appliances: Lansdowne Appliance Gallery
Light Fixtures: McLaren Lighting
Garage Door: Tedford Overhead Doors & Gates
Fireplaces (inside and outside): Coastal Heating & Ventilation
Doors: Windsor Plywood Victoria
Rockwork: Bob the Mason