One of the joys of spring in Victoria is the frothy pink delight of the cherry trees in bloom. Before they're gone, celebrate sakura season with pretty-in-pink cuisine inspired by the blossoms.

By Cinda Chavich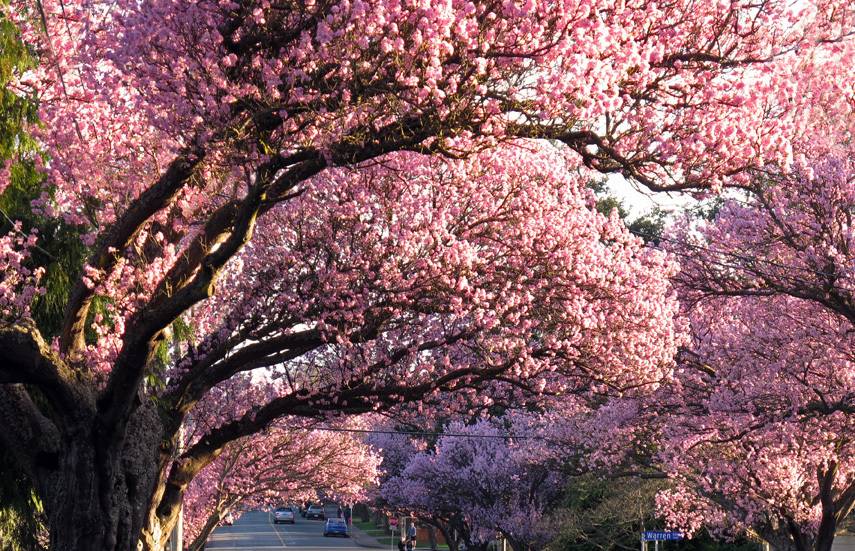 ---
It's such a magical gift to turn a corner and pass beneath a corridor of blooming trees. Pretty pink cherries and plums bloom in successive waves, the end of the season marked by blizzards of falling petals, drifting along the curb.
We can thank Japan for the sakura (cherry blossoms) we have enjoyed here for decades. The Japanese community donated 1,000 of the flowering cherry trees lining Victoria's downtown streets in the 1930s, with hundreds more planted around the city over the years. In 1936, 500 cherry trees were imported from Japan to be planted in Butchart Gardens and along Benvenuto Avenue in Brentwood Bay, with the gardens still home to 24 varieties of sakura specimens.
And while spring is the perfect time to haul out your camera and take a walk down Moss Street or through Beacon Hill Park to admire the blooms, it's also a great opportunity to share another Japanese tradition, the Hanami Picnic.
JAPANESE TRADITIONS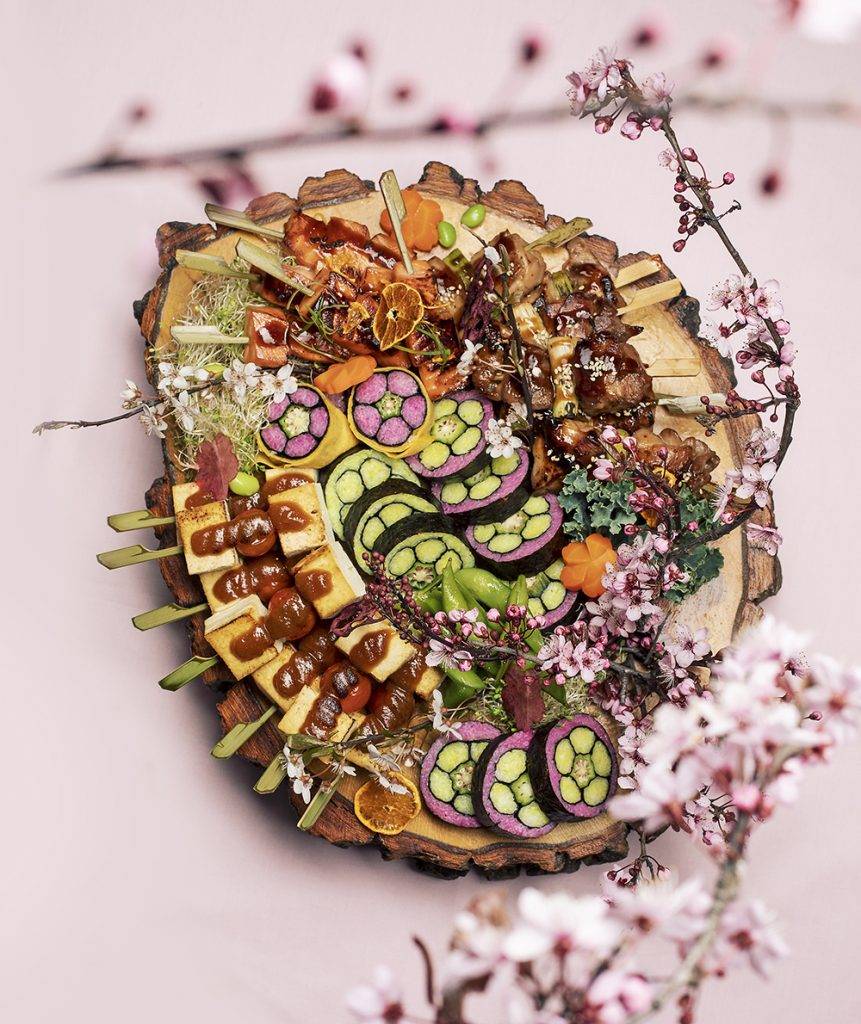 ---
Chef Moto Nozawa and his wife Minako recall growing up in Japan, where hanami (cherry blossom viewing) parties are annual events, whether it's the company picnic or a family gathering. Sakura season is celebrated by all, parks crowded with people supping and sipping beneath the blooming boughs late into the night.
While there will be no big gatherings in Japanese parks this year, we can still celebrate the season while sheltering at home with Nozawa's Japanese cuisine.
When their family arrived in Victoria just two years ago, Nozawa says the city's iconic trees reminded him of home.
"All of the cherry trees blooming here is just like Japan," says Nozawa, who cooked at several top restaurants and hotels in Alberta before joining the team at House of Boateng. I asked Nozawa to share a favourite Japanese picnic food and he presented a stunning display of intricate blossom-shaped sushi rolls, dyed fuchsia pink with beet juice, alongside little skewers of salmon, chicken and tofu, marinated in sweet soy and mirin. (He shares his skewer recipe here.)
"We have a packed lunch, according to the season," he says, "and for Hanami, it's a sakura theme, pink foods and sweets."
If you missed The House of Boateng's recent Japanese dinner, Nozawa says they will definitely be doing it again. The chefs at the restaurant are offering special supper club dinners for take-out or delivery every Friday and Saturday. The menu changes weekly, but the rotation includes chef Nozawa's three-course traditional Japanese dinner of pretty Hanami sushi, Okonomiyaki pancake with Yakibuta pork loin, and skewers of Kushi Yaki chicken and beef with charred edamame. (Check their Facebook or Instagram feeds to find out what's on the menu this week, or order specialties from their HOB Market, including Chef Castro's hot sauce, jerk marinade and salad dressing, greens from Plot Market Garden, local eggs and other seasonal specialties.)
SPRING IS THE THING
Cherry blossom season is a big deal in Japan — everything turns pink to celebrate sakura, whether it's savory pink mochi and rice balls studded with pickled sakura blossoms, or a Starbucks cherry blossom frappuccino. There are seasonal sakura specialties in local cafés and department stores. Think blossoms floating in sakura jellies, sakura season ramen, mini sakura Cinnabons with blossom-infused cream cheese icing, or the limited edition Coca-Cola in flowery pink bottles. You'll find sakura season foods in bakeries, supermarkets and convenience stores in Japan — ready-to-eat bento boxes with onigiri rice balls, pale pink cakes and mochi desserts, even pink prawn burgers on pink buns.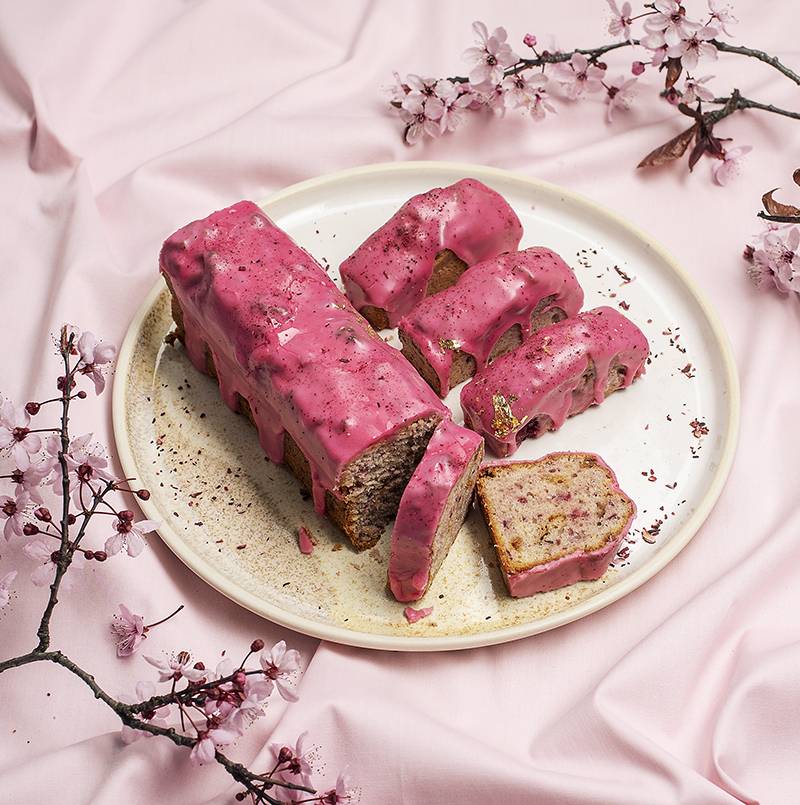 ---
Traditionally, cherry blossoms are pickled with salt and umezu (vinegar), added to wagashi (a Japanese sweet), and anpan, a sweet bread with bean paste, or used to make herbal sakura tea.
Chef Takashi Ito, who recently retired as executive chef at the Inn at Laurel Point, was thinking about those salty blossoms when he suggested serving rice balls tinted pale pink with red shiso for a picnic, alongside lightly pickled spot prawns, sous vide BC salmon with ginger sakura glaze and sekihan rice, cooked with red adzuki beans.
"Hanami lunch is for welcoming spring, celebrating the beauty of nature, and enjoying lunch with people you care about," says Ito.
PRETTY IN PINK
With pink as your inspiration, you'll find both traditional and creative food and drink to celebrate sakura season in Victoria, from pink glazed donuts to pretty macaron. Pack a picnic with pink tableware, serve blush wines and pink lemonade. Soak hard-boiled eggs in beet juice to make pretty pink devilled eggs, and enjoy alongside colourful watermelon radishes and slices of fresh watermelon.
At Mosi Bakery Café and Gelateria, Stefano Mosi is riffing on his Italian grandfather's traditional gelato recipe when he makes his sakura gelato, with powdered dried blossoms imported from Japan and local Silk Road cherry blossom tea. The award-winning gelato maker — who will compete in the world gelato championships in next year — developed his sakura gelato recipe while living in Maui. With a bare blush of pink and a lightly spicy, floral and herbal flavour, it's makes a unique hanami dessert.
Or you might try something from Chimoto, Victoria's Japanese dessert café, such as pastel-coloured Hanami Dango sticky rice ball sweets and glistening Raindrop jelly cakes, washed down with a refreshing iced sakura tea, made with cherry blossom syrup.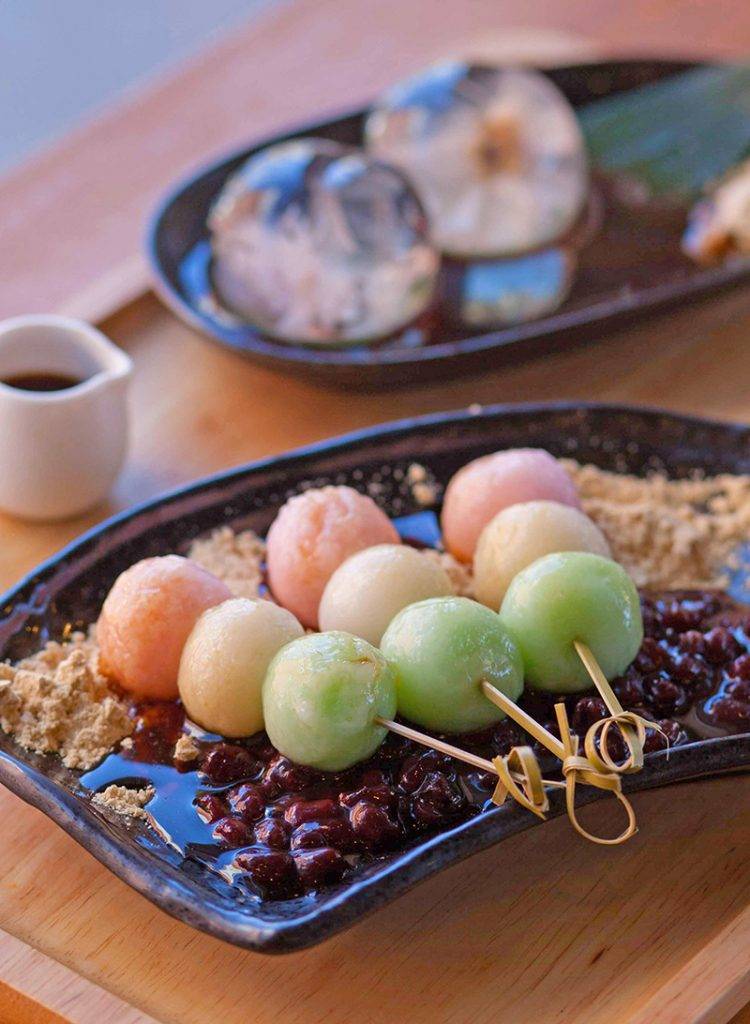 ---
If something stronger is in order — and it often is at a hanami picnic in Japan — there's Sheringham Distillery's Kazuki Gin, a unique cherry blossom and citrusy, yuzu-inflused spirit, the petals imported from Japan, with green tea and flowers added from local Westholme Tea Farm. Its soft floral aromas reflect the spring season, and make it the perfect base for a hanami party cocktail. Find a Sakura cocktail recipe here.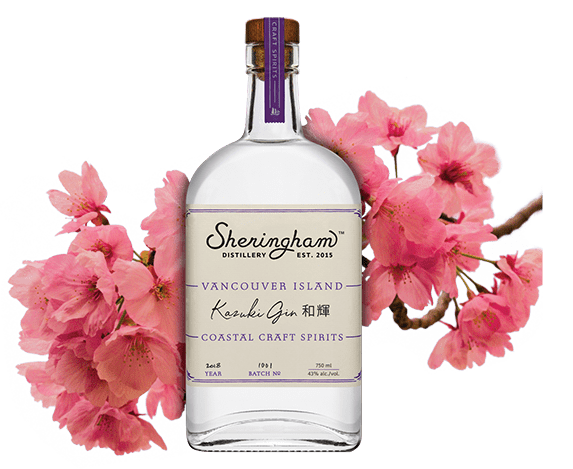 SAKURA SIGHTINGS
With the streets awash in pink blossoms, the petals literally blanketing ground like snow, you know it's spring in Victoria.
Flowering cherry and plum trees explode in pretty shades, from barely blush to fiery fuchsia, a sign of the city's changing seasons.
According to Tourism Victoria, "a mature cherry or plum tree can boast anywhere from 250,000 to 750,000 blossoms" and with their on-line spring blossoms map, you can literally see millions of them as you stroll our city streets. Though there's no formal cherry blossom festival in Victoria, it's "an amazing place for blossoms with thousands of Prunus (flowering cherry and plum) trees in bloom" over a four-month period.
Stroll the neighborhoods of James Bay and Fairfield, through Beacon Hill Park or Butchart Gardens to admire the blooms — south Turner Street, View Street, Moss Street and Trutch are notable, with rare weeping sakura at the foot of Belleville Street. The flowering trees along Fisgard Street in Chinatown make a colourful backdrop.
Or you may simply have a blooming specimen in your own backyard.
Both cherry and plum trees bloom in successive waves, but did you know each blossom has a unique meaning in Japanese culture? The fleeting Sakura, so delicate and fragile, is a metaphor for life itself, a beautiful gift that must be appreciated while it lasts. The plum blossom, or Ume, blooms earlier, in the last cold days of winter, so symbolizes perseverance and hope, a flower that thrives in adverse conditions.
It's why Daniela Cubelic of Silk Road Tea offers both floral sakura cherry blossom and sour cherry-infused teas in her lineup, and uses a graphic red and white plum blossom in her logo.
"Cherry blossoms celebrate youth, impermanence and fleeting beauty, the beauty of the moment," says Cubelic, "while the plum blossom is a symbol of inner resilience, strength and vitality which goes beyond age. It's about understanding that you can create inner radiance that becomes outward beauty."
So take time to admire the beauty of our iconic cherry blossoms and host a hanami picnic, that's pretty in pink!