YAM explores how the Holiday season is the perfect time to enjoy the bounty of the sea.
By Cinda Cavich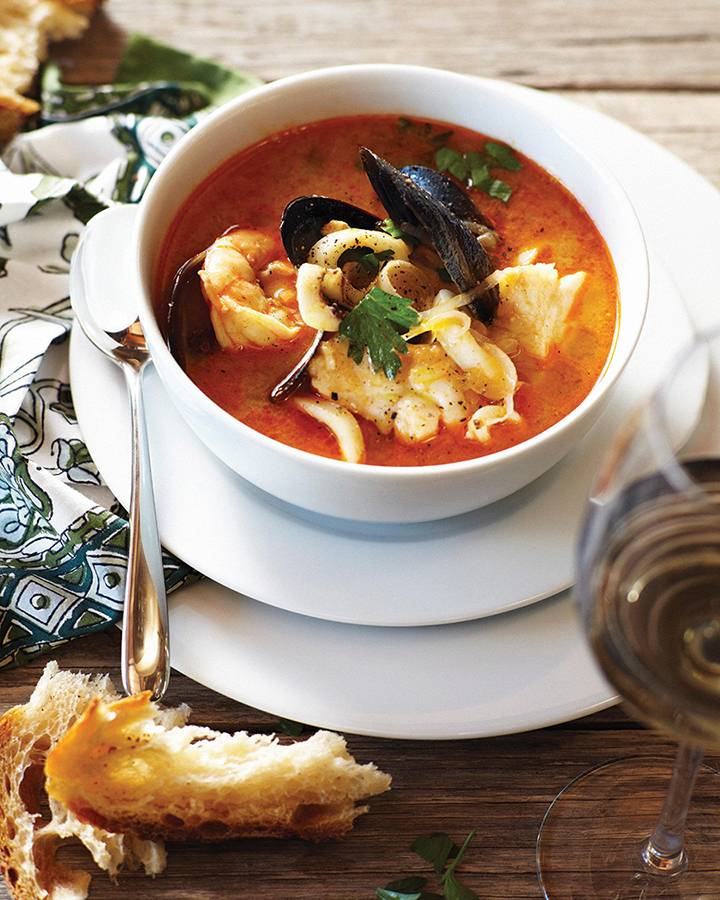 There's something about serving crustaceans that always says "let's celebrate" to me.
Though shellfish was a rare treat in my childhood home, every year, just before Christmas, my dad would come home with several pounds of frozen jumbo shrimp to be served at holiday gatherings with classic, horseradish-spiked cocktail sauce for dipping. It was the splurge of the season.
Today, we have an abundance of choice when it comes to buying shellfish — whether it's a box of live lobster flown in from the East Coast, a feed of wild B.C. spot prawns or a feast of local Dungeness crab. But shellfish is still a special treat when it's on the menu.
I love to serve a mixture of local shellfish in a big communal paella or an elegant bouillabaisse, infused with fragrant orange peel and fennel. You can add crab or lobster to a festive risotto, and roll it up in sushi or salad rolls for pretty party hors d'oeuvres.
Or just keep it simple. Steamed shellfish, served hot or cold, is always impressive. Feast with a hands-on crab or lobster boil, complete with crackers and bibs for your guests, or prepare a tower of iced shellfish for a beautiful buffet.
It's an easy way to entertain too. Just pop a bottle of bubbly, offer a bit of drawn butter or herbed mayonnaise for dipping, and your crustaceans will be the life of the party!
For recipe ideas for your holiday feast, see our article on seafood recipe ideas.
Celebrate with Crab
Here on the West Coast, sweet Dungeness crab is available year round.
Tim Webster of Hi-Gear Seafood is a local Dungeness crab wholesaler — a former crab fisher who now consolidates the crab catch from other locals to sell to B.C. retailers and chefs. It's the crab you'll find in the tanks at Thrifty Foods. I caught up with him at his facility at Finest at Sea where he was busy packing 400 pounds of live crab to send to an Island fishing lodge for an all-you-can-eat feast.
"The price is chaotic and the catch rate is chaotic," he said, describing a regulated and sustainable Island fishery that feeds demand around the world, especially for Asian customers. No females are kept, soft shells are not accepted and specimens must be a minimum size.
You can buy live crab from fishmongers or direct from the Hi-Gear boat at Fisherman's Wharf in season. Retail prices can reach $18 to $20 a pound for live Dungeness crab, though B grade (crabs missing legs or claws) can be half the price.
When the Oregon and Washington crab fishery opens in December, consumers can often find the lowest prices.
You can find live crab in tanks at seafood shops and fish counters around town. Whole live crab must be cooked the same day you buy it, but I prefer to have the fishmonger dispatch and clean the crab before bringing it home. That way, you'll have halves — each with plenty of body meat, a claw and legs — to boil or steam and serve hot or cold with crab crackers and picks, or shuck to use in other recipes. Add crab to boiling, salted water and boil for eight minutes, then chill in cold water. The raw cleaned halves can also be refrigerated for a few days before cooking.
Always save the small legs and shells when you cook crab (or lobster), then roast and simmer with a mirepoix to make flavourful crab stock for your next risotto or bisque.
Love of Lobster
While lobster is only fished in Eastern Canadian waters, it's always available, fresh or frozen, especially over the holidays.
In fact, the best quality lobster of the year is caught between November and January, so the holiday season is really the perfect time for a lobster, whether you choose to fly in the crustaceans live and present them whole for cracking, or turn pre-shucked lobster meat into an elegant risotto or hearty lobster mac and cheese casserole.
I learned a lot about lobster during a trip to PEI earlier this year. The fishing families head out to set traps in the short spring and fall seasons, then send their live catch to lobster pounds — which are holding facilities where lobsters are kept to be shipped across the country and around the world. Mitch Jollimore's Basin View Seafood has lobster storage ponds and can arrange to ship lobster to your door. In Nova Scotia, Clearwater ships live and fresh-split frozen lobster around the world, even packing it to carry on your flight from the Halifax airport.
Here in Victoria, Hi-Gear imports the live Canadian lobster you'll find for sale at city fish markets and supermarkets. While lobster may seem like a decadent luxury, it was actually significantly cheaper than Dungeness crab this summer.
Buy the live lobster on the day you plan to cook it. You can hold live lobsters or crabs in the refrigerator for 24 hours, wrapped in damp towels or newspaper, but never in fresh water (or on ice), as that will kill them. Pick lively specimens with long antennae, and make sure the shells are hard. Smaller lobsters (less than three pounds) are tastiest, and you get the bonus of tasty red roe with female lobsters (they have the soft, feathery top swimmerette fins versus the males' hard, bony fins).
Live lobster may be boiled or steamed, but steaming is more forgiving. Steam lobster in over two inches of boiling water, 10 minutes for one-pound lobsters, 18 minutes for two-pound specimens (10 minutes per pound of lobster in the pot).
Boil lobsters in lots of salty water (sea water or one tablespoon sea salt per litre of fresh water) in a very large pot (16 L pot with 12 L water for four 1.5- to 2-pound lobsters) for eight minutes per pound (total weight in the pot).
That's for fully cooked lobster — if you plan to shuck the lobster and cook the meat again in another dish, cut the boiling time back to about four minutes per pound.
Like crab, you'll only get about a quarter pound of meat from each pound of live lobster, so plan accordingly. Frozen, raw lobster tails are another easy option and nice to grill — just de-vein, top with herbed garlic butter, and grill on medium-high heat for four to five minutes, until cooked through.
Divine Prawns
Though sweet, local spot prawns and side stripe shrimp are not in season right now, you'll find them cleaned and frozen in blocks of seawater at local fishmongers like Oak Bay Seafood and Finest At Sea.
Thaw, drain and quickly poach or steam just until the tails turn pink and begin to curl, then chill in ice water. Serve prawns cold with cocktail sauce (equal parts ketchup and drained, jarred horseradish) or chipotle aioli (mayonnaise flavoured to taste with puréed chipotle chilies).
Don't Waste the Taste
It may seem like there's a lot of waste when it comes to buying shellfish — a pound of live crab only yields a quarter pound of shucked meat — but you can use some of these by-products in other recipes.
Save your lobster and crab shells to make the base for a creamy bisque. Make lobster oil with the shells, and lobster butter from the tomalley (liver) to spread on crostini. You can even serve the bright red roe from a female lobster, or crumble it over your seafood pasta (or lobster mac and cheese) for a shot of festive colour.
This article is from the November/December 2018 issue of YAM.