Victoria is blessed with trendsetters and tastemakers, like chef Sam Harris of Boom + Batten, who reflect Victoria's evolution as the capital of cool. Harris is at the forefront of his craft and we can't wait to see what he does next.
By Athena McKenzie // Photo by Jeffrey Bosdet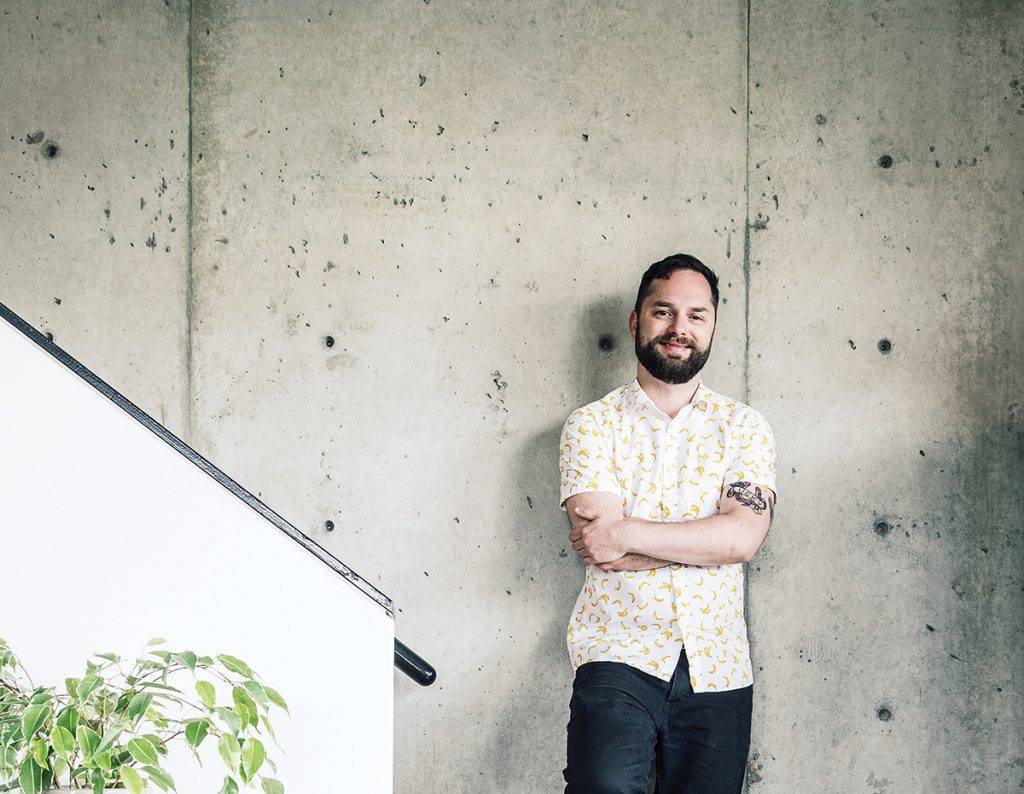 ---
"I'm very detail oriented. I'm obsessed with hospitality,'" says chef Sam Harris. "There's that little piece inside that I call 'the soul of the innkeeper.' I'm someone who actually receives emotional gratification from hosting."
If Victoria is fast becoming a national culinary powerhouse, it's in no small part due to Harris. Just look at the past few years of Air Canada's enRoute Magazine's nominations for Canada's best new restaurants: Harris was chef at Agrius when it was listed in 2016 and again at The Courtney Room when it was included in 2018. 
Starting up restaurants holds a special appeal for Harris, who is now executive chef at the recently opened Boom + Batten at the Victoria International Marina.
"It's about building something out of nothing," Harris says. "And I think Boom + Batten is the most special because there was literally nothing here before. A lot of projects used to be another restaurant in the location, or even a hardware store. Whereas this was different — nothing but the ocean was here before. It has an emotional impact, creating something out of nothing." 
Serendipity is a word that comes up a lot when talking to Harris about his career. He credits his success to meeting the right people at the "exact" right time, describing his first job under John Taylor at Domus Café in Ottawa as a really lucky break.
"I got the job while I was still in culinary school," he says. "It was an iconic restaurant, and Taylor was doing regional, seasonal, organic, farm-to-table cuisine. And that's where I really learned how to shop. I was in school learning how to use a knife, and the experience at Domus really blew my mind.
It was a whole world in which you don't have to just order everything from a big-box company. There was a network of suppliers that would deliver things themselves. It opened my eyes." 
After moving to B.C. in 2006, Harris worked in several hotel chains, including the Four Seasons, before starting as the sous chef at Bishop's in Vancouver. 
"In the time that I was there, John Bishop taught me about the dining room, which has become something that has really helped me achieve success in the restaurant world," Harris says.
He describes how Bishop would make him go into the dining room every night to talk to guests about the cooking techniques in the kitchen and the local ingredients that were going into the food — even about the unique basting spoon he used to create his meat dishes.
"It was very nerve-wracking at first, and then it just became a natural part of my job. It really showed me there is no barrier between the kitchen and the dining room."
Harris settled in Victoria in 2013, becoming the executive chef at Stage Wine Bar in Fernwood before leaving to open Agrius. He was then lured away (as enRoute describes it) to The Courtney Room in the Magnolia Hotel & Spa. His new venture at Boom + Batten looks to blend casual and fine dining, with food inspired by its Pacific Northwest locale. 
"I've been really lucky to be acknowledged on a bunch of lists on different projects — and that is validating, and that's great," he says. "But I tell my team that doesn't matter. The people who come into the room matter. A lot of my best memories are at a dinner table with friends and family. And that's what I want to do here at Boom + Batten. Let people really enjoy the experience."
---
This article is from the September/October 2019 issue of YAM.