By Cinda Chavich
As the classic song goes, it's the time of year for chestnuts roasting on an open fire. But beyond a paper cone of hot nuts from a street vendor, there are many delicious ways to enjoy this star of the holiday season. I'm partial to chestnuts tossed with bacon and Brussels sprouts, puréed into creamy soups or layered in holiday trifles. And while it does negate this healthy nut's low-cal claims, my latest addiction is the luxurious marron glacé, a truly rare and decadent sweet.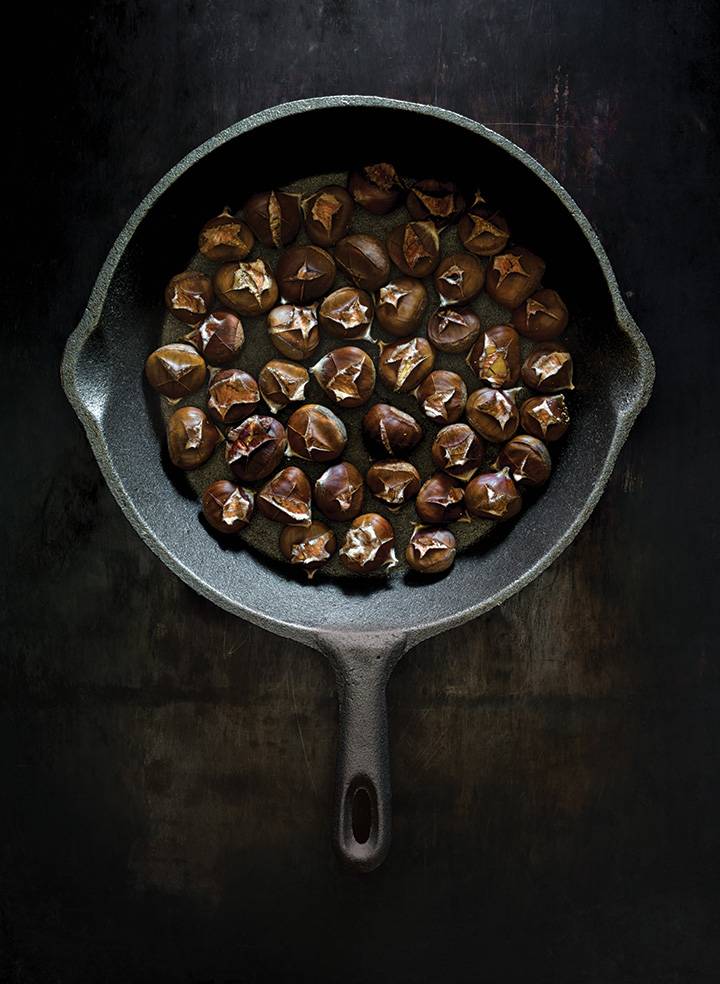 On a recent visit to Italy with a group of Canadian food writers, I learned the secrets to cooking, peeling and serving fresh chestnuts. But it was the sweet and nutty candied chestnuts that were a real revelation. Still made in northern Italy and southern France, marrons glacés were first served in Italy's Piedmont region in the 15th century, though it was François Pierre de la Varenne, the famed 17th-century chef of Lyon, who recorded the first recipe for this rare delight.
The Raffael Chestnut Co. plant we toured in November had long since finished processing the season's local chestnut harvest and wrapping each elegant sweet in golden foil to ship around the world. The company's proprietary technology, using giant pressure cookers, speeds up the process somewhat, but making marrons glacés is still a multi-day affair.
It all adds to luxury and cost, but a meticulous process infuses this honeyed confection with its amazing flavour, a result of soaking and cooking the big starchy nuts in sugary syrups over five or six days, until they emerge caramel coloured and translucent to the core, with a crystallized, sugary glaze.
Raffael exports its chestnuts to Canada, both simple-peeled and vacuum-packed, to add to savoury dishes, and these elegant sweets make a rich and alluring addition to the holiday dessert tray.
A box of marrons glacés is a coveted — and expensive — gift, so I wondered just how I might hack the process, to create this classic confection at home.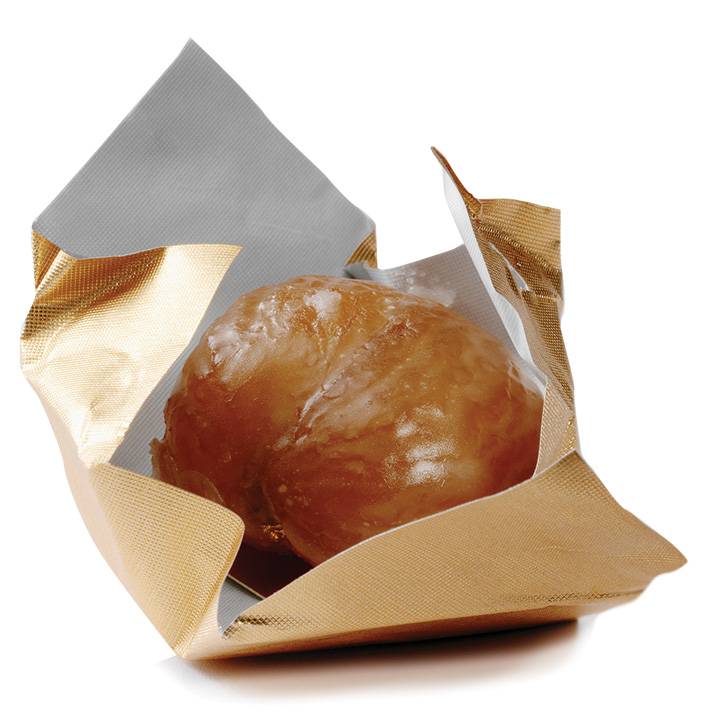 Making Your Own Marrons Glacés
The first order of business is sourcing the fresh nuts. A little research uncovered a sad fact — more than a century ago, a blight attacked the edible sweet chestnut, or American chestnut trees (Castanea dentata), virtually wiping them out across North America. The chestnut blight has proved nearly impossible to destroy, though recovery efforts are ongoing by groups like the non-profit Canadian Chestnut Council to re-establish the wild chestnut. Still, the sweet chestnut, native to southern Ontario, remains an endangered species.
Here in B.C., you'll find lots of horse chestnut trees (Aesculus hippocastanum), and though the nuts they produce look similar, they are toxic and should never be consumed. You might get lucky and find some locally grown sweet chestnuts at farmer's markets, but most of the chestnuts we can buy in Canada today are imported. The finest come from Italy, and the vast majority are grown in China. Small farms in Oregon and Washington produce chestnuts too.
When purchasing chestnuts, choose shiny specimens that are large and heavy for their size.
When purchasing chestnuts, choose shiny specimens that are large and heavy for their size. Chestnuts are perishable, so it's best to refrigerate them, and do use them within a week. They are not easy to peel, but getting at that sweet nutty flesh is worth the effort. Broken pieces are fine for many recipes but they need to be clean, and whole, for perfect marrons glacés (recipe below).
Ready to Roast
An open fire is still the tastiest way to roast chestnuts for snacks. When the wood burns low in the fireplace, just cut a slit or X across the rounded side of the shell (essential for preventing exploding chestnuts). Soak them in water for a minute after scoring the shells, and they'll steam a little as they roast. Then put them in a wire basket or fish cooker and shake them over the embers until they split open. Peel the chestnuts, removing both the leathery shell and the fuzzy brown skin beneath. Alternatively, roast in a single layer in a hot 400°F oven.
Cooking with Chestnuts
Want to use your chestnuts in other dishes? Boiling or steaming is the best way to remove the shell and fuzzy brown pellicle that clings to the nut. Again, remember to slice through the shell and inner layer, then steam or boil for about 20 to 25 minutes, until the shells curl back. Peel chestnuts while hot for best results. You can also cut nuts in half and microwave 3 to 5 minutes to cook them. To save this step, buy whole peeled and vacuum-packed chestnuts.
Chestnuts are also ground into flour for making breads and cakes or puréed and sold in tins, both natural and sweetened. I found all of these chestnut products at Ottavio Italian Bakery & Delicatessen, which also imports sacks of fresh Italian chestnuts during the holiday season. Though the flavour isn't quite as delicate, you'll also find dried whole chestnuts in Chinese markets. Simply soak them in boiling water for 2 to 6 hours, then cook in plenty of boiling water for 15 minutes, until tender.
You can use them whole in savoury dishes, purée them for soups or combine with sugar and cream for chestnut mousse. They're delicious in poultry stuffings or simply simmered in red wine with bay leaves. And, of course, there's the extravagantly sweet marrons glacés. Whole roasted chestnuts make a delicious, and healthy, snack — high in fibre with the nutritional value of brown rice and virtually no fat, unlike most other nuts.
But fresh chestnuts are only available for a few weeks each year, so they're a real delicacy. Make sure to stop and smell the chestnuts roasting on the street this holiday season, whether you take in the annual Oak Bay Village light-up event or the annual Christmas open house at Ottavio.
A beautiful box of marrons glacés, imported from Europe or cooked up in your own kitchen, makes a wonderful holiday gift for someone special. Or start a family holiday tradition and roast a batch of chestnuts at home.
---
RECIPES
Courtesy of Cinda Chavich
DIY MARRONS GLACÉS
It's a slow process, but your friends will be impressed!
• 1 lb boiled or roasted chestnuts
• 1 lb sugar
• 1 1/4 cups water
• 1 tsp vanilla extract
Shell the chestnuts and remove any brown inner skin. If you have trouble removing the skin, return the shelled nuts to boiling water for a minute or two. Use a toothpick to carefully pry any brown skin from the crevices until the nuts are completely clean. You want large, whole, perfect nuts (broken bits are perfect for soups or purées).
In a heavy saucepan, combine the sugar, water and vanilla, and bring to a boil. Simmer 5 minutes.
Add the peeled, whole chestnuts. Stir to combine and bring to a boil again. Cook for 10 minutes, then remove from heat. Cool mixture slightly, then pour into a heat-proof bowl. Cover and let stand at room temperature for 12 hours.
Return mixture to the saucepan, bring back to a boil, and cook 2 minutes, then cool and let rest 12 hours. Repeat the process at least twice over the next two days, until the chestnuts have absorbed all of the sugar syrup.
Preheat the oven to 150°F. Place the chestnuts on a wire rack, set over a baking sheet, and dry in the oven, with the door propped open, for about 2 hours. Then wrap individually in foil or parchment and place in a pretty jar or box for presentation.
---
BRUSSELS SPROUTS YOU'LL LOVE
The Brussels sprout — that adorable miniature cabbage, and first of the mini-vegetables on the scene — often gets no respect. But whether you love or hate Brussels sprouts, give this recipe a try. It's a winner that almost everyone enjoys, and it will give your holiday plate the shot of fresh colour it needs.
• 1 lb Brussels sprouts (the smaller, the better)
• 2 tbsp butter
• 1 tbsp extra virgin olive oil
• Salt and freshly ground black pepper
• 1/3 cup roasted chestnuts (or pecans)
• 1⁄2 fresh lemon, seeds removed
Bring a large pot of salted water to a boil. Trim the sprouts by cutting the base cleanly and slicing a little X on the base of each. Pull off any loose or yellow leaves.
Add the sprouts to the boiling water, cover the pot, and boil them for 10 minutes, no longer. (Alternately, you can steam them for 10 minutes.) The trick to tasty sprouts is cooking them until they're just tender — no more. Overcooked Brussels sprouts have a strong flavour.
Once cooked, drain and immediately immerse the sprouts in a bowl of ice water to stop the cooking process. Drain sprouts again, pressing lightly to remove excess water, then place in a covered bowl and refrigerate.
When you're ready to serve the Brussels sprouts, heat the butter and oil in a large sauté pan over medium heat. When the butter is bubbly and beginning to turn a bit brown, add the chestnuts (or pecans) and cook for a minute. Return the sprouts to the pan, and sauté for 3 to 4 minutes or until the sprouts are just heated though. Season with salt and pepper, and squeeze the lemon over top. Serve immediately. Serves 4.
---
CHESTNUT TRIFLE
I love making tiramisu-style trifles with ladyfingers and mascarpone cream. In the summertime, I layer the cookies and cream with fresh peaches and crumbled amaretti cookies. But it's also a wonderful way to use sweet marrons glacés and canned chestnut purée in a rich, holiday dessert.
• Two 500-g packages ladyfingers
• 1/2 cup sweet sherry
• 5 very fresh eggs
• 6 tbsp sugar
• 1 450-ml container mascarpone double cream cheese
• 1 450-g tin chestnut purée
• 1/2 cup heavy cream
• 1/2 cup brown sugar
• 1 tsp vanilla
• Marrons glacés to garnish
Separate the eggs. Using an electric mixer, beat the whites until stiff. In a bowl, combine the yolks and sugar and beat until light coloured. Add the mascarpone and beat until combined. Fold in the egg whites to lighten.
In the food processor, combine the chestnut purée, cream, brown sugar and vanilla and whirl to combine.
Place a layer of ladyfingers in a large glass trifle bowl or 9×12-inch pan. Sprinkle with half of the sweet sherry.
Top with half of the chestnut purée and 1/2 of the mascarpone cream. Repeat layers, finishing with cream.
Cover and refrigerate 4 hours or overnight. Decorate the trifle with marrons glacés.
Serves 8 to 10.
TIP: No access to marrons glacés? Garnish this decadent trifle with hazelnut meringues from the local bake shop, or mini chocolate cups filled with chestnut cream.