By Linda Barnard | Photos by Jeffrey Bosdet
Christin Geall expresses her passion for the natural world with her artful floral arrangements and photography.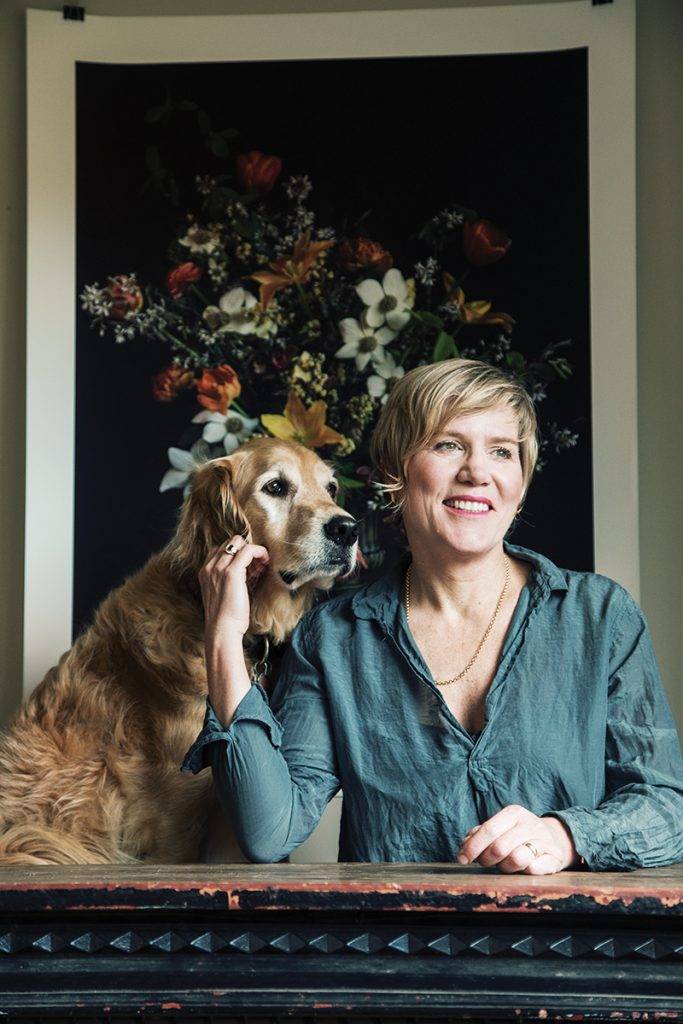 Ask Victoria flower grower, floral designer, writer and photographer Christin Geall to name her favourite bloom and she doesn't hesitate: tulips.
"They move with the light. Everyone knows that. So they're a dynamic flower," she says. "They do interesting things. They bend and they swerve and they come in so many colours, so many styles."
Geall seems to have much in common with her beloved tulips. A morning spent with her over a mug of herbal tea in her robin's egg-blue kitchen reveals someone always in motion and often seeking. Undeniably interesting and colourful, she's a Renaissance woman familiar with reinvention and at ease with change.
She's internationally known for her artful floral photography of the naturalistic arrangements she creates, mostly from B.C.-grown flowers and plants, including those cultivated on the one-third acre around her Oak Bay home.
Geall's book Cultivated: The Elements of Floral Style (Princeton Architectural Press) is now hitting the shelves. In it, she shares stories and lessons about her approach to growing, working with and photographing plants, along with deep dives into colour theory and art history.
Her fans will be delighted — and she has many of them.
Growing the Garden
Geall's photographs, typically accompanied by thought-provoking mini-essays, have netted her more than 92,000 Instagram followers — and growing.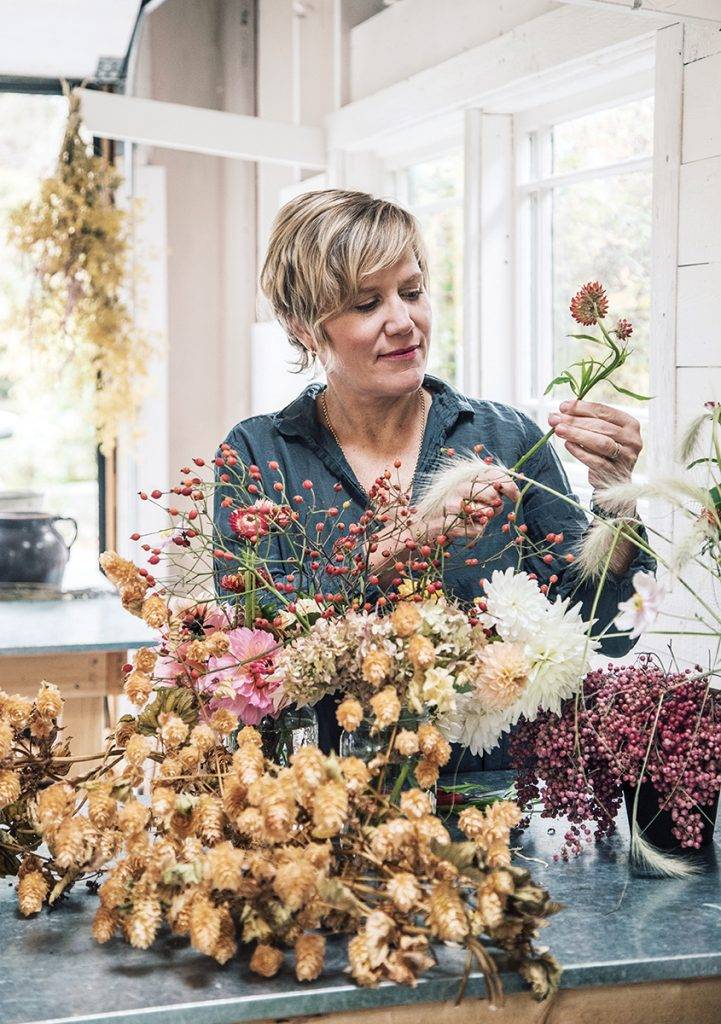 People come from as far away as South Korea to take a $950 one-day private floral class with Geall in the garden classroom housed in a converted white garage overlooking the garden. She also runs still-life workshops, group classes and floral design demonstrations.
From April to October, she sells bouquets of flowers grown in her urban garden. You can find them at Demitasse, a café and garden centre in Oak Bay.
Meanwhile, Geall is "upping my still-life game" to dovetail with her book launch, selling poster-size, fine-art prints of her floral photography.
"I do often feel like a jack of all trades, master of none," she says. "But at the same time, I've always been interdisciplinary. I've never been able to settle entirely into one thing and don't like to be too clearly defined."
Geall started her business after attending one of Washington State farmer-florist Erin Benzakein's Floret Farm flower design workshops in 2015. There, she found a link to a large community of primarily young women enthusiastic about sharing stories of their gardens and floral photography on social media. She immediately joined Instagram, launching her Cultivated website and blog the same spring.
Floral design workshops followed in 2016 and 2017. Geall also became serious about photography as a way to showcase her work and inspire others. She's very good at it. The photos of her informally artful arrangements have the velvety inner light and rich shadows of Dutch Golden Age paintings.
"The photography certainly changed a lot of what I'm looking for in flowers. It's deepened my relationship to plants," she says.
The Growing Season
Geall is unable to resist stopping to putter as we walk through the garden that wraps around three sides of the house that she shares with husband Kyle Hunker, a freelance tech sector CFO.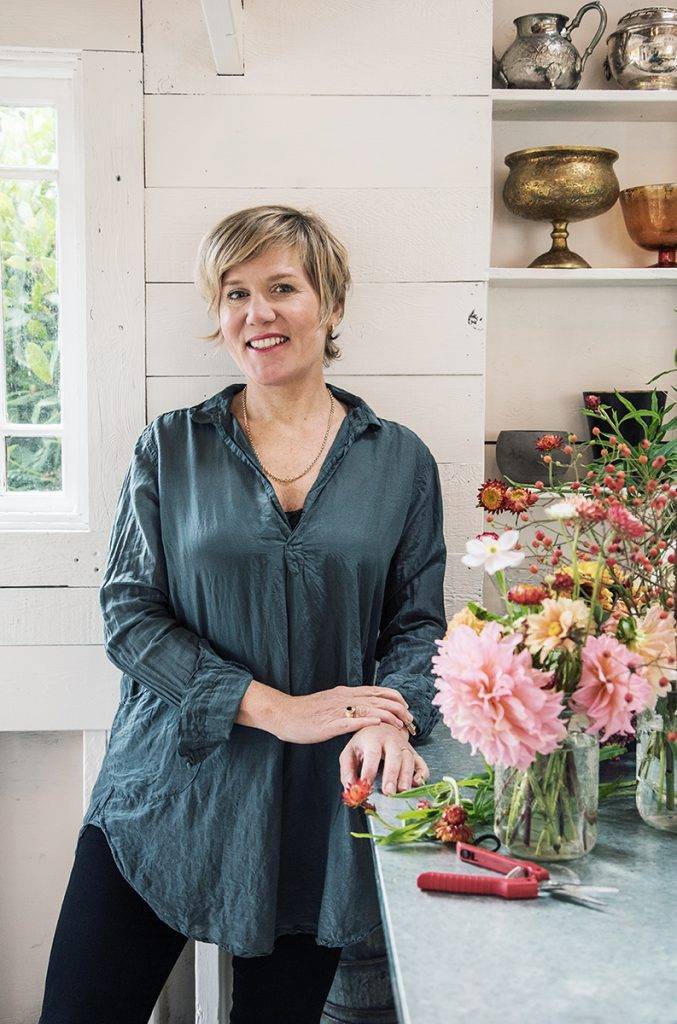 Her pastel pink office is in a part of the house that doesn't overlook the garden. She explains she'd never get anything done inside if she could see what needs doing outside.
"Floral design is about using what you have to the best of your ability, within your time constraints, and the limitations of the plants before you," Geall writes in Cultivated: The Elements of Floral Style. "It's about not knowing where you will end up."
And the same could be said for Geall. At age 24, she ended up solo homesteading on a piece of land she purchased for $45,000 on isolated Savary Island. After taking environmental studies and ethno-botany at UVic, she had wanted to go back to the land. She used an inheritance from her late mother, moving into a cabin on a waterfront sand bluff on an island with about 100 full-time residents.
"I developed this huge garden and fixed up the house. I wanted to acquire skills, you know, not just mental skills but bodily skills, like learning how to do things with my hands," she says.
She sold salad greens from her garden and worked the land to improve it. She also had her son, Leif. Now 21, he works in investment banking in London.
What lessons did she learn during her five years on Savary?
"I think one of the greatest lessons is that you can make soil, no matter where you are. It was so sandy and the project of soil-making became of great interest to me," she says of mixing sand, leaves, wood ash and other natural materials, allowing them to break down and become the growing medium for her garden.
Although she grew up with "a healthy dose of respect for the natural world," Geall isn't someone whose childhood memories compelled her to pick up a trowel. She fell for gardening when she was 19, a passion that grew when working for an herbalist in her gardens in Martha's Vineyard, Massachusetts.
Drawn in by stories of the plants, their uses and people's relationships with them, gardening slotted in with her passion for history and writing. Later, she interned in England at the famed Royal Botanic Gardens, Kew, in the herbaceous department. Geall moved to Oak Bay 10 years ago and grew what she knew best in her garden: greens.
"I'd never considered flower farming. I was growing a lot of salad greens here," she says.
Eventually, she switched to flowers and plants and started writing a gardening column for Oak Bay News, which later provided content for her Cultivated blog.
It sounds corny but it's true: Geall's garden grew a brand.
The impact of that growth can be seen in a massive print on one wall of her living room. It's one of Geall's photos, a study in yellow and rusty orange with creamy white dogwood, narcissus, tiny orchids and showy tulips, all from her garden or grown in B.C.
These fine art prints, as large as 40 x 60 inches, will be sold on her website. Her photography is also being used on notecards.
Local Love
Geall's workshops are part of that evolving brand. People learn about colour, history and principles of design. Some take her courses to create images to populate their Instagram feeds. She also leads a workshop that doubles as a vacation spot in Scotland for attendees, and recently started offering a workshop in France — which is already sold out.
She's also an activist, part of the "movement to remake forestry in a sustainable way."
Geall wants people to stop relying on imported flowers, to use what grows locally to minimize the carbon footprint of shipping, like the mass influx of red roses for Valentine's Day.
She refuses to use the green flower foam blocks that are typically the bases for arrangements and encourages others, especially commercial florists, to follow suit.
"It is a major waste product and there's no responsible way to get rid of it," Geall says, likening the material to the microbeads banned in face scrubs in Canada. "[The packaging] might say it biodegrades, but it just ends up as particulate matter in waterways."
Instead, she uses a spiked disc — called a flower frog — or chicken wire to hold stems in place, going back to the 1930s and 40s for her design techniques.
So why did Geall want to publish a book?
"Ego," she replies with a smile. "Yeah, that's very true. There'll be an opportunity for me to do speaking and lecture events and so on. People said it's a giant business card. I'd like to have another book to write because I don't have enough writing going on right now."
As usual, it's on to the next thing for Christin Geall.
---
This article is from the March/April 2020 issue of YAM