Handel's Messiah has been called many things, but seldom has it been deemed a sing-along. That's about to change.
By David Lennam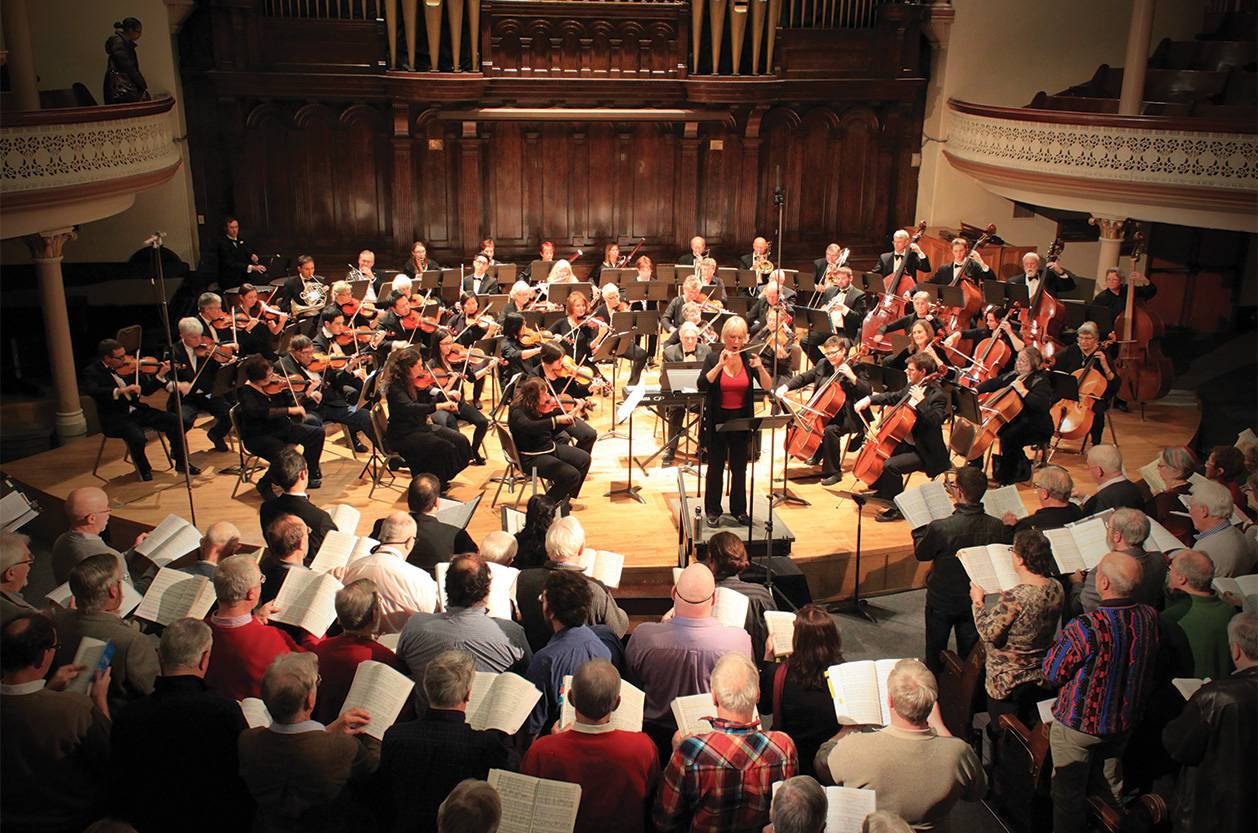 When: December 20 at 7 p.m.
Where: Alix Goolden Hall
For more information: Visit civicorchestraofvictoria.org
What it's all about: Bigger must be better when it comes to that seasonal musical extravagance Messiah.
Handel's masterpiece (although he never thought it was) pretty much begs a massed chorus — the 18th-century equivalent of stadium-rock-concert sound. Messiah done live is row upon row of singers, stacked like towers of Marshall amps, flanking the band.
And there are plenty of instances where choirs have been pumped up to involve the sonic overkill of thousands of voices. Well, overkill or overjoy, depending on how you like to handle your Handel.
You can be part of the experience by joining the Civic Orchestra of Victoria and some renowned vocal soloists for their 19th annual Sing-Along Messiah.
Civic Orchestra music director Brian Wismath conducted his first sing-along last year, but will pass the baton to guest conductor (and Civic Orchestra regular) Hilary Coupland this time around.
"It's very powerful as a conductor conducting something as historically significant as Messiah and, in addition, you have a few hundred people who want to sing along and sing their hearts out," says Wismath, who got to lead the big sing last year and found it established an instant sense of community.
"You could be standing next to someone on either side of you and you don't know them, but in that moment you're an ensemble. All those people become a choir."
Wismath is aware of how blending individual voices becomes this much greater sound stream.
He was a singer for many years before becoming a conductor and still works with several local choral groups, including the Victoria Choral Society, Linden Singers and Vox Humana Chamber Choir, as well as teaching voice at the Conservatory of Music and working as music director at Lutheran Church of the Cross.
Some of the best operatic voices in town join the orchestra to handle the bulk of Messiah (the tricky solos). The audience sings the choruses.
Wismath explains that many great oratorios of that era had the audience/chorus function as a response to what the soloists were doing.
"For example, they're the crowd that watches Jesus get taken up to the cross. And when you have such a large audience, it adds to the overall effect because there's more people responding to the story."
When Messiah made its 1742 debut in Dublin it was, comparatively, a rather scaled-back affair, featuring a chorus of only 20 or so singers. Then it started to balloon into a huge-scale oratorio tradition.
In 1857, audiences of 20,000-strong listened to Messiah at London's Crystal Palace, enjoying a chorus of more than 4,000 singers and an orchestra of 500 players. And the 300-strong Mormon Tabernacle Choir added an additional 2,000 voices in a 2016 performance via virtual video feeds of individuals who wanted to sing with them.
But despite the sheer number of voices filling concert halls and church naves, for most of us Messiah remains something to be heard and not sung. It's a complex work, and typically those who tackle it have joined a choir, shown up to weekly rehearsals and probably sung a bunch of songs they never wanted to hear again.
The Sing-Along Messiah is like a shortcut.
"Musically, technically, it is difficult. I don't know what it would be like for someone who's never heard it before. I imagine they would be listening more than singing. It's geared towards people who have experienced the work before." The Civic Orchestra — an auditioned community, not amateur, orchestra, Wismath points out — is in its 34th year. The musicians, who take their craft very seriously, include former Victoria Symphony members, music teachers, accountants, lawyers, doctors and an abundance of government workers like Catherine Clark, who has been bowing the cello with the group for a dozen years.
"Including rehearsals, I've played I don't know how many Messiahs, but I never, ever get tired of it and I always notice something I never noticed before, even though Handel cranked it out in two weeks."
She recalls once watching the Civic Orchestra in a Messiah rehearsal and knowing she had to be part of that sound.
"You almost feel it physically. The way the Alix Goolden [Hall] acoustics work when the singing audience is out there in the church pews and the orchestra's facing them, it turns into this kind of a perfect storm."
Messiah isn't the only seasonal concert the Civic Orchestra is playing. On December 9 they're presenting a Festive Brass Christmas as a matinee at the Dave Dunnet Community Theatre at Oak Bay High School. The Festive Brass, a quartet of local musicians regularly performs at The Butchart Gardens and is renowned for its quirky arrangements of holiday classics and sense of humour.
Sing-Along Messiah takes place December 20 at 7 p.m. at the Alix Goolden Hall.
Bring your warbling soprano, your pancake-flat bass or your straining-to-be Jean Valjean tenor and sit, folded score in hand, as part of the audience with 500 others. (You may be surprised, though, to discover how many of those snugged in next to you can actually sing the notes like trained pros.) Visit civicorchestraofvictoria.org for details.
This article is from the November/December 2017 issue of YAM.