Surrounded by sea, with rich soil, ancient forests and sustainable farms, Vancouver Island is a culinary heaven. YAM asked Sooke Harbour House, one of our most lauded culinary establishments, to celebrate the West Coast's flavours by creating a sumptuous holiday feast that is sure to be the beginning of a coastal tradition.
One of my favourite things about the holiday season is the food. It plays such an important part of the festivities, no matter where you hail from. For me, growing up in England, it was roast turkey, roast potatoes, Brussels sprouts, carrots and Yorkshire pudding with gravy, followed by Christmas pudding, also known as plum pudding, with bright yellow custard (Crème Anglaise to our posh neighbours). There was much excitement around the table when this very traditional dessert, dating back to medieval times, was brought to the table. My father would pour a little brandy over the top and ignite it — the blue-green flames eliciting gasps and shrieks — then the anticipation of finding a lucky brass, 12-sided, threepenny coin wrapped in greaseproof paper and hidden in the pudding. By sleight of hand, my mother always managed to ensure my brother and I were both 'lucky'.
No doubt we all have similar stories of the holiday season, special treats and recipes handed down from one generation to the next. It's tempting to preserve the culture of our heritage but this year, after living on Vancouver Island for more than two decades, I decided, with a little nudging from YAM's editor, to create a truly West Coast holiday dinner menu.
It might have remained an intellectual exercise, but I simply couldn't resist bringing it to life. All I needed was an adventurous, skilled chef, a kitchen committed to local ingredients, and a quintessential West Coast location.
Sooke Harbour House fitted the bill perfectly. Owners Sinclair and Frederique Philip are known for their passionate support of local food, wine, and coastal culture; and locavore chef Oliver Kienast believes, "Flavour begins in the seed and the soil." This match made in heaven resulted in a new take on Christmas dinner, focusing completely on local ingredients and wines.
---
Chef Oliver Kienast's Menu
Soup
Rouge Vif d'Etampes Squash, Apple and Whey Soup with Fresh Cheese
Garnishes for the soup: Wild Mushroom Brown Butter, Fermented Carrots, Fresh Radish
Seafood Course
Crab
Mussels
Sweet Cicely Emulsion
Crab Apple Jelly
Belgian Endive
Hazelnuts
Fresh Apple
Meat Course
Lamb Sirloin
Alder Cone Jus
Chanterelles
Emmer
Lamb Bacon
Delicata Squash
Kale
Pear and Celeriac Purée
Dessert
Beet and Chocolate Cake
---
My wife and I joined the Philips family for our special dinner in the Potlatch Room at the hotel, its warm cedar walls punctuated by stunning First Nations' carvings. A festive table, decorated by Karen Stones of A Sea of Bloom and Tricia Hartwig of En Vied Events, featured a large tree branch slung between pillars of branches festooned with glass balls containing red flowers and candles. The centrepiece, a carving of two salmon swimming above twisted driftwood and beside a bed of green glass jellyfish, echoed the coastal theme perfectly.
Our pre-dinner aperitifs were enjoyed by a roaring log fire, cracking and spitting loudly, making itself heard above the exclamations of approval for the Venturi-Schulze 2010 Brut Naturel. This well-balanced, bottle fermented, sparkling wine, is bone dry and has wonderfully gentle, persistent bubbles.
With our second glasses in hand, we moved to the table for our first course: Rouge Vif d'Etampes Squash, Apple and Whey Soup. This vibrant red/orange heirloom squash dates back to 1883 here in North America. Often called the Cinderella squash, it's more complex than a pumpkin, less watery, and offers up more flavour notes. The ingredients for our soup came from Sooke farms or the kitchen garden. Chef Kienast made the cheese (used as part of the garnish) from which he reserved the whey to add to the soup. The remaining garnish of fermented carrot, wild lobster mushrooms (foraged from Jordan River), fruit sage brown butter and radish shoots elevated this clean-tasting soup to extraordinary heights.
When asked how he achieved such a smooth soup, Chef Kienast readily gave up his secret. "You need to stew the onions a lot, and don't use any potato or other starch; use a good blender then push the soup through a fine sieve."
The lemon, lime, peach and apple notes of the Brut Naturel, with its delicate yeasty, herbal, and light gingery notes, complemented the soup perfectly.
A Delicious Coastal Connection
One course down and I felt connected with the land on so many levels. The flavours were in tune with the festive season and added to the soft, warm ambience of family and friends enjoying a special occasion.
I had wanted to see fish on the menu, but at this time of year the supply can be unpredictable so we had to choose our seafood wisely. For our second course, our chef prepared Dungeness crab and crispy mussels served with a sweet cicely emulsion, plus endive, crab apple jelly, fresh apple, hazelnuts and watercress. The crab was simply cooked in salted water and the mussels steamed in a hot pan with some chardonnay until just opened, quickly cooled and coated with flour, egg, breadcrumbs and sweet cicely.
This was a superbly balanced dish, the cornucopia of flavours came together so well you could taste them all in every bite; the bitterness of the endive acting as a perfect counterpoint to the sweetness of the crab. Sinclair paired a 2012 Pinot Gris, a medium to full-bodied white from Unsworth Vineyards with this course. Citrus tones, herbal flavours, lively acidity — it was like adding lemon to the seafood.
The Main Event
The main course, a Grilled Metchosin Lamb Sirloin, brought together our region's very best ingredients in a complex dish with bold, exciting flavours. A big, complex wine was required; my favourite of the evening, Alderlea Vineyard's 2010 Clarinet Marechal Foch. My fellow diners tasted blackberries, cherries, macerated plums, blueberries, figs, as well as spicy flavours including white pepper, vanilla, cinnamon, nutmeg and a herbal lemon verbena tone.
Accompanying the lamb was an heirloom grain (emmer) with Montana cheese, thyme and sauerkraut, kale and lamb bacon, delicata squash, celery root and pear purée, chanterelles, alder cone lamb jus, preserved walnut, smoked pepper oil, and kale shoots. Flavour profiles were batted back and forth across the table like tennis balls — sweet, smoky, bitter, full, delicate. Sinclair commented quietly, "What grows together, goes together." Sage wisdom indeed.
The Marechal Foch's berry flavours complemented the lamb and purée; the lactic taste enhanced the sheep's cheese and the earthy quality complemented the chanterelles, alder cones and walnuts. A truly excellent pairing.
A Flavour Experiment
As we prepared for the arrival of the final course, Sinclair announced a change to the wine chosen for dessert, from a blackberry port to a berry mead. The replacement, from one of Sooke Harbour House's neighbours, Tugwell Creek Honey Farm and Meadery, was a 2011 Wassail Blush — Sweet Berry Mead, a sweet, complex, oaken, dessert-style mead which few of us around the table were sure about at first.
In fact, the port was also put on the table and most of us preferred it to the mead. All that changed, however, once the kitchen's holiday-inspired Beet and Chocolate Cake arrived, served with mint and beet icing, a grand fir and crème fraîche ice cream, caramelized white chocolate sauce, red wine syrup, and chewy beet chips. The mead pairing turned out to be inspired. The port clashed with the dessert, making the wine taste dried out, like bitter fruit. The mead's wild flower and berry flavours however, complemented the grand fir (Christmas tree-like) flavours of the ice cream, while its acidity cut through its richness. It was the surprise of the evening.
Although Chef Kienast's dishes sound sophisticated and complex, they are well within the reach of keen home cooks. The secret is to break down each recipe to its individual components and deal with them separately. Most of the techniques are not beyond an enthusiastic kitchen warrior. I guarantee the results will be worth it.
West Coast Success
Sitting back, pleasantly replete, we reviewed the meal. Had I achieved my goal of creating a new holiday season dinner tradition? I'd have to say yes; the meal prepared by this talented chef exceeded my expectations and showcased local fare astoundingly well. It proved the land and the ocean around us are very special; they work together to offer a uniquely West Coast flavour profile. Call it Vancouver Island soul on a plate.
By Mike Wicks
Photography: Jeffrey Boset/YAM magazine
---
RECIPES
Rouge Vif d'etampes squash, Apple and Whey Soup
Makes 1 litre
• 2 large onions
• 1 large apple
• 2 cups roasted squash (Vif d'Etampes, aka Cinderella)
• 1 cup whey
• 1/2 cup whip cream
• Salt to taste
• Maple syrup to taste
• Apple cider vinegar to taste
• 1 clove garlic
• 1 tablespoon vegetable oil
• 1 tablespoon butter
• 2 tablespoons white wine
• Sachet of apple peel, thyme, bay leaf and peppercorns
Sauté onions until opaque. Add garlic and butter; cook for a minute. Add wine and cook until mostly dry. Add peeled apple, whey, whip cream, roasted squash and sachet. Simmer until very soft. Cool and blend. Pass through a sieve. Blend and adjust to taste with the salt, maple syrup and apple cider vinegar.
Wild Mushroom Brown Butter Garnish
Clean and cut lobster mushrooms into matchstick pieces. Melt butter with fruit sage and a fresh bay leaf. Submerge mushrooms in melted butter. Cook cut mushrooms, covered, in a 275°F oven until tender, about 1 1/2 hours. Remove mushrooms from the butter and reserve the butter. Transfer butter to saucepan and brown until golden. Transfer to a bowl with 1 tablespoon white wine, 1 teaspoon Dijon, 1/4 cup fruit sage or 1 tablespoon chopped thyme. Add mushrooms to the bowl and season to taste.
---
SEAFOOD COURSE
Crab
Cook cleaned crab in 3.5 per cent salted water for approximately 10 minutes.
Mussels Steam open mussels in a hot pan with chardonnay; cool down quickly as soon as they are open. Pick mussels out of their shells and bread them in flour, egg and breadcrumbs with sweet cicely or chervil. Fry in oil until just crispy.
Sweet Cicely Emulsion
• 1 egg yolk
• 1 tablespoon Dijon
• 2 tablespoons verjus
• 1 tablespoon water
• 1 1/2 teaspoons salt
• 1 cup picked sweet cicely
• 1 cup picked Italian parsley (blanched and shocked in ice water)
• 1 cup cold-pressed organic canola oil
Put yolk, Dijon, verjus, water, salt and herbs in a blender; blend on 3/4 speed for 1/2 a minute. Slowly add oil until emulsified. Adjust to taste with salt and verjus, if needed.
Crab Apple Jelly
Soak 3 sheets of gelatin in water until soft, 8 to 10 minutes. Juice enough crab apples to yield 1/2 litre. Strain through cheese cloth. Heat 125 ml of the juice in a saucepan. Add gelatin and melt. Add to other 375 ml of the juice. Let set in fridge in a flat container.
Belgian Endive
Remove Belgian endive leaves and season with salt. Sear in a hot pan until just soft.
Hazelnuts
Toast hazelnuts at 225°F until just brown. Rub in clean cloth to remove skins. Toss in hazelnut oil and salt and sugar to taste.
Fresh Apple
Peel and cut fresh Gravenstein apple into small squares.
---
MEAT COURSE
Lamb Sirloin
Remove silver skin and score the fat cap. Salt and sear in a smoking hot pan on top and bottom until golden brown. Poach in lamb or chicken broth at 140°F for 1 hour. Cool and slice in 1/2-inch slices. Reserve lamb/chicken broth. Salt and grill, char the outside. Finish with fleur de sel.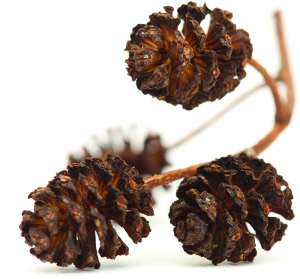 Alder Cone Jus
Reduce lamb/chicken broth with 1/2 cup of red wine and alder cones (6 per cup, picked from trees in the fall) until it thickens naturally. Remove cones and add summer savoury. Steep summer savoury for 10 minutes covered. Strain through fine mesh sieve. Reheat and, while whisking, add 1 tablespoon of cold butter into jus.
Chanterelles
Clean chanterelles with a clean toothbrush. Fry in medium-hot pan with oil. Cook until tender and deglaze with port. Season with salt. Add to alder cone jus.
Fresh Cheese
• 2 cups whole milk
• 1 cup half and half cream
• 1 cup buttermilk
• Salt to taste
Mix dairy and let sit overnight at room temperature. Slowly heat dairy (do not boil) until the whey separates. Turn off the heat and cut the whey into 1-inch pieces. Agitate and let sit for 10 minutes. Gently remove curds with slotted spoon into sieve lined with cheese cloth. Salt liberally after each layer of curd. Reserve whey. Put plate on curd and let it drain in the fridge for 2 hours.
Pear and Celeriac Purée
• 1 medium onion
• 1 pear
• 1 small celeriac
• 1/2 cup cream
• 1/4 cup vegetable stock
• 1 teaspoon oil
• 1 bay leaf
• Salt to taste
• Pear or apple vinegar to taste
Sauté onion in oil with bay leaf until opaque. Add pear, thinly cut celeriac, cream and vegetable stock. Cook until tender. Cool and then blend and pass through a sieve. Season with salt and vinegar to taste.