By Melissa Gignac
The humble coffee table is a universally familiar furnishing, but that hasn't always been the case. In fact, it's a relatively new addition to the living-room landscape. This ubiquitous workhorse — and landing pad for its namesake as well as countless other items — can also be the standout statement piece of your décor.
---
When we look back at Western culture and décor, the coffee table as we know it — generally a low rectangular form averaging 15 to 19 inches high — didn't actually make its way into European homes until the late 19th century. European households commonly utilized taller tea tables, generally a hinged circular surface atop a tripod stand, which could be folded down and stored against a wall when not in use. In Victorian households, these tables would be moved between seating arrangements by household staff, who would then serve tea to the host and guests.
As high-backed settees gave way to lower sofas, tall, narrow tables were often placed behind the sofas as a space to place one's tea, and perhaps a lamp or candle. These sofa tables are the predecessor to what we now know as the coffee table.
The lowering and moving of tables to the front of the sofa was likely influenced by the Victorian obsession with the exoticism of Asian art and culture; it may have been adapted from the traditional low tea tables of China and Japan. The desire for this new form converged with the rise of the middle class, who, without servants in their employ, were tasked with serving guests themselves.
In the late 19th century, the legs of taller tables began to be shortened to accommodate the new serving style. By the early 20th century, low coffee tables were de rigueur, and the industrialization of furniture design birthed some of the iconic tables still in production today.
HOW TO FIND THE RIGHT COFFEE TABLE FOR YOU
When choosing a coffee table, it's important to consider not just style, but also function, and to ensure all furnishings in the room work in harmony.
Luxe Home Interiors' Elaine Balkwill notes that it's important the piece "fit the space correctly; it's the right height, it's pulling elements from the rest of the room."
Balkwill says that she loves the complement of different elements. "So many places are going to have hardwood flooring, so it's nice to add a metal and stone in, just to add more earth elements to the space."
Luxe's showroom boasts pieces crafted of rigid acid-etched steel, industrial concrete composite, marble or salvaged wood, all of which add visual interest to living-room décor.
---
---
Balkwill notes that stone tops, historically fragile given their porous nature, are now generally sealed, protecting them from wine spills.
Shape is determined by the room's style, and how furnishings are going to be laid out. Flanking a fireplace with two sofas? A rectangle will complement the symmetry. If the room has a lot of hard edges, a circular shape softens up the space. While there's no standard height for coffee tables, sleek, low-slung modern furniture is going to pair well with a table with linear lines, around 15″ high.
A more traditional setting will require something beefier, in the 17″ to 19″ range. This doesn't mean going the matchy-matchy route; in fact, combining styles can create a more dynamic, inviting environment.
Max Furniture's Rahim Khudabux notes, "We're seeing a big mix right now. People are blurring the lines more than they used to. People would come in and buy the full three-piece sofa sets, whereas now they'll get a sofa, they'll get a couple of chairs, a coffee table, and all three of them won't match, but they'll flow together."
When furnishing small spaces, it's imperative to find pieces that don't overwhelm the room. Glass is a fantastic option as it imparts a visual lightness, keeping the space feeling open and airy. While glass may seem like a risk, Khudabux notes that high-quality glass will last forever; treated well, it's unlikely to chip or crack. Acrylic is a lighter choice, while alleviating the fear of shattering the surface.
Khudabux also notes that options with angled legs add visual interest without adding bulk. In a larger space, a small glass table wouldn't be substantial enough; a more traditional wood table, with visual bulk and weight, appropriately anchors the space.
---
---
CHAMPIONS OF SMALL SPACES
For spaces where storage is a concern, a multi-functional upholstered ottoman is a smart solution. Blankets and remote controls can be stored out of sight, they're perfect for propping up feet, and they can be used as extra seating when guests outnumber sofa space. Top it with a pretty tray and you have a stable surface for your beverage. Pop casters on the bottom and it can be rolled out of the way when you need to pull out the sofa bed for any out-of-town guests. Bonus: the soft edges protect toddler chins and clumsy-adult shins.
Nesting tables — think the matryoshka dolls of furnishings — are a fantastic option for significant surface without a substantial footprint. The Fabulous Find's Greg James notes that they sell like hotcakes. "You get three tables for one. And if they're the right size, the biggest one is the coffee table, and you also have end tables."
Balkwill points out a modern take on the nesting form, Natuzzi Italia's black glass table with two ottomans that tuck beneath. It's "clean and modern, but there's that multi-function purpose for a small space. You've got extra seats and you've got a surface."
Just as versatile are groupings of two or three smaller tables that can be pulled apart to move surface space where it's needed most.
INNOVATIVE DESIGN
Tables with mechanics that allow them to expand offer extra functionality, without one having to physically move them. Balkwill of Luxe Home Interiors points to a Home Articles stunner comprised of stacked disks that swivel out to provide additional surface space.
---
---
With space being a premium, many living rooms are multi-tasking as eating spaces. James points to mid-century innovation as a solution — coffee tables that pop up to dining height, with leaves that draw out to accommodate a larger group. We may be seeing a resurgence of this innovation, particularly as tiny condos that don't incorporate the luxury of a dedicated dining space become the norm.
---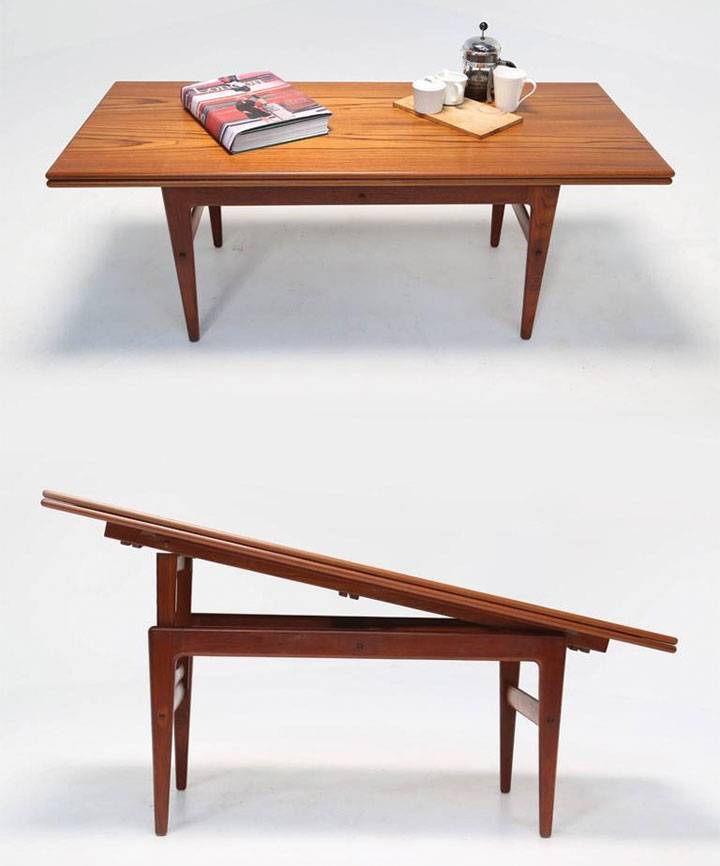 ---
Max Furniture's Khudabux notes that tables with this functionality are currently only available in expensive lines, though he anticipates that they'll hit the mainstream suppliers at a more affordable price point.
With so much to consider when seeking the perfect table for your space, it's a good idea to collaborate with a pro. A well-chosen coffee table will be the hub of your living space, complementing the home it inhabits and providing space for friends and family to gather around. Like those friends and family, you're investing in something that will last a lifetime.
---
KNOW YOUR COFFEE TABLES
Many memorable coffee tables date from the mid-century modern era; most are still in production today. These beauties have never gone out of style — or out of shops. With knock-offs a-plenty, it's fair to say imitation is the highest form of flattery — but not necessarily of value.
Noguchi Accent Table
When it comes to icons of style, furniture experts Rahim Khudabux and Elaine Balkwill name the Japanese-American sculptor Isamu Noguchi's eponymous table as top of mind, and rightly so. The interlocking curved wood base topped by hefty plate glass is an enduring stalwart of mid-century design.
Saarinen 42″ Oval Pedestal Table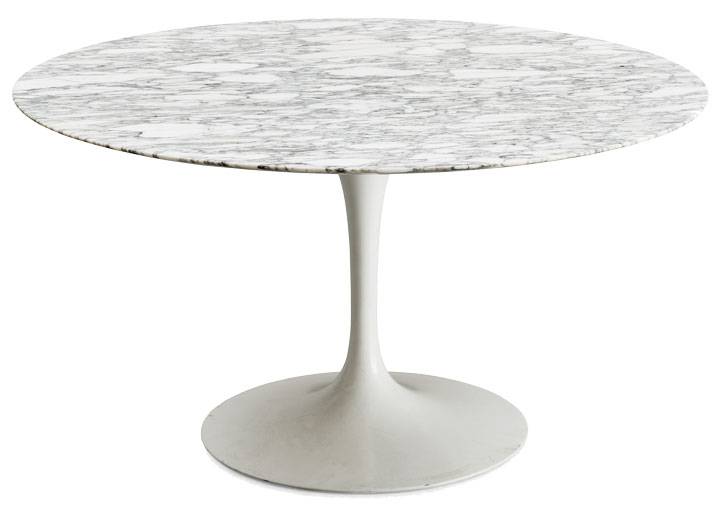 Perhaps more familiar in its dining-table form, Eero Saarinen's 1957 Pedestal Table was intended to eliminate the "slum of legs" inherent in more traditional four-legged forms. Most commonly seen with a white base and white marble top, this table comes in a variety of wood and stone options to complement different living spaces.
Nelson Platform Bench

Designed by George Nelson and produced as part of Herman Miller's first collection in 1946, the familiar rectilinear form of the Nelson Platform Bench features wooden slats atop polished chrome or ebonized wood legs. Available in three legs, the Nelson Platform epitomizes multi-function — it can be used as both seating and surface.